This easy slow-cooker split pea soup recipe is just the thing for a cold winter's night. It's warm, filling, and rustic, but doesn't pack on the calories.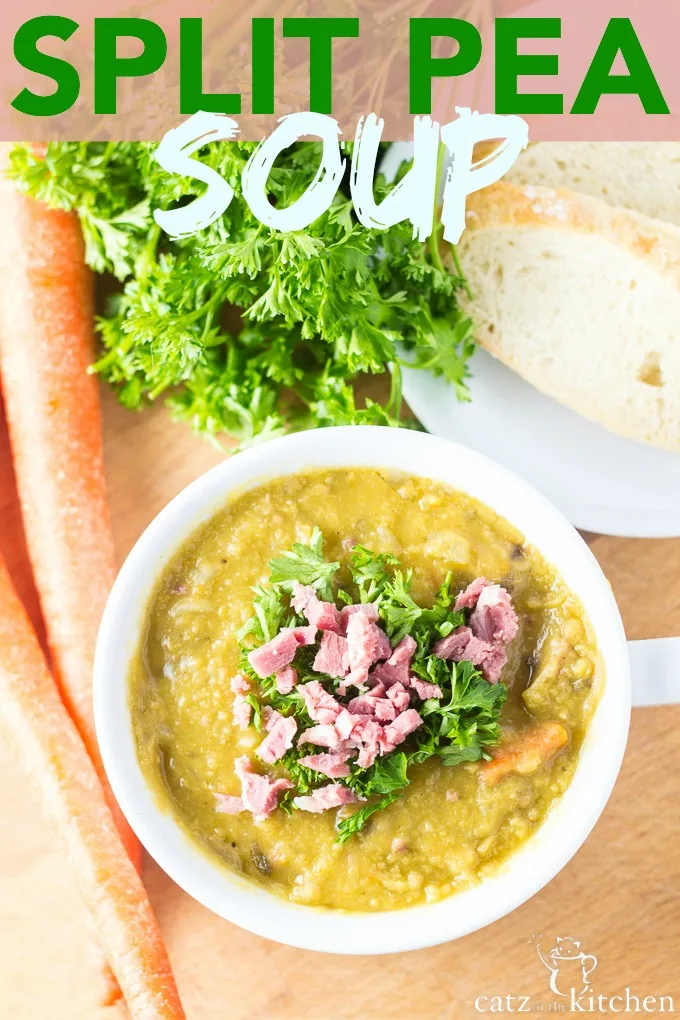 This post has been updated from the archives because it really needed it! LOL! This was one of the first posts I think I ever wrote and I'm still making this and only this recipe for split pea soup today. Nothing about it has changed except that I'm no longer afraid of onions and therefore I add onions to most dishes these days, lol!
When a day is as cold, wet, and windy as yesterday was…one thing comes to mind. Soup. Soup is the perfect meal to soothe the soul when the weather outside is frightful. I've had split pea soup on the dinner menu for about a month now…but I needed the perfect day to make it and on Monday, it was begging to be made.
I love soup, but I don't always have the time to stand in front of my stove and stir and season and taste. I need something quick and simple. And what does quick and simple better than a crockpot? Nothing! A couple of years ago I was on the hunt for a good split pea soup recipe that didn't involve a lot of work. My mom made it occasionally because it's my dad's favorite soup…but she made hers from scratch and on the stove. I wanted one from scratch…but in the crockpot. So I went to Google it and I came across a wonderful recipe with great reviews.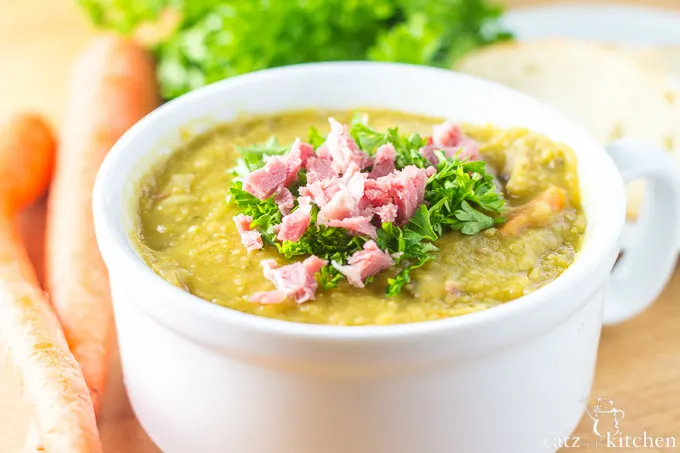 I made a few changes to the recipe to suit my needs…first off I rarely cook with onions. And I didn't have any celery. And I didn't have many carrots. In fact I had one carrot…so it had to do. But the other thing I did add was the ham. Being the lucky girl I am, my dad who lives in Vegas ( I have two dads) sent me a HoneyBaked ham for Christmas and I am always able to get a ton of leftovers off of it. So I added my HoneyBaked ham to the recipe and it added a great flavor. You don't need much in the way of a side dish to go with this because it is so filling, but a couple slices of rustic bread with a little butter was the perfect companion to this meal. It's a great dinner if you have several people to make it for. It makes eight servings and freezes very well – since Josh, Grace, Eden and I weren't able to finish off the pot, I called my mom to see if my dad would like the leftovers and he jumped at it. So I have a nice hearty helping in the freezer for him. Soup just always seems to be the meal that keeps on giving :)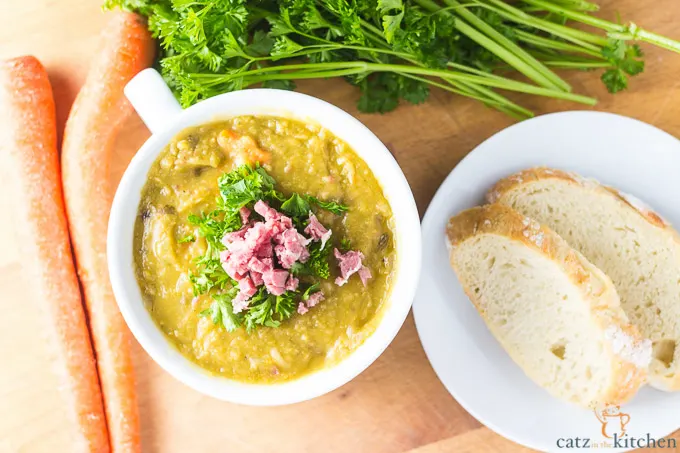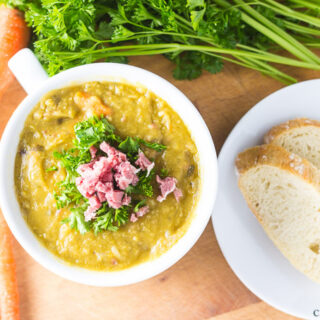 Slow-Cooker Split Pea Soup
Total Time:
4 hours
15 minutes
This easy slow-cooker split pea soup recipe is just the thing for a cold winter's night. It's warm, filling, and rustic, but doesn't pack on the calories.
Ingredients
1 16 oz pkg of dried split peas, rinsed
1 meaty hambone, 2 ham hocks, or 2 cups diced ham
3 carrots, peeled and sliced
1/2 cup chopped onion
2 ribs of celery, plus leaves chopped
1 or 2 cloves garlic, minced
1 bay leaf
1/4 cup fresh parsley, chopped, or 2 tsp dried parsley flakes
1 tbsp salt
1/2 tsp pepper
1 1/2 qts hot water
Instructions
Layer ingredients in slow cooker in the order given; pour in water. Do not stir ingredients.
Cover and cook on high for 4-5 hours or on low 8-10 hours until peas are very soft and ham falls off the bone.
Remove bones and bay leaf. Mash peas to thicken more, if desired.
Serve and garnish with croutons. Freezes very well.
Nutrition Information:
Yield:

8
Serving Size:

1
Amount Per Serving:
Calories:

167
Total Fat:

6g
Saturated Fat:

2g
Trans Fat:

0g
Unsaturated Fat:

3g
Cholesterol:

32mg
Sodium:

1073mg
Carbohydrates:

16g
Fiber:

6g
Sugar:

3g
Protein:

14g