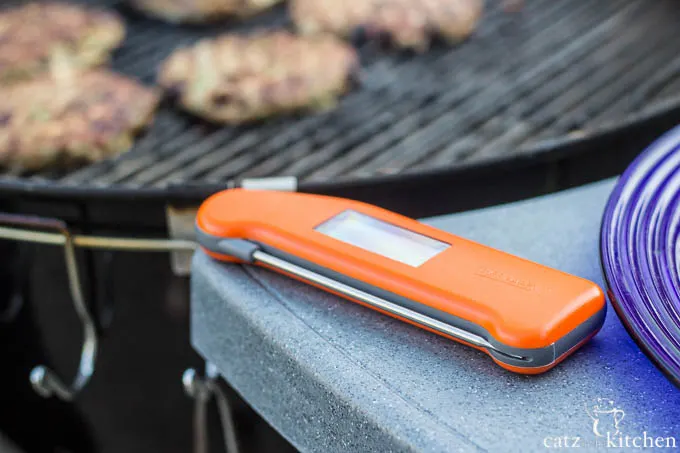 I have to admit, when we were given the opportunity to review ThermoWorks' ThermaPen and ThermaPop cooking thermometers, I was skeptical. I had just recently upgraded my old "quick read" digital cooking thermometer from Harbor Freight Tools to a new Weber digital grilling thermometer, and I was pretty happy with it. Sure, it took 10 or 20 seconds to count up to a fairly accurate temperature, and I occasionally got different temperature readings right after each other, but it was $10. I wasn't complaining. Why fix what isn't broken?
Well, as it turns out, sometimes you just don't know what you're missing.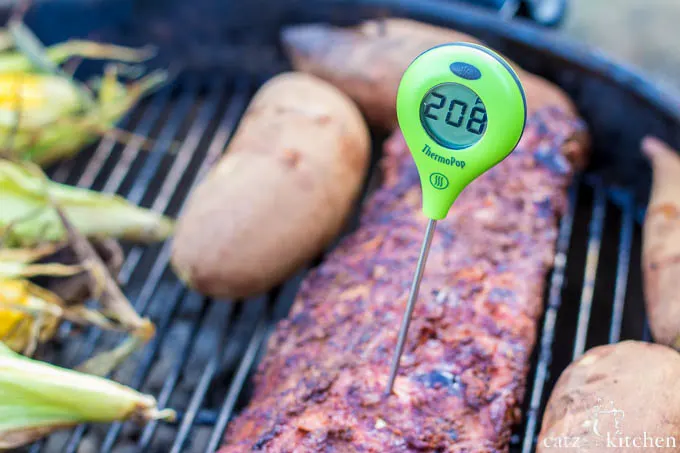 Let's talk about the ThermaPop first. It's cute and green (it actually comes in nine different colors), and looks like it's just sort of made to look nice laying on your counter with its snazzy little color-matched needle cover. It's quite obviously the junior partner when compared to the ThermaPen, perhaps skating by on its good looks. Except it's not. I got accurate, reliable readings in about five seconds, easily half or even a quarter of the time it took my grilling thermometer.
Oh, I should point out – ignore the temperature read outs in these photos. To get the thermometers to stand up long enough for me to focus and shoot in meat as shallow as ribs, I had to stick them next to the bone, where the temperature was considerably higher! Please don't grill your ribs to an internal temperature of 200+ degrees!
I did have a couple of minor nitpicks when it came to the ThermaPop. I found it a little awkward to turn on and off when my hands were messy with sauces or grease, and the shape of it, while incredibly convenient for sticking in your pocket, made it a little too easy to cover the display when using grilling mitts. That being said, though, for the price (under $30), it was leaps and bounds ahead of any other meat thermometer I'd ever used. In fact, my go-to source for all product recommendations, The Wirecutter, via its subsidiary blog, The Sweethome, calls it "The Best Instant Read Thermometer for the Home Cook." Which made me wonder, what could possibly justify the steep increase in price for the ThermaPen?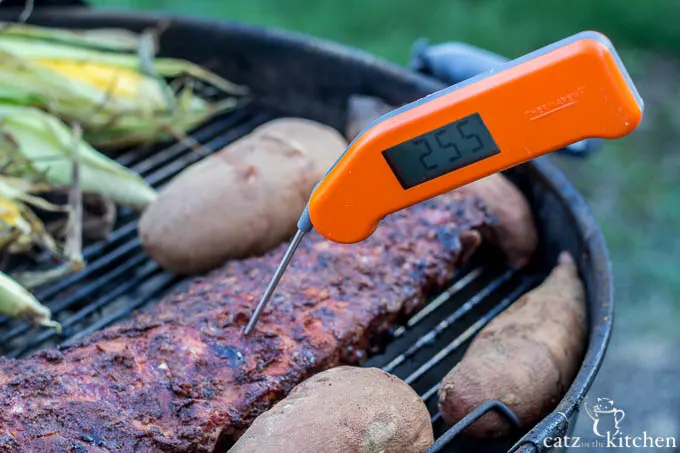 It's a little bit legendary, that much I knew. It comes strongly recommended by The Kitchn, King Arthur Flour, and Lifehacker, to name three very different brands out of the many that endorse this little gizmo. It comes from England, if handmade, and was originally designed for commercial use before being made available to consumers (King Arthur Flour, mentioned above, uses it in their test kitchens). While very impressive, I still had to question – I'm not running a commercial bakery, so what would make me spend three times what I would spend on a ThermaPop, or ten times what I spent on my Weber, for essentially the same functionality? That's right…this is a $96 meat thermometer. Yikes.
It comes in 15 colors, instead of just nine. That must be it.
Not so much. I've tested the ThermaPen on ribs, steak, chicken, and burgers since I received it, and it has completely blown me away. It makes the ThermaPop's snappy readings look pokey, and my old meat thermometers…suddenly that 10-20 seconds felt like an eternity. And an inaccurate eternity, since I had to measure multiple times to make sure I had a semi-accurate reading. ThermoWorks claims a three second read time, but I swear it doesn't take longer than a second. I can lift the grill lid, check all four of my burgers in about five seconds, and close it again, dramatically reducing my heat loss. And the readings are dead on. No variations, no false or half results.
I love this thing.
My little nitpicks about the ThermaPop? Totally handled with the ThermaPen. You turn it on and off by opening and closing it, which was easy to do no matter what my hands were covered in. The handle is easy to grip with bare hands or grilling mitts, and there's enough room to get out of the way to see the temperature, which shows up clearly on a comparatively gigantic readout. The build quality is incredibly good, splash proof, etc, and I have no doubt one of these things would last just about forever.
I went into reviewing the ThermaPen trying to be as objective as possible, which I felt would be easy given my healthy dose of skepticism, but I was won over almost immediately. Chels overheard me the first time I used it. She was standing nearby and just heard a soft, "Wow…" coming from the general direction of the grill. It's that good.
Save your pennies and get one. Get the ThermaPop if you just can't rationalize dropping a Benjamin on a grilling thermometer, and it'll still put your old meat thermometer to shame. But I'm telling you, as someone who is currently grilling three to four nights a week – your food will be cooked better, you'll spend far less time fiddling with your thermometer trying to get the temperature right, and, hey, you'll enjoy the grilling experience just that much more, which is the whole point anyway, right?
ThermoWorks provided review units, but did not make any stipulations as to the content of the review (positive or negative). In addition, Catz in the Kitchen received no monetary compensation for the writing of this review, though affiliate links have been added to the review as they became available from ThermoWorks (about 18 months after review publication). All opinions expressed are ours and ours alone.