This flavorful, healthy, vegetarian roasted zucchini lasagna is a great way to use up all those extra late summer veggies you have lying around!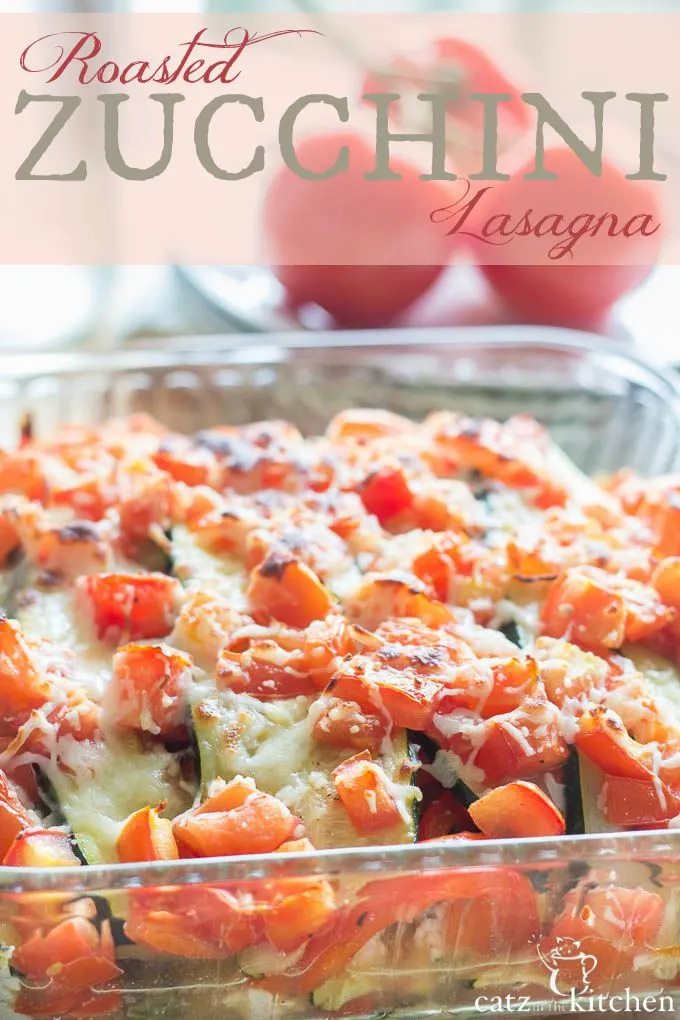 I was just talking to my dad on the phone today (he lives in Las Vegas) and he informed me that in addition to not liking peaches (like, what?) he also doesn't like bell peppers! What? I don't understand? Who doesn't like bell peppers? Who doesn't like peaches? How am I related to this man?
Of course, you know what this means right? I'm going to have to make something with bell peppers when he comes to visit me next summer (perhaps this lasagna) to win him over! I think it's a fair exchange for the cheesecake I bake for him every time he visits me, don't you? I told him, I don't allow picky eaters into my house, so he's just going to have to deal with it! (In all fairness, when he goes to visit my stepmom's family in Beijing, he eats a number of things I might not be adventurous enough to try…)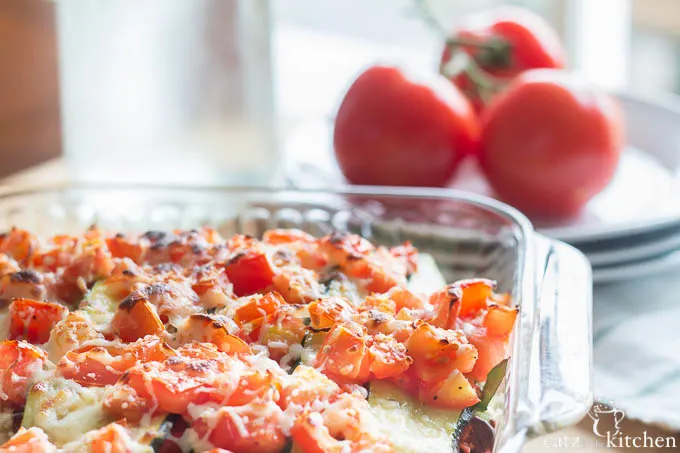 I can of course say these things to him because I'm an adult now. Bwahahahaha!
How did we get on the subject of bell peppers and peaches? Well, because even though I'm wondering how I'm related to this man, there are still tell-tale signs that prove, without a doubt, I'm his daughter.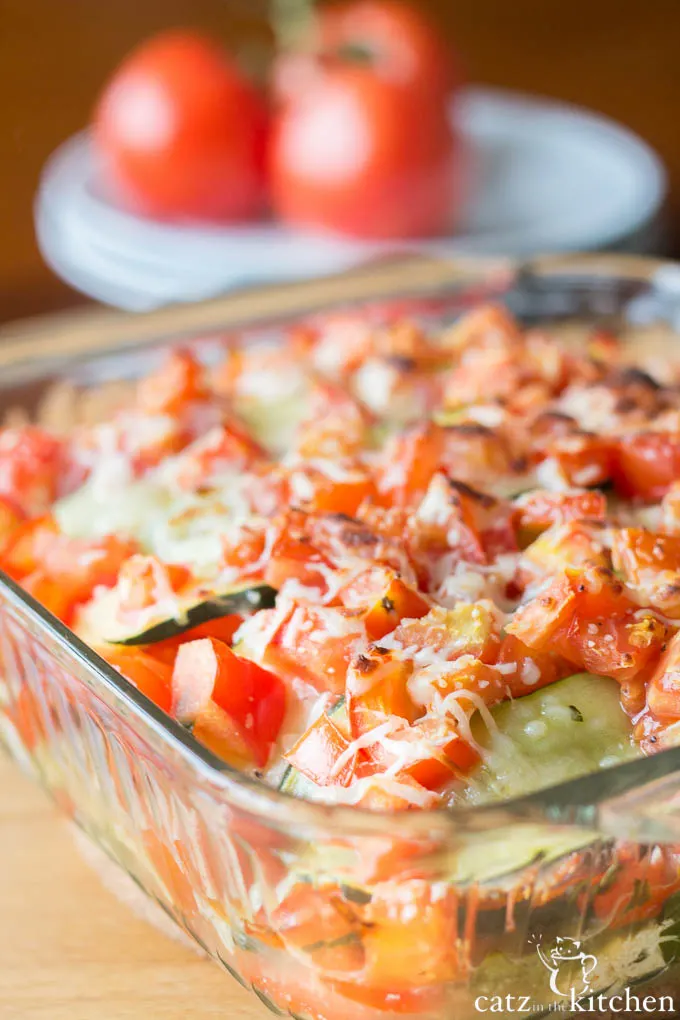 For example, I inherited his nose – of course, mine is a bit more feminine-looking than his. I also inherited his allergies. We're allergic to hay and spring, and everything else that seems to float in the air. Lastly, I inherited his love of food, thank goodness! I don't have an objection to bell peppers or peaches, but a lot of the times when we get on the phone, our topics usually end up veering toward the foodie realm and we discuss what we've been making and new places we've eaten and I beg him to come back to Oregon, but only if he brings my stepmom with him (and she brings her amazing family dumpling recipe over from China!)…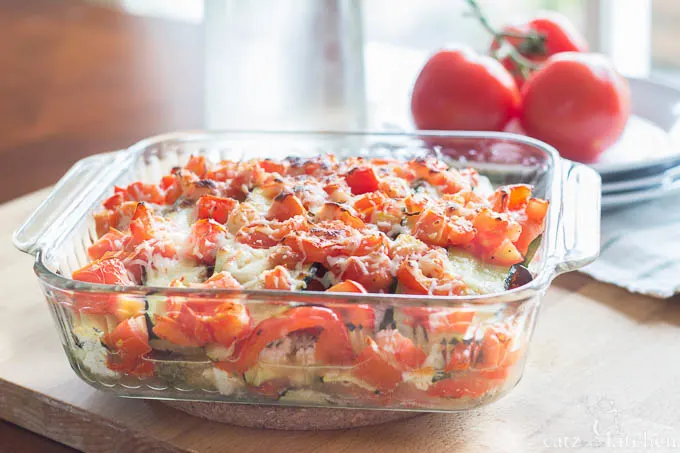 But what does a Roasted Zucchini Lasagna have to do with disliked fruits and veggies? I happened to be telling my dad about these Three Bean Tacos (which we make on a near-monthly basis) that I made for our last meatless Monday, and I thought it was funny that both of these recipes feature bell peppers.
This Roasted Zucchini Lasagna also happens to be a dinner I made for one of our meatless Mondays awhile back (I say awhile back, because we made these like a month or two ago).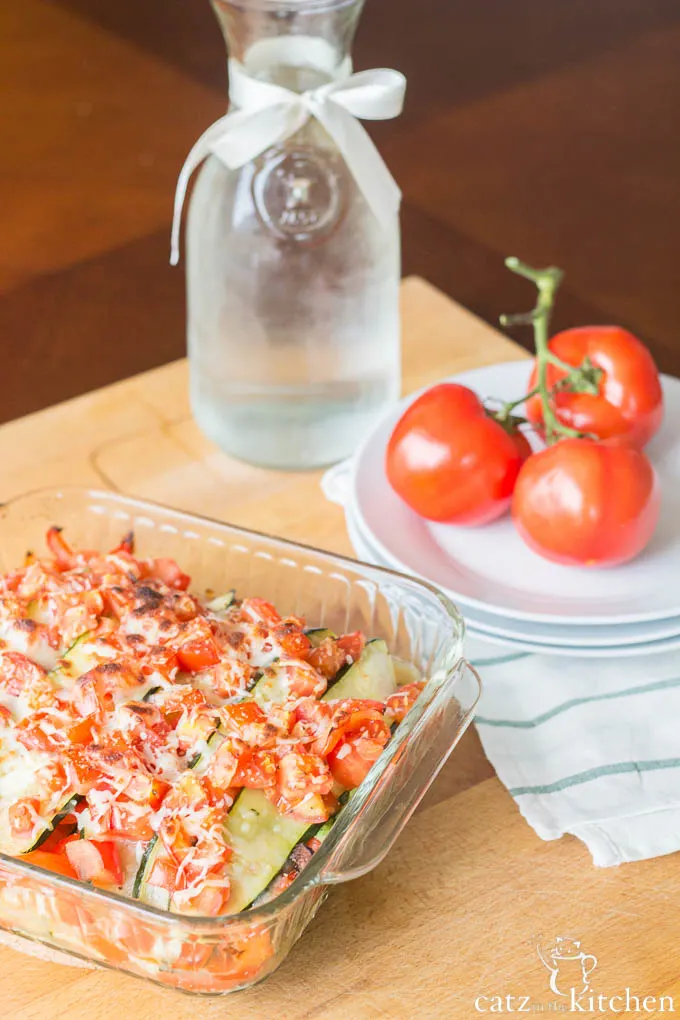 This is a really flavorful and filling dish that uses some of that beautiful summer produce you've been growing in your garden (or getting passed on to you by neighbors who are flush with zucchini and tomatoes, but out of recipe ideas…). I love how fresh everything tastes and the lightly browned grated parmesan is just the perfect finish to such a tasty and pretty meal!
If you've got some zucchini laying around, then you need to make this Roasted Zucchini Lasagna for your next Meatless Monday night.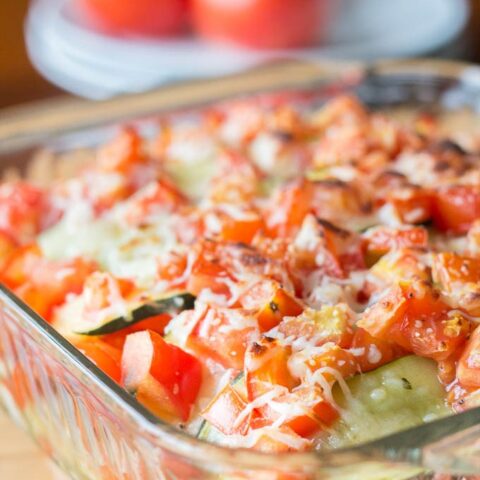 Roasted Zucchini Lasagna
Total Time:
1 hour
15 minutes
This flavorful, healthy, vegetarian roasted zucchini lasagna is a great way to use up all those extra late summer veggies you have lying around!
Ingredients
For The Vegetables
3 8-inch long zucchini (about 2 1/2 lbs)
4 tsp olive oil
1 tsp kosher salt
2 medium red bell peppers, halved, seeded, and thinly sliced
1 large onion, halved and thinly sliced
For the Tofu Ricotta Filling
8 ounces firm tofu, crumbled, about 1 cup
1/2 cup part-skim ricotta cheese
zest of 1 lemon (juice of the lemon for the tomato topping, reserved)
2 garlic cloves, finely chopped
1/2 tsp kosher salt
1/4 tsp ground black pepper
1/4 cup finely chopped fresh basil
For The Tomato Topping
2 ripe medium tomatoes, cored and finely chopped
juice of the reserved lemon
1/2 tsp kosher salt
1/4 tsp ground black pepper
For assembling The Lasagna
2 tsp olive oil
2 TBSP finely grated Parmesan cheese
Instructions
Remove the ends of the zucchini and slice lengthwise into 1/4 inch-thick strips. (You should have about 15-20 strips)
To make the vegetables: Preheat oven to 400 degrees. Line a rimmed baking sheet with parchment paper and add the zucchini, 2 tsp of olive oil, and 1/2 tsp of the salt. Toss to combine, then lay the zucchini strips flat. On another rimmed baking sheet, place the bell peppers and onion, the remaining 2 tsp olive oil and the remaining 1/2 tsp of salt. Roast the vegetables until the ends are lightly browned, about 20 minutes, turning over the zucchini strips and stirring the peppers and onion midway through the roasting. Set aside the vegetables to cool. Leave the oven on.
To make the tofu-ricotta filling: In a medium bowl, stir together the tofu, ricotta, lemon zest, garlic, salt and pepper. Then stir in the chopped basil.
To make Tomato Topping: In a small bowl, stir together the chopped tomatoes, lemon juice, salt and pepper.
To assemble the lasagna: Spread the olive oil in an 8-inch square baking dish, Layer about 6 strips of zucchini, overlapping them slightly. Dollop the zucchini with half of the ricotta mixture, then sprinkle with half of the roasted bell peppers and onions. Add another layer of zucchini, slightly pressing down on the zucchini to compact the mixture. Repeat once, finishing the lasagna with a third layer of zucchini.
Cover the zucchini with the tomato topping and sprinkle with parmesan cheese. Bake for 15 minutes, then turn on the oven to broil and continue to cook the lasagna until the tomato topping starts to brown around the edges, about 4-5 minutes. Remove from oven and cool for 15 minutes before slicing and serving.
Nutrition Information:
Yield:

6
Serving Size:

1
Amount Per Serving:
Calories:

191
Total Fat:

10g
Saturated Fat:

2g
Trans Fat:

0g
Unsaturated Fat:

6g
Cholesterol:

8mg
Sodium:

860mg
Carbohydrates:

20g
Fiber:

4g
Sugar:

12g
Protein:

10g
Nutrition information isn't always accurate.