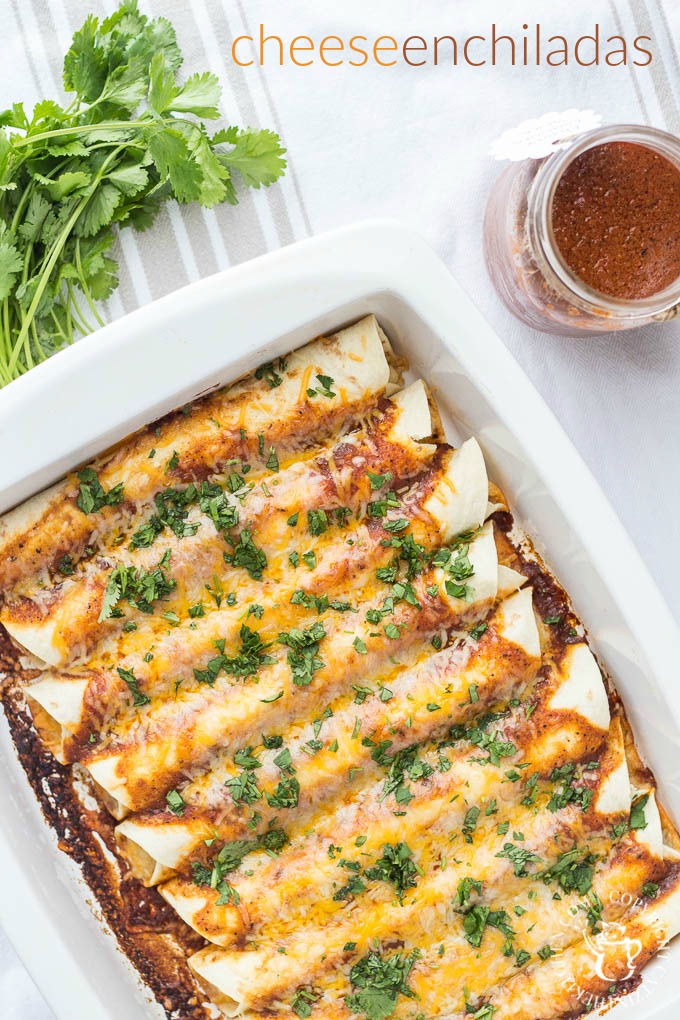 In the battle between tacos and enchiladas and which one carries the most recipes on our blog, Josh and I were both shocked to discover that tacos were winning! We both thought we had more enchilada recipes than taco recipes.
In other news, French toast is still the reigning champion when it comes to French toast vs. pancakes…
#needmorepancakerecipes
However, there is still not a burrito recipe to be found. We've got a chimichanga recipe, but zero burritos. I lay that fault on Josh because honestly, his burrito folding skills leave something to be desired. No offense babe. You're still cute and make really great tasting food! (Editor's Note: You, me, burrito folding – wrapping! – competition. We'll see who's skills leave something to be desired…)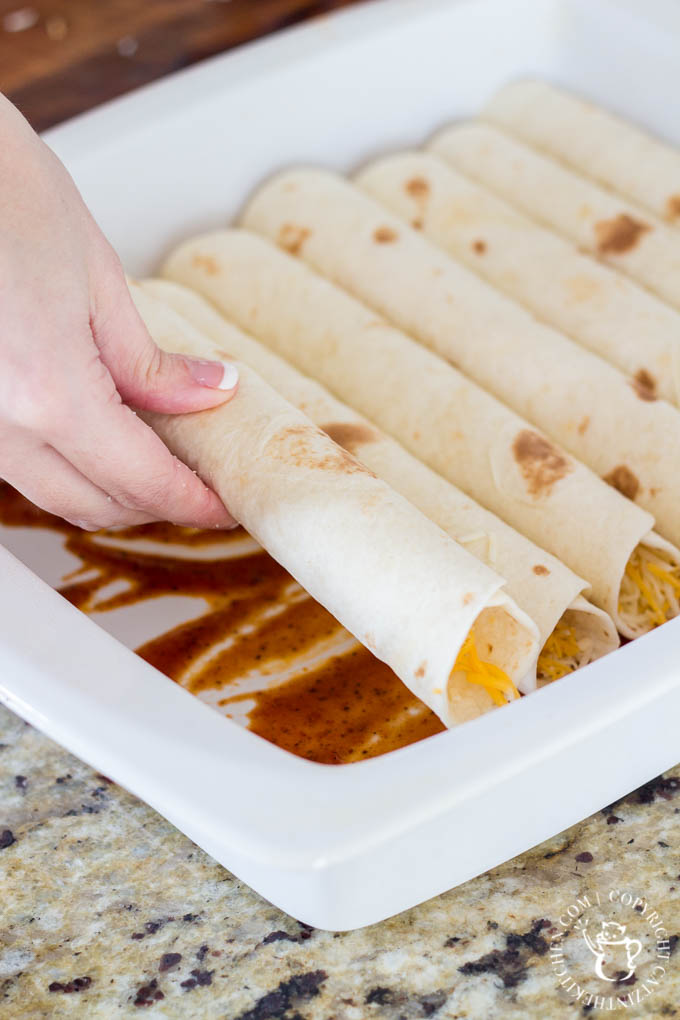 But, back to the enchiladas. My Mexican-themed nights were pretty simple growing up. Occasionally, we would have tacos, but usually my mom made cheese enchiladas, and we all loved her for it!
I'll admit that because of my love for her simple, yummy, cheesy enchiladas, I never felt the need to branch out when we would go out for Mexican food. If there was a cheese enchilada on the menu, that's what I was ordering. No ifs, ands, or buts about it. I knew what I liked and didn't care to try other things.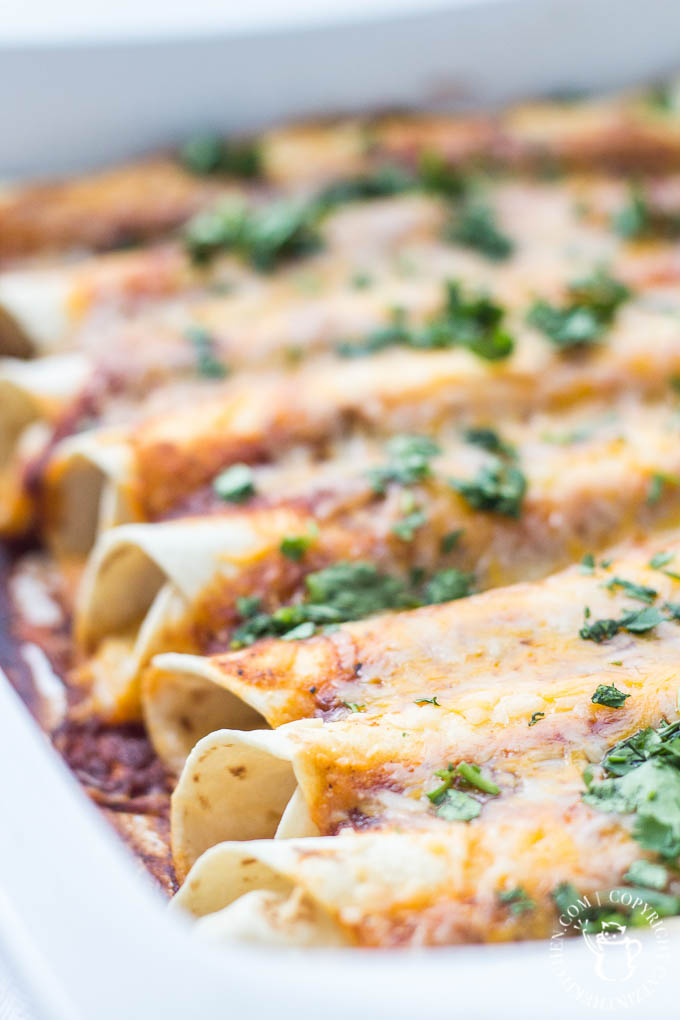 Obviously, that has changed over the years because we have five different kinds of enchiladas on the blog, one of our favorites being these sweet potato & black bean enchiladas. However, my love for my mom's old recipe still lingers and so I must share this slightly updated version of my mom's cheese enchiladas.
This recipe is about as basic as it gets, though. Literally fool-proof. I make this dinner often when Josh goes out of town on business because it takes maybe 10 minutes of prep work and then it goes into the oven and I'm done. That whole single-parenting three children thing really has a way of draining you!
I mean, have you guys seen that meme of Melissa McCarthy darting out of the car and the headline says something like, "When you're a stay at home mom and dad finally walks through the door!" Yeah, okay, I do feel like Melissa McCarthy sometimes and so this easy dinner that isn't frozen and is homemade kind of makes me feel like a some sort of stay at home champion when Josh is out of town.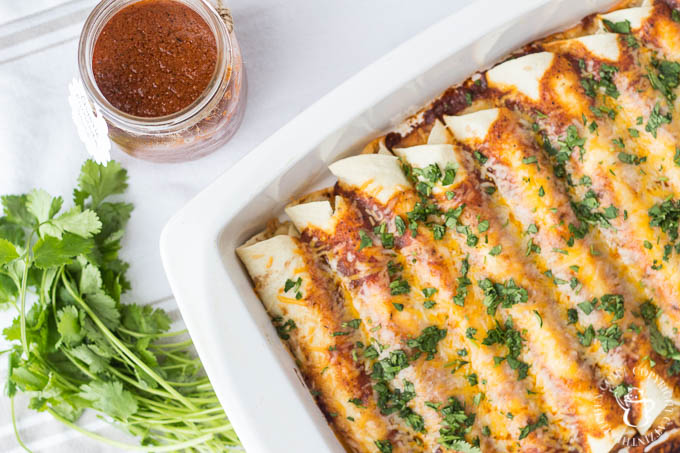 "I kept the kids alive AND fed them a homemade dinner. Never mind that it's filled entirely with cheese. It's homemade!" #momwin
Regardless of the perfectly-delicious-and-so-easy-my-three-year-old-could-have-filled-and-rolled-this-tortilla-up dinner, it gets even more amazing when paired with the chipotle enchilada sauce from the other day. Of course, you could always use the sauce from a can. A mom's gotta do what a mom's gotta do.
#nojudgement
But I highly suggest you try the two together because you will love it and so will your kids and your hubby, too!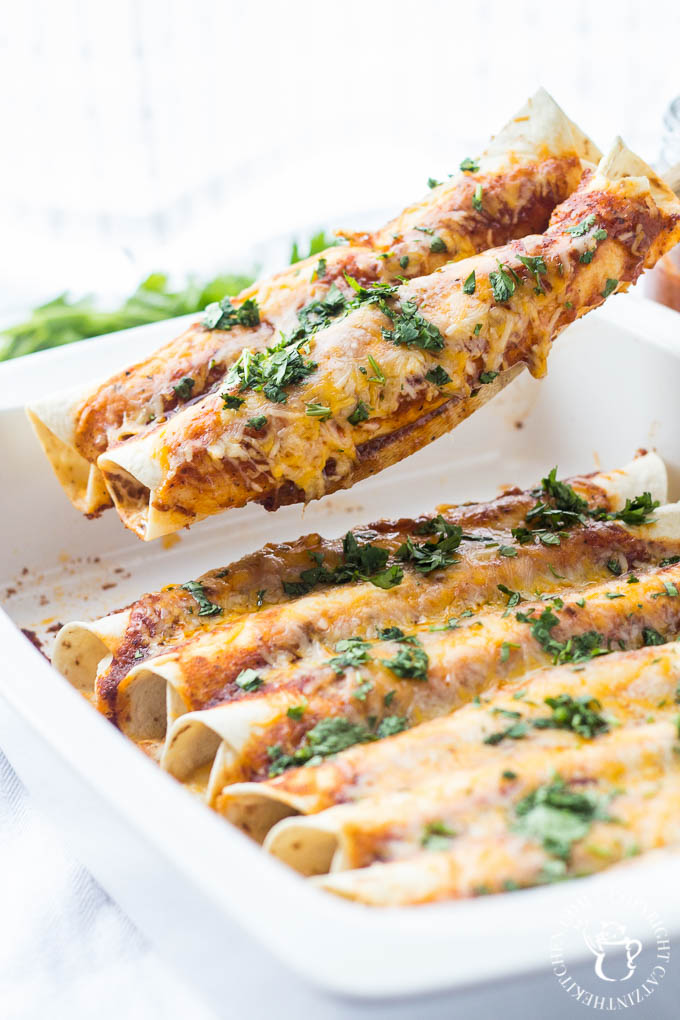 To add a bit more pizazz to these cheese enchiladas, my mom would fill her cheese enchiladas with diced onions and sprinkle them on top, too! For me, not quite the onion lover she is, she would sprinkle sliced black olives over the top. I still do that for the kids if I have leftover olives in the fridge!
Still simple. Still yummy. Still so easy that my 3-year-old could do it. But I wouldn't…because letting your 3-year-old play with knives is, you know, not generally a good idea.
Cheese Enchiladas
What's better than an easy, wonderful recipe for cheese enchiladas? Mmm...that would be...nothing. This kid-pleasing meal can be ready in 30 minutes!
Ingredients
1 1/2 cups chipotle enchilada sauce or a can of store-bought sauce
2 cups Mexican blend cheese, shredded
8-10 soft taco style flour tortillas
3 tbsp chopped cilantro
Garnish with plain Greek yogurt, sour cream, or hot sauce
Instructions
Preheat oven to 350 degrees. Grease a 9x13 baking dish and spread 1/4 cup of sauce over the bottom of the baking dish, set aside.
Set up an assembly line of tortillas and 1 1/2 cups of cheese to make preparation easier. Spoon about 2-3 tbsp of shredded cheese onto one side of the tortilla and roll the tortilla up placing it seam side down in the baking dish. Repeat this process until you have the entire pan filled.
Pour remaining sauce evenly over the tortillas and top with remaining 1/2 cup shredded cheese. If you were to add diced onion or sliced olives, you would add these now.
Place baking dish in preheated oven and bake for 20-25 minutes. Remove and top with chopped cilantro.
Serve with Greek yogurt, sour cream, or your favorite hot sauce
Nutrition Information:
Yield:

10
Serving Size:

1
Amount Per Serving:
Calories:

340
Total Fat:

17g
Saturated Fat:

8g
Trans Fat:

0g
Unsaturated Fat:

7g
Cholesterol:

49mg
Sodium:

1059mg
Carbohydrates:

28g
Fiber:

4g
Sugar:

6g
Protein:

18g
Nutrition information isn't always accurate.