Want to upgrade from the can? How about a smokey homemade chipotle enchilada sauce recipe? It's easy, and you'll love it!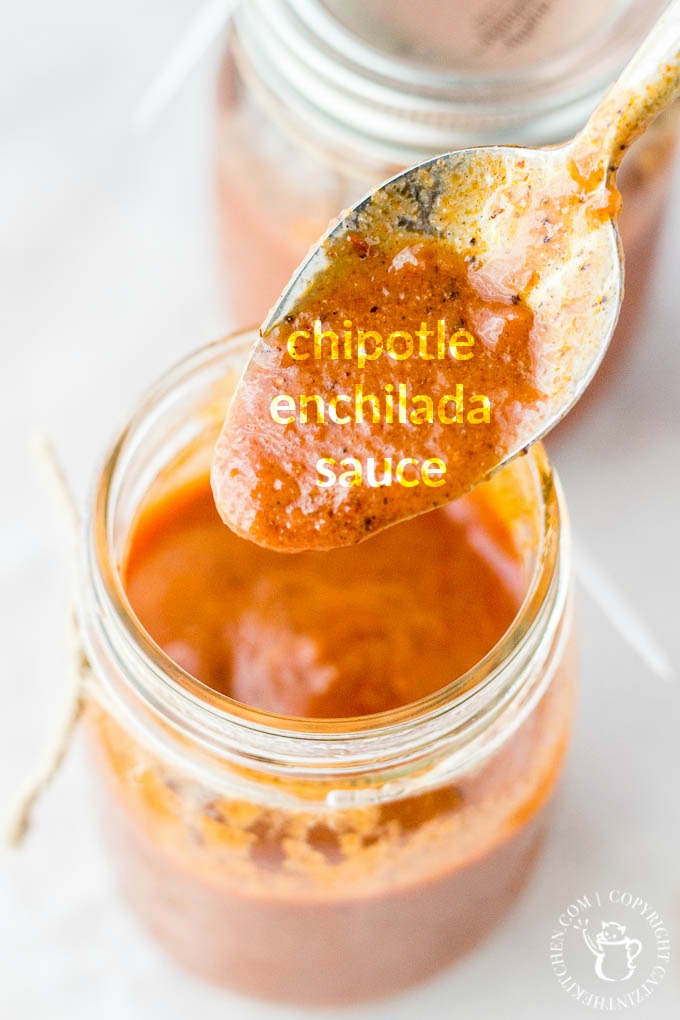 I'm like a lot of people. If I can, I will often take a shortcut if it helps get me where I want to be faster and doesn't endanger anyone. For example, sometimes, I will use jarred spaghetti sauce in my recipes like this Skinny Three Cheese Penne or this Easy Lasagna Casserole instead of making homemade sauce, simply because…
Convenience.
I go the convenient route a lot when it comes to enchilada sauce too. I switch between brands often, depending what's on sale or what I have a coupon for. I'm always trying to pay attention to which sauces in the past have been too spicy for my kids because let's face it, if it's too spicy, they aren't going to eat it, and neither will I for that matter. (Editor's Note: But I will!)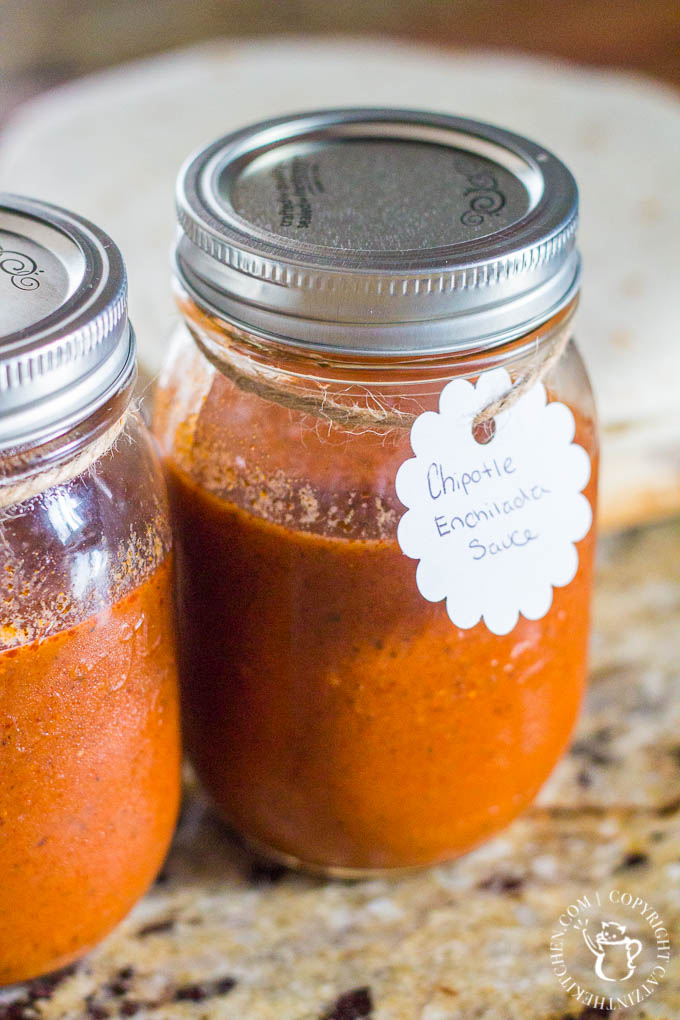 The problem I continually come across when buying store-bought sauce is that while it is a shortcut, the quality is not the best. I sometimes find that canned enchilada sauce is watery or a one-note flavor. It's tough to elevate the flavor or change the consistency unless I feel like taking the time to doctor the sauce up, in which case I'd rather just make my own.
If you're game, here's one easy way to do that…
I made my own enchilada sauce with my family's tastebuds in mind; actually, more like my husband's tastebuds in mind. I used canned chipotle peppers (which the girls were freaked out about) that I had frozen to give the sauce additional flavor and a bit of smokiness.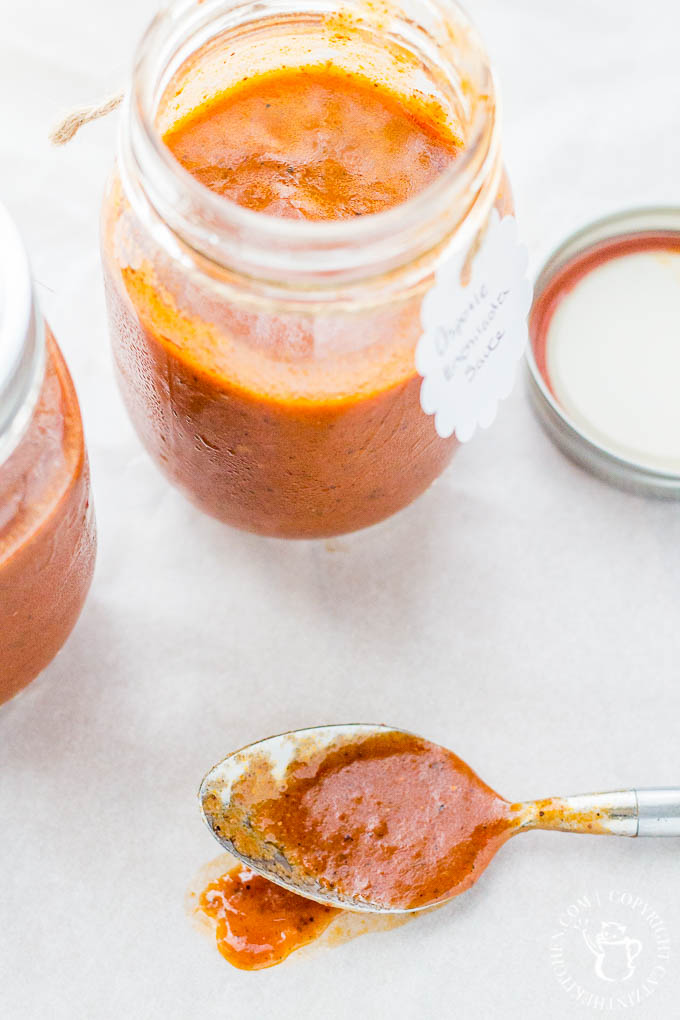 And it was good! I made the sauce the day before I was going to need it, just in case I needed to tweak the recipe, and it was so delicious, even my little taste-testers agreed that it was the best enchilada sauce they had ever tried, and not at all spicy. (Editor's Note: As mentioned in the recipe below, simply add more peppers to amp up the heat!)
#momwin
One thing I know for certain is now that I've made this homemade version, I won't be going back to the canned version. It's just too simple to throw together and has so much flavor – can't beat that!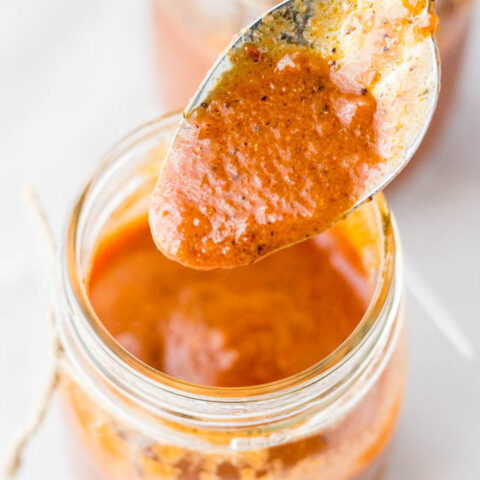 Chipotle Enchilada Sauce
Want to upgrade from the can? How about a smokey homemade chipotle enchilada sauce recipe? It's easy, and you'll love it!
Ingredients
1 can (15 oz) fire-roasted diced tomatoes
1/4 cup vegetable oil
2 tbsp all-purpose flour
2 tbsp chili powder
1 tsp cumin
1/2 tsp onion powder
1/2 tsp garlic salt
1 1/4 cup vegetable broth
Instructions
Blend diced tomatoes in blender until smooth. Set aside.
In a saucepan over medium heat, heat oil and whisk in flour and chili powder until smooth. Whisk broth, additional spices, chipotle pepper, and tomato mixture until mixture begins to bubble.
Reduce heat to low and simmer for 10 minutes or until sauce has thickened, whisking occasionally.
Store sauce in mason jars and refrigerate for up to two weeks.
Nutrition Information:
Yield:

12
Serving Size:

1
Amount Per Serving:
Calories:

54
Total Fat:

5g
Saturated Fat:

0g
Trans Fat:

0g
Unsaturated Fat:

4g
Cholesterol:

0mg
Sodium:

192mg
Carbohydrates:

3g
Fiber:

1g
Sugar:

1g
Protein:

1g
Nutrition information isn't always accurate.