Sweet & tangy, slightly sophisticated and fun, these slow-cooker sloppy joe sliders up the ante and are perfect for your game day munchies!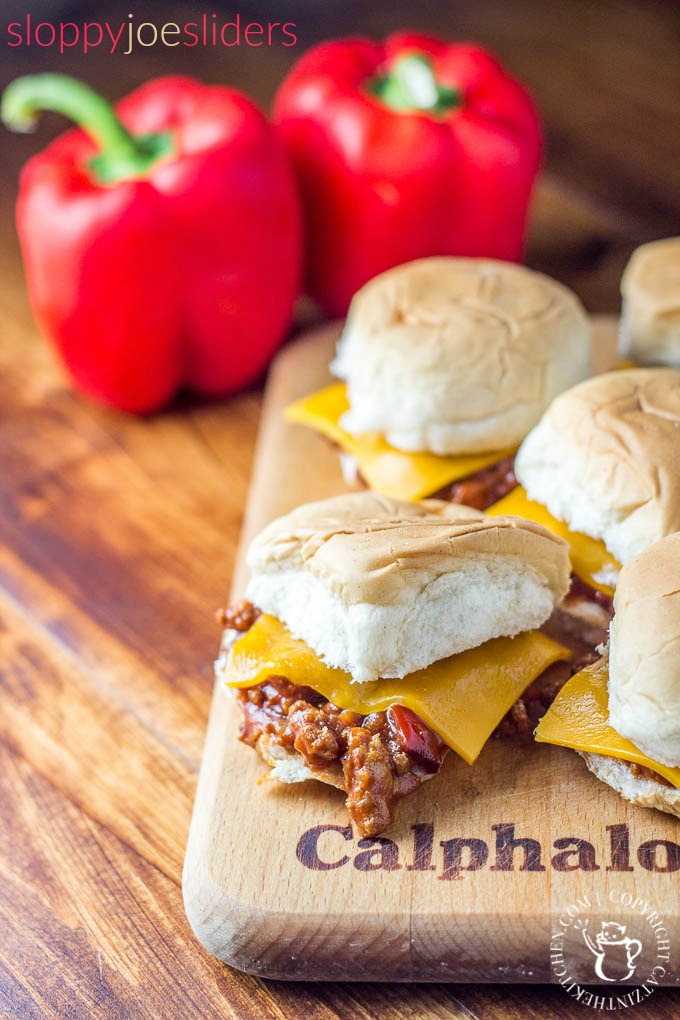 This post has been updated from the archives. The pictures have been updated – the original post appeared on Catz in January 2014.
If you were to ask me when the Super Bowl is, I would say, "On a Sunday?" That's right, I have no idea when the Super Bowl is, except that I'm fairly certain that it's on a Sunday. Also, if you were to ask me who was playing in the Super Bowl, I would also not have the foggiest idea of which teams are facing off. Has it even been decided yet? Fortunately for me, Josh doesn't really care either, although I'm sure that he at least knows who is playing and when they are playing. He's a guy. Guys need to know these things so they can tweet to their friends and talk about it at work. I'm a stay at home mom. I don't think Grace, Eden, or Christian would care much. The girls would probably stare at me like I'd lost my mind and try to bring me back to earth by telling me which new My Little Pony they just acquired on their iPad game and Christian would probably just stare.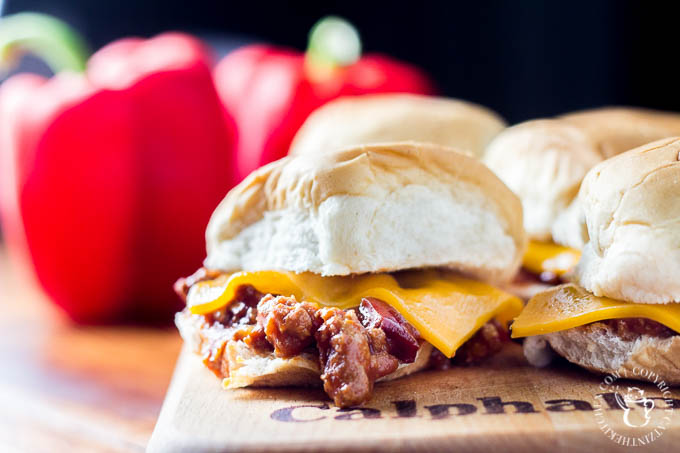 That being said, if I were to EVER go to a Super Bowl party, I'm sure I would be the one in the corner stuffing my face with all of the Super Bowl goodies.
This sloppy joe recipe is my favorite. I've tried all sorts of different versions, including the canned version and this one just trumps them all. So much delicious flavor is packed into these little sliders! It will just blow your mind and make you stand up with your arms stretched above your head yelling, "TOUCHDOWN!" Or not. You could also just sit there nodding your head over how good these are while you watch the game. Either one would be fine by me. #notpicky
These are perfect little eats for a Super Bowl party because they are in tiny little sliders, which allow for more food on your plate, but also friendly enough for the kiddos. Josh and I've decided that we should make all of our burgers and sandwiches with sliders because our youngest daughter Eden can actually get her tiny mouth around them!
These should definitely be on your Super Bowl Party menu! Or your dinner menu. You can't lose. Unlike the Super Bowl. Because, someone always loses. Bwhahahaha! I mean, "Oh…that's too bad."
Slow-Cooker Sloppy Joe Sliders
Total Time:
6 hours
10 minutes
Sweet & tangy, slightly sophisticated and fun, these slow-cooker sloppy joe sliders up the ante and are perfect for your game day munchies!
Ingredients
1 lb ground turkey breast
1 cup chopped onion
3 cloves garlic, minced
1 1/4 cups ketchup
1 cup chopped red bell pepper
1/4 cup + 1 tbsp Worcestershire sauce
1/4 cup packed brown sugar
3 tbsp yellow mustard
3 tbsp white vinegar
1 tsp chili powder
10-12 slider buns
10-12 slices cheddar cheese
Instructions
Cook and stir ground turkey, onion, and garlic in a large nonstick skillet over medium-high heat until turkey is browned and onion is tender.
Combine ketchup, bell pepper, worcestershire sauce, brown sugar, mustard, vinegar, and chili powder in the bottom of your slow-cooker. Stir in turkey mixture.
Cover; cook on low 6-8 hours.
To serve, place cheese on the bottom of the slider and spoon the sloppy joe mixture on top, allowing the heat from the sloppy joe to melt the cheese.
Nutrition Information:
Yield:

12
Serving Size:

1
Amount Per Serving:
Calories:

308
Total Fat:

12g
Saturated Fat:

6g
Trans Fat:

0g
Unsaturated Fat:

5g
Cholesterol:

55mg
Sodium:

636mg
Carbohydrates:

29g
Fiber:

2g
Sugar:

13g
Protein:

23g
Nutrition information isn't always accurate.