Chicken Pesto Burgers change it up! Smoky chicken instead of beef, fresh tomatoes, spicy arugula, and zesty pesto instead of bacon and cheese!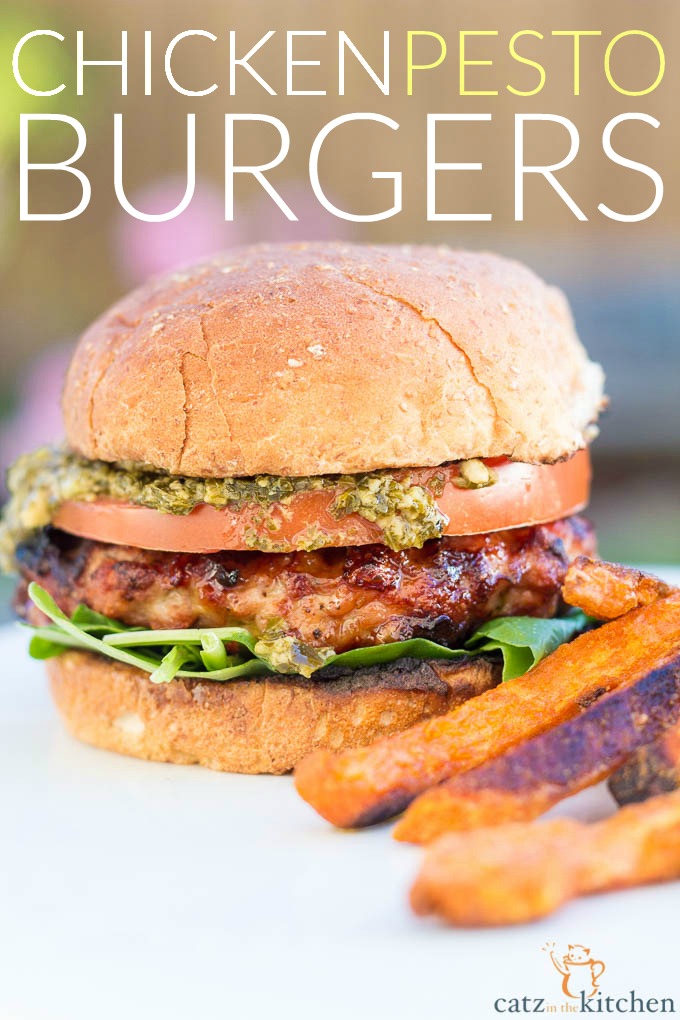 It still surprises me sometimes how quickly time moves when you're an adult. One moment I'm looking at the clock and it's only one o'clock. I turn around five minutes later and it's after four!
It was just the beginning of May…and now Memorial Day is Monday! Someone please tell me that I'm not the only "grown up" who feels there aren't enough hours in a day or days in a month (…or months in a year!)?!
However, I do love Memorial Day because to me, it's like the kickoff to summer and GRILLING SEASON. Once Memorial Day hits, anything that can be grilled or barbecued is fair game…and for me, that means burgers.
I LOVE a good burger, especially when I can smell the patties beginning to caramelize over an old-fashioned charcoal kettle grill. But…I am not always in the mood for a full-on beef patty. Sometimes, I want something a bit leaner or slightly more sophisticated, and, sadly, I do think it's important to eat red meat in moderation.
One of those sad but true situations, sort of like butter not being a superfood.
So, instead of a beef burger, how about a smoky, flavorful patty of ground chicken? And instead of bacon and cheese, why not top the burger with pesto, arugula, and fresh tomatoes? (Or, you could always grill up these amazing…and amazingly healthy…Mediterranean Turkey Burgers!)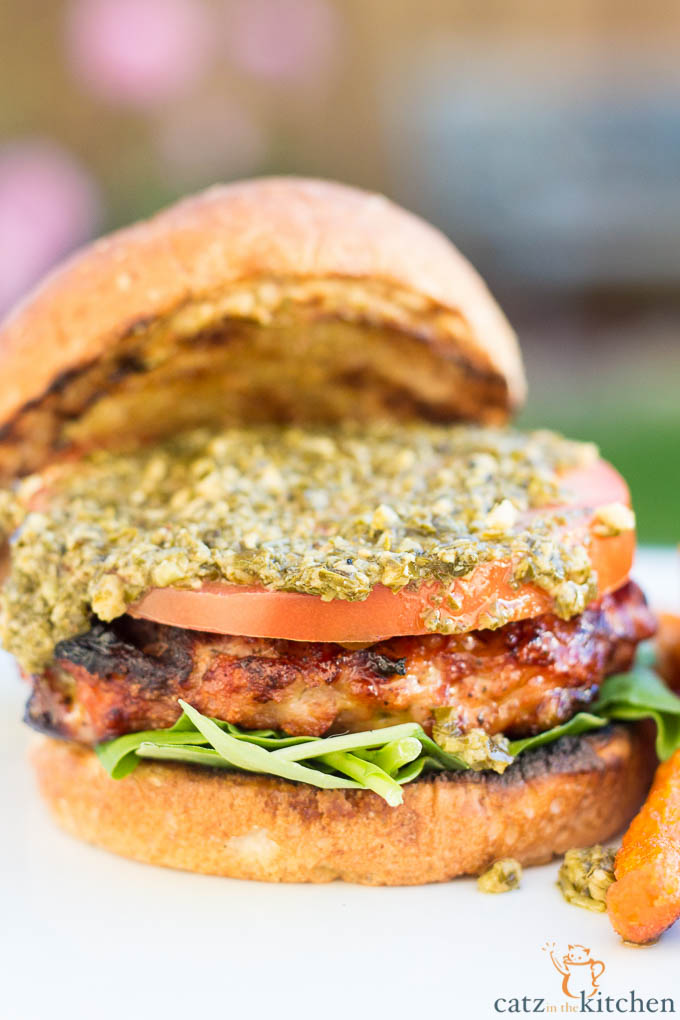 It's times like this that I feel (hope!) that I'm taking one of those steps to expand my kids' tastebuds to new flavors…and most of the time it pays off. On the rare occasion, it doesn't, but in this burger's case, our kids loved it!
I have little pesto lovers in the making, and I love that because you seriously can't beat the beautiful green color or delicious nutty flavor, not to mention the way pesto SMELLS! It's seriously one of the best whiffs you can get.
So, this Memorial Day, invite a few neighbors over, light up the barbecue, and share some laughs over these seriously craveable chicken pesto burgers!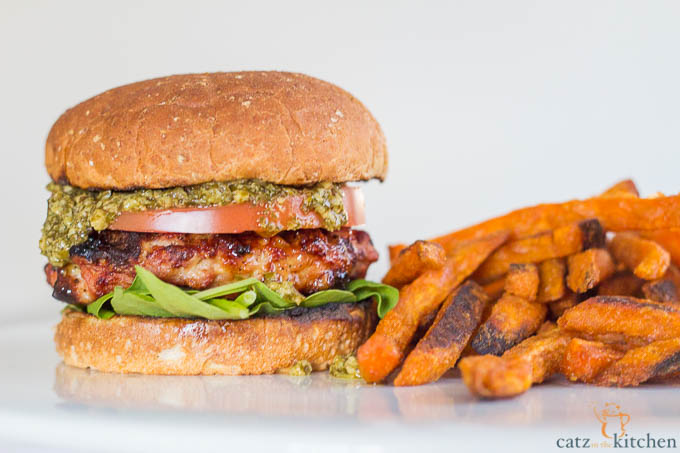 Chicken Pesto Burgers
Chicken Pesto Burgers change it up! Smoky chicken instead of beef, fresh tomatoes, spicy arugula, and zesty pesto instead of bacon and cheese!
Ingredients
5 hamburger buns (we used whole wheat, but brioche or Hawaiian would likely be good, too)
1 lb ground chicken
1 large tomato, sliced
6 oz baby arugula
1/2 cup traditional basil pesto
3/4 tsp Kosher salt
Freshly ground black pepper
Instructions
Preheat grill to high heat. Spray grill with non-stick grilling spray, or oil grate, as you prefer.
Cut up one of the hamburger buns into pieces and toss the pieces with 3 tbsp water in a medium bowl. Allow to sit for one minute.
Add chicken, salt, and pepper (to taste) to bowl. Use hands to mix until combined.
Form chicken mixture into four 3/4 inch thick patties of equal size, using a burger press, if available.
Grill patties for approximately 4-5 minutes per side, or until chicken is no longer pink and has reached a safe internal temperature.
Allow patties to rest for 2-3 minutes after removing from the grill.
If desired, brush a bit of extra virgin olive oil on the inside of each bun and grill for about 30 seconds, just until edges are lightly browned.
To build the burger, layer arugula, the chicken patty, a slice of tomato, and 2 tbsp pesto.
Serve immediately.
Nutrition Information:
Yield:

4
Serving Size:

1
Amount Per Serving:
Calories:

557
Total Fat:

31g
Saturated Fat:

7g
Trans Fat:

0g
Unsaturated Fat:

21g
Cholesterol:

129mg
Sodium:

977mg
Carbohydrates:

35g
Fiber:

3g
Sugar:

7g
Protein:

37g
Nutrition information isn't always accurate.