Old Fashioned Peach Cobbler is literally a recipe for comfort! This easy dessert features hints of cinnamon and nutmeg alongside sweet, juicy peaches – yum!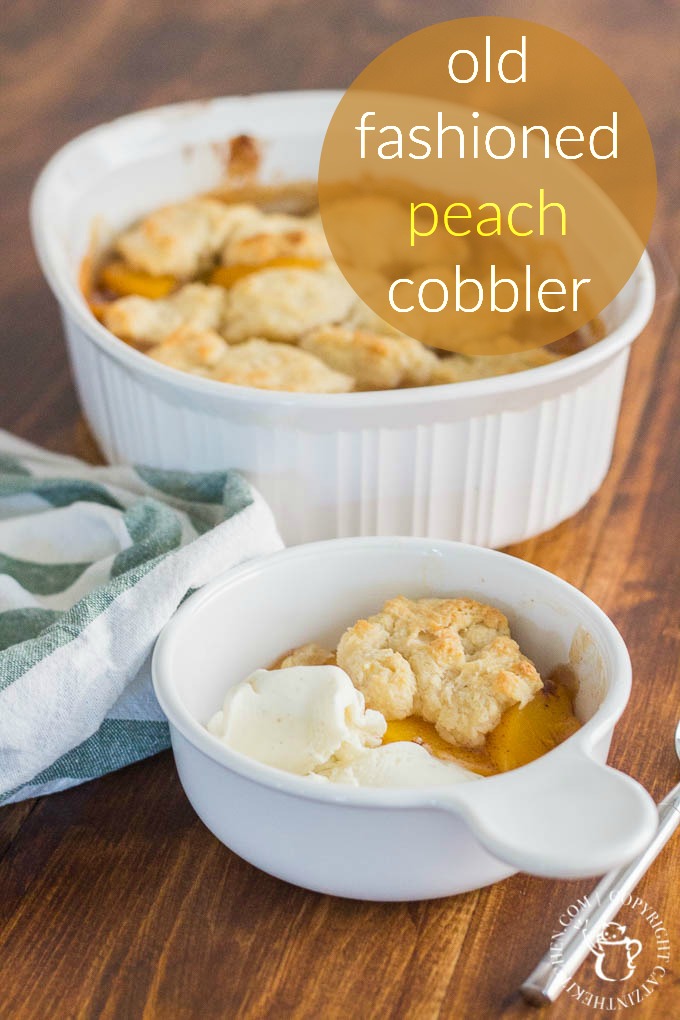 Back in December, I quit the gym and have been working out at home ever since. Of course, buying our own treadmill (used) certainly helped ease the transition from scrambling to fit in the gym on busy weeknights. Unfortunately, now the track of my treadmill is all jerky which means I've had to take any running I want to do outside…and any of you who have read this blog for awhile know that come May, going outside becomes completely unbearable. You know, because of the:
itchy, watery eyes
sneezing
runny/stuffy nose (I never know which it's going to be!)
not being able to breathe
Somehow, I just have to force myself out there to run and, amazingly, when I do, the allergy flare-ups subside until the moment I walk back into the house…and then you can hear me sneezing up a storm while I trudge up the stairs to change out of my activewear!
Speaking of activewear…last night, Josh and I were talking / joking about frugality and he was saying that it's something he needs to work on. I said, "Well, I think I'm pretty dang frugal. Don't you agree?" And you know what he did?!
HE LAUGHED AT ME!
…and kind of made that pssht sound. So I said, "Okay, what am I not frugal about?" He says, "How about workout pants?" You guys…this is just not true. I swear! For the record, let me state that I try to workout five (or more!) days a week, so unless I want to be doing laundry every two days, then yeah…
So, how many pairs of workout pants is normal? A girl likes to have options!
Of course, I could just tell that sweet husband of mine, that the reason why I buy activewear (and actually wear it – it's not like it's sitting there collecting dust on my closet shelf!) is so that I can rationalize eating a helping (or two) of dessert! For example…I really needed a cupcake on Thursday. Hubby to the rescue…he swung by my favorite cupcake shop (Fat Cupcake!) and got TWO cupcakes for me to enjoy and not share with anyone.
And I shamelessly ate them both. In the same day!
So, obviously had to work out a little longer that day…but those cupcakes were so good and not one bite did I regret.
Nor did I regret the two helpings I ate of this old fashioned peach cobbler with vanilla ice cream! We have to do what we have to do to make these things work, right? Back me up here…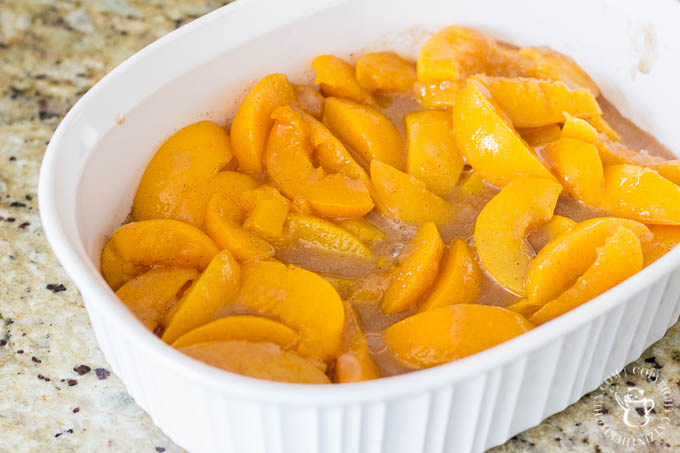 This cobbler is so good. The peaches have a delicious, warm, and slightly spicy flavor to them due to the cinnamon and nutmeg they're tossed in and they get this gooey caramelization on them that just makes you want to go…
Mmm…
The biscuit topping could be doubled if you are the type to like your fruit completely covered. I prefer it that way with berries, but not with this cobbler. I love seeing those bright, yellow peaches peek through the topping.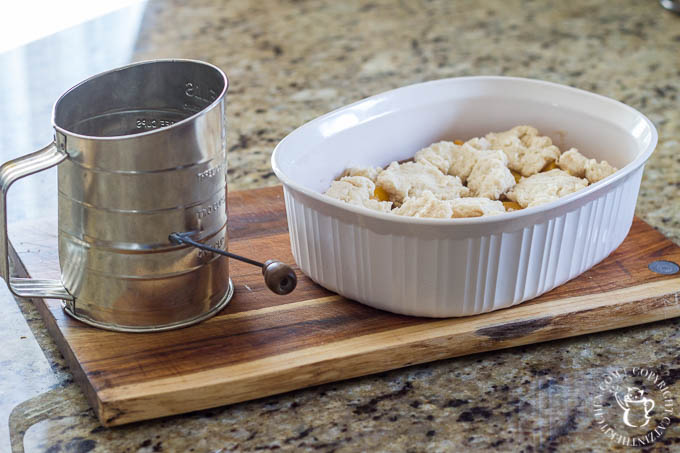 In case you were wondering, I've made this recipe using fresh peaches and canned peaches. Fresh is, of course, always best, but, if you can't find fresh on sale, canned works well in a pinch, too. Just make sure you drain and rinse the peaches in a colander to get all of that yucky sugary stuff off!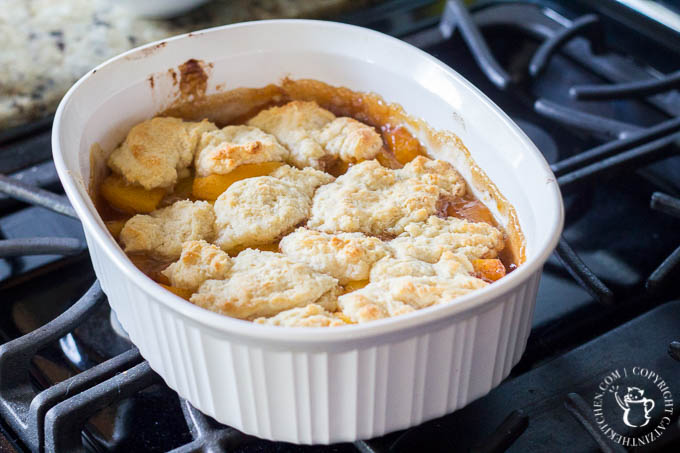 This is a perfect dessert that happens to be simple enough for a weeknight, but nice enough to make for a gathering of any kind. And it will be a hit! I promise!
Everyone will be saying, "Mmm. Mmm!" And probably not much else. Because, you know, of the face stuffing.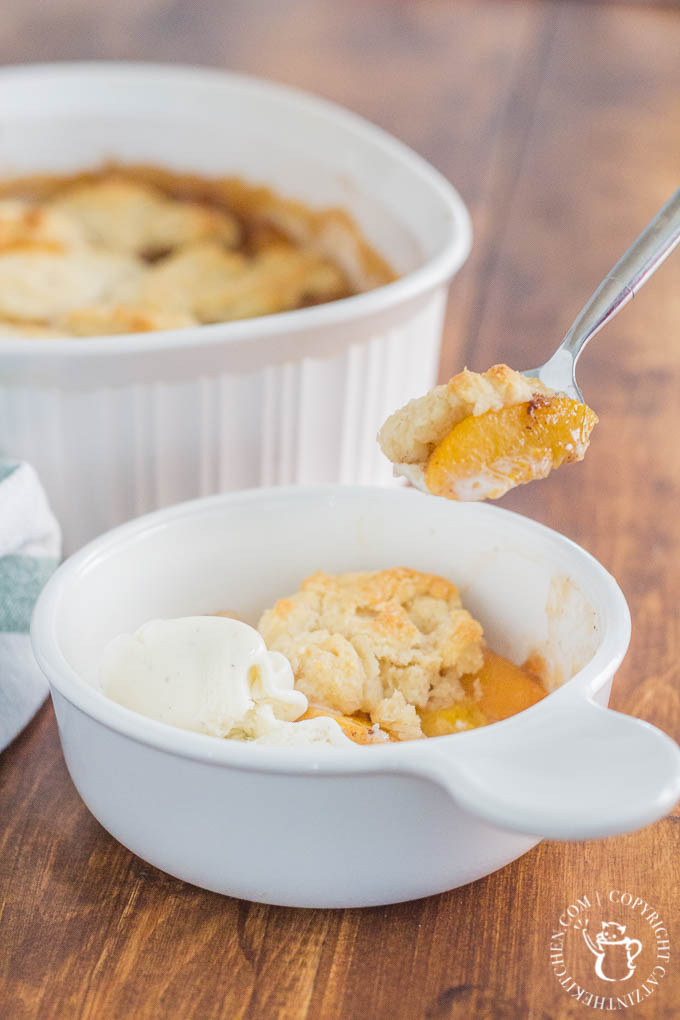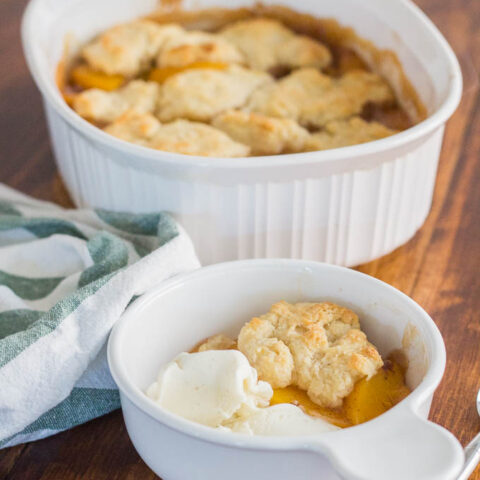 Old Fashioned Peach Cobbler
Old Fashioned Peach Cobbler is literally a recipe for comfort! This easy dessert features hints of cinnamon and nutmeg alongside sweet, juicy peaches - yum!
Ingredients
Filling
1 cup sugar
3 tbsp flour
3 cups sliced peaches
1 tbsp butter, diced
1/2 tsp cinnamon
1/2 tsp nutmeg
Topping
1 cup all-purpose flour
1 tbsp sugar
1/2 tsp baking powder
3 tbsp crisco
1/3 cup milk
Instructions
Preheat oven to 400 degrees
In a medium bowl mix sugar, flour, cinnamon, and nutmeg together. Add in the peaches and carefully stir until the peaches have absorbed the ingredients. Pour into an 8x8 baking dish and dot with diced butter.
Sift together all the dry ingredients and then with a pastry cutter, cut in crisco until the dough resembles coarse sand. Pour in milk and stir until a soft dough forms. Drop spoonfuls of dough over the top of the peaches and butter.
Bake for 30 minutes or until the topping has turned brown on the edges. Let sit for 5 minutes and serve with vanilla ice cream or whipped cream.
Nutrition Information:
Yield:

8
Serving Size:

1
Amount Per Serving:
Calories:

212
Total Fat:

2g
Saturated Fat:

1g
Trans Fat:

0g
Unsaturated Fat:

1g
Cholesterol:

5mg
Sodium:

48mg
Carbohydrates:

47g
Fiber:

1g
Sugar:

31g
Protein:

3g
Nutrition information isn't always accurate.