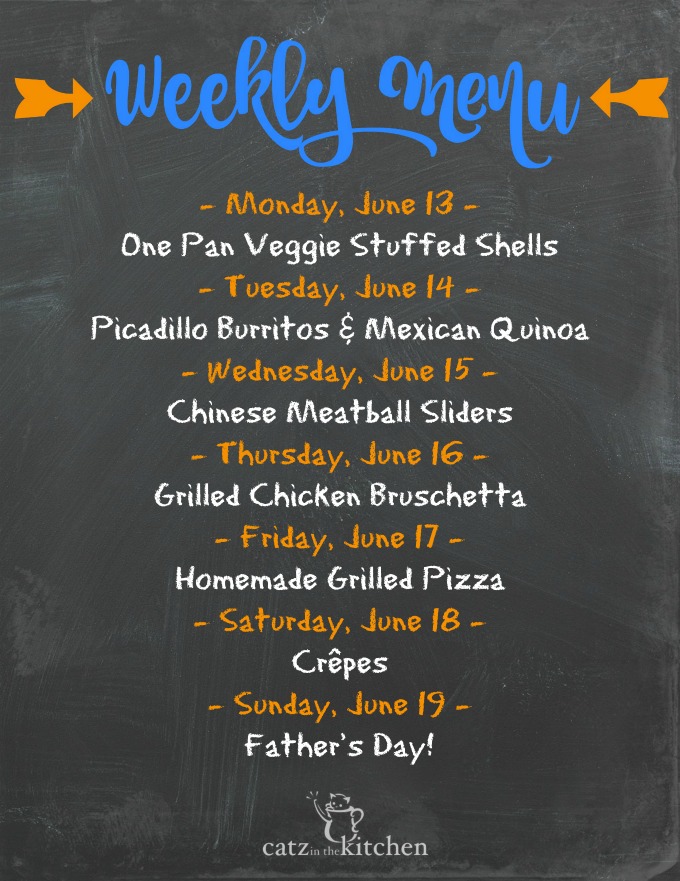 I am excited about this week! First of all, Father's Day is at the end of the week and I love celebrating Josh and my dads. They are all so deserving! But also, hello, Father's Day equals pie recipes and the new pie I'm going to share with you all on Wednesday is a doozy and has Josh's name written all over it and between you and I, he and I pretty much ate the whole dang thing by ourselves because it was that good.
I'm also excited about this week because Josh and I are trying something new out. Maybe some of you do this already to help you get through the week, and if so I want to hear about it. But, not only am I meal planning our dinners like here on the weekly menu, but we're also meal planning our lunches. I absolutely dread lunch time. I don't get excited about it. I don't like eating it. I would rather just skip the whole meal all together (and have, from time to time – not a great idea).
This week, I've made these cheesy burritos (that are lighter on calories) and this citrus chicken quinoa salad (both are delicious). The idea is that we'll rotate those two lunches through the week. This will save us time during our weeknights…voila, lunch is already made! I can guarantee we'll be eating something we both enjoy that is lighter on calories which is great for both of us! I'm also working on some of those overnight oats you can make in mason jars. If you have a favorite recipe, can you let me know?
If you are in need of pie recipes this week for you to bake up for your dad or husband, I'm your girl. Make sure you read the blog this week for those recipes and if you want more dinner ideas instead of what's just on this week's menu, you can take a gander at some of our older menus for inspiration for, too!
I hope you all have a wonderful week and a wonderful holiday!