These grilled turkey pineapple teriyaki burgers are simple, practically foolproof, relatively healthy, & make-your-tastebuds weep yummy. Make, eat, repeat.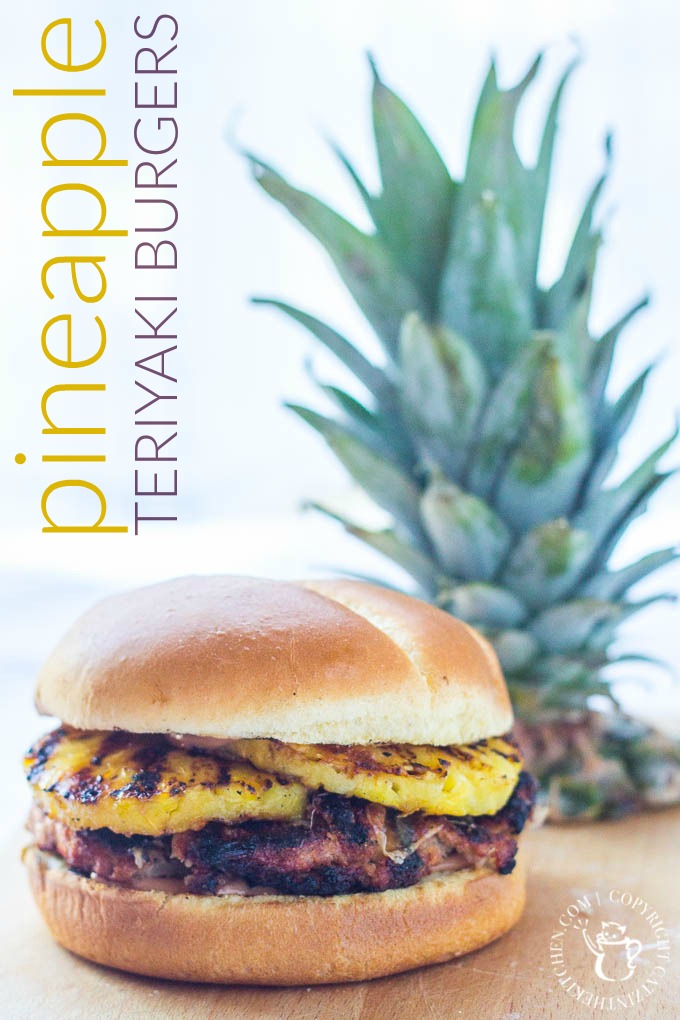 This post originally appeared on Catz in August of 2011 – one of our earliest burgers! It continues to be one of our all-time favorite summer recipes, and one we make over and over again every year. This year, we've started making it with fresh pineapple, hence the reshoot, update, and reshare! Canned Dole pineapple is excellent, and will certainly do if you don't have a whole, fresh pineapple handy, but if you can get your hands on one of these tropical beauties, use it – there's nothing quite like it!
It is only appropriate to begin this post by stating that there are few things in this world as wonderful as pineapple. It's important to get that out of the way at the onset, as well as to ensure that we share common ground in this area. There's an episode of The West Wing (my all-time favorite television series) where a character remarks that he loves to race sailboats, and he sometimes has difficulty communicating with and understanding people who don't race sailboats. Yeah. I have difficulty communicating with and understanding people who don't love pineapple.
Look at the pineapple plant.
It appears that its only purpose in existing is to showcase the beautiful fruit that grows above it. And pineapples don't share their plants with other pineapples. They are far too awesome for that. Did you ever see an apple tree that only grows one apple? And that apple sits atop the apple tree, appearing to exert its lordship over the lowly bush that bore it? I think not. However, you will see such oddities of botany if you witness the growth and wondrous maturity of a pineapple. In truth, I really could go on and on and on about the majesty of the fruit we call the pineapple, but I will have to reign myself in. Unfortunately, there are other ingredients to this meal. However, between you and I, the only one that matters is the pineapple. The rest of the food is just the pineapple's star vehicle.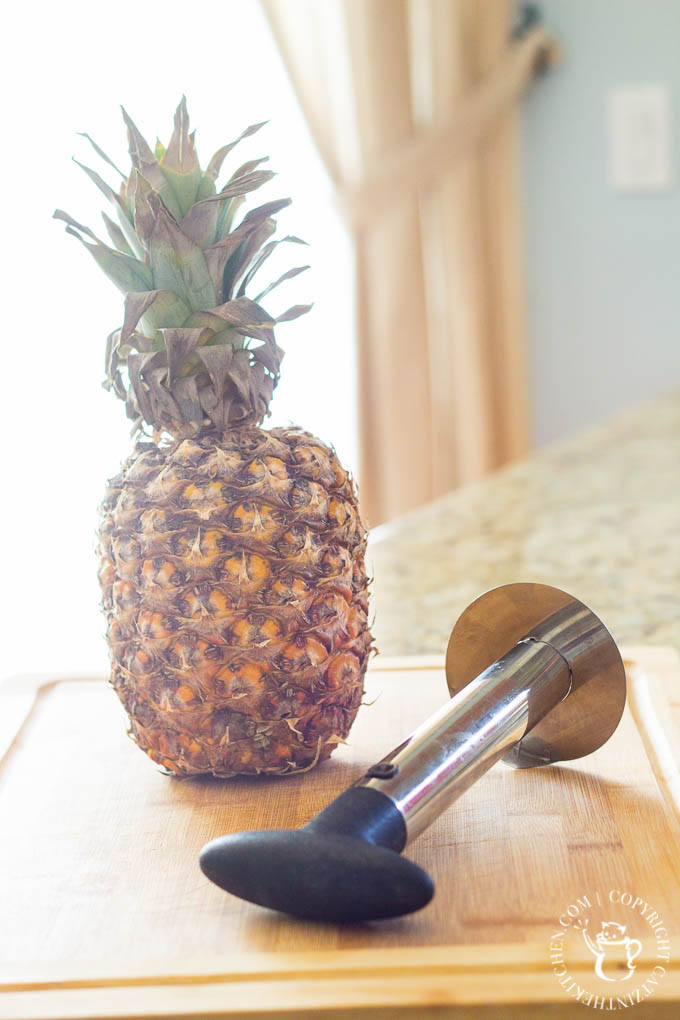 T
he reality is, there are many reasons this recipe is a favorite in the Rief household. The first, in case I forgot to mention it, is that it includes pineapple. It is only appropriate to begin this post by stating that there are few things in this world as wonderful as… Oh, wait, I already did that. Additionally, it's super simple! Anyone can make this – no previous grilling experience required. Third, it's cheap. Excellent food on the cheap? Sign me up. Lastly, it's healthy. It really is! Turkey, fruit, some starch… For a burger, this is about as healthy as it gets.
You know, it should also be said that while pineapple is wondrous and amazing and yada, yada, yada, there is one thing that trumps pineapple. That one thing is grilled pineapple. Oh, yes. Now, strangely, I'm not a pineapple snob. I know, you probably don't believe me, but it's true. While there is certainly no question that fresh pineapple is absolutely the best way to eat the heavenly fruit, canned Dole pineapple is quite delicious as well, and there are a number of situations in which I recommend using it. Our Grilled Hawaiian Pizza is one; this is one of the others. For this recipe, I use canned pineapple rings, which are nothing short of an absolute joy to lay on the grill. A grill covered in beautiful golden rings of magical fruit is a grill to be proud of.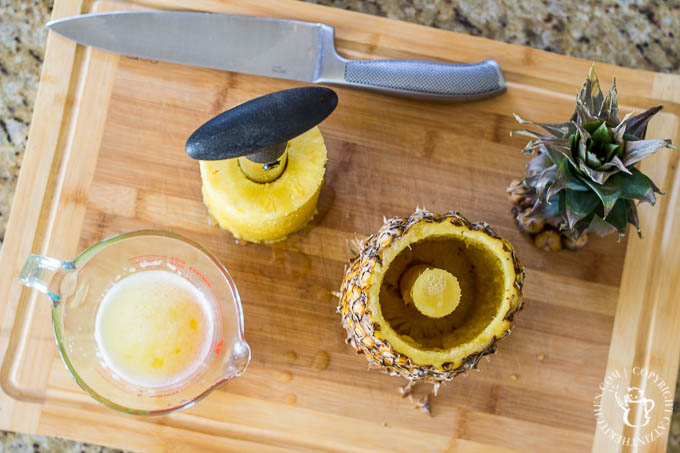 Okay, I have spent no fewer than four paragraphs extolling the limitless virtues of pineapple appreciation. However, I have come to realize that no amount of praise or wordcraft, at least in the English language, will ever accurately describe the preview of heaven that is the pineapple. So I am giving up. At least for now.

Alla

hagel

den erövrande

ananas

!
On to the recipe. Sit back and relax – this is an easy one. Start by draining the pineapple juice from the can – you're going to need it, so don't throw it out. Also, I'm pretty sure that wasting such a precious resource gets you cursed. Or something. Kikkoman, the always awesome purveyor of excellent sauces and other yummy things, makes a fantastic Teriyaki Marinade and Sauce combo you can use here – mix it together with the reserved pineapple juice. Personally, I keep a little pineapple juice beyond this on the side, both for drinking and for basting the burgers with. Yum. You could bathe in it – I'm sure it would grant you long life or something else very groovy – but it's sticky.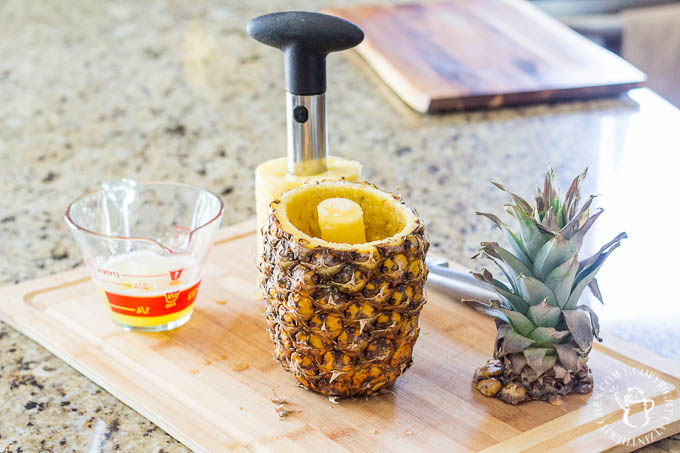 In another bowl, you're going to want to combine your ground turkey, some Kikkoman Panko bread crumbs (Wow, can you say product placement for Kikkoman? They aren't paying us, but I wish they were…), ginger (fresh, if you can manage, but ground will do), and about a quarter of the teriyaki-pineapple juice mixture you just made. Now, it's true – ground turkey is very moist, and the combination you just made is even more so. That's alright, don't panic – it's all part of the plan. It's okay. I don't trust me either.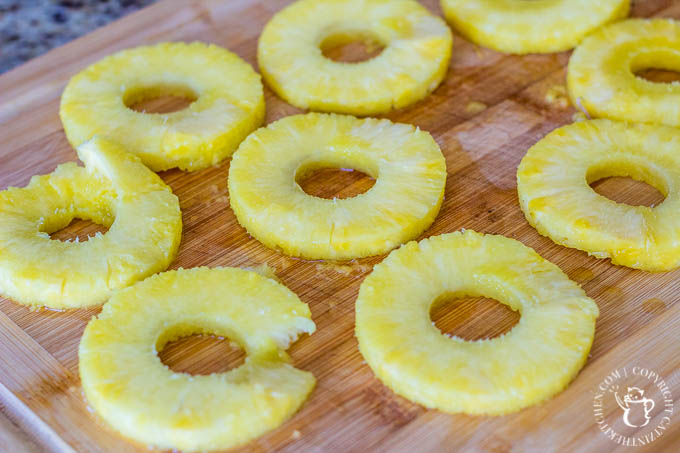 Take your mixture and split it up into eight somewhat evenly sized pieces. Do your very best to form these pieces into eight very soggy patties. Now comes the fun part. At some point previous to this, you will have wanted to preheat the grill to medium heat and spray the surface with
non-stick grilling spray
. Transfer your eight patties of sogitude to the grill, and they will begin to sizzle wonderfully. Extra bonus: as they sizzle, the smells of pineapple juice and teriyaki fill the air. Heck, yeah. This is why we love food.
While the turkey patties are grilling, baste them with the rest of your teriyaki-pineapple juice mixture, and, if you haven't consumed it all yet (or had it stolen by greedy guests and nosy neighbors), drizzle them with the occasional drops of pineapple juice. When they're done, they should still be moist inside, but have a nice glazed doneness to the outside of them (grill lines also help to make them attractive to the eye, but it's the nose that's going crazy, so, hey…).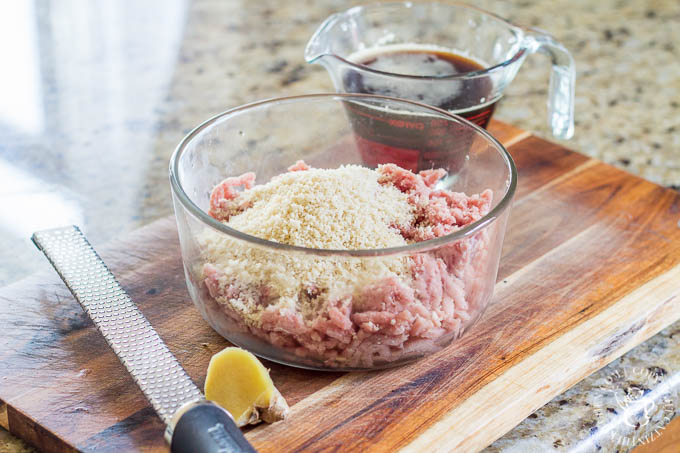 As the turkey patties are nearing your desired doneness, go ahead and lay those heavenly slices of pineapple on the grilling surface. This kicks both the visual and olfactory experience up yet another notch, and adds those incredible grill lines and that unbelievable smoky flavor to the magical fruit.
It's all coming to a head now, so grab a few slices of monterey jack cheese (Tillamook!), or cheddar (Tillamook!), if you prefer, and top the patties with them at this time. Take your buns of choice (we decided to stick with the semi-healthy theme here and use wheat) and throw them face down on the grill as well. Now, a quick tip for the buns. Lightly baste the inside of each bun surface with olive oil right before you place them on the grilling surface, and they will pick up a wonderful sweet moisture, along with their smoky char lines.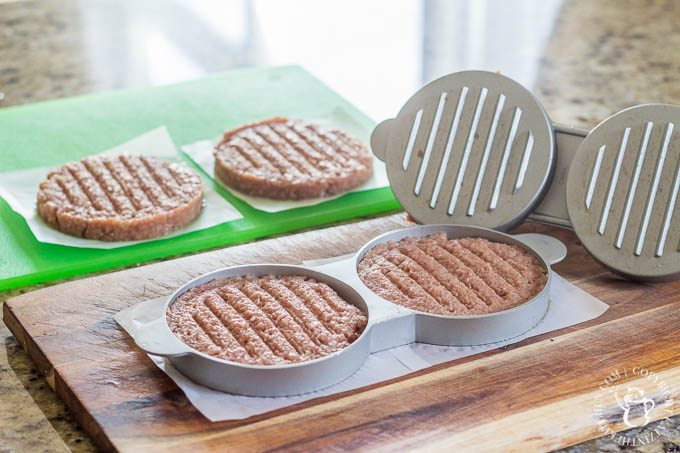 Now you have less than 60 seconds to eating time, so you best have everyone ready to go! These burgers get assembled straight off the grill, so there's no waiting – when the grilling's done, the eating begins. I'm a big fan of meals that begin with that sort of frenetic energy – yelling at people from behind a grill is highly entertaining. Get some kind of large platter by your side, and flip the buns onto it. Top the buns with the cheese-topped burgers, and top those with the pineapple rings, which will of course be topped by the remaining half of the bun! And, despite all of that topping that just took place, there are actually no additional toppings that are part of the original recipe. You can certainly add barbecue sauce or something to that effect if you like, but the truth is that the pineapple and the moist turkey patty add all of the moisture you need in this burger – it really doesn't need condiments.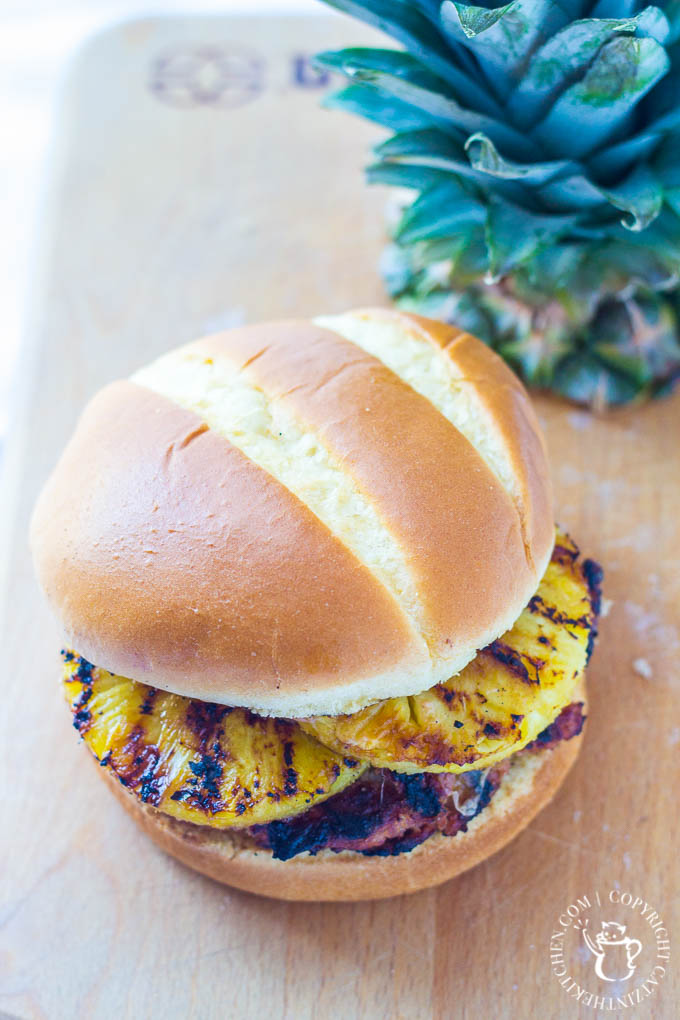 And that's it! Eat and enjoy! The taste is a wonderful but simple enhancement of the outrageously scrumptious pineapple itself, and in burger form, it is insanely enjoyable. Have ideas for customization or add-ons? Leave them in the comments! Surely there are even more ways to celebrate the superiority of all things pineapple.
Ananas övervinner allt!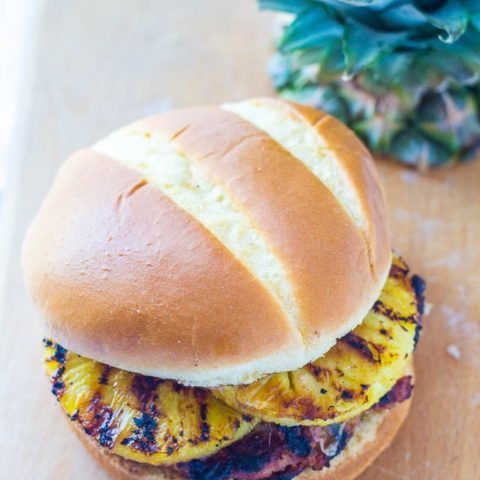 Grilled Pineapple Teriyaki Turkey Burgers
These grilled turkey pineapple teriyaki burgers are simple, practically foolproof, relatively healthy, & make-your-tastebuds weep yummy. Make, eat, repeat.
Ingredients
1 - 1 1/4 lbs ground turkey
1 tsp fresh ginger
4 Kaiser rolls / buns
4 slices cheese (cheddar or monterey jack)
1/4 cup mayonnaise
Instructions
If using, drain canned pineapple. Reserve 1/2 cup juice.
Stir together teriyaki sauce and 1/2 cup reserved pineapple juice in small bowl.
Mix together turkey, ginger, bread crumbs, and 1/2 cup of teriyaki mixture.
Divide turkey mixture into four even sections, and form into balls.
Form into four large patties, about 3/4 inch thick, with a burger press, if available.
Grill patties over medium heat, brushing often with remaining teriyaki mixture, until a thin glaze has formed on the exterior of the meat, and the inside is cooked through. Add cheese to top of patty and allow to melt.
Place pineapple slices on grill and cook until grill marks appear.
Toast sliced Kaiser rolls briefly on grill if desired.
Mix mayonnaise and barbecue sauce together in a small bowl and spread on Kaiser rolls. Add patty to bottom bun, top with two pineapple slices, close bun, and serve!
Notes
Nutrition Information:
Yield:

4
Serving Size:

1
Amount Per Serving:
Calories:

1096
Total Fat:

60g
Saturated Fat:

16g
Trans Fat:

1g
Unsaturated Fat:

39g
Cholesterol:

184mg
Sodium:

4076mg
Carbohydrates:

87g
Fiber:

4g
Sugar:

49g
Protein:

53g
Nutrition information isn't always accurate.