These S'more Brownie Bites are perfect for when you're craving chocolate, sweetness, and marshmallow goodness without the guilt or the fire!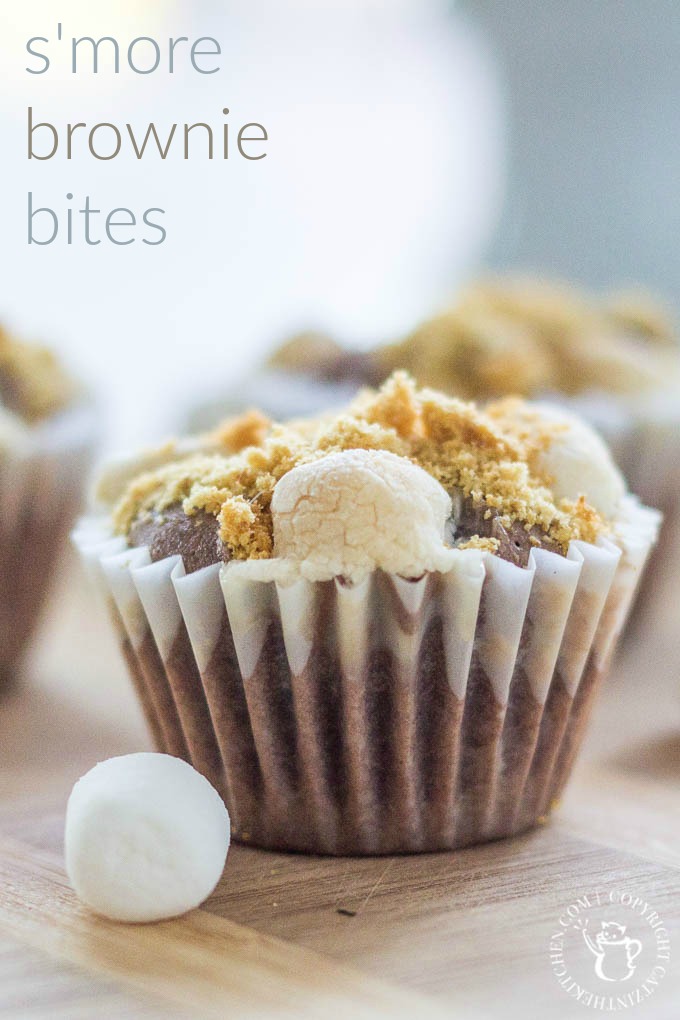 So, I'm excited about this one. Not because the S'more Brownie Bites are so yummy (though they are), but because Gracie (12) and Edie (8) made them all on their own! They picked out the recipe, got the ingredients, baked (and cleaned up!) without any parental guidance or supervision (within reason, of course – I was only one room away)! So, bear with my little story here…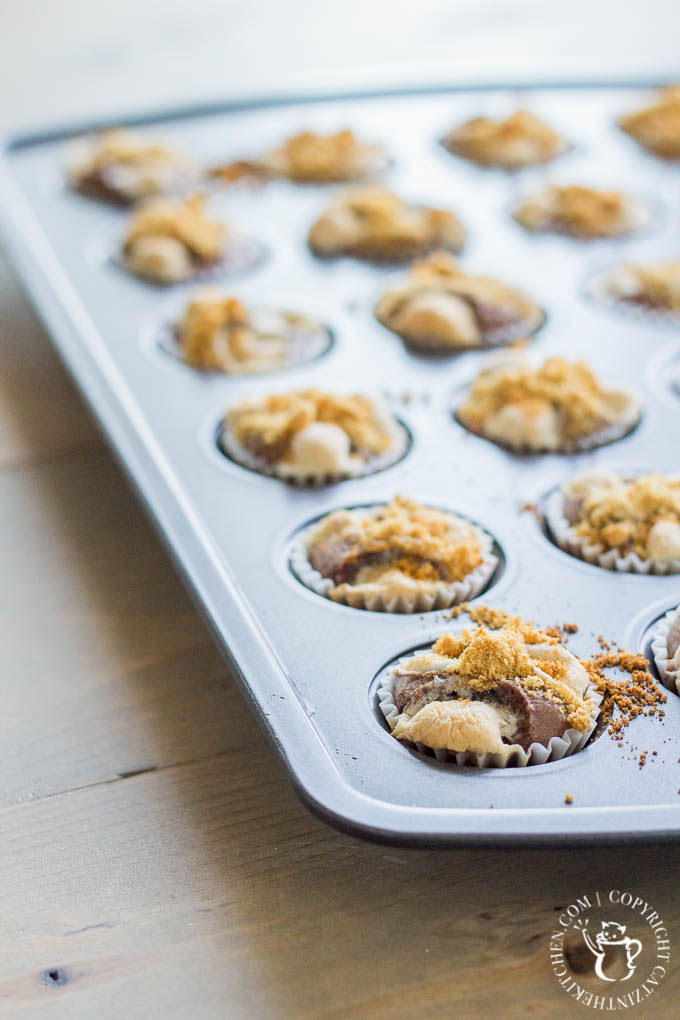 Josh and I "cut the cord" over three years ago and haven't looked back since. Even for our favorite shows.
I'll admit, I did go into a sort of dark place once Josh made the cut. Not because I missed watching episodes of The Mentalist or White Collar, but because for once in a long time I didn't have access to The Rachael Ray Show or any and all HGTV or Food Network shows. Which meant, no Pioneer Woman, no Ten Dollar Dinners and no Chopped!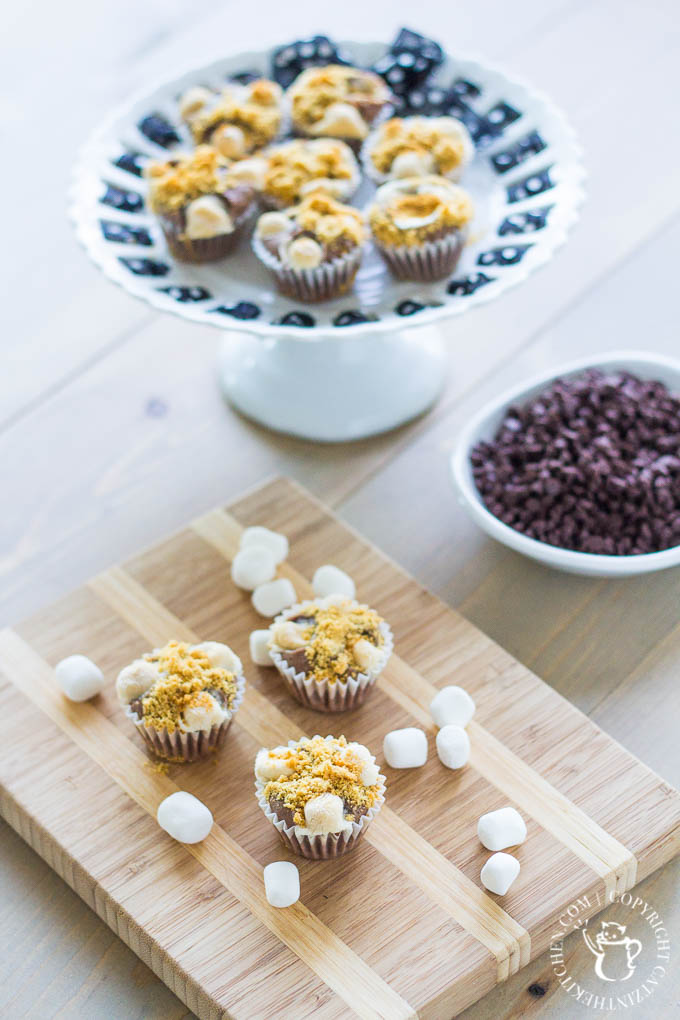 I call this time in my life the dark years. I couldn't eat. I couldn't sleep. I couldn't…nah. I could eat and sleep just fine, but I have missed cooking and DIY television!
Thankfully, Sling TV came to the Apple TV last month, and I'm back in business! Live Food Network and HGTV without a cable or satellite subscription. This is not a paid endorsement, I swear – I'm just excited!
I should probably note that those are literally the ONLY channels we use on Sling TV. We seem to have no interest in whatever else is offered. Just give me Fixer Upper and The Next Food Network Star and I'm a happy girl. Thankfully, the kids feel the same way – chefs are the "celebrities" they look up too. Three-year-old Christian especially loves to watch Giada at Home. While Grace requests The Pioneer Woman or Chopped and Eden wants Cutthroat Kitchen all the time, Christian is simple. He just wants to watch pretty little Giada cook and bake something Italian in her kitchen by the ocean. #aboyafterhismommasownheart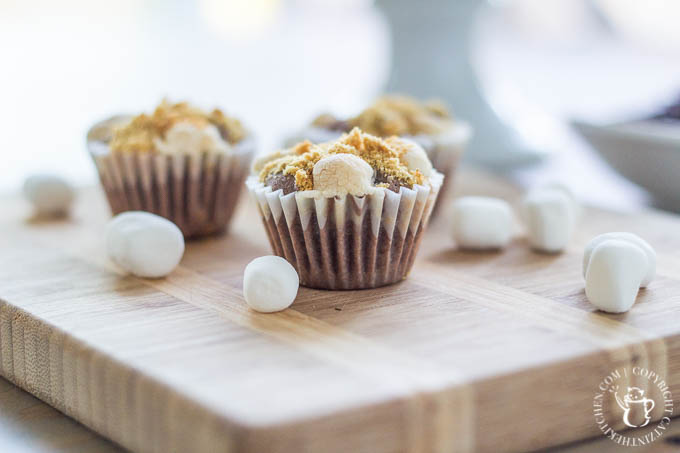 I love that my kids want to cook. It makes me happy. I think being in the kitchen and learning how ingredients work together, tasting the final product, and seeing your hard work pay off builds confidence, which is extremely good for kiddos.
The other day, Grace and Eden approached me and declared that they had been bitten by the baking bug and the only cure was more cowbell to bake something sweet and chocolatey. At the time they approached me I wasn't really in the baking mood, so I told them that if they wanted to bake something, they were on their own, but to try not to burn the house down. I hope that my actions of not being present in the kitchen shows them that I do trust them and that I don't want to squash their hankering for baking.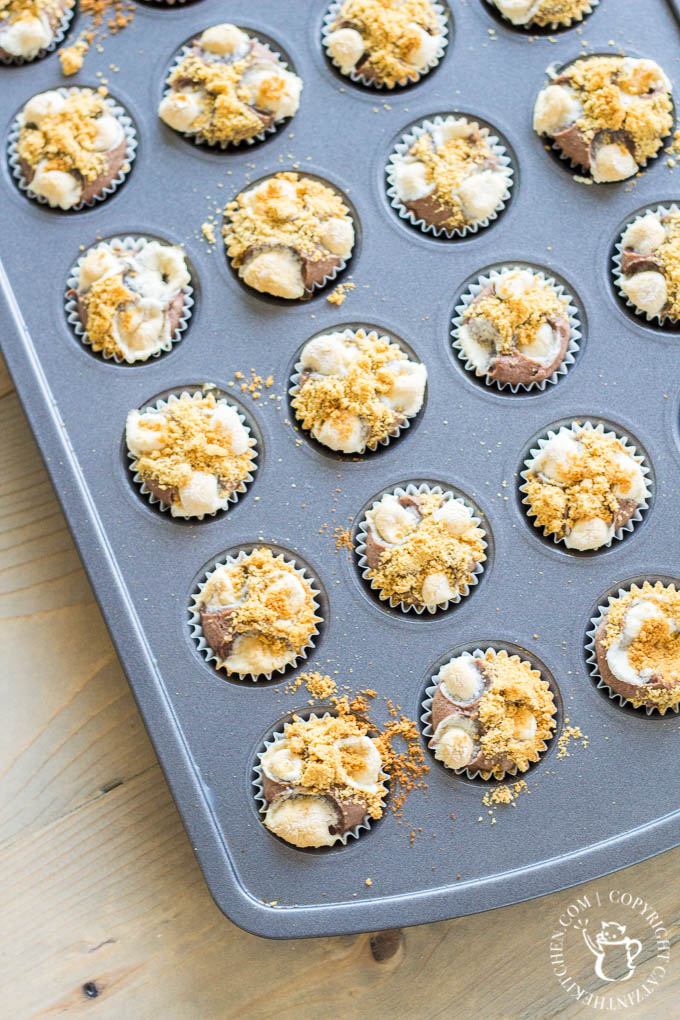 I think they did such a beautiful job baking 24 of these delicious little S'more Brownie Bites. For me, they are the perfect size. It gives me just a hint of the sweetness and indulgence I crave but without the guilt of eating a huge brownie topped with s'more frosting. I'm all for balance, and these babies are the perfect amount of sweetness, chocolate, and toasted marshmallow yumminess.
If you're craving the indulgence of a s'more without the fire, bake up these adorable little s'more brownie bites. Or better yet, have your kids bake them up for (or with) you!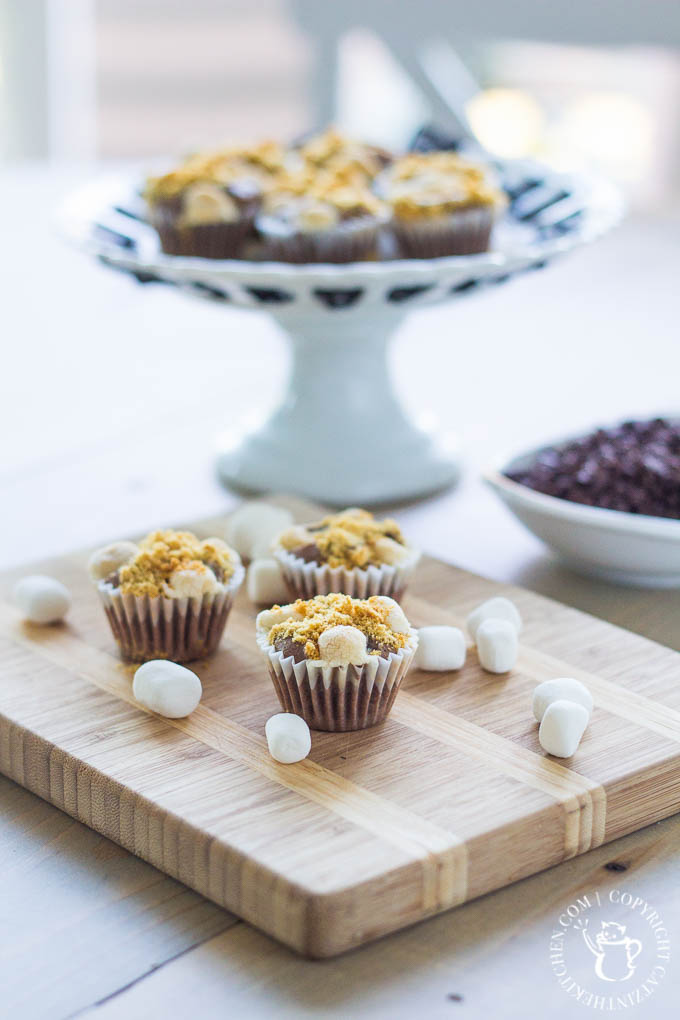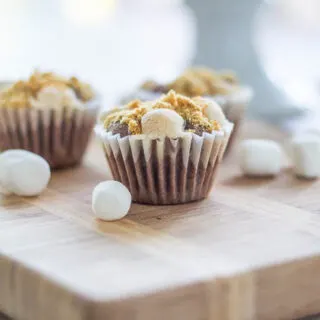 S'more Brownie Bites
These S'more Brownie Bites are perfect for when you're craving chocolate, sweetness, and marshmallow goodness without the guilt or the fire!
Ingredients
1 stick unsalted butter, room temp
1 1/4 cups mini chocolate chips
1/2 cup sugar
2 eggs, room temp
2 tsp vanilla extract
1/2 cup all-purpose flour
1/2 cup quinoa flour
3/4 cup mini marshmallows
1/4 cup graham crackers crumbs, finely crushed
Instructions
Have an oven rack positioned in the middle of your oven and preheat your oven to 350 degrees. Line a 24 count mini muffin pan with 24 mini muffin liners.
Heat the butter in a small saucepan over low heat. Remove the pan and add 3/4 cup mini chocolate chips, stirring until the chocolate is melted and smooth. Transfer the mixture to a medium bowl and stir in the sugar, eggs, and vanilla.
Gradually beat in the flours until the batter is thick and smooth. Stir in the remaining 1/2 cup of mini chocolate chips.
Using a small cookie scoop, fill each paper liner with about 2 heaping tablespoonfuls of batter. Push 3 mini marshmallows down on top of the center of the batter and then sprinkle about 1-2 teaspoons of the finely crushed graham crackers.
Bake until the marshmallows are puffed and lightly golden, about 10-12 minutes. Cool for 20 minutes and serve.
Nutrition Information:
Yield:

24
Serving Size:

1
Amount Per Serving:
Calories:

127
Total Fat:

7g
Saturated Fat:

4g
Trans Fat:

0g
Unsaturated Fat:

3g
Cholesterol:

26mg
Sodium:

13mg
Carbohydrates:

15g
Fiber:

1g
Sugar:

10g
Protein:

2g
Nutrition information isn't always accurate.