This recipe for French plum cake, also known as a "tatin" will surprise and delight your palette! It's the perfect way to showcase this special fall fruit!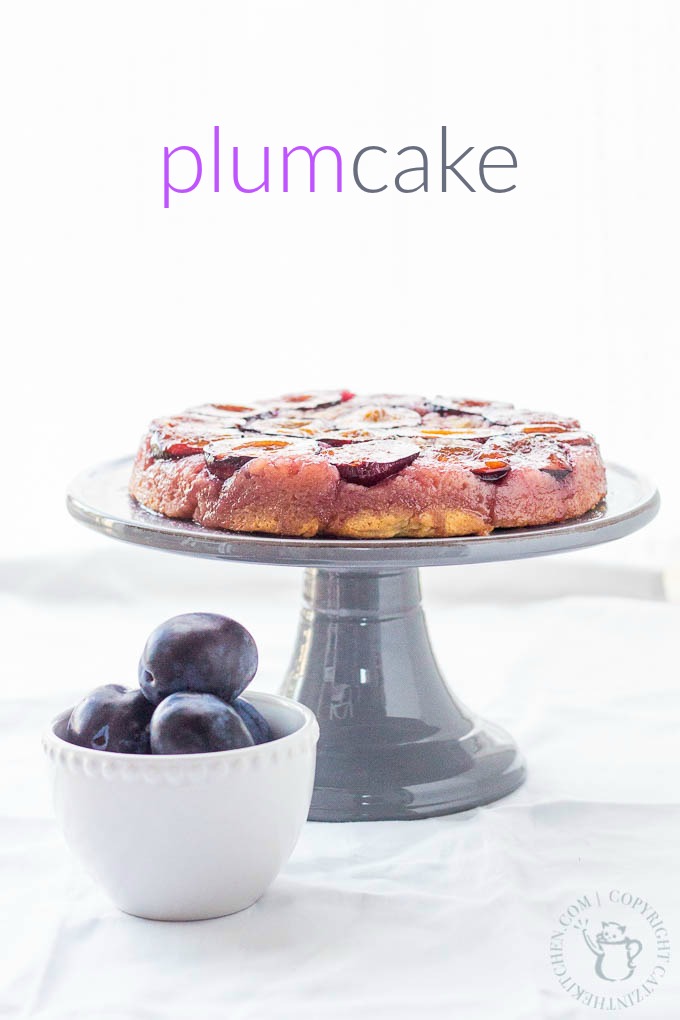 I sometimes wish I could live in California. I mean, hello, they have Disneyland…and Oregon does not. We have Enchanted Forest, I guess, which is our miniature version of the happiest place on earth. But…California also has fruit trees! Fruit trees galore! Orange trees, avocado trees, lemon and lime trees… I'm envious. I would love to be able to grow lemons or limes in my backyard!
So, for all of you who live in California, YOU are so lucky!!! At least for that reason. I know it's expensive and hot and you don't have water. So there's that.
We do have fruit trees here in Oregon, though. We can grow apples, peaches, pears, cherries, and plums, to name a few! We are not entirely without, it would seem. Our neighbor directly behind our house has such a beautiful front and back yard with tons of different flowers, several raised garden beds and lots of lovely trees. Some of those trees bear cherries, plums, and apples every spring and summer!
I remember the first time I realized (last year) that our neighbor had fruit trees in her backyard, I felt like the luckiest neighbor ever because trees that bear fruit are just really beautiful trees to look at, and thankfully for me, I can see her trees from my kitchen, living room, and bedroom window.
Not that I'm a creeper or anything.
This neighbor is really sweet, any fruit that is on the backside of the fence facing our house she lets us pick – which thrills my kids to no end! They would be picking apples and plums off her trees all day if I let them (and if the harvest held out, I suppose!).
A couple of weekends ago, she was picking plums off her tree and talking to Josh about thinking about cutting that particular tree down – which my husband tried to gently encourage her not to do! I think she felt bad about the trees dropping fruit and leaves into our backyard, which we honestly don't mind a bit. We planted several new baby saplings around our home this spring, but we really only have three trees on our property that drop leaves – it doesn't take long to rake them up in the fall and winter – so we really don't mind whatever falls into our yard.
As she was talking to Josh (I was weeding the side yard and the garden) she gave us a huge bowl of plums to enjoy! The kids will just eat them plain (and they did, immediately!), but I wanted to bake something with them. I should mention that I am not the biggest plum lover. I think they are a gorgeous fruit, but I'm typically not wild about the flavor – but that wasn't going to stop me from baking them into a sweet treat!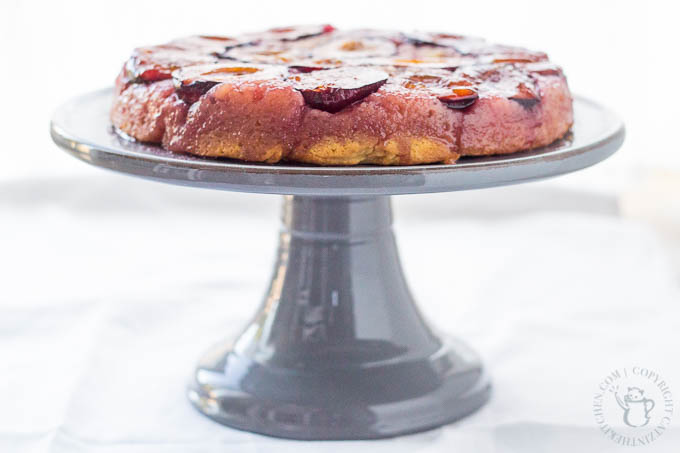 I loved the idea of an upside down cake with the plums. I've made an bacon upside down pancake before and my mom used to make pineapple upside down cake, so when I came across this Plum Cake "Tatin" from Ina Garten's Barefoot in Paris, I knew I couldn't go wrong. I mean, how can you ever go wrong with French cooking?
You can't!
(P.S. We're really excited about another French Ina Garten recipe we'll be sharing with you in September!)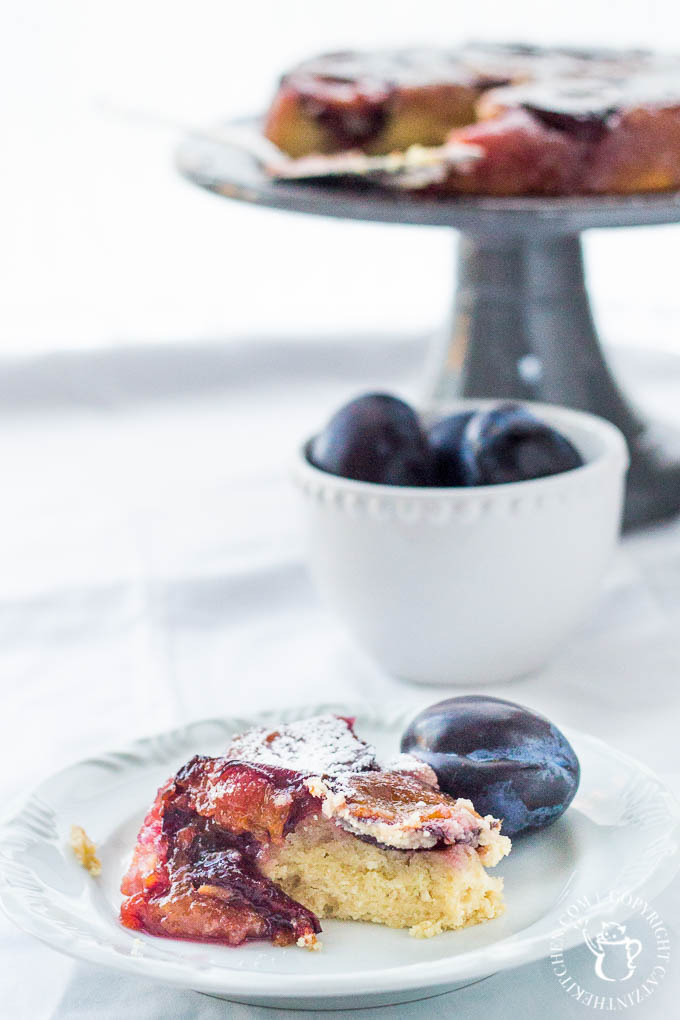 I know French cooking can seem daunting and intimidating at times, but I promise, this recipe is simple and easy. The most challenging part might be making the sugary syrup that gets poured over the plums, simply because you want the liquid to turn an amber color, which is a lot easier to do if you have a candy thermometer that you can use to go by when heating something to a certain temperature – in this case 360 degrees.
This is a pretty and delicious cake to make towards the end of summer if you've got plums on hand…or maybe a neighbor of yours gave you a few. It's not heavy, rather light, actually and would be delicious if paired with some whipped cream. If you don't have plums, apple slices and pears would be lovely, too, and perfect for fall!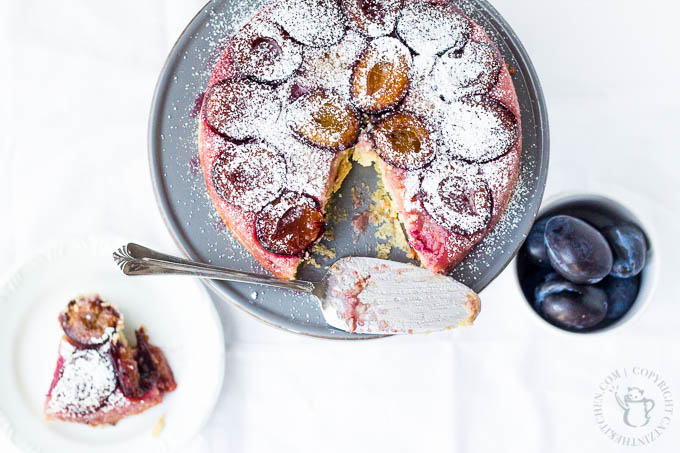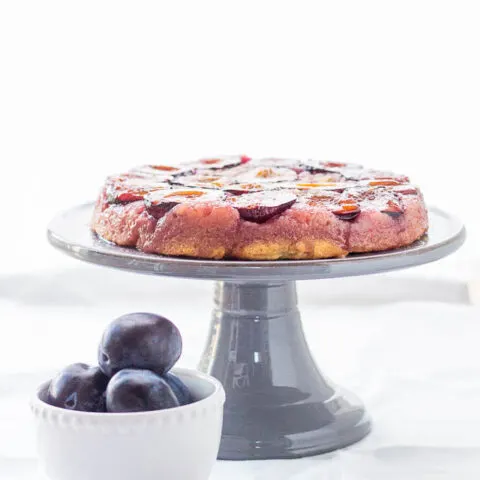 Plum Cake "Tatin"
This recipe for French plum cake, also known as a "tatin" will surprise and delight your palette! It's the perfect way to showcase this special fall fruit!
Ingredients
6 tbsp (3/4 stick) unsalted butter, room temperature, plus more for greasing the cake pan
10-12 purple "prune" plums, cut in half and pitted
1 3/4 cups granulated sugar, divided
2 large eggs, at room temperature
1/3 cup light sour cream
1 tsp grated lemon zest
1 tsp pure vanilla extract
1 cup + 1 tbsp all-purpose flour
1 cup + 1 tbsp quinoa flour
1/2 tsp baking powder
1/4 tsp kosher salt
powdered sugar for sprinkling over the top of the cake
Instructions
Preheat oven to 350* degrees. Generously butter a 9-inch cake pan and arrange the plums in the dish, cut side down.
Combine 1 cup of granulated sugar and 1/3 cup water in a small saucepan and cook over high heat until turns a warm amber color, about 360* degrees on a candy thermometer. Swirl the pan, but don't stir. Pour evenly over the plums and set aside.
In a large bowl cream the 6 tablespoons of butter and the remaining 3/4 cup of granulated sugar together using an electric mixer fitted with a paddle attachment, until light and fluffy. Lower the speed and beat in the eggs, one at a time. Add the sour cream, zest, and vanilla and mix until combined.
In a medium bowl, sift together the flours, baking powder, and salt and , with the mixer on low speed, add it to the butter mixture. Mix only until combined.
Pour the cake batter evenly over the plums and bake for 30-40 minutes, or until a toothpick comes out clean. Cool for 15 minutes on a wire rack before inverting the cake onto a cake plate. Serve warm or at room temperature. Dust with powdered sugar.
Notes
Prune Plums are the blue plums available in late August and early fall.
If you don't have quinoa flour, you can use all-purpose flour for the full 2 cups + 2 tbsp measurement.
Nutrition Information:
Yield:

8
Serving Size:

1
Amount Per Serving:
Calories:

451
Total Fat:

14g
Saturated Fat:

7g
Trans Fat:

0g
Unsaturated Fat:

6g
Cholesterol:

85mg
Sodium:

242mg
Carbohydrates:

80g
Fiber:

1g
Sugar:

72g
Protein:

3g