Looking for an easy way to please a hungry crowd? Try this simple, quick take on Red Robin's famous Banzai Burger – they'll be full and happy in no time!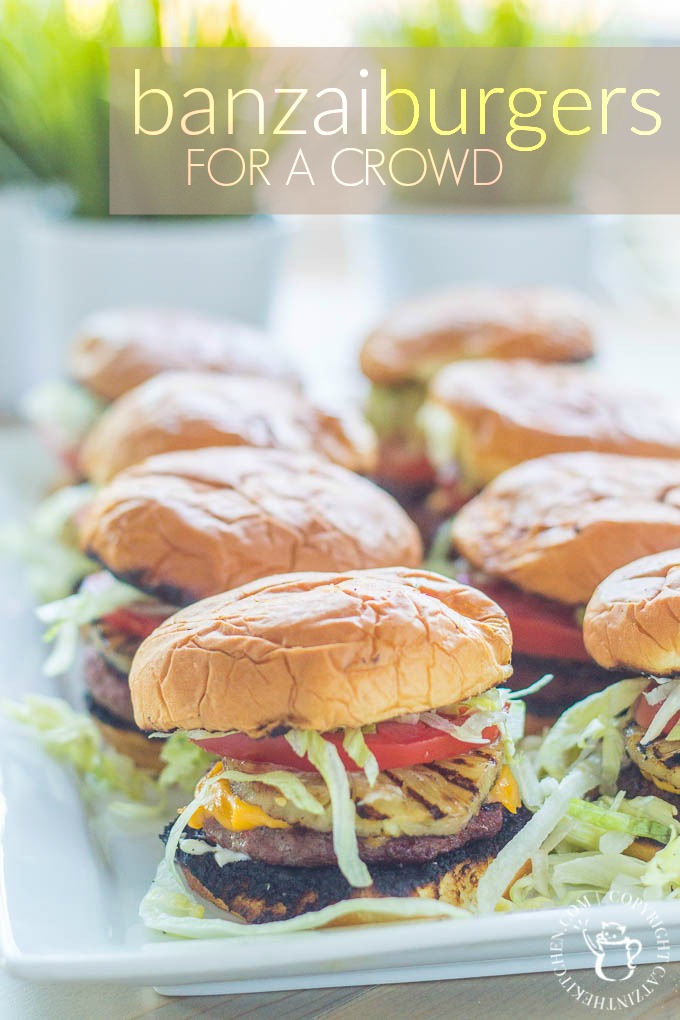 So…please tell me you've had Red Robin's famous (Infamous? One is bad, one is good…or whatever…right?) Banzai Burger. If you haven't, and you're not, you know, a vegetarian or something, bookmark this post for later, go get in your car, drive to your nearest Red Robin, and order one. As you savor the delectable mix of grilled pineapple and teriyaki glaze, you'll begin to understand why it has spawned a thousand (I'm estimating) imitation recipes in the food blogosphere. Go ahead, do it. Those of you who know what I'm talking about already…read on.
Okay, back from your spur-of-the-moment burger binge? Excellent. Now that you know, let's talk teriyaki. Sorry, turkey didn't make sense there, for obvious reasons. If you're looking for the best, most accurate recreation of Red's marvelous masterpiece that you can make at home, open a new tab and Google "red robin banzai burger imitation recipe," because this isn't that. We've done that here at home, don't get me wrong, and we'll undoubtedly do it again – it's a worthy pursuit!
So…what is this? This is a quick, easy, and super simple take on the flavors that make the Banzai spectacular, designed to feed eight or more without too much trouble or fuss! Could you halve it and feed four? Of course. Quarter it and make two if you like (Don't do that – halve it, and if there are really just two of you…eat two each! I know, this post is really helping you with your diet right now…).
Double it and feed 16!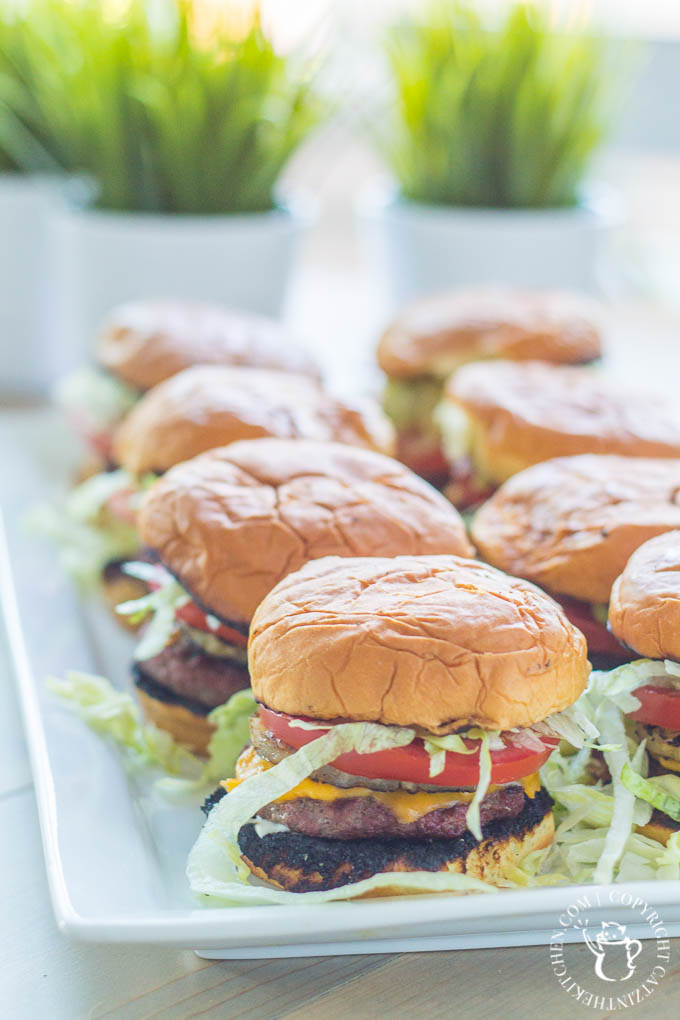 Now, if you really just feel strongly about "gourmeting" this up a bit, use more beef (bigger burgers), freshly baked brioche buns, a homemade teriyaki glaze, and fresh cored and sliced pineapple. You probably won't make as many, and it will take longer, but they will be GOOD.
But…if you just need a tasty, quick way to please the tastebuds of whatever crowd you happen to be entertaining, give these a shot.
You just can't go to far wrong when there's pineapple on the grill!
Banzai Burgers for a Crowd
Looking for an easy way to please a hungry crowd? Try this simple, quick take on Red Robin's famous Banzai Burger - they'll be full and happy in no time!
Ingredients
8 small to medium-sized hamburger buns (one package)
1 bag of pre-shredded iceberg lettuce
1 to 1.5 lbs ground beef
1 can pineapple slices
2 large tomatoes, sliced
1/4 cup mayonnaise
2 tbsp canola oil
8 slices of cheddar cheese
Instructions
Preheat a grill to medium high direct heat. Prepare a non-stick grilling surface, using either grilling spray or by rubbing oil on the grate.
Mix the ground beef and the teriyaki marinade by hand. If the mixture seems too wet, add some bread crumbs to soak up the mixture. If too dry, add a bit of the pineapple juice from the can of pineapple slices to moisten it.
Divide the beef into eight equal parts and roll into balls.
Shape the beef into patties by hand, or use a slider press and then flatten the slider patties out a bit more to make them thinner and wider. Make a small indentation in the center of each patty with your thumb.
Transfer the patties to the grill and grill about three minutes per side, or until they reach a safe internal temperature.
Meanwhile, open and drain the pineapple. Add the rings of pineapple to the grill for the last few minutes of the burgers cooking. Top the burgers with cheese.
Mix the mayonnaise and barbecue sauce together well.
Brush the inside of the sliced buns with the canola oil.
When the burgers are cooked, remove them from the grill to rest and add the sliced buns to the grill for a minute or less, just long enough to warm and slightly crisp the edges.
Remove the pineapple slices and buns from the grill.
Spread the mayo/BBQ mixture on both sides of the bun, top with burger, pineapple, a tomato slice, and lettuce.
Service immediately, preferably with lots of sweet potato fries!
Nutrition Information:
Yield:

8
Serving Size:

1
Amount Per Serving:
Calories:

489
Total Fat:

33g
Saturated Fat:

12g
Trans Fat:

1g
Unsaturated Fat:

18g
Cholesterol:

106mg
Sodium:

1116mg
Carbohydrates:

15g
Fiber:

1g
Sugar:

9g
Protein:

32g
Nutrition information isn't always accurate.