If you're one of those autumn enthusiasts who just can't wait to get fall started, then this recipe for Pumpkin Spice Bars was made for you!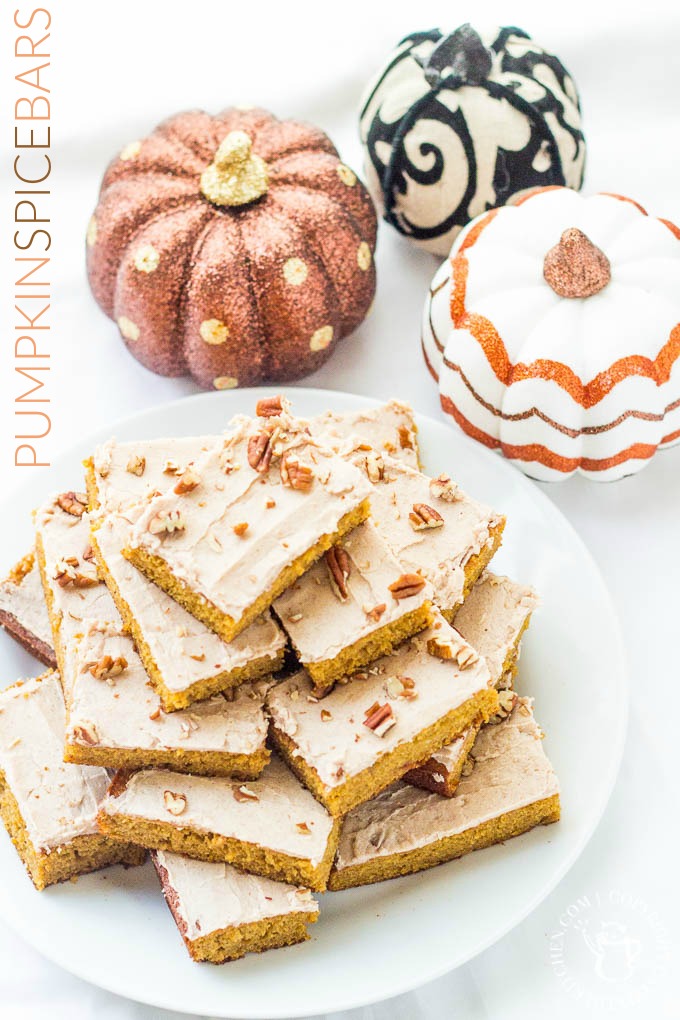 It's pumpkin pie and back-to-school time all rolled into one! I officially waited until last week to start baking with pumpkin. But it was hard. I mean, I've usually been baking with pumpkin for weeks at this point. But this year, I've held back and here's why – back to school stuff was showing up in the stores in the middle of July. I spied Christmas decor in one of the aisles of Jo-Ann's last week. And Black Friday sales begin on Thanksgiving Day. Which is of the course the day where everyone should be with their families. Not out shopping. #RantOver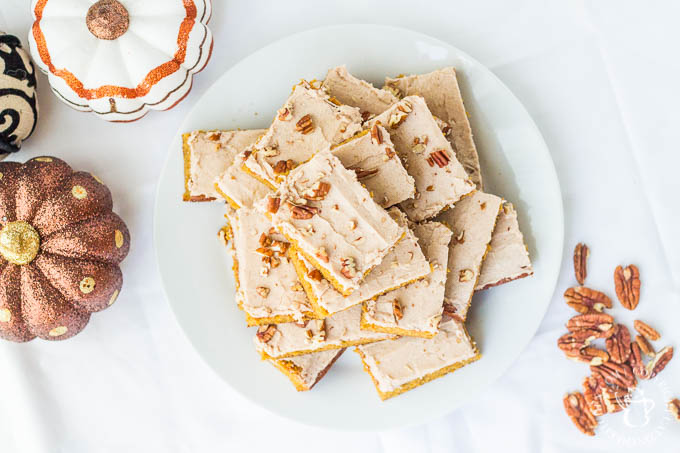 My point is, everything gets hyped out before a lot of people are ready for it. Now, I, on the other hand, do get excited about Halloween costumes in Costco in August, and the switch over from summer to fall because fall (or autumn, if you prefer) is my favorite season. But not everyone shares this point of view…like my husband, so I do try very hard to wait until the opportune time to bring out…the pumpkin!
Well, the opportune time has come – I'm on the #PumpkinFlavoredEverything bandwagon and I can't stop, won't stop until sometime after Thanksgiving!
You've been warned! I've got lots of recipes set aside for all of you. I know you're excited…right?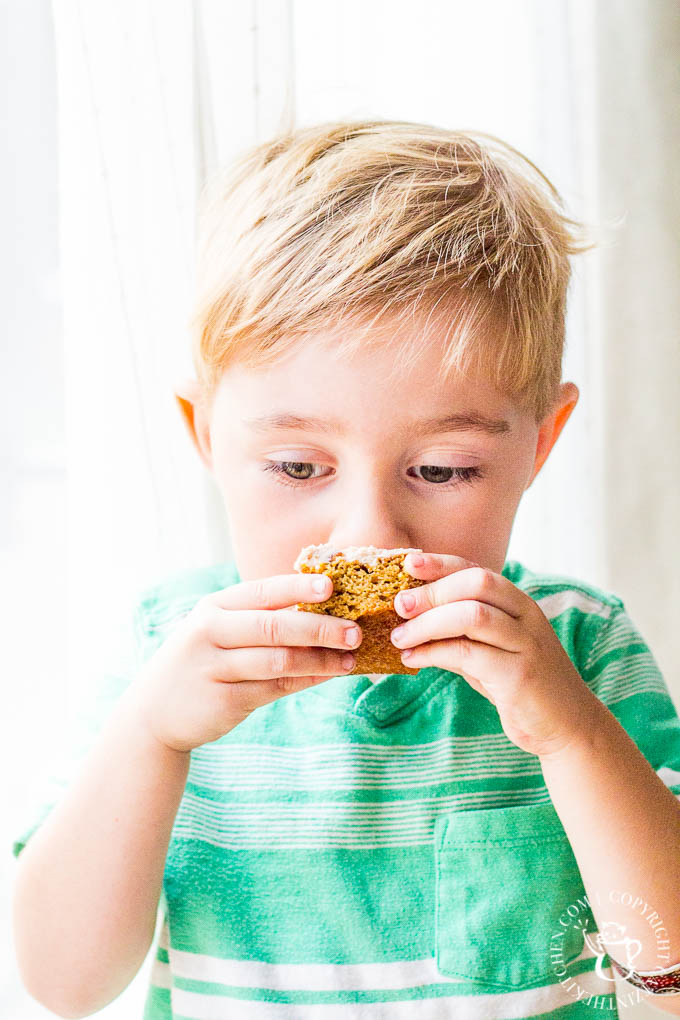 Out of the gate, let's just say this recipe makes a ton of bars. I love that! I wrapped up a plate of these babies for not one, not two, but three of our neighbors (No playing favorites – I just send the kids to the ones who are closest and appear to be home!), and I still had plenty of bars for my family to enjoy for lunch snacks and after dinner dessert! Of course, not in the same day! ;)
I would also be lying if I said the hubby and I didn't enjoy one or two of these after the kids went to bed…because we did and they are good. Like in an addicting kind of way.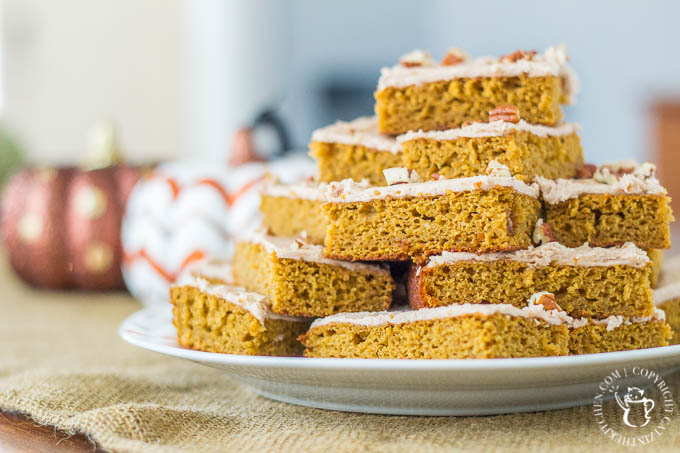 In fact, one night after the kids went to bed, there were only three or four bars left and yeah, Josh and I finished them off. The next day the kids were all expecting to have some after lunch and were not to happy to discover that we had finished them off!
See, when you're a parent…you can do that kind of a thing. I consider it a royalty fee for taking care of the kiddos all day and not losing my mind. Seems fair, right?
It's better than sneaking the whole plate of pumpkin spice bars into my closet and eating them with the doors closed and lights off. Not that I've ever done that before. Okay, well, maybe with a candy bar or the occasional bag of Cheetos. But if you're a parent, I know you get it. You understand. You won't judge. As long as I work out afterwards…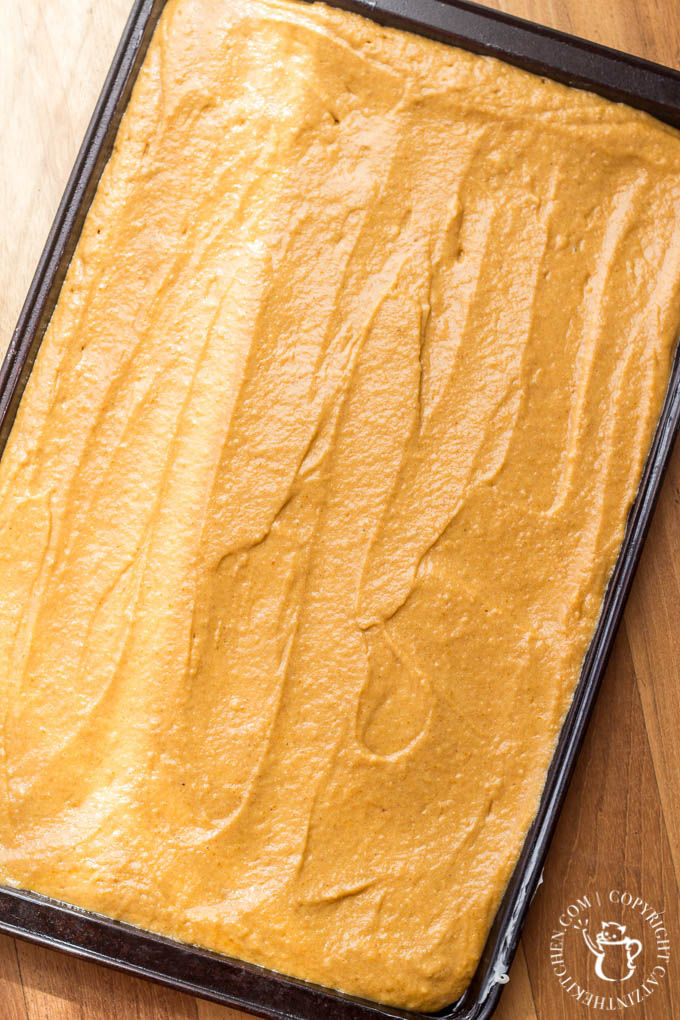 Like these pumpkin chocolate chip muffins and this pumpkin coffee cake, these delicious little bars are moist and full of flavor. You could totally make a simple cream cheese frosting, but I love the flavor of cinnamon and I think it adds another level you just wouldn't get otherwise.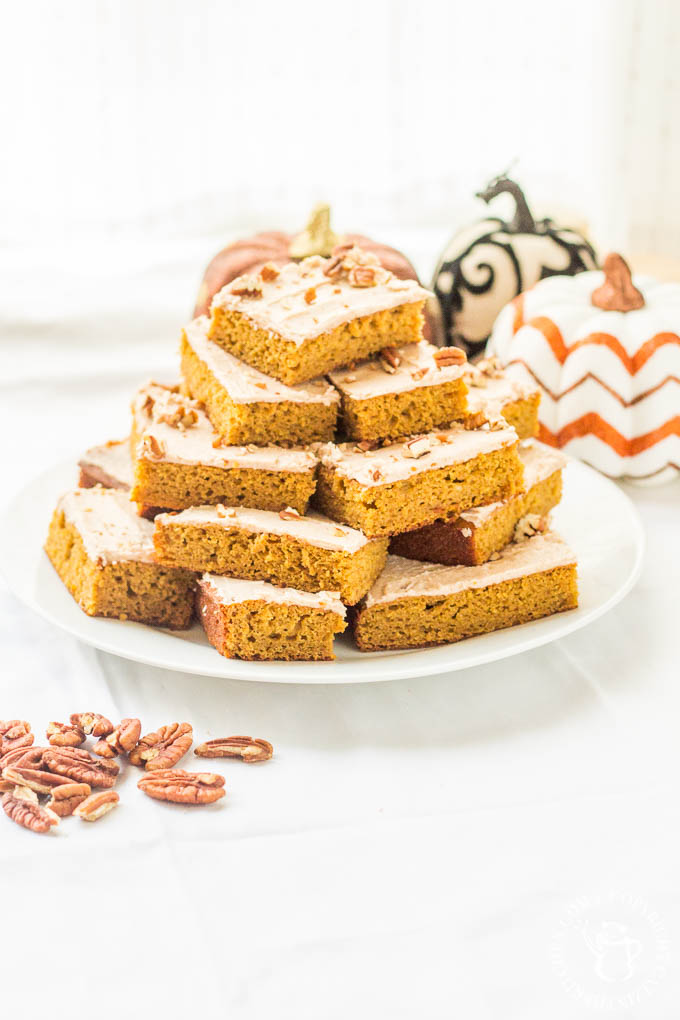 I say throw a few of these on a couple of plates and give them out to your neighbors – super sweet and I promise, they will love them. One of Grace's friends said they didn't last an hour in their house, haha! If you've got a baby shower, birthday party, or fall festival, these would be perfect for that as well.
Otherwise…just don't take them all to the closet. Pace yourself.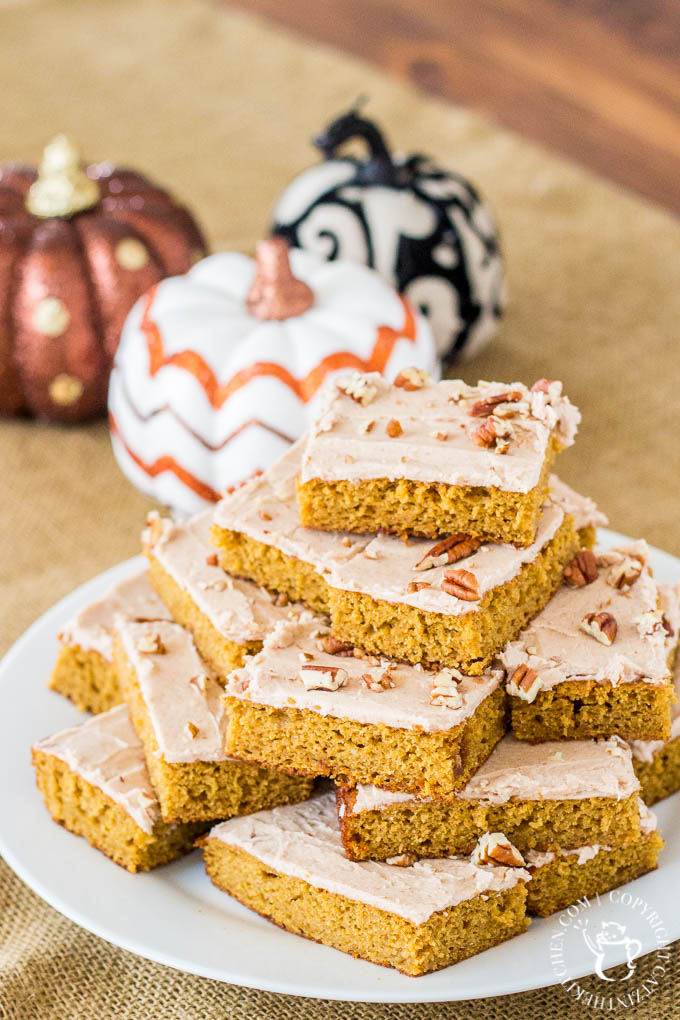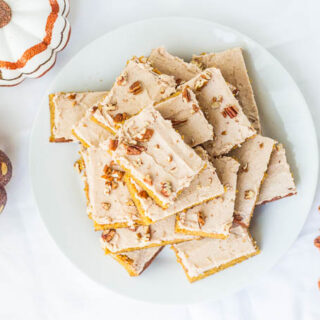 Pumpkin Spice Bars
If you're one of those autumn enthusiasts who just can't wait to get fall started, then this recipe for Pumpkin Spice Bars was made for you!
Ingredients
4 large eggs, room temperature
2 cups sugar
1 cup unsweetened applesauce
1 can (15oz) pumpkin puree
1 cup all purpose flour
1 cup quinoa flour
2 tsp baking powder
2 tsp ground cinnamon
1 tsp baking soda
1/2 tsp salt
1/2 tsp ground ginger
1/4 tsp ground cloves
1/2 cup chopped pecans
Cream Cheese Frosting
1 package (3 oz) cream cheese, softened
1/3 cup unsalted butter, softened
1 tsp vanilla extract
1 tsp cinnamon
2 cups powdered sugar
Instructions
Preheat oven to 350* degrees. Lightly grease bottom and sides of a high sided sheet pan, 15 1/2 x 10 1/2 x 1 inch with shortening.
Beat eggs, sugar, applesauce, and pumpkin in a large bowl until smooth. Stir in flours, baking powder, cinnamon, baking soda, salt, ginger, and cloves. Spread evenly in pan.
Bake 25-30 minutes or until light brown. Cool completely in pan on wire rack, about 2 hours. Frost with cream cheese frosting. Sprinkle with chopped pecans. Cut the bars into 7 rows by 7 rows. Store covered in refrigerator.
Cream Cheese Frosting: Beat cream cheese, butter, cinnamon and vanilla in a medium bowl with electric mixer on low speed until smooth. Gradually beat in powdered sugar, 1 cup at a time, on low speed until smooth and spreadable.
Nutrition Information:
Yield:

49
Serving Size:

1
Amount Per Serving:
Calories:

96
Total Fat:

3g
Saturated Fat:

1g
Trans Fat:

0g
Unsaturated Fat:

2g
Cholesterol:

19mg
Sodium:

80mg
Carbohydrates:

17g
Fiber:

0g
Sugar:

13g
Protein:

1g
Nutrition information isn't always accurate.