Loaded sweet potato tacos – not only served in a super food, but one filling meal that's easy to prepare, easy on the wallet, and full of flavor!
Over the summer, Josh's grandparents came all the way from their home in southeast Africa to spend a couple of weeks visiting with all of our family over 4th of July. This trip was such a blessing for all of us – over Christmas, Grammy got really sick on a visit back to Liberia and had to life-flighted to South Africa for emergency surgery. It was hard to believe she would make it through. But she did! God's obviously not done with her yet, and Grammy is a fighter – not only is she 90 years old and continually kicking my rear during our Scrabble games on our iPhones, but she is also a writer, world traveler, and an inspiration to all of us that age really can be just a number!
One of the things Grammy has to be careful with is the food she eats. She avoids food with a lot of sodium. During one of our evenings together, my mother-in-love made her infamous trainwreck taco salad and none of us thought about the tortilla chips (which contain a lot of sodium, of course) being part of the meal until it was nearly time for dinner. Grammy just calmly sat there while the rest of us scratched our heads trying to think of what we could substitute for the chips so she could eat the meal. After a moment, she spoke up and said, "Well if you've got a sweet potato, I can just use that. That's what I do at home!"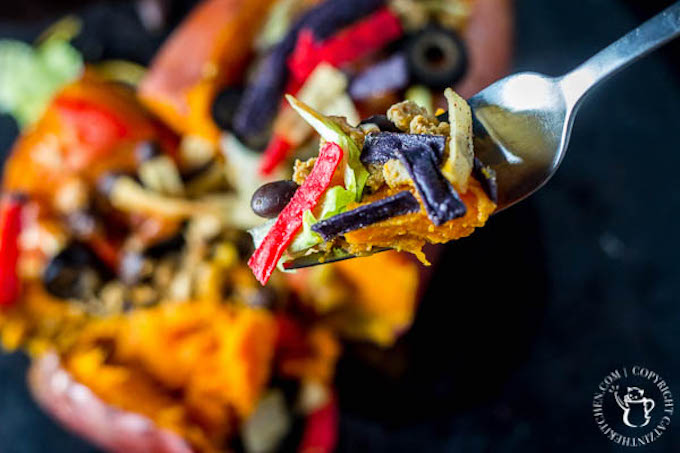 Genius!
We literally all just stood there, like, "Why didn't we think of that?"
Fast forward to September. Josh had to go on an overnight business trip one week day and it just so happened that I wasn't feeling great the day he left – making dinner was not on my list of things I wanted to do that night. I told the kids they could have macaroni and cheese from a box (#nojudgment), which they were thrilled about, of course, but I wasn't sure what I was going to eat.
I had one of those "EUREKA" moments when I thought back to when Grammy and Grampy were in town. I had leftover taco fixings in the fridge from our taco Tuesday night and I had one sweet potato left in the potato bin that never got used. I thought I would try sweet potato tacos for dinner. And I don't mean a taco with sweet potatoes in it. I mean a taco that IS a sweet potato. It was easy, and all I had to do was warm up the meat, bake the potato in the oven and top it with taco ingredients.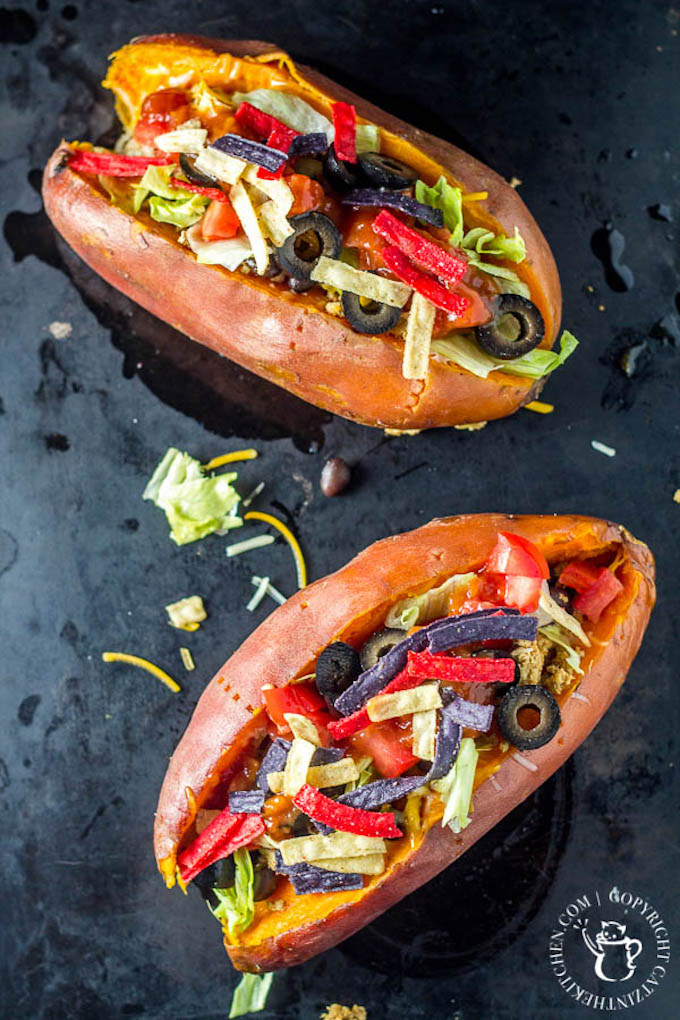 When all of our dinner foods were ready, we sat down on the couch and began watching some Food Network, as you do, and I took that first bite of my sweet potato…and WOW! It was amazing!!!! Like, seriously, I cleaned my whole plate, it was so delicious!
It made for such an easy lunch or dinner that was easily customizable and healthy! For those who are watching their carb intake, or are gluten free, this is a great option.
If you've got little kids, I would split one sweet potato between the two of them. I really should have done that with Christian and Eden when we made sweet potato tacos for dinner a couple of weeks later. I forgot how big they get once you start piling on the toppings, but…lesson learned for next time!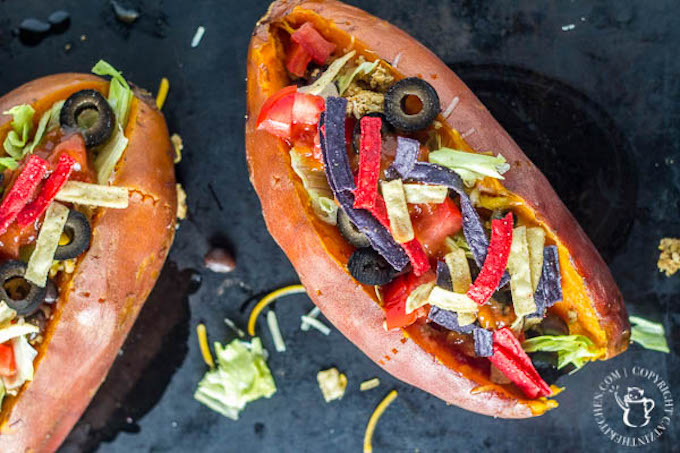 This is a really great way to add a few more veggies to your family's diet, as well as a super food! Plus, no one, and I mean no one, will walk away from the dinner table hungry, because this is one filling meal that's easy to prepare, easy on the wallet, and full of flavor!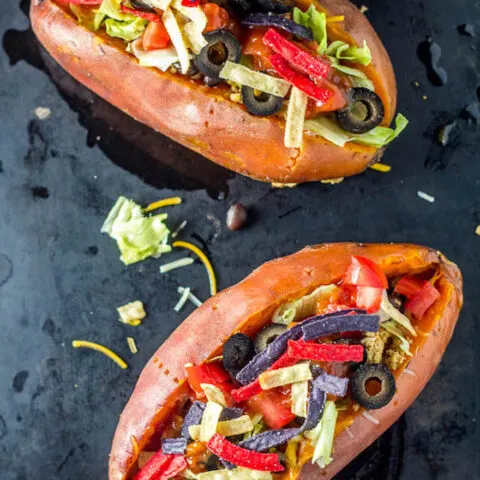 Loaded Sweet Potato Tacos
Total Time:
1 hour
5 minutes
Loaded sweet potato tacos - not only served in a super food, but one filling meal that's easy to prepare, easy on the wallet, and full of flavor!
Ingredients
4-6 sweet potatoes
1 lb ground turkey
1 packet low sodium taco seasoning
1 (15 oz can) black beans, drained and rinsed
Topping Ideas:
1 (15 oz can) black olives, sliced
Chopped iceberg lettuce
Fresh, chopped tomatoes
Salsa
Mexican, shredded cheese (or whatever kind you like)
Chopped bell pepper
tri-color tortilla strips (optional)
Fresh cilantro, finely minced
Sour cream
hot sauce
Instructions
Preheat oven to 400 degrees. Pierce sweet potatoes all over with a fork and wrap with foil and place on a baking sheet. Bake for 45-60 minutes or until potatoes are softened and tender.
Brown ground turkey and follow the directions on the back of the seasoning packet (or use your own taco seasoning). Stir in beans and simmer for 15-20 minutes, stirring occasionally.
Unwrap potatoes from foil and split down the middle, slightly mashing the inside with a fork. Top with some of the taco meat, cheese and other taco fixings you enjoy.
Notes
I usually vary the sizes of the sweet potatoes depending on which individual gets one. Smaller ones for the kids, bigger ones for the adults.
You could use ground beef or ground chicken instead of ground turkey if you like
Feel free to use pinto beans instead of black, or basically whatever you have in your pantry!
Nutrition Information:
Yield:

6
Serving Size:

1
Amount Per Serving:
Calories:

378
Total Fat:

16g
Saturated Fat:

5g
Trans Fat:

0g
Unsaturated Fat:

9g
Cholesterol:

86mg
Sodium:

238mg
Carbohydrates:

35g
Fiber:

7g
Sugar:

9g
Protein:

26g