Salty and sweet, with rich autumn spices, these Pumpkin Spice Scones are easy to make and drizzled with a yummy salted caramel glaze!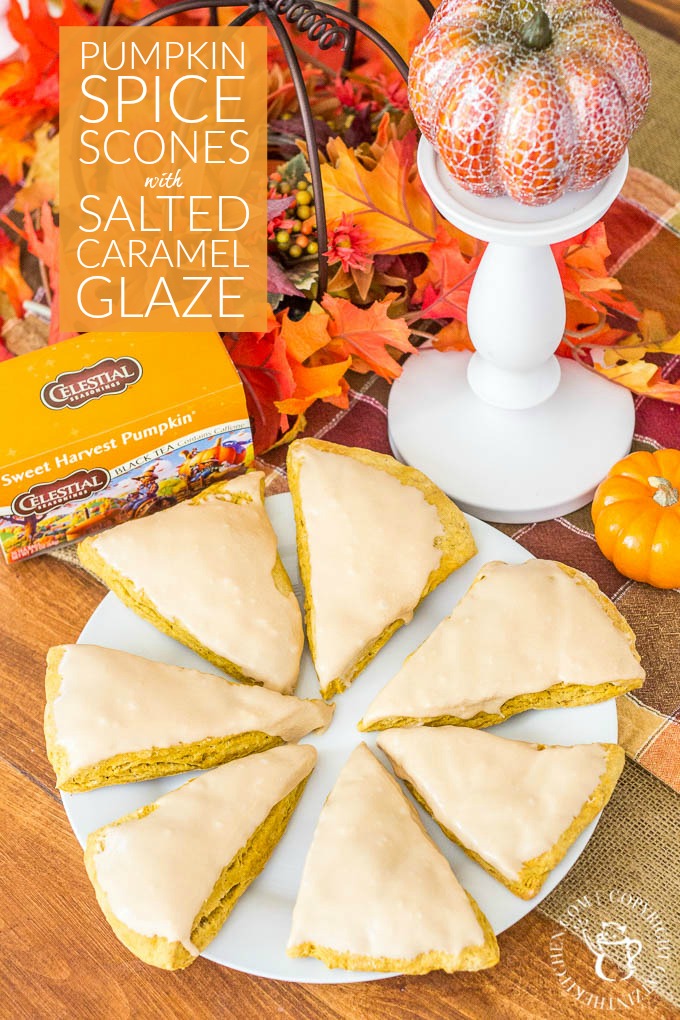 I crave the autumn season like a favorite dessert. Some crave summer, some crave spring, but I crave autumn. I start getting the itch for scarves, pumpkin everything (like pumpkin turkey chili), and crispy air. We live in the country, so sometimes all I have to do is step outside, inhale the air, and it smells a bit frosty, breezy, and with the hint of someone burning dry leaves in a nearby field (I know that sounds weird, but it's part of fall for me!). It's fall and I could just live in this season all year long…but my husband couldn't, which is really too bad because I don't really think he understands how much he's missing out!
One of the things I really look forward to come late August or September is that subtle temperature change in the evenings. The nights suddenly cool off and I'm in a desperate search for a light, long sleeve pull over or a blanket that takes the chill off. The only thing I'm missing is that evening cup of tea.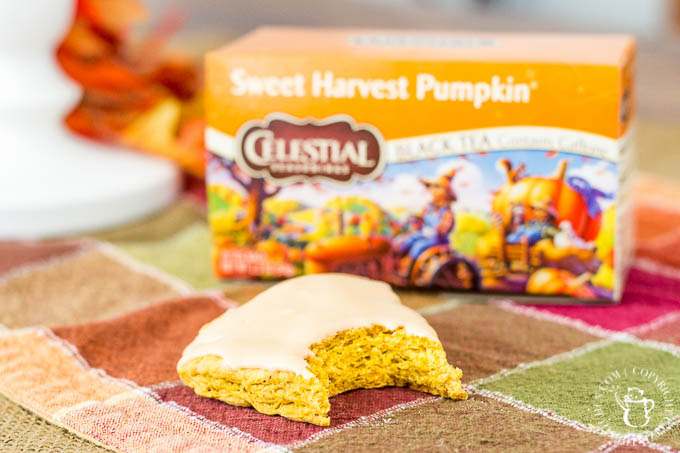 I don't drink a ton of tea in the summer (iced coffee, maybe!), but during the fall and winter you can find me with a cup of tea, curled up on the couch with a blanket over my legs and my cat, Audrey, by my side. It's the perfect way to end the day and it all begins with "The Magic of Tea." No, really!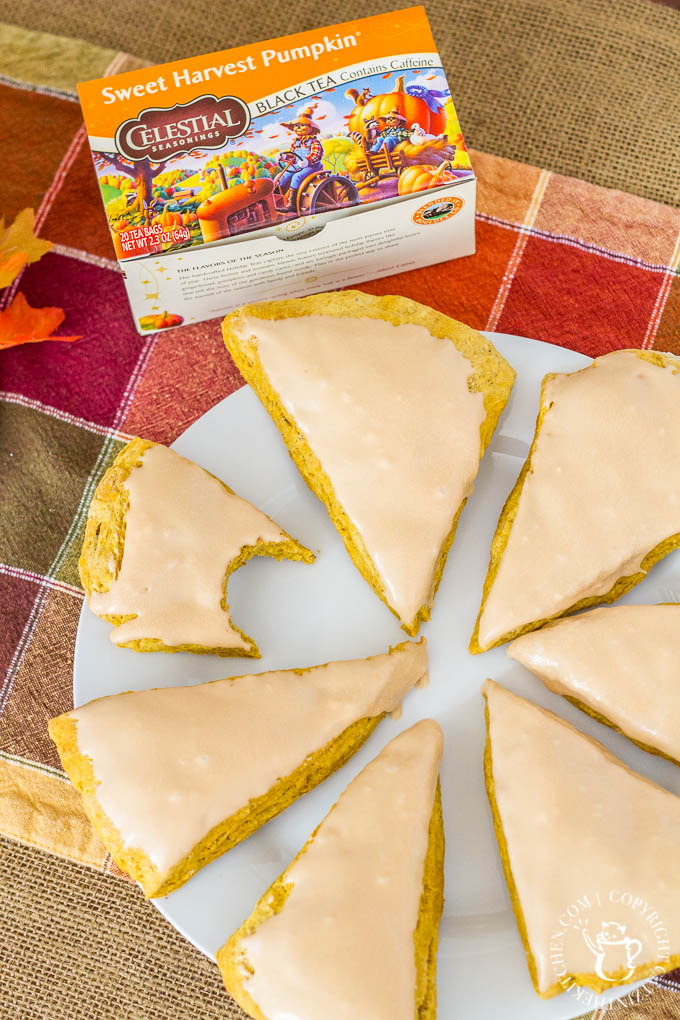 I was totally tickled to have the opportunity to work with Celestial Seasonings and their seasonal teas! I'm not lying in the slightest when I say that they are one of my very favorite brands of tea! We have a "tea drawer" in our kitchen, and there is absolutely always at least one box of Celestial Seasonings in it. Naturally, as you could probably guess from the first couple of paragraphs of this post, their Sweet Harvest Pumpkin tea is practically made for me, and I knew right away what I wanted to make with it!
Scones!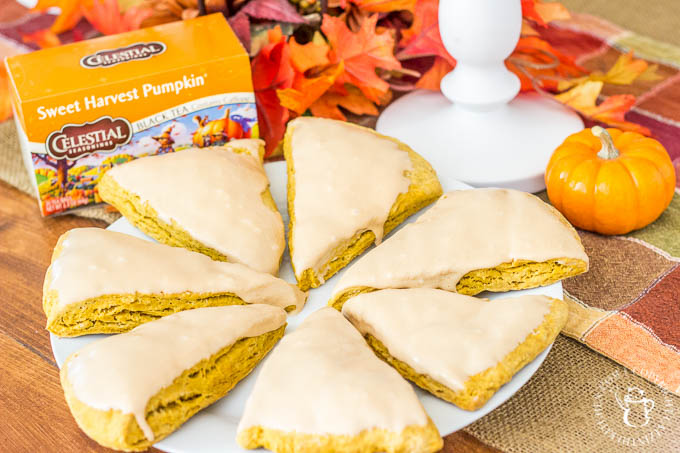 Many a Christmastime ago, I was gifted a bag of scone mix. At the time I was just beginning to dabble in the world of baking and somehow I ruined the scones. I don't know if it was me or the scone mix, but they were not good. They were BAD!
A lot has changed since then and I can now make scones fairly easily (also pumpkin thumbprints and cheesecake!). Actually, it is a really easy dough to prepare as long as you don't handle it too much.
In preparing the dough, I used all of the usual suspects when you make something with pumpkin. Cinnamon, nutmeg, ginger, and cloves all go into the dry ingredient mixture (you could definitely just use pumpkin pie spice if you don't have all of these in your pantry). But for the wet ingredients, I steeped one Sweet Harvest Pumpkin tea bag and allowed it to cool before mixing everything together.
The end flavor of the scones is unreal! So much of that luscious, deep fall flavor we expect from the pastries we buy from a bakery, we can get in a scone that you can easily make at home!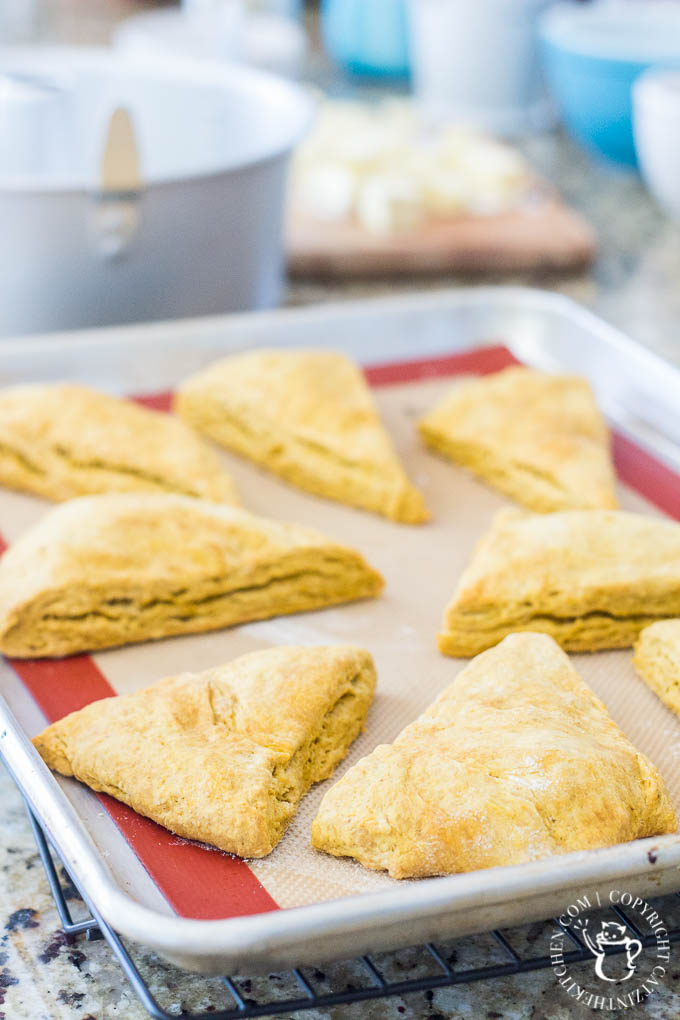 This tea is so yummy that I really wanted to use the tea two ways, and I could not think of a better way than combining that beautifully steeped black tea with all of its fall spices with my favorite salted caramel recipe to make a glaze.
I always use Two Peas and their Pod's salted caramel because I know it's got the combination of sweet and salty down to a "t" and the recipe comes out perfect for me every time. The one thing I did not want was an overly sweet pumpkin scone. I wanted to make a scone that married sweet and salty with rich spices, so when you take that first bite it's got harmony. Which means that this scone is not only ideal for your weekend brunch, but it is also satisfies that after dinner snack craving you may get when you make your bedtime cup of tea (not too much – the caffeine, you know!).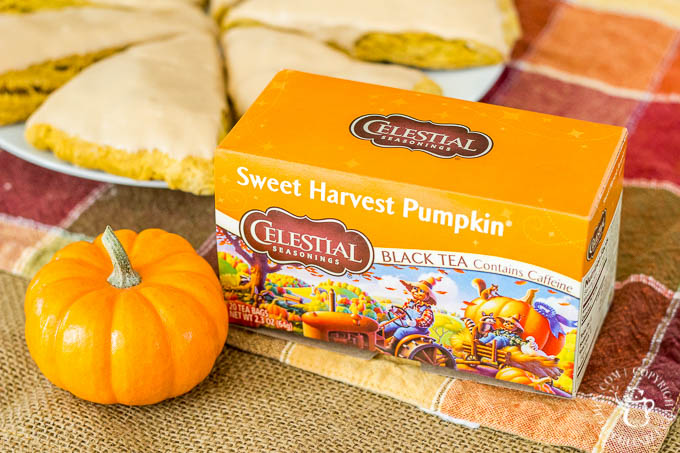 Invite your friends and family over for a weekend breakfast and make sure your menu includes these pumpkin spice scones…but I'm warning you, they'll be gone fast!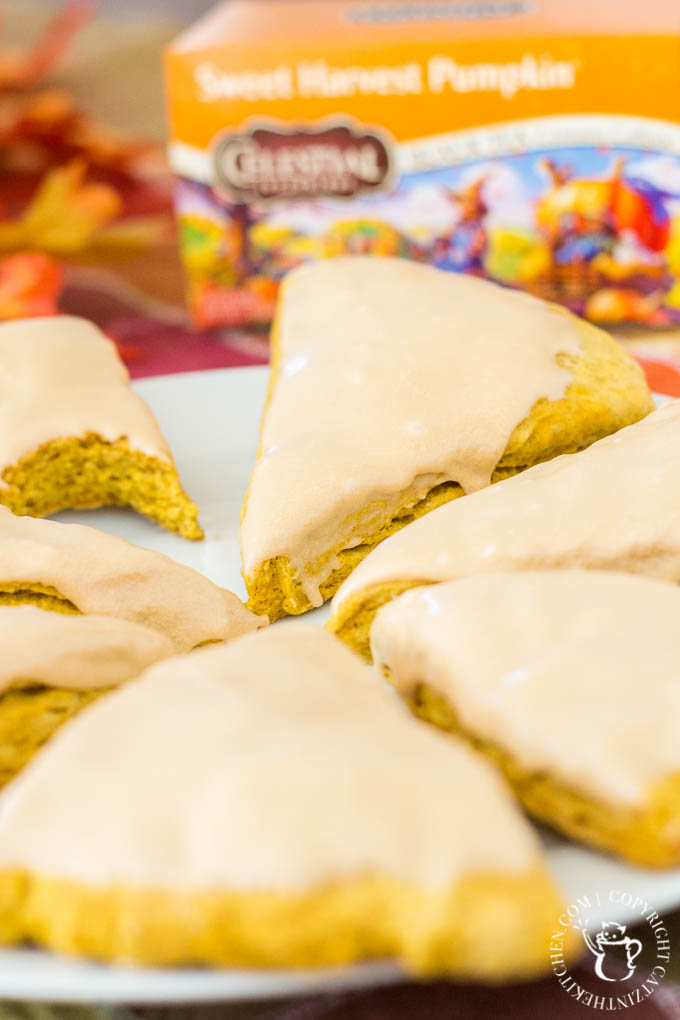 Want to try another fun scone recipe for the holidays, featuring one of our girls' favorite Celestial tea winter tea flavors! Check out these Sugar Cookie Sleigh Ride Scones!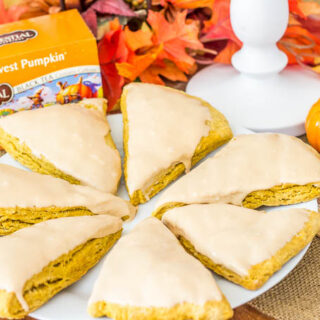 Harvest Pumpkin Scones with Salted Caramel Glaze
Salty and sweet, with rich autumn spices, these Pumpkin Spice Scones are easy to make and drizzled with a yummy salted caramel glaze!
Ingredients
2 cups all-purpose flour
2 tsp baking powder
1/2 tsp baking soda
1/2 tsp salt
1 tsp cinnamon
1/2 tsp ground nutmeg
1/4 tsp ground ginger
1/4 tsp ground cloves
1 stick (1/2 cup) unsalted butter, cubed and chilled
1 egg
1/2 cup pure pumpkin puree
1 tsp vanilla extract
1/4 cup (3 tbsp reserved) Sweet Harvest Pumpkin tea, steeped and cooled
Glaze
1 1/2 cups powdered sugar
1/4 cup salted caramel sauce
One bag Sweet Harvest Pumpkin tea
Instructions
Bring about a cup of water to a boil, and then pour over tea bag in a cup. Allow to steep 3-5 minutes, and then remove tea bag. Measure out 3 tbsp and 1/4 cup of brewed tea to cool - the rest is yours to drink!
Preheat oven to 400 degrees and line a baking sheet with a silicone mat or parchment paper.
In a large bowl, whisk dry ingredients together. Using a pastry blender, cut in butter until the mixture resembles coarse crumbs. Create a well in the center of the mixture, set aside.
In a medium bowl, combine the pumpkin puree, vanilla, egg, and 1/4 cup cooled brewed tea and mix well. Pour the mixture into the well of the flour mixture and using a wooden spoon stir to incorporate the mixture, until just combined. Do not overmix. In the bowl, knead the mixture together by hand to bring it all together.
Dust your counter with flour before turning the bowl over and placing the dough on the surface. Pat and shape the dough into an even 8-inch round. (The mixture should be thick, not thin like pie dough).
Using a floured knife, carefully slice the round into 8 wedges and carefully transfer to your prepared baking sheet. Bake for 15-20 minutes or until golden brown. Allow the scones to cool completely.
For the Glaze- In a medium bowl, whisk the powdered sugar, salted caramel sauce, and remaining 3 tbsp of tea together until desired consistency (if you need to thin it out a bit you can add a touch of milk). Dip scones into
the glaze and set on wired rack until set.
Notes
The prep time includes the time it would take to make the caramel sauce - you could make it a couple of days in advance to save time.
Nutrition Information:
Yield:

8
Serving Size:

1
Amount Per Serving:
Calories:

244
Total Fat:

2g
Saturated Fat:

1g
Trans Fat:

0g
Unsaturated Fat:

1g
Cholesterol:

27mg
Sodium:

386mg
Carbohydrates:

51g
Fiber:

2g
Sugar:

25g
Protein:

5g
Celestial Teas provided financial support and samples for the creation of this post. The photographs, opinions, and choice of recipe are all our own.