Slow-Cooker Chai Apple Butter is not only easy to make and delicious on almost anything, it makes a great seasonal gift for friends and family!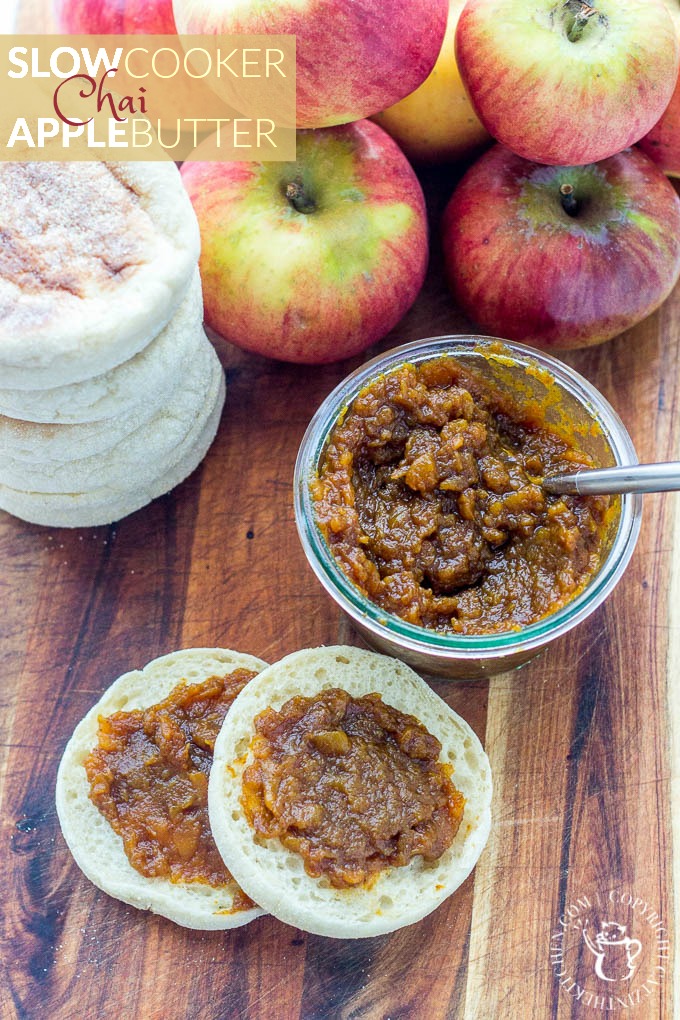 I have a very faint memory of going apple picking with my family when I was a little kid. Josh likes to make fun of my memories because I can recall them based on what I was wearing (consider it my version of Sherlock's mind palace…). Anyway, I know this is a memory because of what I was wearing (see?) – it was a blue jacket with a cloud and rainbow on it. I have fond memories of this jacket because it was the first jacket I learned how to zip up myself! Also, there are zero pictures of this apple picking event, which my mom lovingly refers to as the apple picking outing from hell!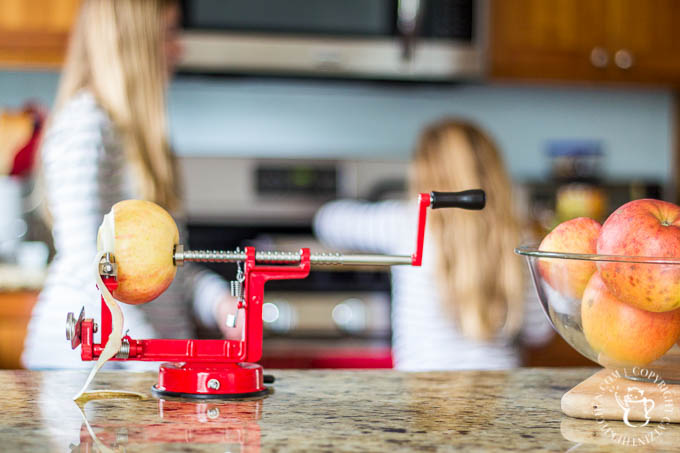 I'm told that I threw the biggest tantrum known to man out there in the apple orchards and that my parents could not get me to calm down, so I just screamed and screamed and screamed. I know, I sound like a real treat, right? This is where my memory gets a little foggy…I remember apple trees around me and I remember being upset and crying in the car on the way home. But that's it. I don't know why I was upset…but I have an idea…and I'll share it with you.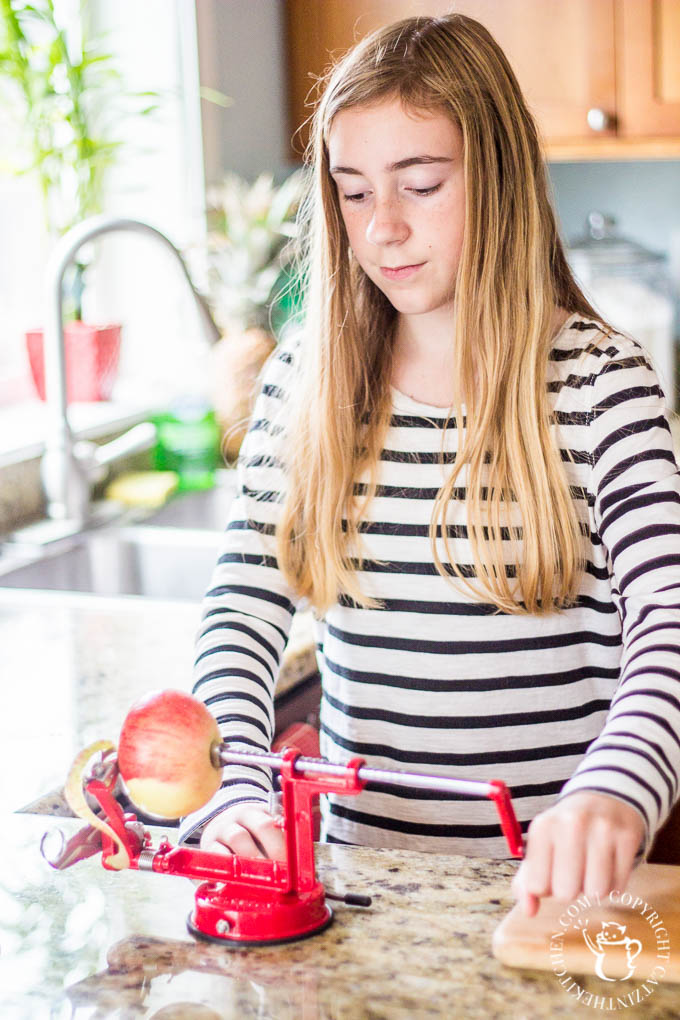 I've been bugging Josh for years to take me and the kids apple picking. I really wanted to go to Hood River and do the fruit loop one weekend, but the distance between Molalla and Hood River is pretty significant. We're talking four hours round trip with maybe one or two hours of actual fruit picking going on. Which brings me back to my idea of why I threw a tantrum when I was about six years old. Maybe, just maybe, I was tired of being in the car and drug around Hood River?! Just a thought. Or it could also be possible that I was just being a brat. But I highly doubt it was the latter, seeing as I'm glitter and sunshine 95% of the time! Okay, I could have just been a brat…who was overly tired. We'll go with that!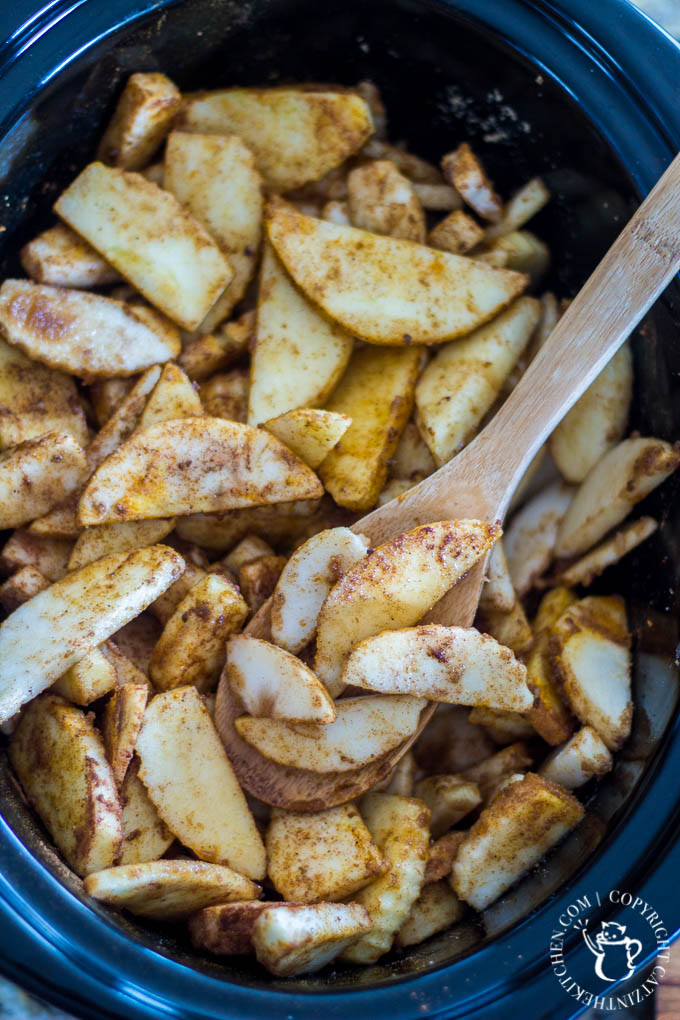 Back to the future and my little family's personal apple picking day. We did not end up taking up a good portion of our day to drive to Hood River (though that still seems like a wonderful idea!). We did, however go to our favorite little local farm here in town (which is 15 minutes away) and pick apples there. And what beautiful apples they had! We ended up picking an assortment of Melrose and Macintosh – which are lovely and tasty! Zero tantrums thrown, I might add! I think they are great apples for a variety of foods, including this slow-cooker chai apple butter. But I'll bet they would also work wonderfully in overnight apple French toast or salted caramel apple cake.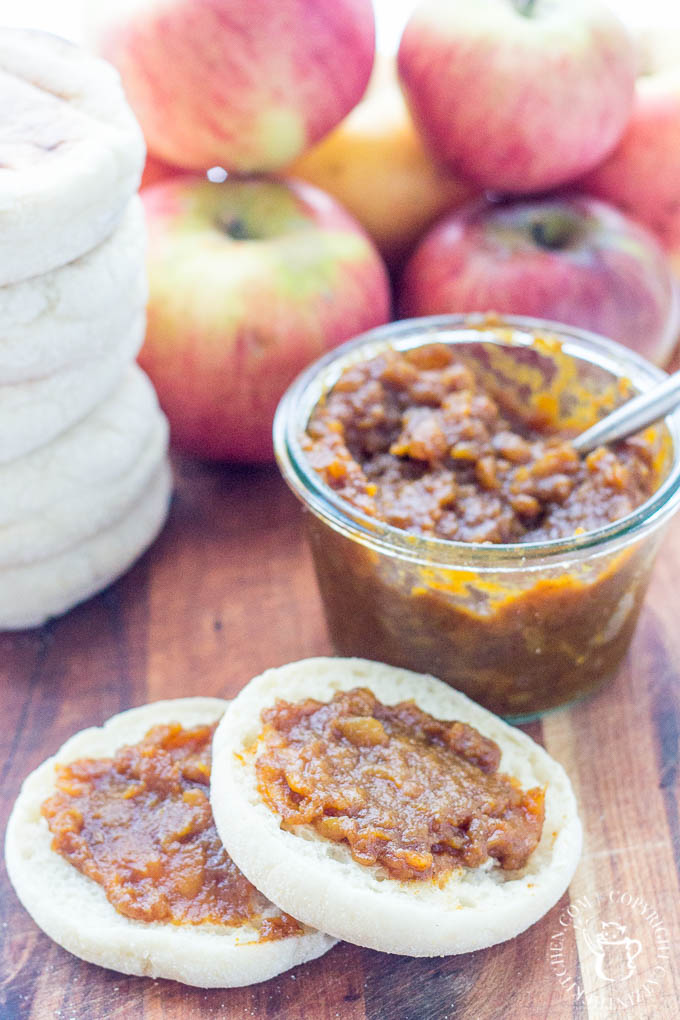 The chai apple butter came together so much easier with the apple peeler. Usually, I just stand there for 30 minutes with a paring knife and peel apples. This apple peeler saved my fingers and gave me 30 minutes back so I could go back to watching Fixer Upper or The Pioneer Woman!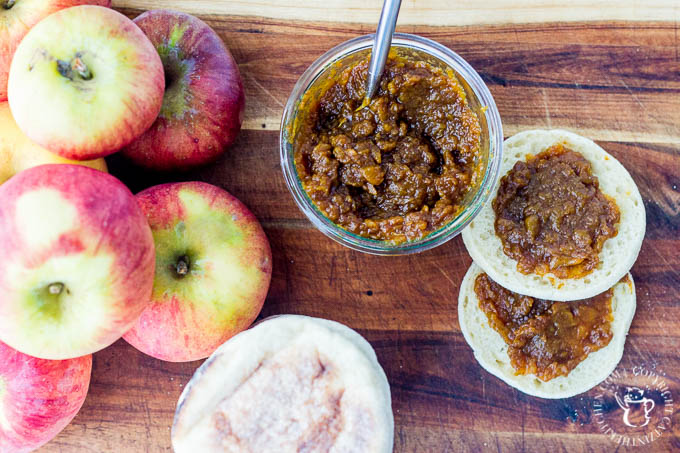 If you want your house to smell sooooo good, you've got to make this. Just stirring everything together in the crockpot before it even starts cooking gives you an idea of how amazing it is going to be! Not sure what to use apple butter in? Well, there is always Irish Apple Butter Coffee Cake, or slather it over English muffins, pancakes, waffles, or gobble it right out of the jar. There is no wrong way to devour this stuff and I promise, it won't last long in your house!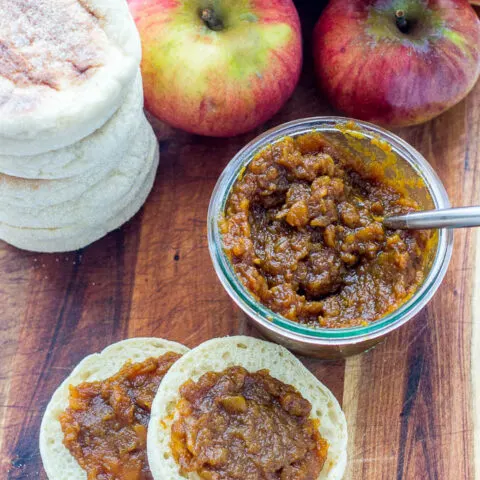 Slow-Cooker Chai Apple Butter
Total Time:
7 hours
10 minutes
Slow-Cooker Chai Apple Butter is not only easy to make and delicious on almost anything, it makes a great seasonal gift for friends and family!
Ingredients
5 lbs apples, such as McIntosh or Melrose, peeled and sliced (1/2 inch thick, about 16 cups)
2/3 cup brown sugar
1 tbsp vanilla extract
2 tsp ground cardamom
2 tsp ground cinnamon
2 tsp ground coriander
2 tsp ground numeric
1/2 tsp salt
Instructions
Combine apples, brown sugar, vanilla, cardamom, cinnamon, coriander, turmeric, and salt in a 6 qt. or larger slow cooker.
Cover and cook, stirring once or twice, for 5 hours on High. Set the lid ajar and continue cooking, stirring occasionally, until the apples are almost broken down, about 2 hours more on High.
Use an immersion blender or food processor to make a smoother butter.
Nutrition Information:
Yield:

28
Serving Size:

2 tbsp
Amount Per Serving:
Calories:

61
Total Fat:

0g
Saturated Fat:

0g
Trans Fat:

0g
Unsaturated Fat:

0g
Cholesterol:

0mg
Sodium:

44mg
Carbohydrates:

16g
Fiber:

2g
Sugar:

13g
Protein:

0g