Szechuan Green Beans & Pork is an approachable, easy recipe that is incredibly tasty and feeds a family in about 15 minutes!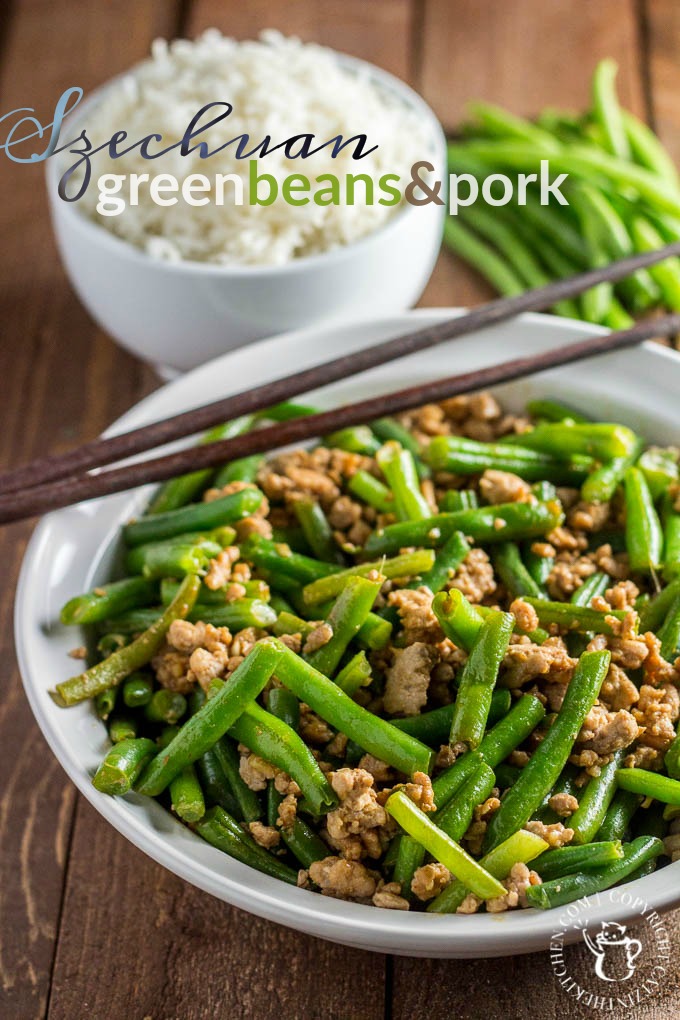 This post originally appeared on Catz in September of 2012. The photos and the recipe have been updated.
I remember when Panda Express was all the rage. Maybe it still is the rage and I'm just really behind on where the cool kids eat these days. We don't eat at Panda Express as often mainly because we don't eat "convenience" food as much, but my dad on the other hand, LOVES some Panda Orange Chicken!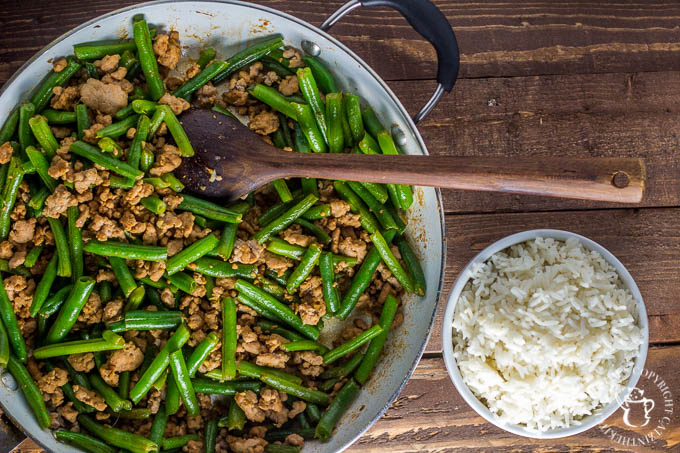 In early August, my dad and his wife (who spent most of her life in mainland China) came to town and she spent one whole afternoon making traditional Chinese dumplings and side dishes. The food was awesome! It was seriously some of the best Chinese food I've ever eaten. Once they left to go back home to Vegas, I was left with several awesome Chinese condiments and some leftover ground meat that she had used for the dumplings, ground pork being one of them. Aside from bacon and ham, Josh and I don't eat a lot of pork, so I was really at a loss as to what I should do with the leftover 1/2 pound of ground pork! I did a simple Google search for it and found an awesome recipe that reminded me a lot of the green bean chicken recipe you can order at Panda Express, however…I think this recipe is even better (no offense, Panda!).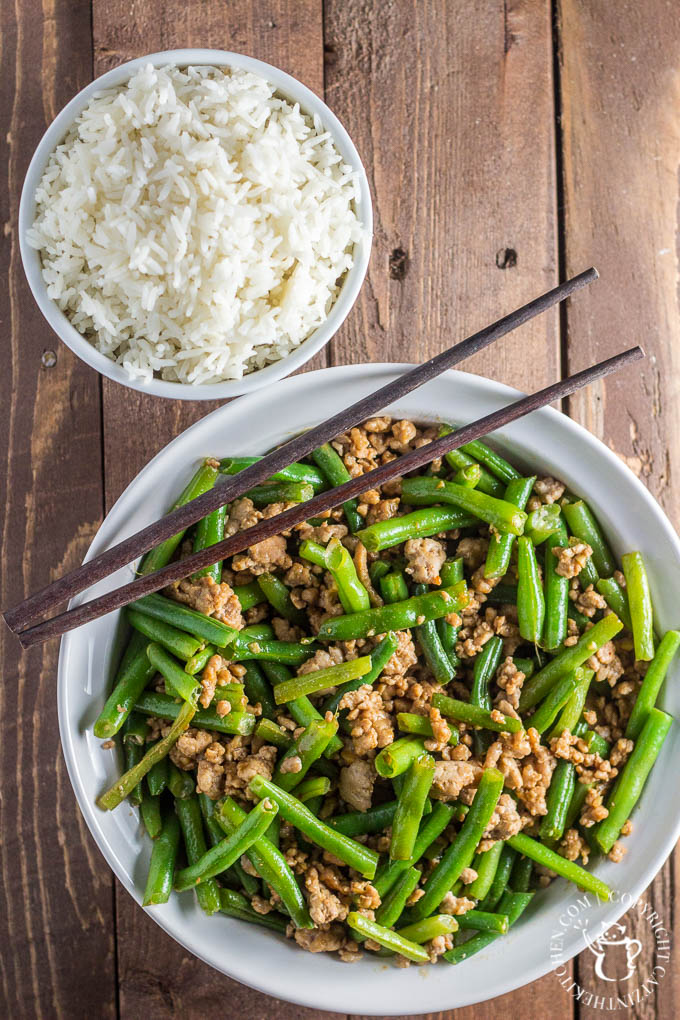 There is so much flavor in this simple dish it's pretty unreal. There were a few ingredients that I didn't have on hand, like peanut oil and hoisin sauce, which ended up not being a problem at all. I used vegetable oil in place of the peanut oil and I actually made my own hoisin sauce (which is sort of like a Chinese barbecue sauce), which saved me several dollars – you might be able to find it cheaper in an asian market. Even with the substitutions I made to the recipe, it was a crowd pleaser.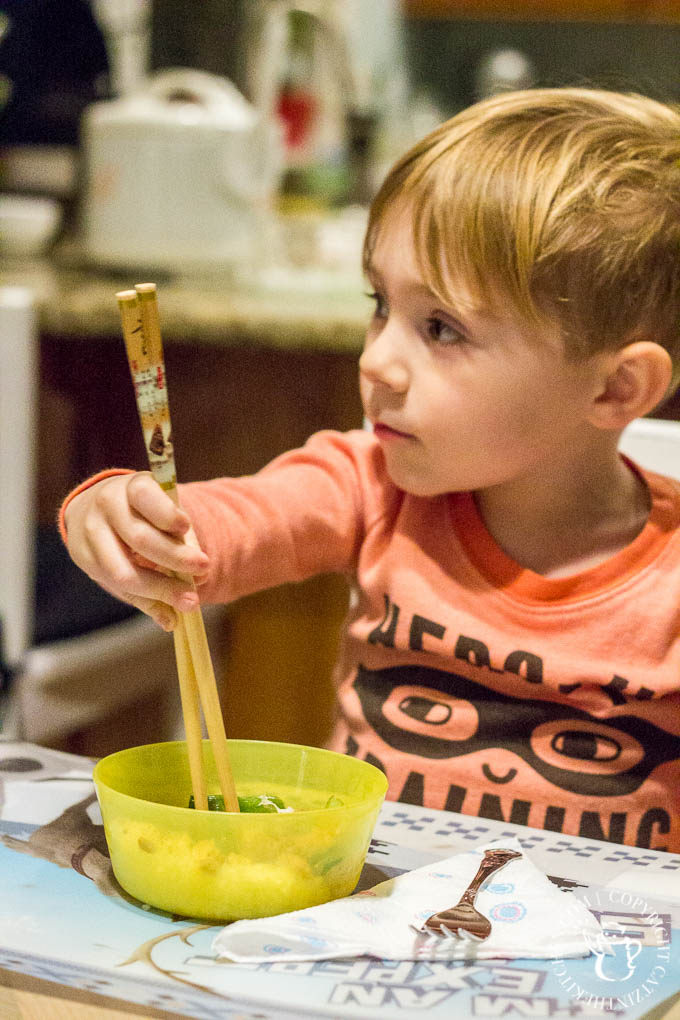 If you have kids and make this meal, I would recommend going a little easy on the crushed red pepper, because it packs quite a flavorful punch of heat! Oh, and keep the water pitcher out, you might be refilling your water glasses a few times!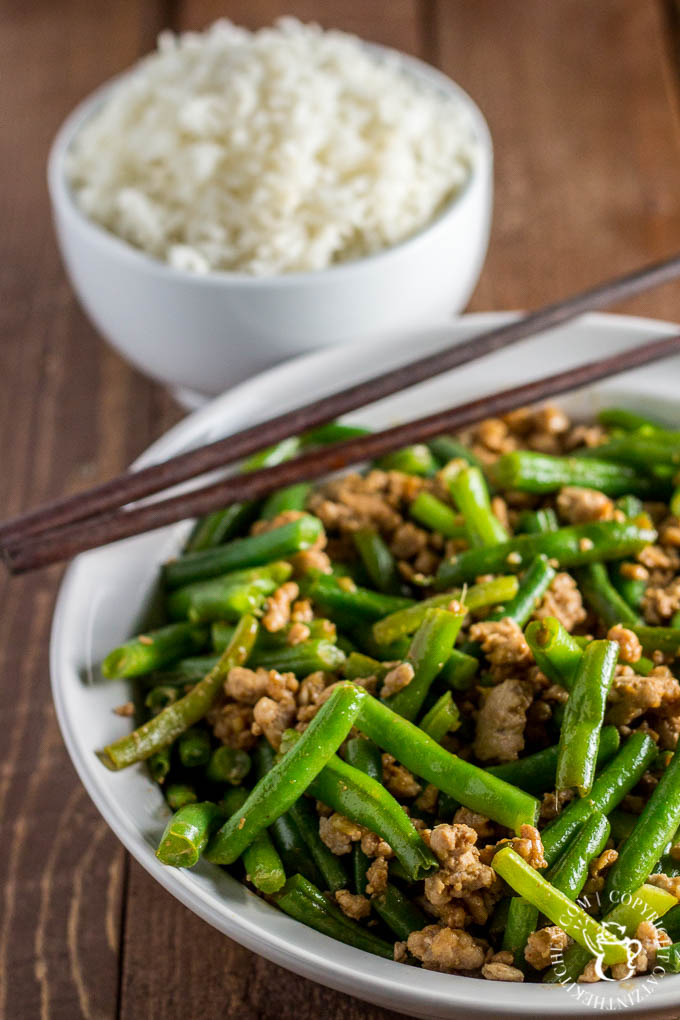 Szechuan Green Beans & Pork
Szechuan Green Beans & Pork is an approachable, easy recipe that is incredibly tasty and feeds a family in about 15 minutes!
Ingredients
1 lb lean ground pork (you could also ground chicken or turkey)
1 tsp cornstarch
1/8 tsp salt
1/8 tsp freshly ground pepper
1 tsp peanut oil (I used vegetable oil)
2 1/2 cups green beans (I used fresh)
1 tsp minced fresh garlic
2 TB hoisin sauce
1 tsp sugar
1 tsp crushed red pepper, if you like spicy (we used 1/2 tsp, but next time would cut it down to 1/4 tsp)
2 tsp low-sodium soy sauce
2 cups hot cooked white rice
Instructions
Make 2 cups of rice according to package directions.
Combine the pork, cornstarch, salt, and pepper in a medium bowl. Heat oil in a large skillet over medium-high heat. Add pork mixture, beans, and garlic; cook for 3 minutes or until pork is crumbly and losing its pink color.
Combine hoisin, sugar, red pepper, and soy sauce in a small bowl, stirring with a whisk. Add hoisin mixture to pan.
Cook 2 minutes or until heated through, stirring frequently. Serve over rice.
Nutrition Information:
Yield:

4
Serving Size:

1
Amount Per Serving:
Calories:

305
Total Fat:

6g
Saturated Fat:

2g
Trans Fat:

0g
Unsaturated Fat:

4g
Cholesterol:

67mg
Sodium:

358mg
Carbohydrates:

35g
Fiber:

3g
Sugar:

6g
Protein:

28g
Nutrition information isn't always accurate.