Ready to elevate classic grilled cheese to dizzying new heights? Enter these grilled bacon bleu cheese & fig sandwiches. Mouthwatering is an understatement.
Let's talk about sandwiches. Sandwiches are a blank slate – a canvas. The canvas is two pieces of bread (or one piece cut in half, but, come on, semantics…). The canvas itself, as when painting or drawing, is important. Size matters, as does texture. Flavor matters, which is admittedly where the canvas analogy falls apart (even van Gogh, while having enough issues going to cut off his own ear, did not stoop to gnawing on his works of art…as far as we know). So, if bread is your canvas, choosing the right bread is important.
Nothing, though, is as important as the ingredients.
The ingredients are the work of art itself, the colors on the palette, the image, if you will. The canvas is key, but a perfect canvas does not itself a work of art make. So, how to turn the sandwich canvas into culinary perfection?
Use ingredients that are themselves perfection, of course. Élémentaire.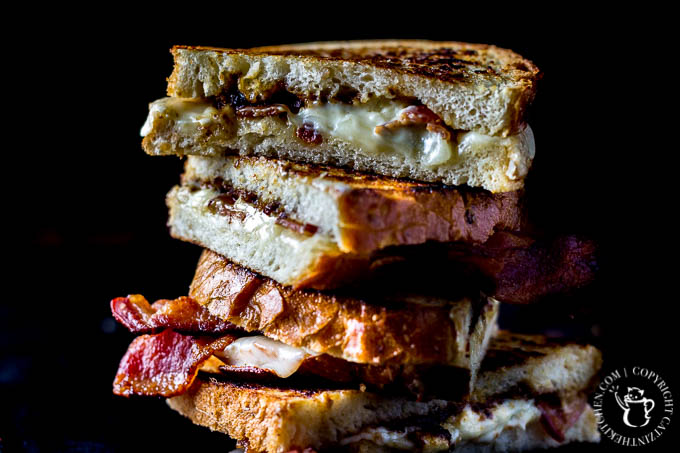 I am aware that there are people who do not like bacon. I am aware that there are people who do not like bleu cheese. And I have been told that there are apparently many people who do not like the taste of figs. I do not judge these people (lying in print – this is a low point for me), but I cannot pretend to understand. I assume that this is one of those situations where we just acknowledge that there are certain things that are nearly universally accepted (most people find kittens cute, for example), with some inexplicable outliers. Like people who don't like chocolate. No one knows what's going on there.
If you find yourself in one of the categories above, we have a vegetarian section here, many recipes sans fromage, and I'm not sure there's even one other recipe on this blog with figs (calamité!), so stop reading this post and go find something that satisfies your particular culinary cravings. For the rest of us…
So…we have this blank canvas (metaphor is officially stretched beyond all usefulness). What perfect combination of ingredients shall we add? Bacon, naturally. An excellent start to any sandwich. Or pizza. Or breakfast. Or omelet. Or…anything. They even cover bacon in chocolate. Is there a combination of coffee and bacon? Some kind of rub? I think there is. La perfection.
What next? Cheeses, of course. Bleu cheese is a favorite in our house – we like it on steaks, on cheeseboards, and, naturally, in sandwiches. It's idéal for adding flavor, but it doesn't quite have that melty tie-everything-togetherness that cheddar or Swiss bring to the table (figuratively and literally!). Luckily, the brilliant progenitors of this recipe (not referring to myself here) added a layer of provolone for that purpose. The provolone, while substantially more mild in character, adds a smoothness and uniformity to each bite. Génial.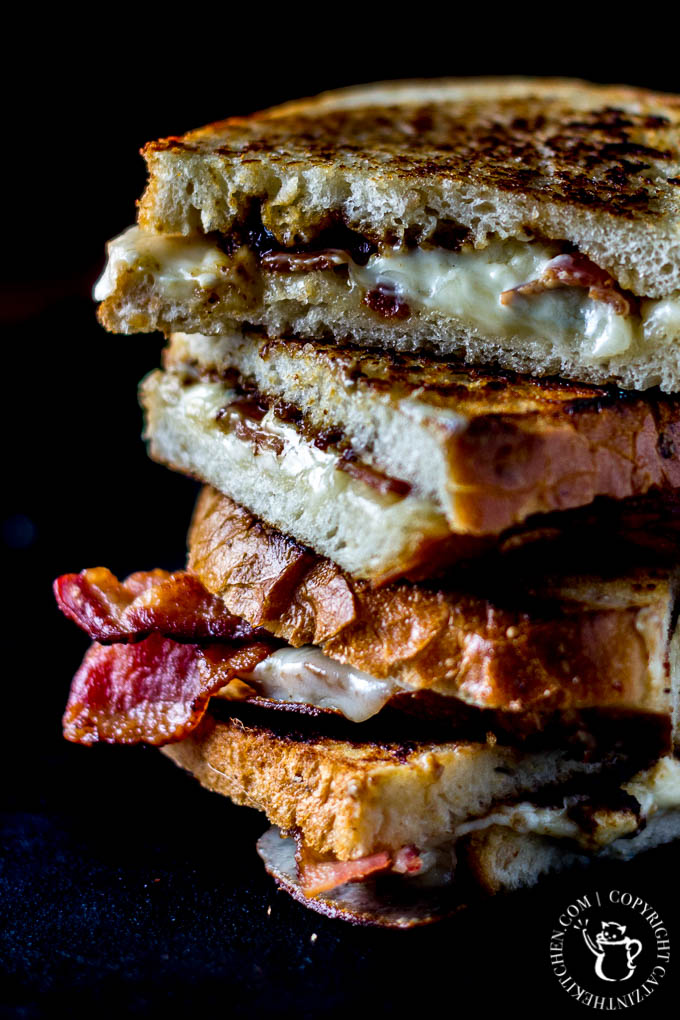 Usually, when cooking with bleu cheese, it is the star ingredient. It is the pièce de résistance, the flavor that stays with you and leaves you craving more. That is probably true of this sandwich as well, but there is a competitor, an understated, unusual (for Western palettes, anyway) underdog striking a fun, unique note in the background. I speak, of course, of the fig jam. It's sweet, but not in the way of most jams. It's sweet in the tradition of spiced apple butter or a subtle dark chocolate concoction. There's a sweetness there, but it's many moons away from a cloying sugariness. If you haven't eaten or cooked with figs or fig jam, you are, as they say, in for a treat.
I love a traditional grilled cheese. Good bread with a bit of tasty cheddar between is wonderful on many levels, and we make it all the time. But grilled cheese is also a sandwich that begs to be elevated. There are undoubtedly myriad ways to do this – this is just one (this philly cheesesteak panini is another), but it's one you should absolutely try. Like, now.
Or as soon as you can track down some bleu cheese and figs (understandably not things that are always in the pantry, if for no other reason than they get eaten immediately upon purchase…).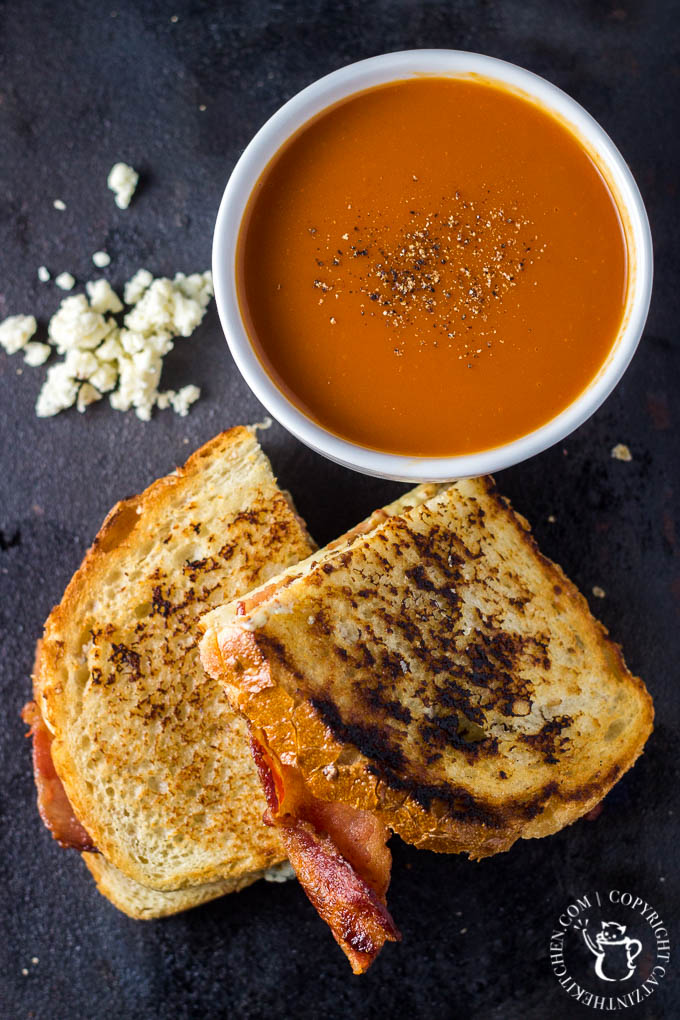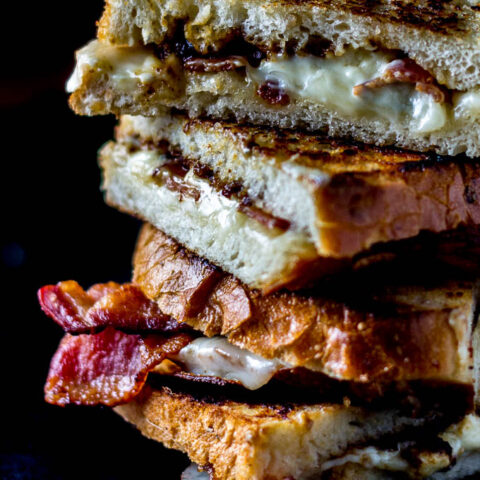 Grilled Bacon Bleu Cheese & Fig Sandwiches
Ready to elevate classic grilled cheese to dizzying new heights? Enter these grilled bacon bleu cheese & fig sandwiches. Mouthwatering is an understatement.
Ingredients
1/4 cup mayonnaise
8 slices thick, crusty bread
1/2 cup fig jam (we use Trader Joe's)
8 slices provolone cheese (about 6 oz)
1/2 cup crumbled bleu cheese (about 4 oz)
Instructions
Warm a grilling surface, griddle, or large flat-bottomed pan to medium-high heat.
Lay slices of bread out on a flat surface and spread fig jam over one side of each slice (all eight should have some fig jam spread on one side).
Top four of the slices with provolone, bacon, and bleu cheese, dividing evenly.
Place remaining four slices fig-side down on top, and spread mayonnaise on the outside of each sandwich, top and bottom.
Grill for 3-5 minutes per side, or until bread is browned and cheese is melted.
Serve immediately, alongside some hearty tomato bisque, if you like.
Nutrition Information:
Yield:

4
Serving Size:

1
Amount Per Serving:
Calories:

734
Total Fat:

40g
Saturated Fat:

18g
Trans Fat:

0g
Unsaturated Fat:

21g
Cholesterol:

80mg
Sodium:

1476mg
Carbohydrates:

60g
Fiber:

2g
Sugar:

23g
Protein:

32g
Nutrition information isn't always accurate.