Light and healthy (well, maybe minus the tortillas), these meatless enchiladas are super tasty and easy to make, mostly from things you have leftover!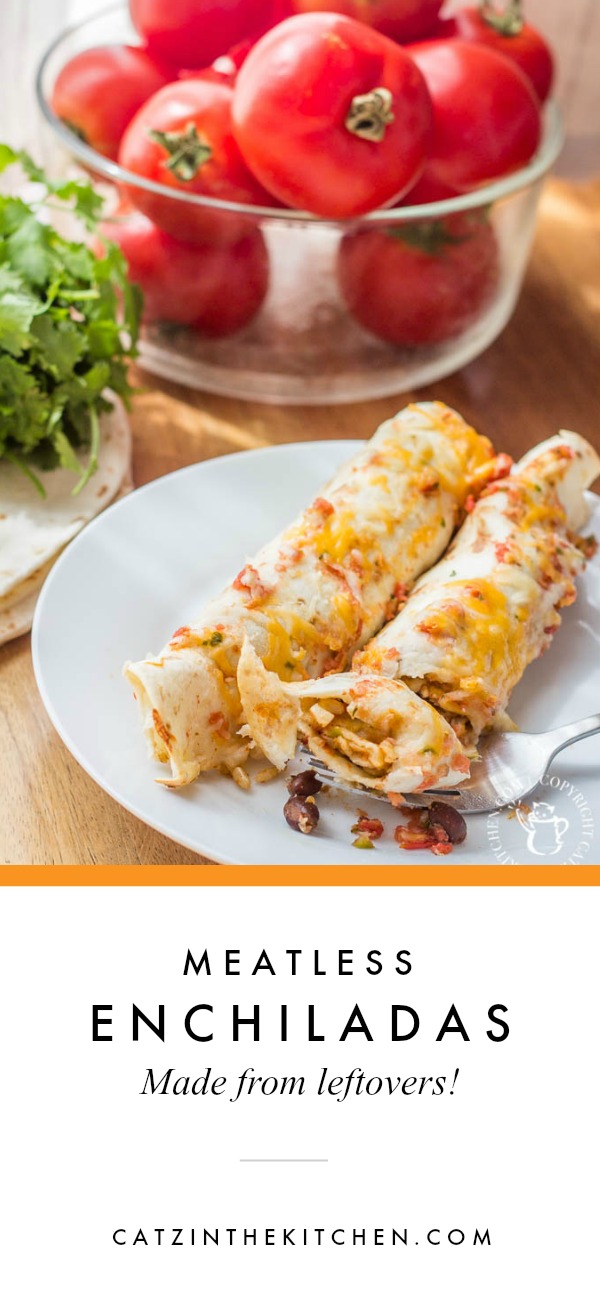 It could possibly be that Josh and I are a bit OCD or it could just be the fact that if we still see a possible use for something, we're not ready to throw it away. If my kids are done coloring on one side of paper and are ready to throw their masterpiece away – oh no, you've got a whole other side of that paper that you can draw on! Leftover wood sits by the side of the house and in the garage, and Josh has proven more than once that he can repurpose it and make it into something new and useful. Leftovers in the fridge…I'm sure I can do something with that, too!
I'm sure like a lot of families, we all come across times when we're trying to stretch a buck or a meal or extend the life of our pantry until payday or the next grocery trip to the store. I hear you! Sometimes, my planning didn't go as planned, and I find myself shaking my head and asking myself, "How exactly am I going to make lemonade without lemons?"
It's a problem!
But sometimes taking a moment to put our thinking caps on and examine the situation can lead to exciting discoveries, like coming up with a new recipe or dinner!
I actually made and photographed these enchiladas last summer and I've just been sitting on this recipe for months because as most people know, I love, love, love enchiladas…and I felt like maybe I had shared too many enchilada recipes over a course of too many months. That being said, I love enchiladas because of how easy and versatile they can be, which is why they are often a backup meal for me – I always have tortillas in the house thanks to Costco!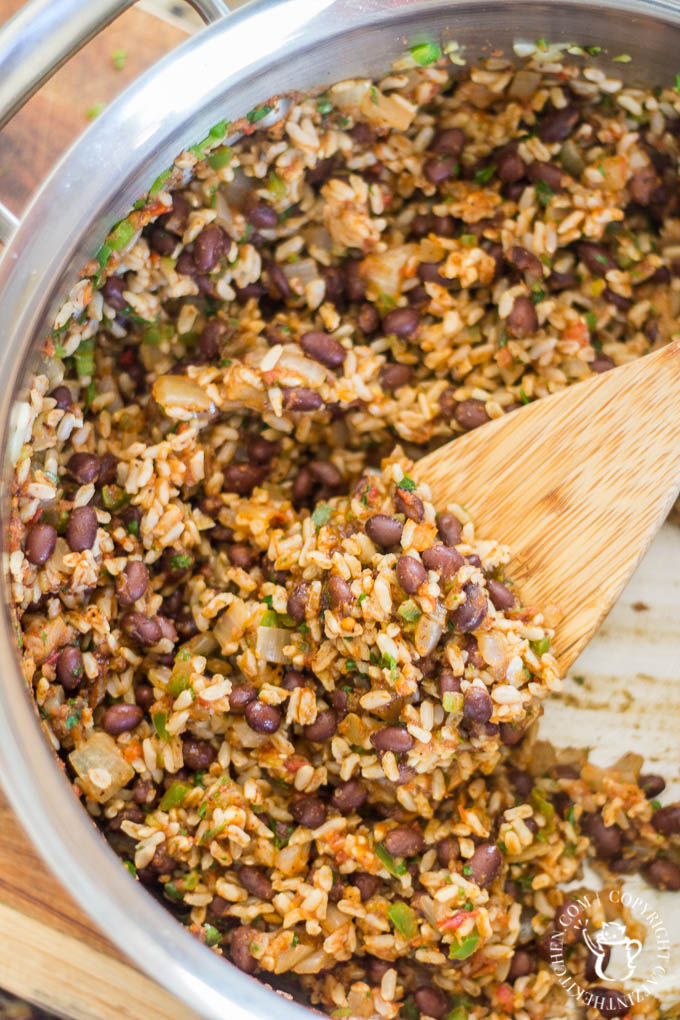 These meatless enchiladas were made using only what was leftover in the fridge or the pantry mainly because I found myself out of bread, lunch meat, and anything else I would generally use for lunches in our house, and I really didn't want Josh buying another meal out or the kids eating another box of macaroni and cheese!
It was a bit of a "Chopped" moment (except for the time constraint part), but it was also a fun lesson in seeing what you can do with what you already have. We live out in the country a bit, and while I do have a Safeway a few miles away, I didn't really want to hop in the car when I knew I could make something delicious at home.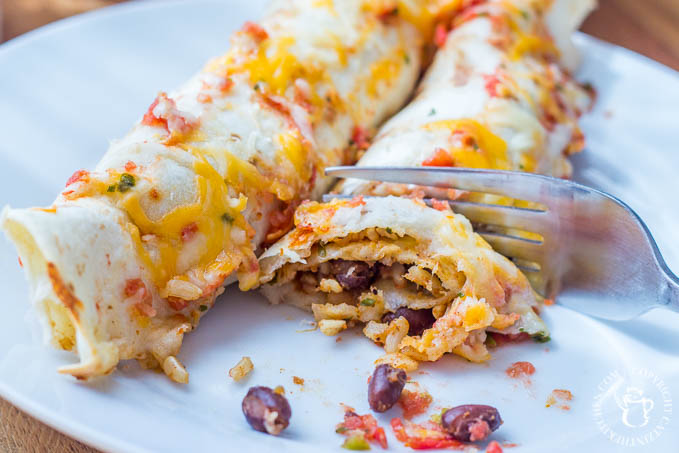 For this recipe, I used leftover brown rice, jalapeños, cilantro, and onion. From the pantry, I used a can of black beans, some salsa (believe it or not I didn't have any of my homemade enchilada sauce on hand or any canned!), garlic, chili powder, cumin, coriander, salt, and, of course, a few tortillas from the giant, cheap, amazing bags at Costco.
These enchiladas are easy to throw together because everything is already cooked. The hardest part is, of course, not crying while you chop the onions (however if you've got one of these handy gadgets, it will make your life easier and save your mascara from running), as well as mincing the onion and jalapeño. Remember if you've got kids, though, seed that little green chili because that is where the majority of the heat lies. After that, you're just combining the ingredients to warm up before filling the tortillas and baking them.
While I originally intended this meal to be made for lunches, because it's light and healthy (minus the tortillas), it could also be a really easy dinner option when you're scratching your head as to what to make!
Leftovers in the fridge? No problem, reinvent enchilada night!
"Leftover" Meatless Enchiladas
Light and healthy (well, maybe minus the tortillas), these meatless enchiladas are super tasty and easy to make, mostly from things you have leftover!
Ingredients
1 cup onion, chopped
2 garlic cloves, minced
1 jalapeño seeded and finely chopped
1 (15 oz can) black beans, drained and rinsed
2 cups leftover brown rice
1 (16 oz jar) salsa
1 TBSP chili powder
1 TBSP ground cumin
1 tsp ground coriander
1/4 tsp salt
1/4 cup cilantro, chopped + 1 TBSP for topping
1 cup shredded cheddar cheese
1 pkg (8-10) soft taco tortillas
Instructions
Preheat oven to 350 degrees. Spread 1/4 cup of salsa on the bottom of a 9x13 baking dish. Set aside.
In a large skillet on medium heat, drizzle some olive oil in the skillet (about 1-2 tbsp) and saute onion and garlic until softened, about 5 minutes. Add the chopped jalapeño, black beans, rice, 1 cup of salsa, chili powder, cumin, coriander, salt, and 1/4 cup chopped cilantro and stir and cook for about 5-10 minutes, until heated through.
Remove the skillet and fill tortillas with a heaping spoonful of the mixture. Roll the tortilla and place seam side down in prepared baking dish. Repeat with remaining ingredients.
Pour the remaining 3/4 cup of salsa over the enchiladas and top with shredded cheese. Bake for 20-25 minutes. Remove from oven and sprinkle with extra chopped cilantro.
Notes
Substitute any beans for the kind you like or have on hand or swap the salsa for enchilada sauce
Nutrition Information:
Yield:

10
Serving Size:

1
Amount Per Serving:
Calories:

166
Total Fat:

6g
Saturated Fat:

3g
Trans Fat:

0g
Unsaturated Fat:

2g
Cholesterol:

14mg
Sodium:

325mg
Carbohydrates:

23g
Fiber:

3g
Sugar:

3g
Protein:

7g
Nutrition information isn't always accurate.