Because it's Mother's Day (or any day!), treat mom to breakfast in bed with these easy, tasty homemade wild blueberry lemon sweet rolls!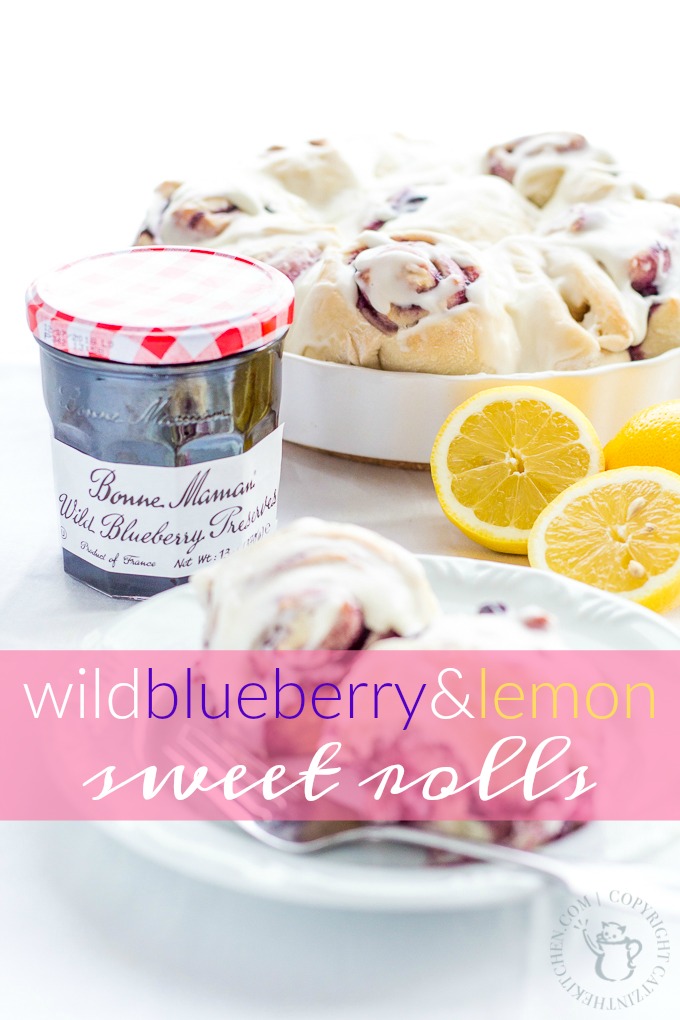 Christmas used to be my favorite holiday. Valentine's Day was runner up. But since becoming a mom, Mother's Day has become my favorite holiday of the whole year. Don't get me wrong, I still love Christmas and all of the music and decorations that come with it…
But Christmas and Mother's Day aren't really in the same league as each other. I mean, let's face it. Christmas gets a nearly five week celebratory party and Mother's Day gets, well, a day! While there may be a few songs dedicated to the moms out there (I'm thinking back to my era – the Spice Girl's "Mama" and The Backstreet Boys "The Perfect Fan"), the decorations consist of some balloons, cards, and flowers.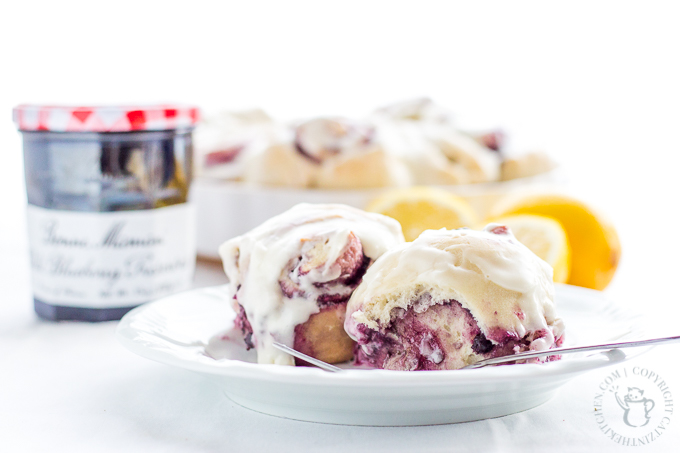 All of which I love, for the record! However…handmade cards from my kids are my favorite (hint, hint, offspring of mine reading this post…).
But, apart from handmade cards, how do you show the mom in your life how much she means to you? Well, in my family, it doesn't necessarily have anything to do with the gifts themselves, but the thought that goes into them. And (especially as a food blogging family) one of the ways we show each other how much we appreciate each other…is with food.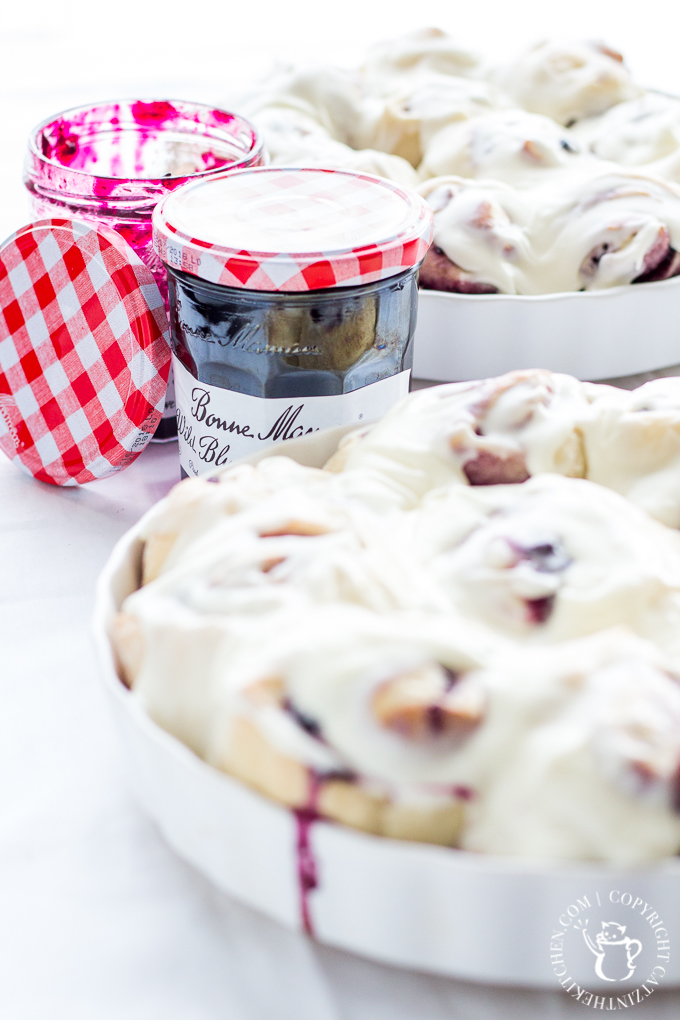 Food is life. Food is love. Food can be beauty and share so many of these qualities we associate with our mothers. Our mothers gave us life. They raised us on love. And mom is always one of the most beautiful people in your world!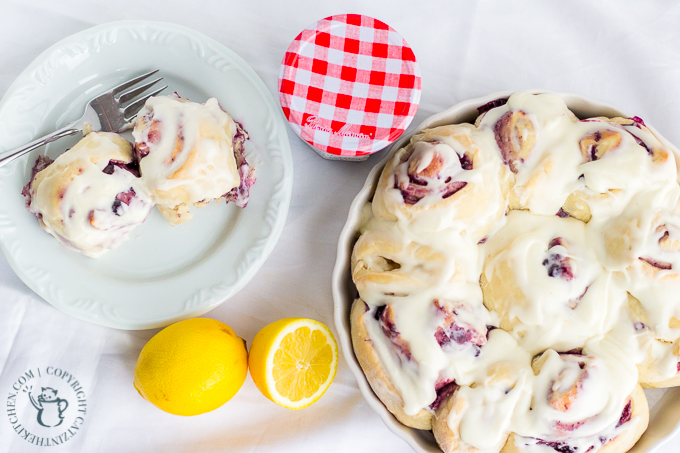 I usually don't get the royal breakfast in bed treatment on Mother's Day morning because our church throws a fun breakfast potluck for the moms. All the men and children the night before have made (…or bought…) breakfast items and bring them to church the next day and while we moms get a moment to put up our feet while our guys and kids serve us. It's a beautiful thing to look forward to each year.
But, my husband knows that I am also a sucker for a good breakfast in bed, so once and awhile, he and the kids will whip something up on a Saturday morning for me to enjoy before the next day's activities…and I love that! It makes me feel so special and appreciated!
In honor of Mother's Day coming up, I thought I would blog a recipe that you can share twice! You or your family can make these delicious sweet rolls made with Bonne Maman Wild Blueberry Preserves and fresh lemon zest, enjoy one together as a family, and give another panful to your mom or another deserving mom you know.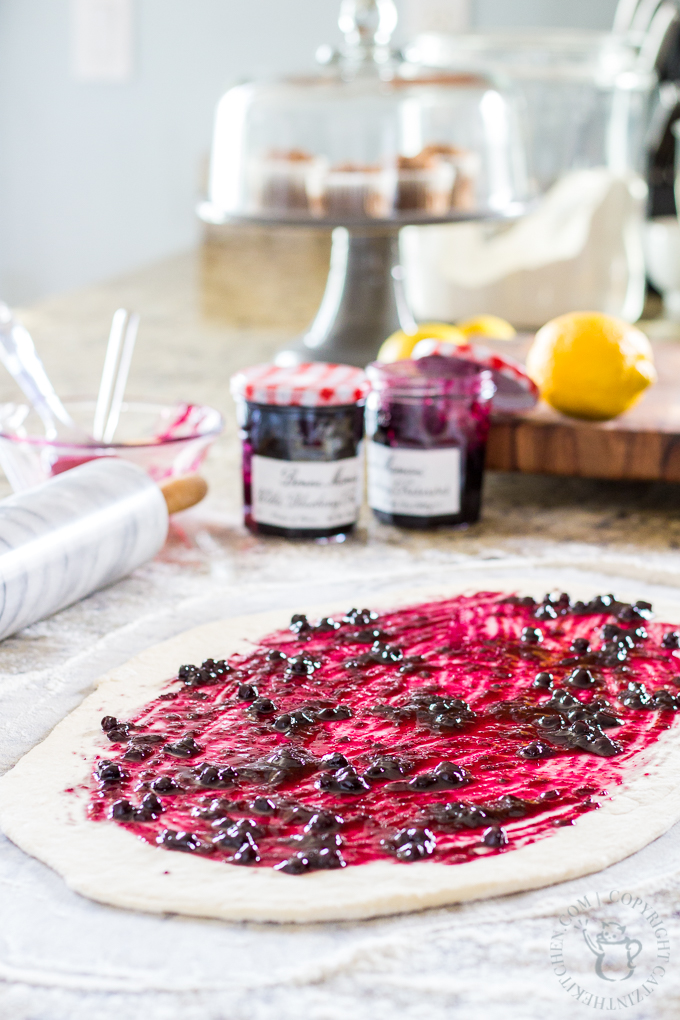 Not only do these adorable shabby chic jars of Bonne Maman Wild Blueberry Preserves taste super fresh, but they're made with quality fruit, are non-gmo, and don't contain any artificial coloring, high fructose corn syrup, or preservatives. In fact, my kids got a kick out of the fact that they could read and pronounce every single item in the very short list of ingredients on the label. Frankly, the list looks like exactly what you would use if you were making your own wild blueberry preserves at home! I love the pieces of whole berries in the preserves – it sort of makes me feel like I whipped it up from the blueberry plants in our backyard (though sadly, I haven't tried that yet). You can be sure that you're serving mom the very best, which is exactly what your mom did for you…and if you're a mom, then what you want to be doing for your children as well.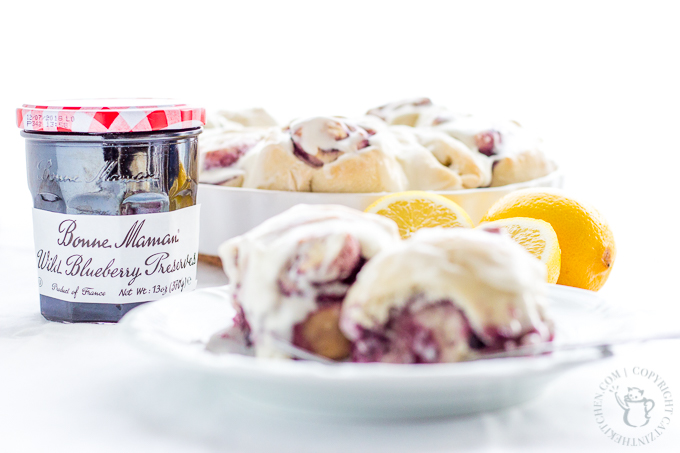 These Wild Blueberry Lemon Sweet Rolls may be a simple way to show your mom how much you appreciate and love her…but nothing says love better than when you say it with homemade.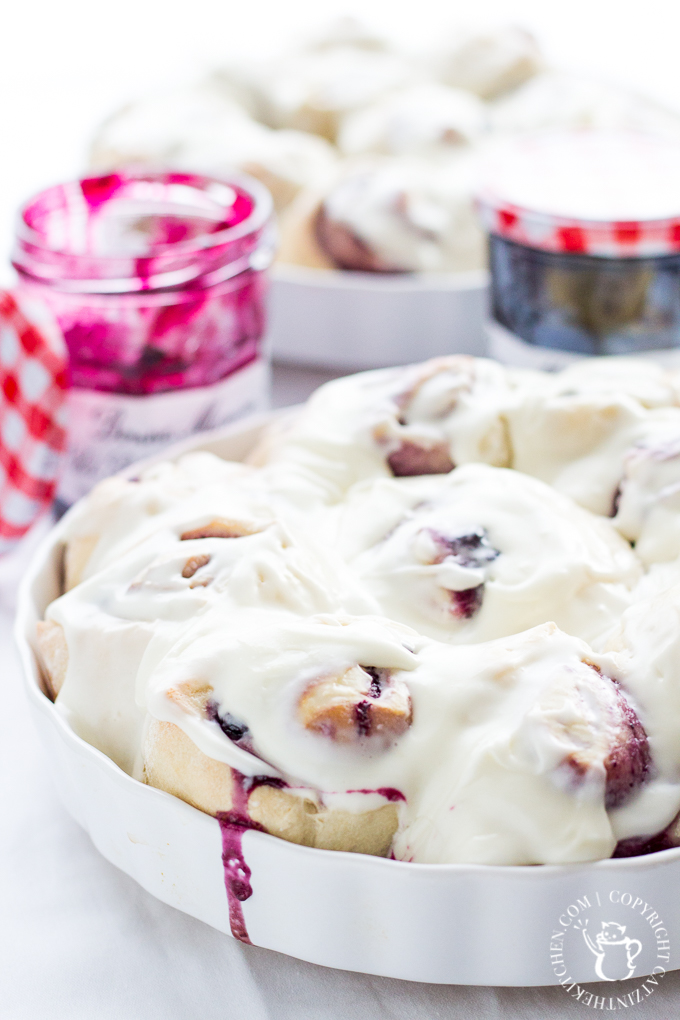 Want to try something besides (or in addition to!) sweet rolls this Mother's Day? How about these beautiful strawberry muffins? Yum!

And while you're at it, Bonne Maman is also giving away some awesome prizes, including a 12-piece Le Creuset cookware set (WANT!), so feel free to enter!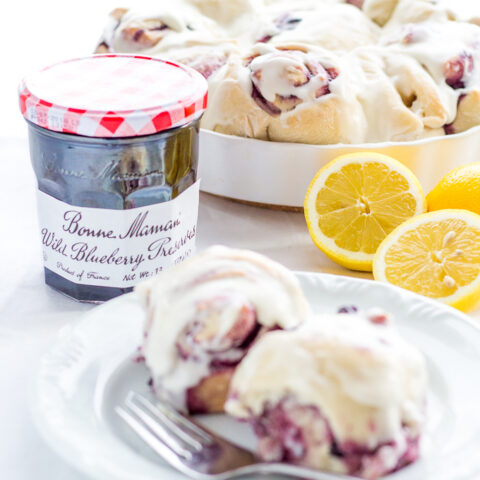 Wild Blueberry Lemon Sweet Rolls
Yield:
Approx. 10 rolls per pan
Because it's Mother's Day (or any day!), treat mom to breakfast in bed with these easy, tasty homemade wild blueberry lemon sweet rolls!
Ingredients
Sweet Roll Dough
2 cups warm water
1 TBSP yeast
1 TBSP sugar
1 TBSP Salt
1 TBSP oil (olive oil or vegetable oil are fine)
1 egg
6 cups flour
Filling
1 cup divided Bonne Maman Wild Blueberry Preserves
1 lemon, zested and divided
Glaze
2 TBSP unsalted butter, melted
2 ounces cream cheese, softened
1 1/2 cups powdered sugar
Pinch of salt
3-4 tsp fresh lemon juice
Instructions
For the dough: Grease two 8-9 inch pie pans with non-stick cooking spray. Add yeast, sugar, salt, and oil to water to a large mixing bowl (like a KitchenAid bowl) and let sit until yeast starts to bubble, about 5 minutes. One mixture is bubbly, add egg and flour to the same bowl. Using a dough hook, mix dough until a ball forms and ingredients are incorporated. Let the dough sit for another 5 minutes. Divide dough into two balls. Roll out one ball onto a floured surface and into a rectangle, about 19 inches long or the length of your rolling pin.
For the filling: With a basting brush, spread 1/2 cup of the wild blueberry preserves over the dough, leaving about an inch- 1 1/2 inches of a border of dough. Zest about half of the lemon over the preserves. Roll the dough up and pinch seams together. Slice the sweet rolls into rounds about the space of your pointer finger and thumb extended in an L shape. Place in a prepared pan and allow to sit covered for about 25 minutes. Repeat the same steps with the second batch of dough.
Bake at 350 degrees for about 25 minutes.
For the glaze: while the sweet rolls are baking, combine in a mixing bowl using the whisk attachment or an electric mixer and combine the melted butter, cream cheese, powdered sugar, salt, and lemon juice. If the glaze is too thick, add a bit more lemon juice to thin it out to your liking.
Once the sweet rolls have finished baking, let sit for a few minutes before spreading the glaze over the top. Enjoy warm.
Nutrition Information:
Yield:

10
Serving Size:

1
Amount Per Serving:
Calories:

496
Total Fat:

7g
Saturated Fat:

3g
Trans Fat:

0g
Unsaturated Fat:

3g
Cholesterol:

30mg
Sodium:

751mg
Carbohydrates:

98g
Fiber:

3g
Sugar:

34g
Protein:

9g
Nutrition information isn't always accurate.
Bonne Maman provided financial support and samples for the creation of this post. The photographs, opinions, and choice of recipe are all our own.