Warm, homey, and just a little bit indulgent, this Country Peach Coffee Cake is an easy to make treat in and out of peach season!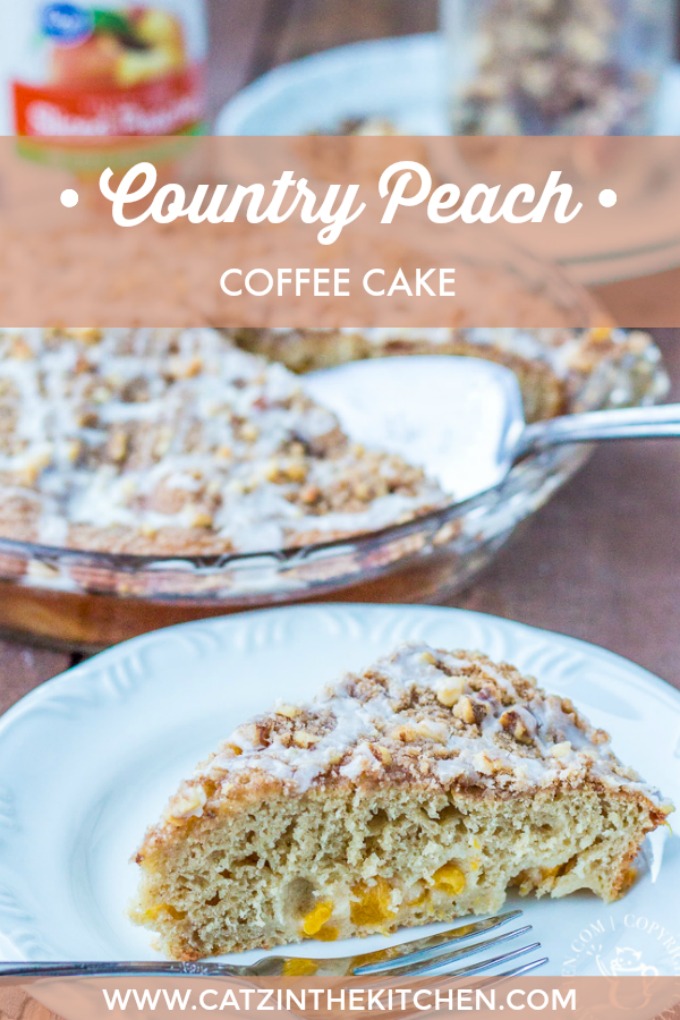 I've been working on this coffee cake for awhile. Back in April, before Josh and I went away on our little "baby moon" to Texas, I whipped up a bad, horrible, no good version of this coffee cake. It was dense. It fell and sunk in the middle after it baked up, the glaze I made was probably the worst I've ever whisked together…and I wanted to cry.
But, I'm pretty lucky to have my righthand man, er, young woman, by my side, and that would be my daughter Grace. Actually, my kids (and Josh) were all really supportive about the coffee cake disaster, because food fails happen! It wasn't that the cake was inedible, because it wasn't! It didn't stop any of them for sneaking a slice here and there of the cake. I, on the other hand, wouldn't touch it! I was too busy going over different ingredient measurements to care about eating it.
One thing right about the cake was the flavor! It was spot on. It was everything else that needed a little work, and Grace was right there cheering me on and helping me to not be discouraged .
You know, when you're pregnant, it doesn't take much to get discouraged. Especially when you didn't have the energy to bake in the kitchen anyway!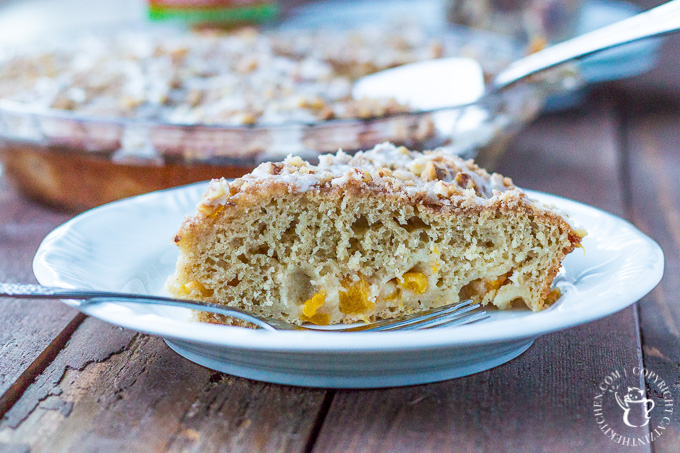 But let me tell you something about Grace – she is a big help in the kitchen (and just about everywhere else)! She turned 13 years old last week – what?! I bounce cooking and baking ideas off of her, flavors, menu ideas…she's always there to help and always shows an interest, which is really encouraging, because I know she really does appreciate the time and effort that goes into each meal. In fact, she and I are in the process of compiling a list of freezer meals to make for when the baby gets here. In late August probably…maybe the beginning of September (before school starts for her)…she and I are going to do all of the freezer cooking together!
But I digress! Last week, I decided to go for attempt number two on this coffee cake and it turned out so much better! I used canned peaches because I like the idea of being able to make peach coffee cake all year long, or bringing it to someone, or inviting someone over for coffee in the morning, and canned peaches are just, well for three out of four seasons, easier to find! On the other hand, if you happen to be making this in the fall, run down to your local farm and pick some fresh peaches – now, that is something to look forward to! There is a yummy blackberry coffee cake on the blog if you're looking for something with berries, however…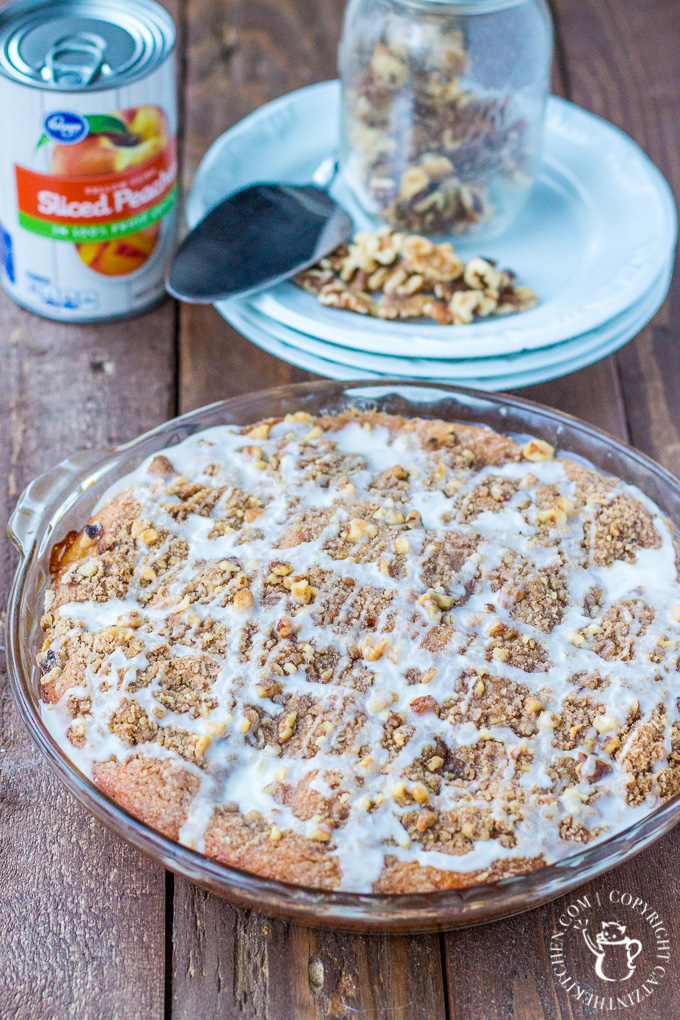 I changed directions on the topping of the cake while in Texas. Originally, I had just made a glaze/frosting for the coffee cake. But after that trip, I was really inspired by the wide open spaces and some of the houses we drove past in the Waco area that just seemed to invite you to slow down and stay awhile (I would have gladly stayed longer if I could have)…somehow that drove me in the warmer direction of a nutty streusel topping that bakes right onto the cake, covered with a lightly glazed drizzle.
The finished product looked and felt like the country to me. And maybe it was just me, but it tastes like the country, too! The peaches are sweet. The coffee cake itself is warm and earthy. The topping is crunchy and the glaze just finishes it off. It's hard to believe it's actually a really easy coffee cake to make, too!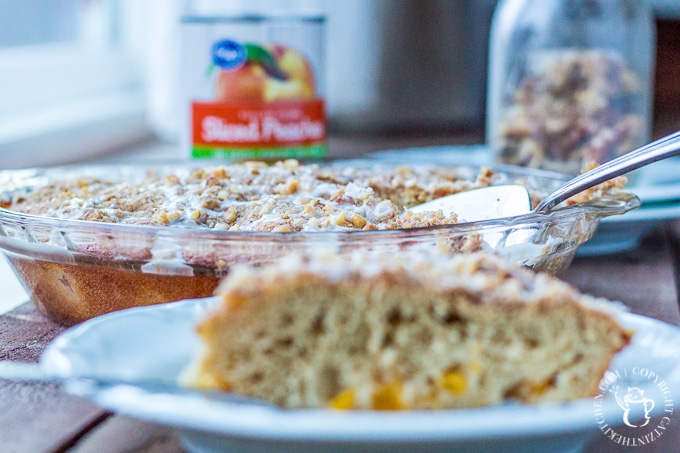 This post was not created in partnership with Kroger. I do about 98.9% of my grocery shopping at Fred Meyer (a Kroger affiliate) and though these are the peaches I used in the post, I was not compensated by Kroger.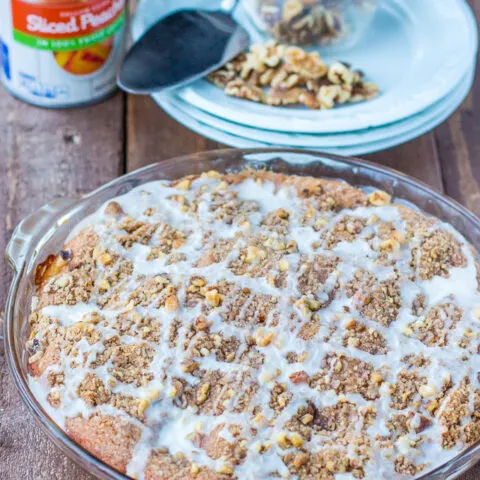 Country Peach Coffee Cake
Warm, homey, and just a little bit indulgent, this Country Peach Coffee Cake is an easy to make treat in and out of peach season!
Ingredients
Cake:
1 1/2 cups all-purpose flour
1/2 tsp baking soda
1/2 tsp baking powder
1/2 tsp sea salt
1/4 tsp ground nutmeg
1/2 tsp ground cinnamon
3/4 cup sugar
1/2 cup plain greek yogurt
2/3 cup applesauce
1 tbsp vanilla extract
2 eggs
1 (15 oz) can sliced peaches, drained, chopped, and patted dry with a paper towel
Streusel:
1/4 cup all-purpose flour
1/4 cup brown sugar
1/4 cup chopped walnuts
1/2 tsp ground cinnamon
2 tbsp cold unsalted butter, diced
Glaze:
2 tbsp milk
1/2 cup powdered sugar
Instructions
Grease a pie dish with nonstick cooking spray. Preheat oven to 350 degrees.
Whisk together flour, baking powder, baking soda, salt, cinnamon, and nutmeg in a medium bowl.
In a large bowl, beat with an electric blender, sugar, applesauce, yogurt, eggs, and vanilla until blended. Gradually add dry ingredients and beat until blended. Gently fold in chopped peaches and pour the batter into prepared pie dish and set aside.
In a small bowl, combine the streusel ingredients, flour - cinnamon. Cut in the cold butter with a pastry blender, working the mixture until crumbly and resembles coarse crumbs. Spoon over cake batter. Bake for 35-40 minutes, or until a toothpick comes out clean when inserted in the middle and edges of coffee cake are lightly browned. While the cake is cooling, mix together the glaze of milk and powdered sugar, adding more milk or sugar until your desired consistency. Drizzle over the cake and serve warm. Refrigerate any leftovers.
Nutrition Information:
Yield:

8
Serving Size:

1
Amount Per Serving:
Calories:

327
Total Fat:

7g
Saturated Fat:

3g
Trans Fat:

0g
Unsaturated Fat:

4g
Cholesterol:

55mg
Sodium:

283mg
Carbohydrates:

60g
Fiber:

2g
Sugar:

37g
Protein:

7g