This delicious family favorite Mexican Lasagna recipe is made mostly from ingredients we always have in the pantry and it comes together in just 30 minutes!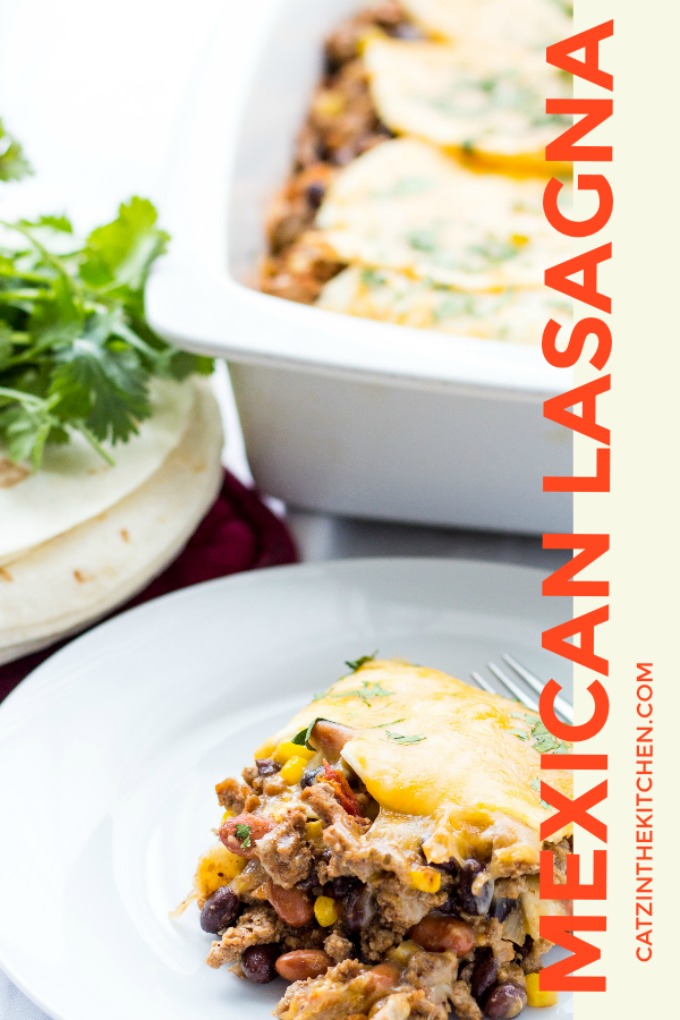 We're rolling down to the end of the school year, aren't we? Raise your hand (or a coffee cup) if you're glad! I think the beginning of the school year and the end of the school year look very different from each other. I know for a lot of parents it's a bit of a "happy dance" moment when we finally get the chance to send those youngsters out of the house for awhile.
I cannot relate to this at all because…homeschooling! Even on those days when I find I have a few hours to myself in the middle of the day, I have no idea what to do because I'm so used to having them around!
But, I think I can relate to most of you when the end of the year rolls around – for me as a homeschooling mom, I'm ready to call it a school year in April! But, if it's a state testing year…then my school year runs a bit longer (like this year). Thankfully, we're done as of Friday! Well, Saturday. Eden takes her state test Saturday morning, but bless her heart – she's enjoyed history so much this year that she really wants to finish her book…which means more quizzes and tests until she's done.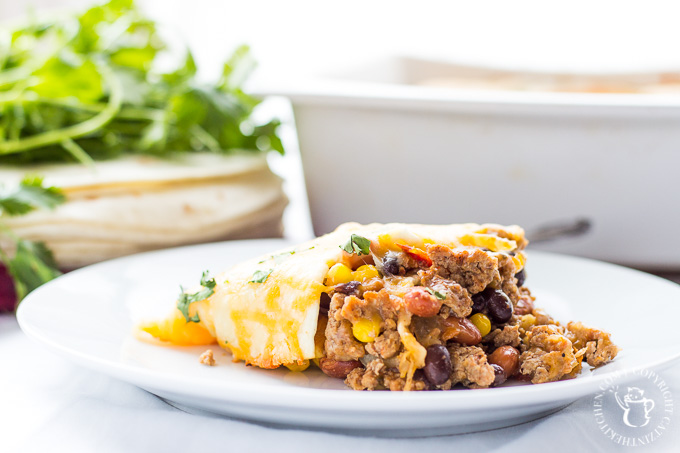 I know a lot of you have kids in sports, music, or other extra-curricular activities that probably make the school days feel even longer and make getting dinner on the table look like a Mission: Impossible situation.
Here to help! Got you covered!
This Mexican Lasagna is a pantry ingredient meal, meaning it doesn't take a lot of effort or ingredients to get this dinner on the table. I've been making this dinner for yeeaarrs, people! I don't mean to age myself here, but I've been making this dinner probably since Grace was about three years old. For reference, Grace turned 13 last week.
Around that time I saw Rachael Ray make this super easy dinner on her 30 Minute Meals show, but it's really a lot more of a method than a recipe. Which explains why I've played with this recipe a lot over the years and the dinner itself is always created around what I have on hand in my pantry or freezer.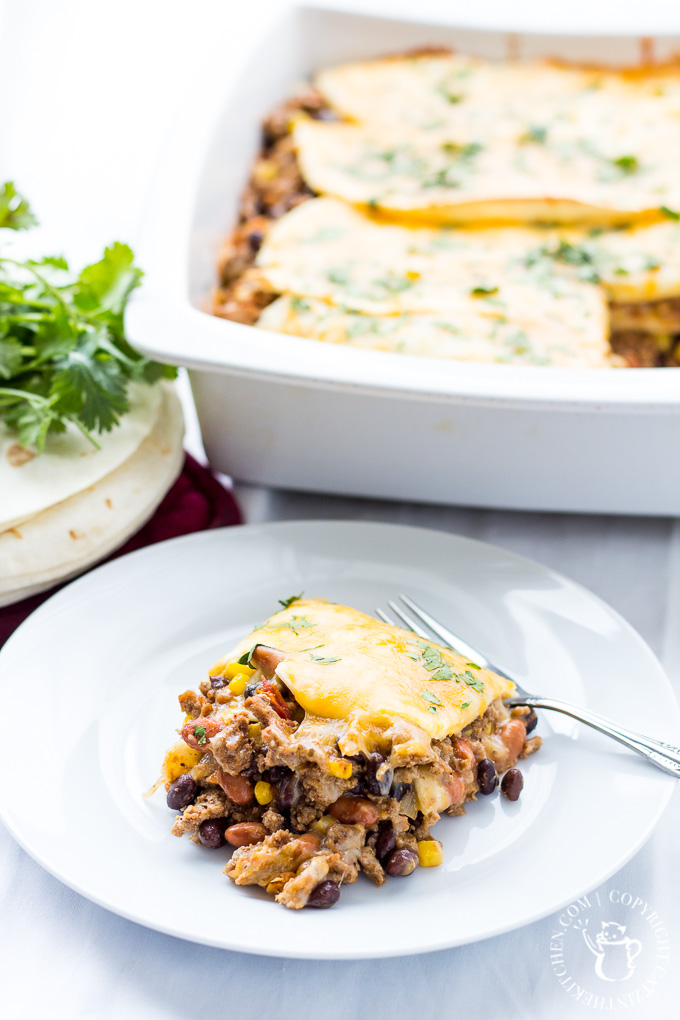 I usually use ground turkey for the meat element of the dish, but you could use ground beef or chicken or skip the meat entirely and add more beans. Depending on what beans I have on hand, I play with that, too. This time I used kidney & pinto beans. But I've used black and pinto. Or all black. Sometimes I even throw in white beans – which is especially good if you go the ground chicken route…bringing us to the sauce-like element. Usually, I use salsa because I've always got it on hand. But red enchilada sauce would work. Diced tomatoes with green chilis would be good. But like I said, if you use ground chicken with white beans, a salsa verde (green sauce) would be yummy. Think…almost a white chili-inspired Mexican lasagna. I won't even go into the cheese part of this menu…because almost anything would work! Except bleu cheese. Don't use bleu cheese.
The recipe below will state what ingredients I use most of the time…but when I tell you that you can't mess this meal up and any pantry ingredient will work, that truly has been my experience!
Plus, kids love it! Also, it can be made in 30 minutes or less – another reason you and your kids will love this recipe. Dinner with virtually zero wait time!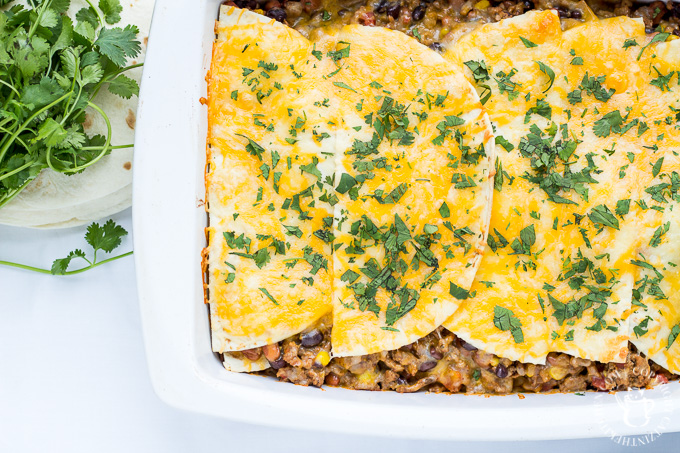 So we've got dinner using ingredients you probably already have on hand. Dinner on the table in 30 minutes, and you can't mess it up! Your crazy end of the school year schedule needs this dinner in your arsenal!
Oh, and don't know what serve with it? I grab one of those Mexican-inspired premade salads from the grocery store (I prefer the Dole brand) then you're set! Get cooking!
Mexican Lasagna
This delicious family favorite Mexican Lasagna recipe is made mostly from ingredients we always have in the pantry and it comes together in just 30 minutes!
Ingredients
1 1/2 tbsp extra virgin olive oil
1 lb. ground turkey
1 1/2 tbsp chili powder
1 1.2 tsp ground cumin
1 cup yellow onion, chopped
1 can kidney beans, drained and rinsed
1 can pinto beans, drained and rinsed
1 cup salsa
1 cup frozen corn
1/2 tsp salt
8 (8 inch - soft taco sized) flour tortillas
2 1/2 cup Mexican shredded cheese
2 tbsp fresh cilantro, chopped
Instructions
Preheat oven to 425 degrees.
Drizzle olive oil in a large skillet over medium-high heat. Add ground chicken and season with chili powder, cumin, and onion. Brown the meat and add salsa, beans and corn. Heat the mixture thought, 2-3 minutes, then season with salt to taste.
Coat a shallow 9x13 baking dish with one more additional tablespoon of olive oil. Cut the tortillas in half to make them easier to layer. Build lasagna layers of meat and beans, then tortilla, then cheese. Repeat the layers, ending with cheese. Bake for 12-15 minutes, until cheese is melted. Top with Cilantro and serve.
Notes
Feel free to substitute and meat, bean, or cheese.
If you use something other than salsa - sub in a 14 oz can of diced tomatoes with or without chilis or a 10 oz can of enchilada sauce.
Recipe adapted from Rachael Ray's 30 Minute Meals
Nutrition Information:
Yield:

8
Serving Size:

1
Amount Per Serving:
Calories:

446
Total Fat:

24g
Saturated Fat:

9g
Trans Fat:

0g
Unsaturated Fat:

12g
Cholesterol:

93mg
Sodium:

781mg
Carbohydrates:

30g
Fiber:

5g
Sugar:

4g
Protein:

30g
Nutrition information isn't always accurate.