One of our favorite smoothie standbys, what we call the Sunday Morning Smoothie – orange, banana, ginger, mango, pineapple, spinach, coconut, and more!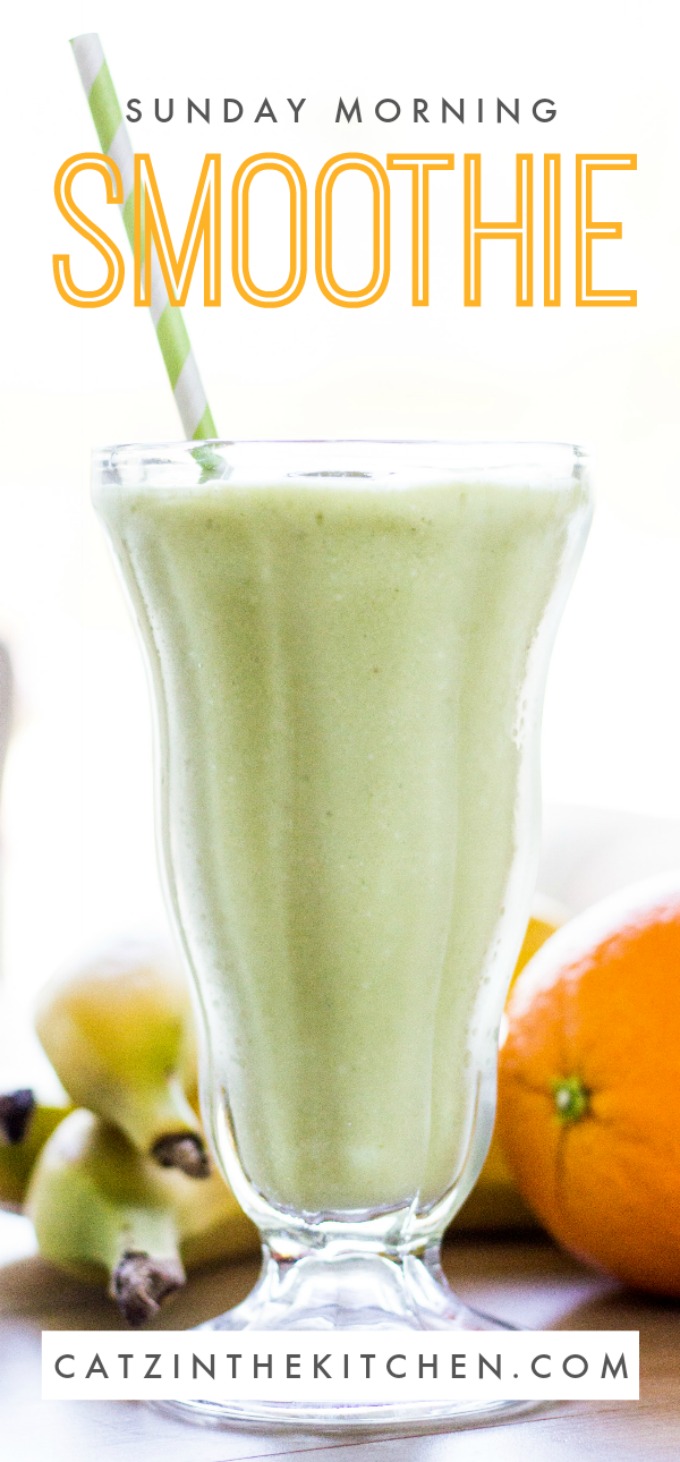 We make a lot of smoothies here at Catz. I'm not sure there is any one particular reason for that – more likely that it's a combination of many reasons, all of them good ones! Smoothies are (or can be) healthy, energizing, filling, pretty to look at, a good way to sate a sweet tooth, and easy to make. I guess I was a bit shocked awhile back when I looked at our smoothie section in the recipe index and discovered that we had only blogged three smoothies…ever…and one of those is seasonal! How is that possible, when we have 12 different recipes for French Toast, almost 40 burgers and sandwiches, and closing in on 50 different recipes for pasta? Obviously, this is a situation in need of rectifying.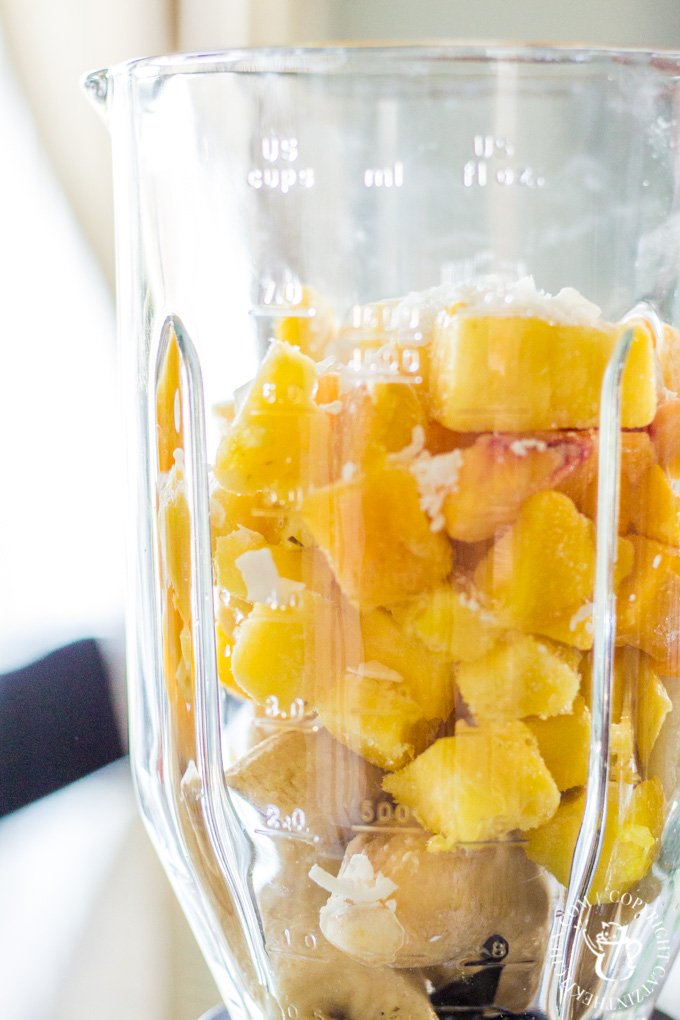 Consider this post my initial effort in doing just that. Many a Sunday morning seeing me throwing the ingredients for this beautiful almost mint green smoothie in the blender and doling out a substantial portion to each member of our little family. It takes perhaps five minutes to make, and we keep all of the ingredients on hand virtually all the time. There are a few things you might not have in your fridge or pantry – a container of fresh baby spinach, for example, fresh ginger root, or shredded coconut – but they are easy things to add to your grocery list, all extremely inexpensive, and all very, very good for you and your little ones.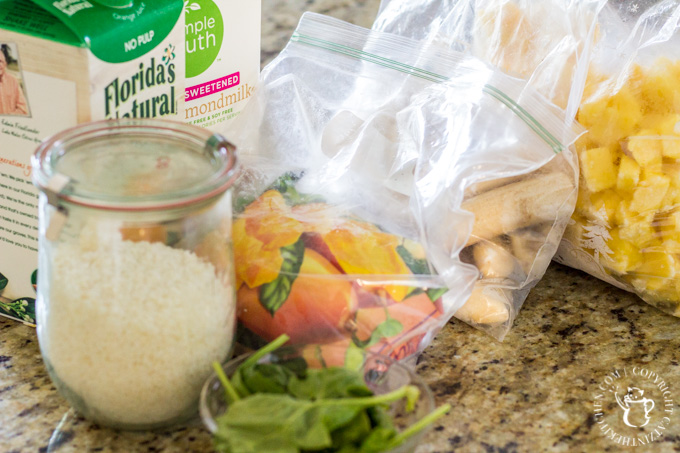 Certainly we don't restrict the serving of our "Sunday morning smoothie" to Sunday mornings only! It sees a lot of weekend duty, and is often served alongside our Sunday night fried egg sandwiches (that post is due for an update!) or crêpes. It's also a great one to whip up when fighting off a cold, and we've even served it with a bit of protein powder as a post-workout pick-me-up. And while I think I can safely say that the kiddos in the Catz household don't fear veggies, this is a wonderful way to put some outrageously healthy raw spinach in the bellies of little people (okay, big people, too).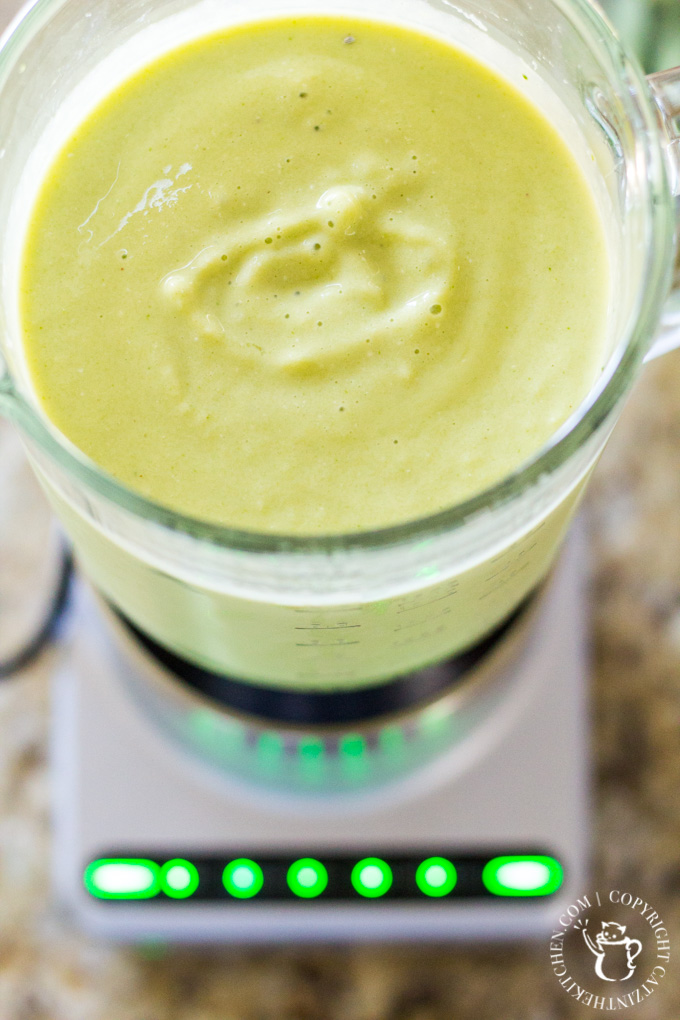 We've got more to come here in the smoothie department – I've got a smoothie take on a "healthy chocolate malt" that I am crazy about (can also be turned into a chocolate protein shake) and have been meaning to photograph and share with you for ages, so hopefully that will be coming soon, and as the Pacific Northwest begins to share it's bountiful harvest of fresh seasonal fruit and tasty summer berries, you can bet we'll be throwing those in the blender, too!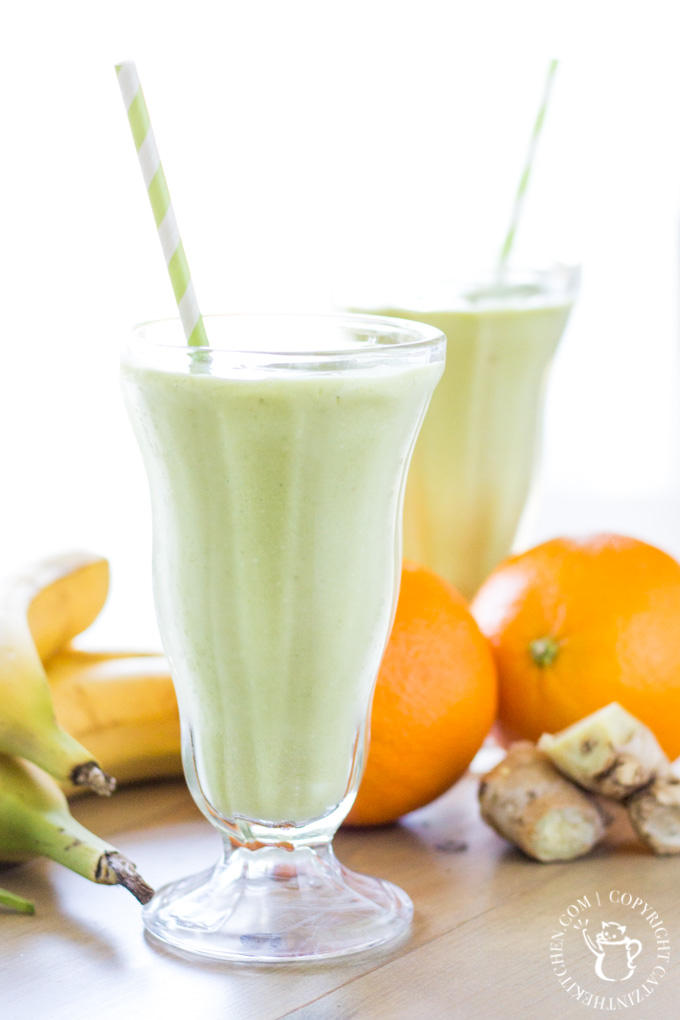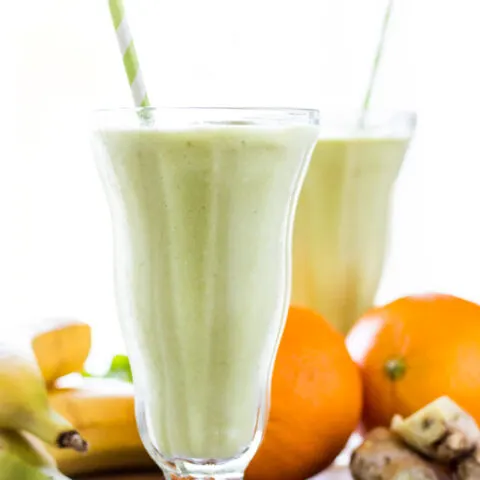 Sunday Morning Smoothie
One of our favorite smoothie standbys, what we call the Sunday Morning Smoothie - orange, banana, ginger, mango, pineapple, spinach, coconut, and more!
Ingredients
1 cup fresh baby spinach (a handful)
1 cup frozen pineapple chunks
1/2 cup frozen mango chunks
2 frozen bananas (cut in half)
1 tbsp shredded coconut
1 tbsp freshly grated ginger root
1 cup almond milk (substitute skim or low fat milk, if you prefer)
1 cup orange juice
Instructions
In a large blender, add spinach, pineapple, mango, and bananas. Top with coconut and ginger.
Pour in milk and orange juice until ingredients are mostly covered. If specified ingredients do not provide enough liquid to cover, add more orange juice or add some coconut water to bring to desired level.
Blend on high until all consistency is smooth, with no frozen chunks or spinach leaves visible, and the smoothie is mint green in color.
Pour into glasses and serve immediately!
Notes
As with most smoothie recipes, ingredients here are very flexible, and the measurements are approximate. Typically, we do not measure the ingredients when making this smoothie, and it can be made without the mango and the coconut, if you do not have them at hand. Coconut water is a great addition to the liquid in this smoothie, if you like a more coconut-forward flavor, and vanilla protein powder fits in nicely if you're looking for a post-workout beverage.
Nutrition Information:
Yield:

4
Serving Size:

1
Amount Per Serving:
Calories:

169
Total Fat:

1g
Saturated Fat:

1g
Trans Fat:

0g
Unsaturated Fat:

1g
Cholesterol:

0mg
Sodium:

15mg
Carbohydrates:

40g
Fiber:

3g
Sugar:

31g
Protein:

2g
Nutrition information isn't always accurate.