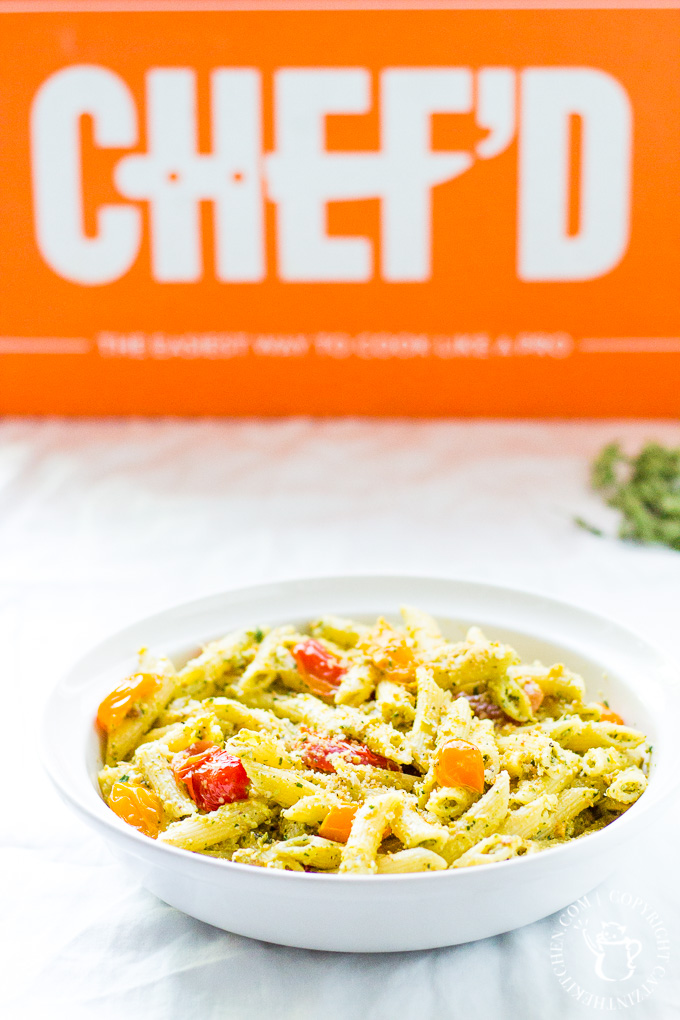 We had the opportunity to review a Chef'd meal this month (an opportunity we hope to have and be able to share with you on a regular basis!), which we jumped at! We've been quite curious to try one of these meal prepping/planning services for awhile, but hadn't settled on which one to try. When Chef'd reached out, we did a little reading up on their service. A lot of our favorite chefs had bios and recipes on the site, and the meals that were available seemed creative and a bit "premium", if that makes sense. So we said yes, and picked out a couple of things that looked mouthwatering – Barilla's Pistachio Pesto and Cherry Tomato Penne (pictured above), with a little tiramisu for dessert.
The entrees and desserts offered really run the gamut – everything from gourmet seafood and steak recipes to simple chicken and pasta dishes. The same is true of servings and pricing – some meals serve 2, some 8, some are $19, some are $80+. Last I checked, there were almost 150 meals available, sortable by chef, cuisine, meal plan, skill level, allergens, spice level, and more. It was a tough decision to make, but for our first go-around, we wanted to find something approachable and reasonable that would feed the whole fam – hence the choice of this pasta dish.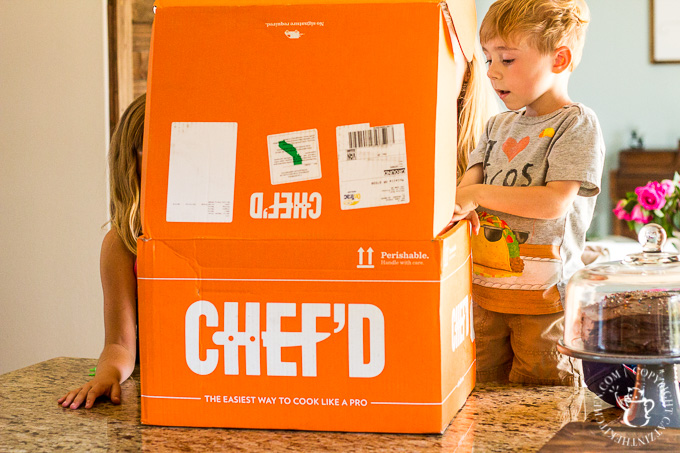 We chose our delivery day – Wednesday – and sure enough, Wednesday afternoon, this giant orange box showed up on our doorstep. Needless to say, the kiddos were stoked to get it open (frankly, so were we!). Unpacking it reminded us both of "unboxing" a tech product, like a new iPhone or something. All of the packing materials were high quality, specifically designed for the purpose, and put together very carefully. The bottom section was packed with reusable ice packs – though our recipes didn't really contain any protein, there were eggs, cheese, tomatoes, chocolate, etc. So, things you don't want getting warm. And they weren't. The box was like a fridge inside.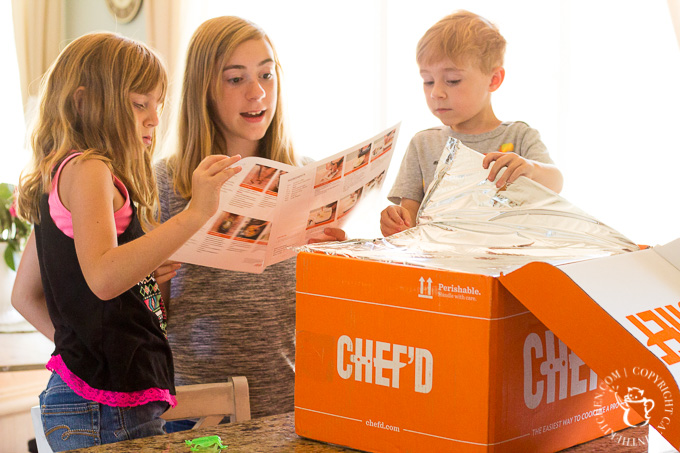 As we removed the different ingredients from the box, each one was packaged and labeled – down to the individual cloves of garlic in their own little bag. Every ingredient looked great – the little plastic containers of herbs were beautiful and fresh, the mascarpone cheese was the same high-quality brand we use for our tiramisu cake, and the tomatoes were bright, colorful, and perfectly ripe. The thing that struck us more than anything else, though, was the lemons. The recipe called for lemon juice (not uncommon), but rather than shipping a small bottle of lemon juice, Chef'd ships…lemons. Love it!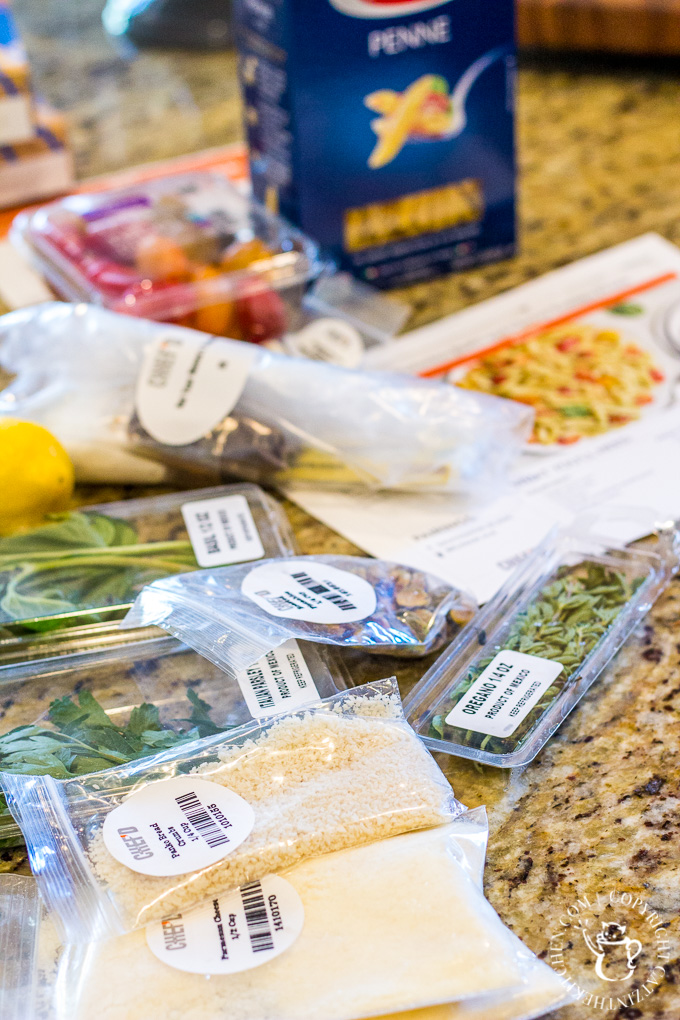 Pistachio Pesto and Cherry Tomato Penne
The ease of all of this is that the ingredients are all there and all measured out. The fun part (if you like to cook), is that nothing – and we mean nothing – is pre-made. You'll make the pesto from scratch, zest the lemons, mince the garlic, and toast the panko. There are a few assumptions, of course – that you'll have a zester, a juicer, a small sauté pan, olive oil, and, of course, salt and pepper. These seem like safe assumptions to us, but, still, important to be aware of.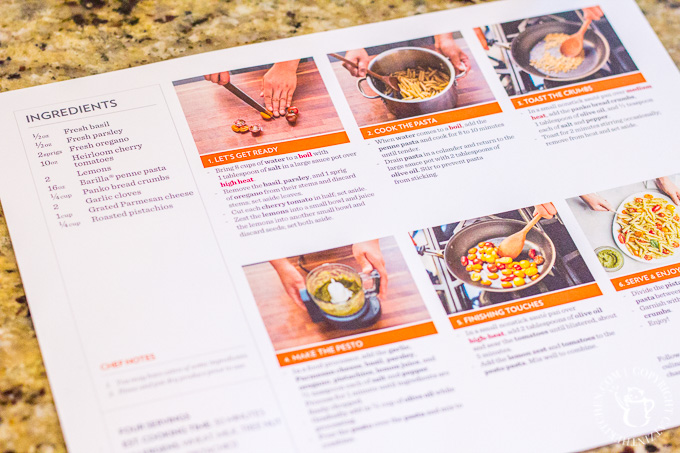 The instructions come on a sturdy card with simple step-by-step directions and pictures (we need to figure out how to make our recipes this easy to follow!). One very nice thing was the organization of the timing – each step was timed perfectly with the next one, from cooking the pasta to blistering the tomatoes. If you've ever written a recipe, you know that's not easy!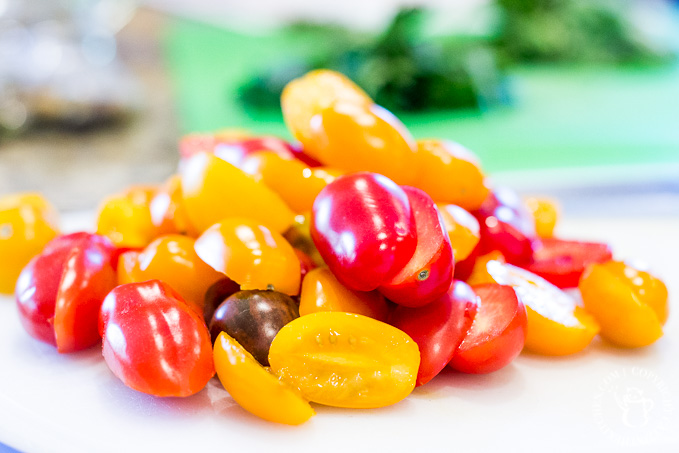 Speaking of those tomatoes, it would have been hard to find fresher ones at our local market ourselves! They were beautiful and perfectly ripe, in an assortment of cheerful colors. Pesto has a tendency to make everything a greenish brown, and colorful tomatoes are a great way to brighten a pesto dish back up.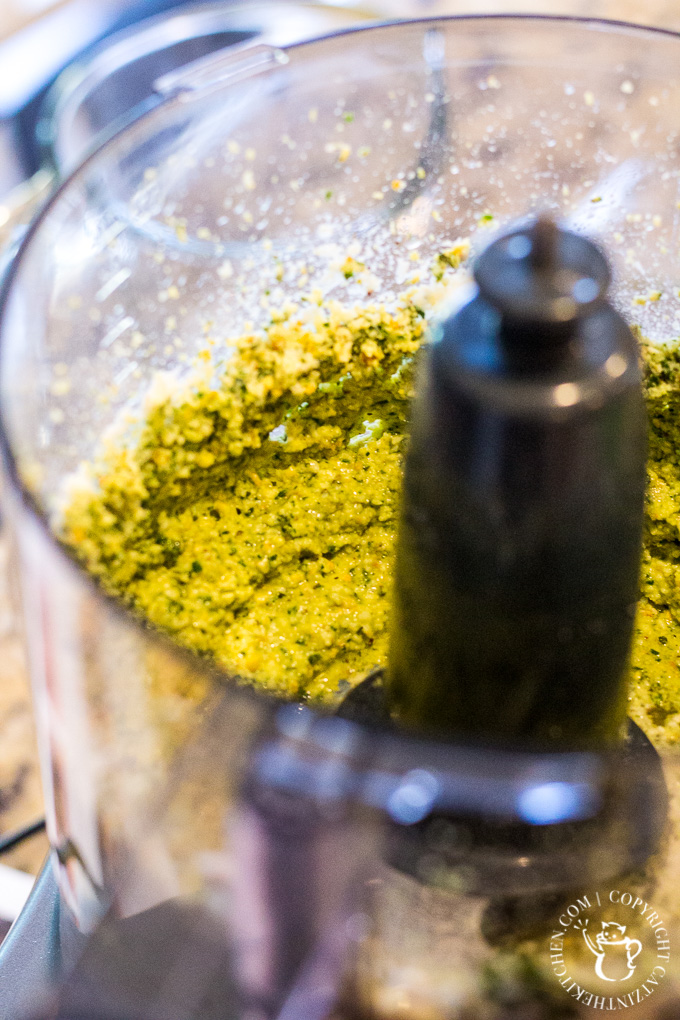 Making the pesto from scratch may have been the most interesting part of this recipe! It's not something we've done before here at Catz (we know, shame on us!), and though we use pesto all the time, we always buy it pre-made, in a jar. The difference was a little shocking! Pesto from a jar is still great in many applications – saves times, maybe money, and works so well on pizzas and sandwiches, etc. But, when it's the star of the dish, like it is here, the bold, bright flavors of freshly made pesto are tough to beat.
You can see the finished dish at the top of this post (or over at the Chef'd site – it came out exactly like the picture!), but we'll just say this – the flavors blew us away. Each and every member of our little family gobbled it up – even 4-year-old Christian, who has a tendency to be a slow eater. And this recipe, which says it serves four, served our two adults, one teen, and two kiddos just fine, with a tiny bit left over. It seems safe to say we'll be looking to pick up these ingredients and make this meal again!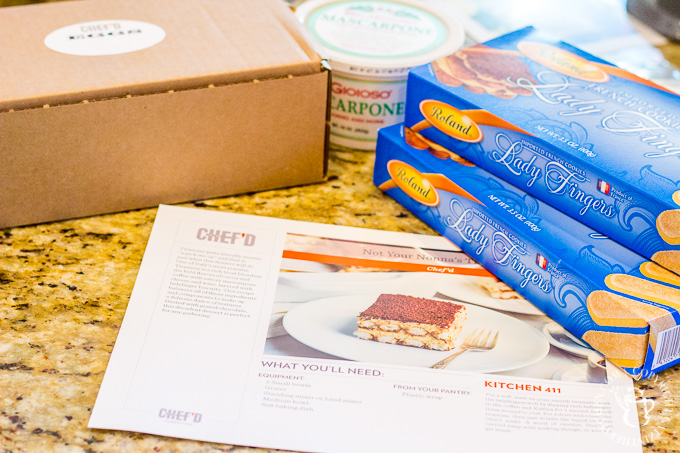 Not Your Nonna's Tiramisu
We'll add a few thoughts on the tiramisu for dessert! Much like the penne pasta, the ingredients were exquisite – high quality brands, and fresh, beautiful food (that mascarpone!). The recipe was easy to follow, though we had forgotten about the alcohol in the recipe when we ordered it (we ought to know better – remember that cognac in the tiramisu cake?)! It's not much, of course, but for a family including three kids well under drinking age and a very pregnant mom, we might have been smarter going another direction! Taken in small servings, the alcohol content is something akin to a recipe with uncooked vanilla in it (so, nothing to get worked up about), but we did just that – served it up in very small portions. It was delectable, and kept beautifully in the fridge while we gnawed away at it for about five days. It's always nice when you get dessert leftovers! If we had one critique, it would be that there wasn't quite enough chocolate to sprinkle over the top for that true "top layer" effect. Doubling the amount would be the way to go!
Chef'd made no stipulations about the content or length of this review, the recipes chosen, or the photos taken. Beyond the recipes and ingredients shipped to us, no additional compensation was made for this post, and all of the opinions here are our own. Our first Chef'd experience was really just spectacular!