A bit like a slow cooker recipe without the slow cooker, these carne asada street tacos cook low and slow in a dutch oven until they are absolutely irresistible!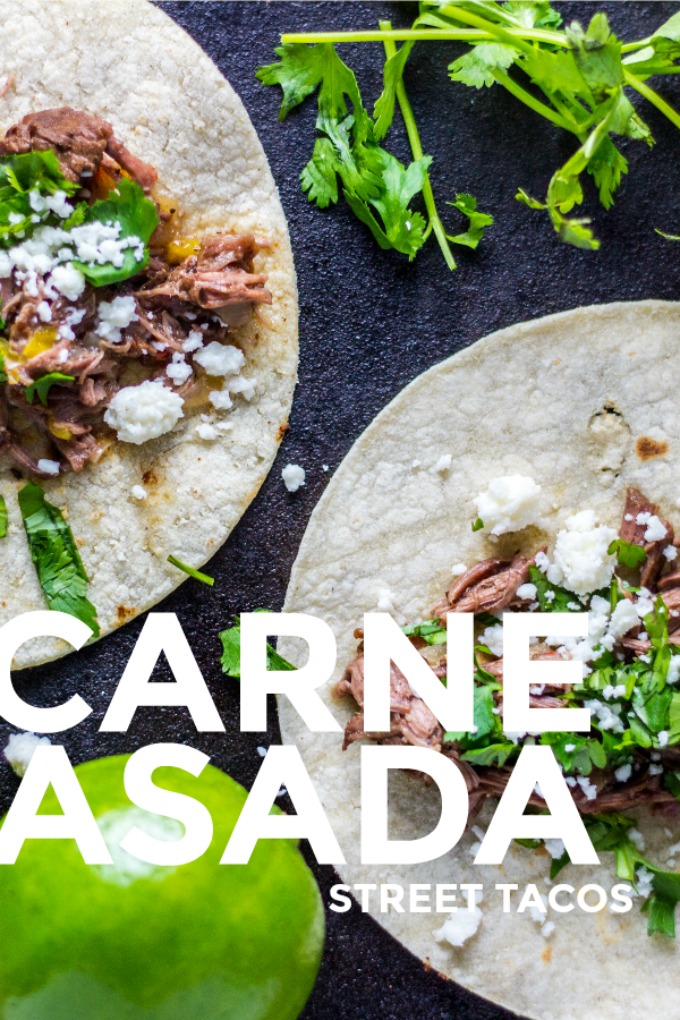 I'm a fan of cookbooks, pretty much any food from or inspired by Latin America, and meals that are made for bringing people together.
I think that last one should be a gimme. I love having people in my home where we all work together to bring a meal together. It's not just one person doing the cooking, but everyone pitching in (while probably talking over each other), drinking inexcusable amounts of coffee, and laughing about our day.
This is what I want my kitchen to always be like – whether I've got company over or if I'm just serving my family. The coffee will be there always, because, hey, with four kids, coffee is a way of life! But my point is, I want to be the same person at home with my family as I am when my house is completely full. I don't like the idea of having to be "on" or "off" – it's messy and and feels unnatural! Being a good host or hostess requires a certain amount of preparation and poise, of course – that's not really what I'm talking about. I'm talking about working toward an environment and attitude that is naturally hospitable all the time.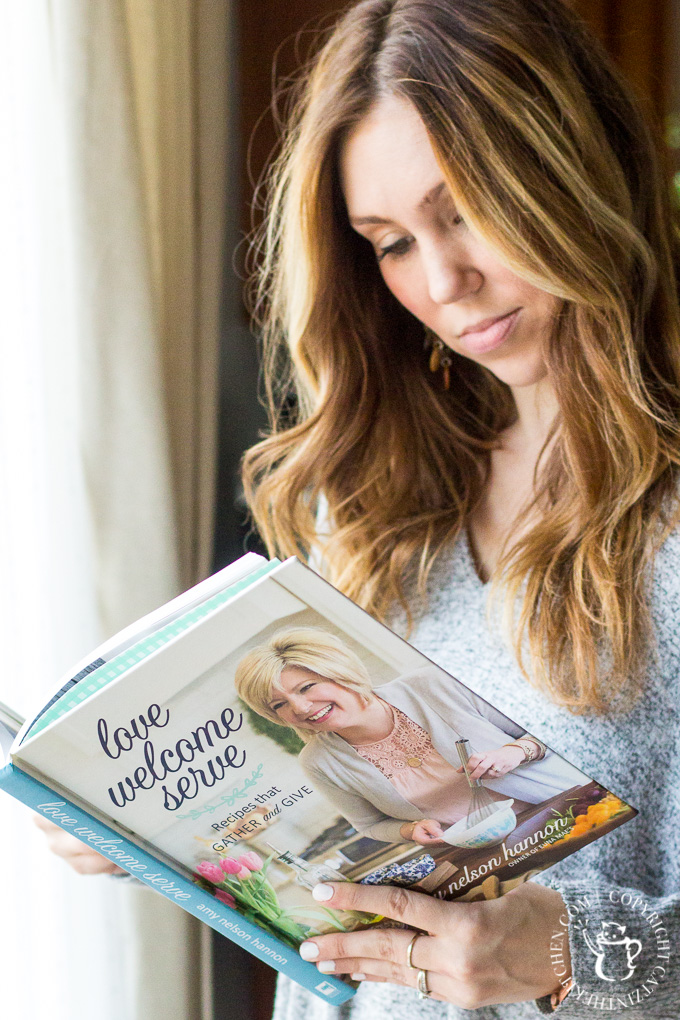 That's why I think food is so great – it really paves the way to opening things up a little, people just loosen up and mingle. If you throw a cheese plate on the table, everyone gets up and stands around the table talking to each other, which is really quite perfect in my opinion!
But if you make a batch of tacos, well…everyone comes running into the kitchen to see what's cooking, to smell what's cooking, and (just maybe) to see what they can do to assist – which I think is one of the best ways to get chatting.
With that, let me introduce a cookbook to you that I was eager to look through and cook from: Love Welcome Serve: Recipes that Gather and Give. I felt like this title really honed in on how Josh and I want to feel about serving food up in our home! (Admittedly, it's a goal – can't say we're always there yet!)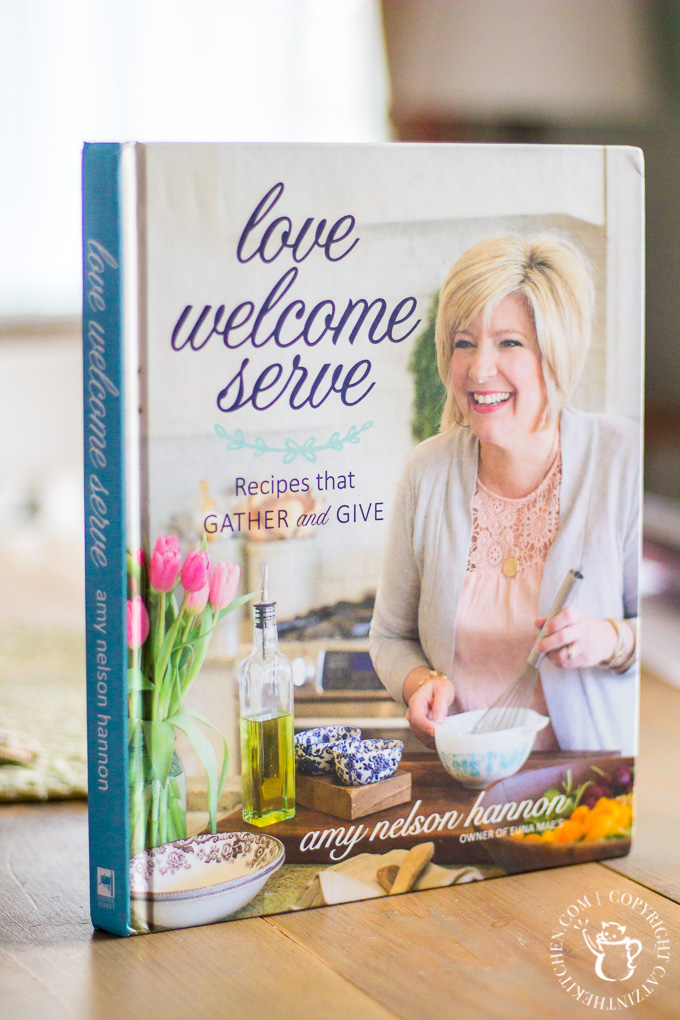 First off let me just say that this is a beautiful cookbook! A picture for nearly every recipe and the recipes themselves don't seem difficult. The author, Amy Nelson Hannon, owns a kitchen boutique in Arkansas and is a pastor's wife, so it's probably safe to say she knows a thing or two about hospitality and serving food with love!
Seeing that it was a southern cookbook, I was intrigued to see Mexican food in it. We had to try it!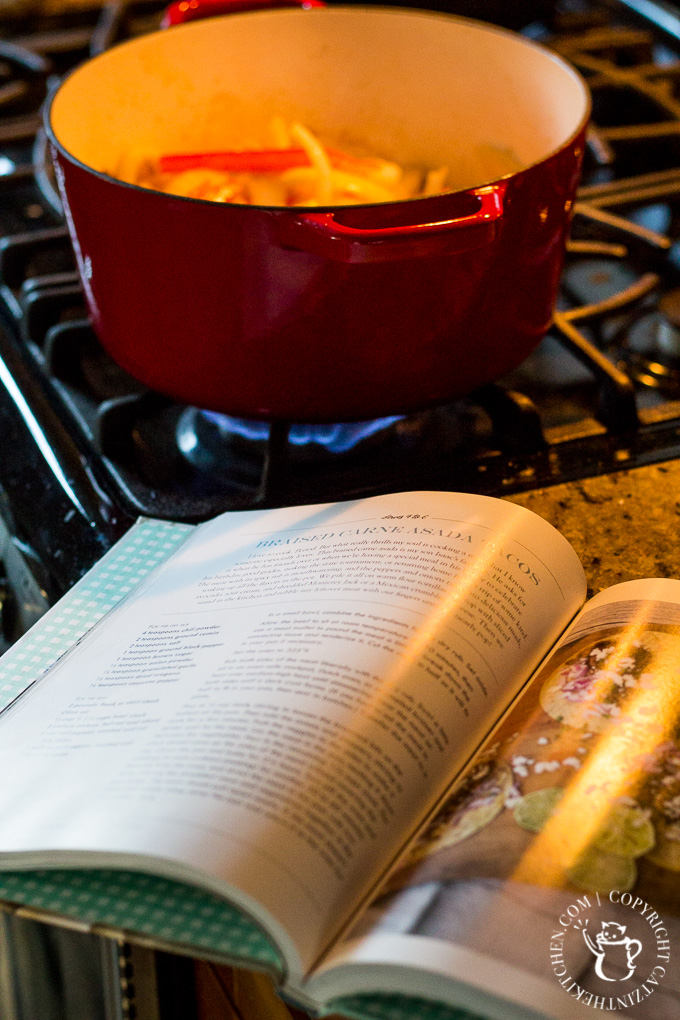 And I am so glad we did, because these go down as some of the best tacos I've ever eaten in my life! A high compliment, because tacos are pretty high up on the totem pole of importance in my life! There is so much flavor infused in these relatively simple carne asada tacos and we're itching to make them again with a houseful of people instead of just our little family.
That being said, this is one meal you will want to plan in advance, because it does require a delicious homemade rub and cooking awhile. On the day we were originally going to make it, Josh didn't read the directions all the way through (he's the taco master around here) and the late afternoon walk we went on didn't give us enough time to prep the meal and cook it, too.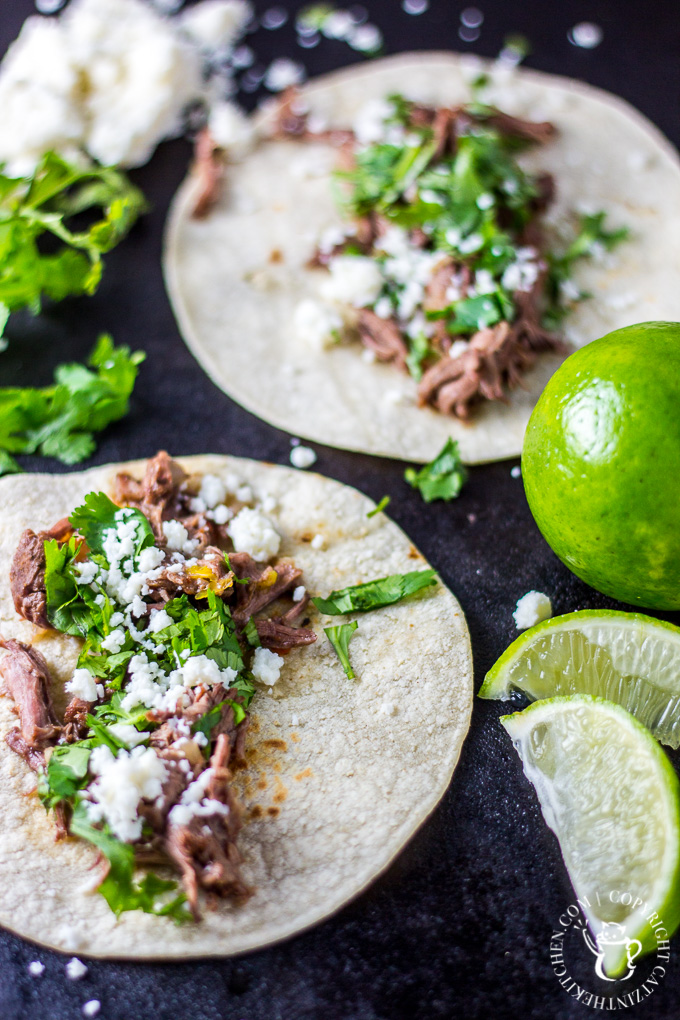 I also want to mention one other thing – this particular recipe calls for a flank or skirt steak. We didn't use that recommended cut because it was really expensive at our market for whatever reason. After doing a little research, we discovered that flat iron steak was actually a lot more economical for our little family of six, but that it cut the same way and had much of the same flavor as skirt or flank steak! So, feel free to use that – we were still blown away by these tacos!
I can't recommend this recipe AND this cookbook enough – I think you'll love it!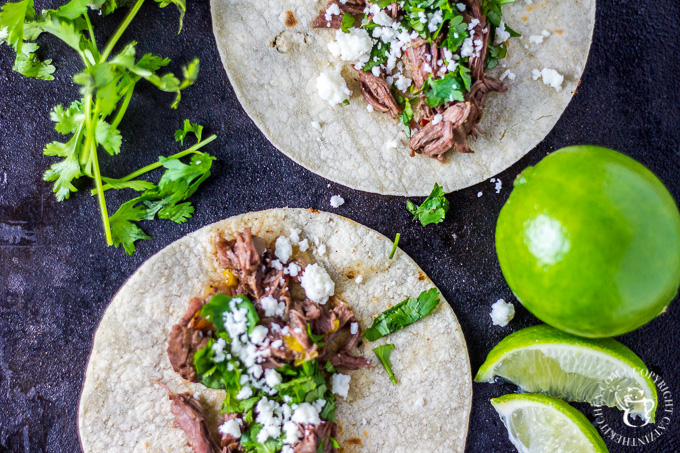 Carne Asada Tacos
Cook Time:
3 hours
30 minutes
A bit like a slow cooker recipe without the slow cooker, these carne asada street tacos cook low and slow in a dutch oven until they are absolutely irresistible!
Ingredients
Dry Rub
4 tsp chili powder
2 tsp ground cumin
2 tsp salt
1 tsp ground black pepper
1 tsp brown sugar
1/2 tsp onion powder
1/2 tsp garlic powder
1/2 tsp dried oregano
1/4 tsp cayenne pepper
Beef
2 lbs flank, skirt, or flat iron steak
olive oil
2 cups beef stock
2 onions, halved and sliced
1 red bell pepper, seeded and cut into strips
1 yellow bell pepper, seeded and cut into strips
Instructions
In a small bowl, combine the ingredients for the dry rub. Set aside. Allow the beef to sit at room temperature for 10 minutes, then tenderize the beef by pounding it with a meat mallet.
Preheat oven to 325 F.
Rub the dry rub into both sides of the steak well. Swirl a little olive oil into a dutch oven (or any oven-safe stockpot or enameled braiser), heating over medium-high heat until shimmering. Sear the steak on both sides until a dark crust forms (if it does't fit in your pot, cut into a couple of pieces and work in batches). Transfer the meat to a plate.
Pour in 1/2 cup stock, stirring to loosen the browned bits on the bottom. Add onions and peppers, stirring to cook for a 2-3 minutes. Push the vegetables to each side to make room for the steak in the center.
Lay the meat in the pan between the vegetables. Pour in the remaining 1 1/2 cups stock, which should rise to the top of the steak without covering it completely.
Cover the pan, place in oven, and bake for 2 1/2 hours. Turn off the oven and allow the meat to continue to cook for another 30-60 minutes without opening the lid.
Remove from oven and shred steak in the pan with two forks, being sure to stir the shredded meat and vegetables together in the juices. The meat should essentially fall apart - if it doesn't, put it back in the oven for another 30 minutes.
Serve with lime wedges, cilantro, and queso fresco.
Nutrition Information:
Yield:

6
Serving Size:

1
Amount Per Serving:
Calories:

399
Total Fat:

22g
Saturated Fat:

8g
Trans Fat:

1g
Unsaturated Fat:

11g
Cholesterol:

125mg
Sodium:

1105mg
Carbohydrates:

8g
Fiber:

2g
Sugar:

4g
Protein:

40g
Nutrition information isn't always accurate.