These tasty chickpea tostadas aren't just easy to make and ready in 30 minutes, they're also vegetarian and pretty dang healthy!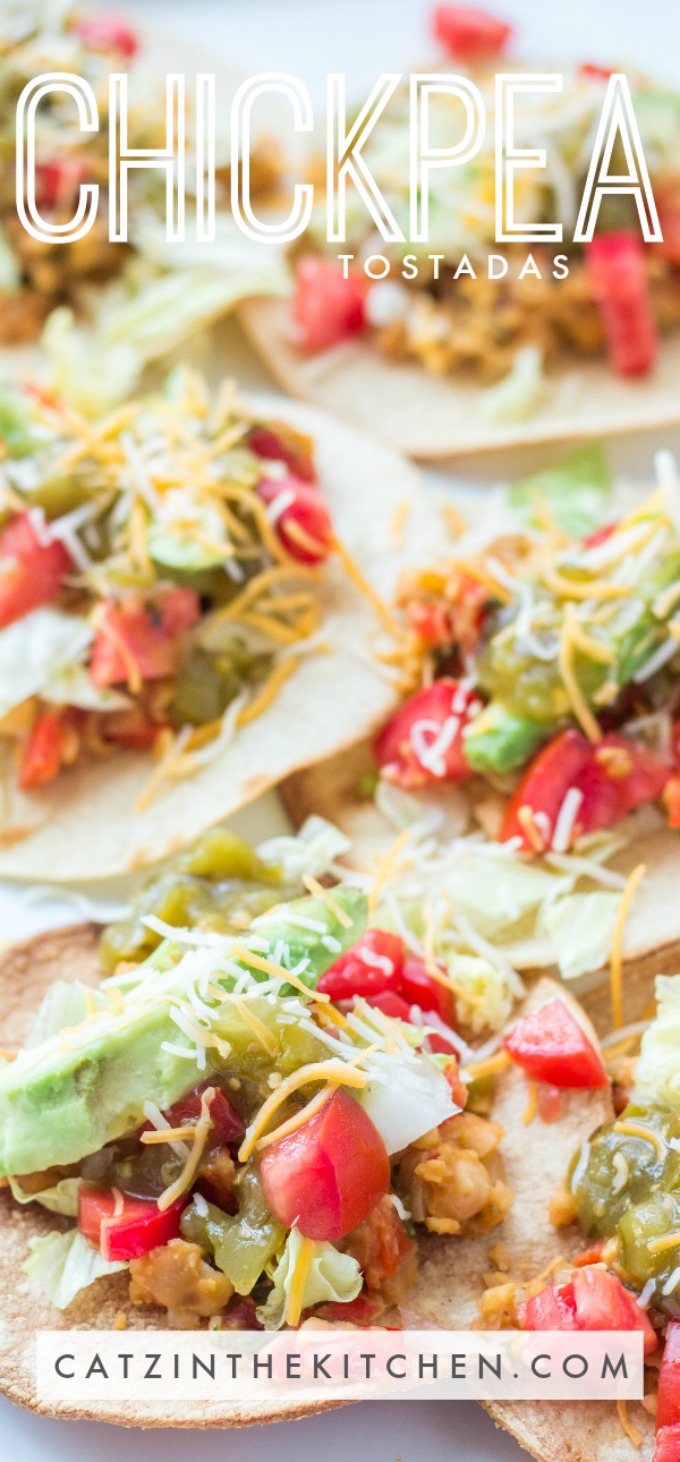 I do find it a little bit (or a lotta bit) hilarious that if you had asked me a couple of years ago what a chickpea was…I wouldn't have had any idea (conversely, if you'd asked me what a garbanzo bean was, I would have had no trouble with that, so…yeah, there's really no excuse). Of course, they're the same thing. Chickpea is the English name for this nifty little legume, while "garbanzo", the name I grew up with, is actually the Spanish name! Learn something new everyday, don't you?
I learned this particular lesson when Gracie decided to make the hummus recipe in her Disney Princess Cookbook (I think it's in there as Jasmine's easy hummus or something like that…clever way to get kids to try new food, actually). She cooks from more complicated cookbooks these days, but we still love that simple hummus recipe, and it definitely put chickpeas on the list of must-have pantry ingredients.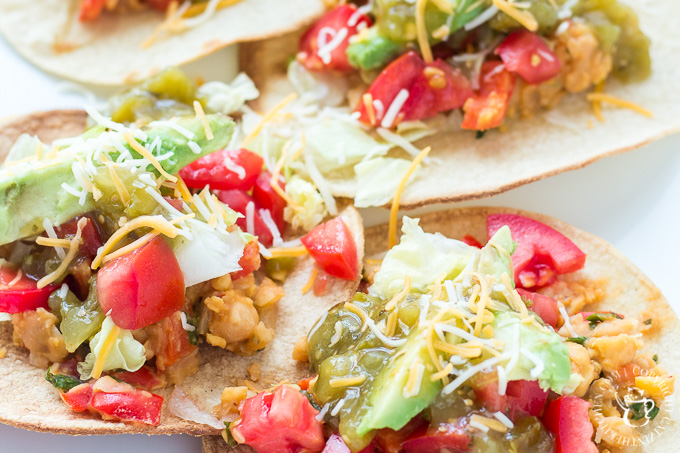 The great thing about chickpeas, though, isn't just that they make great hummus. They can be found in a ton of other amazing dishes, and the majority of the time, they're standing in for the protein, typically resulting in a healthier, lighter dish that's also vegetarian. We haven't blogged about them a lot (shame, shame), but in addition to the hummus recipe Gracie and I made, Chels posted this fantastic One Pot Chickpea Curry last winter, and that is one tasty dish, let me tell you.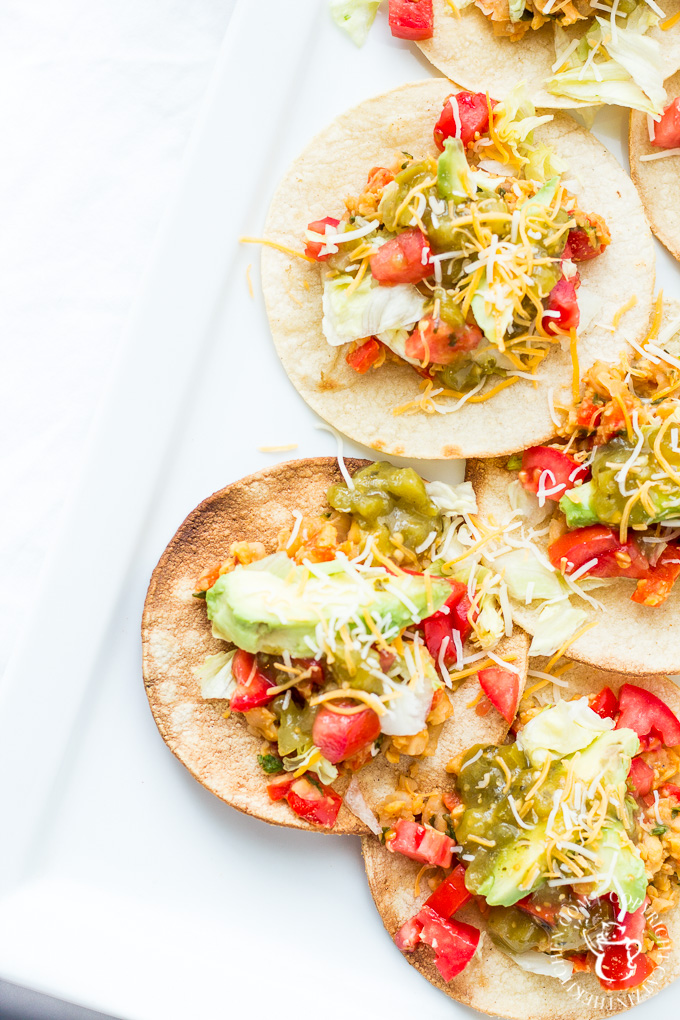 Anyway…in this recipe, the chickpeas are standing in for your tostada protein of choice, be that chicken, beef, etc. Not only are they making the whole recipe a bit healthier, but they're tasty as all get out. Essentially, you end up creating a chickpea-chipotle-spice mash that you can spread on the tostada, and then top as you like (salsa, avocado, cheese, tomatoes, and even sour cream, if that's your jam). The chickpea chipotle mash, frankly, could probably go on a lot of things – in a taco in place of meat, or even on a tortilla with eggs for a little huevos rancheros mix-up (okay, I need to try that).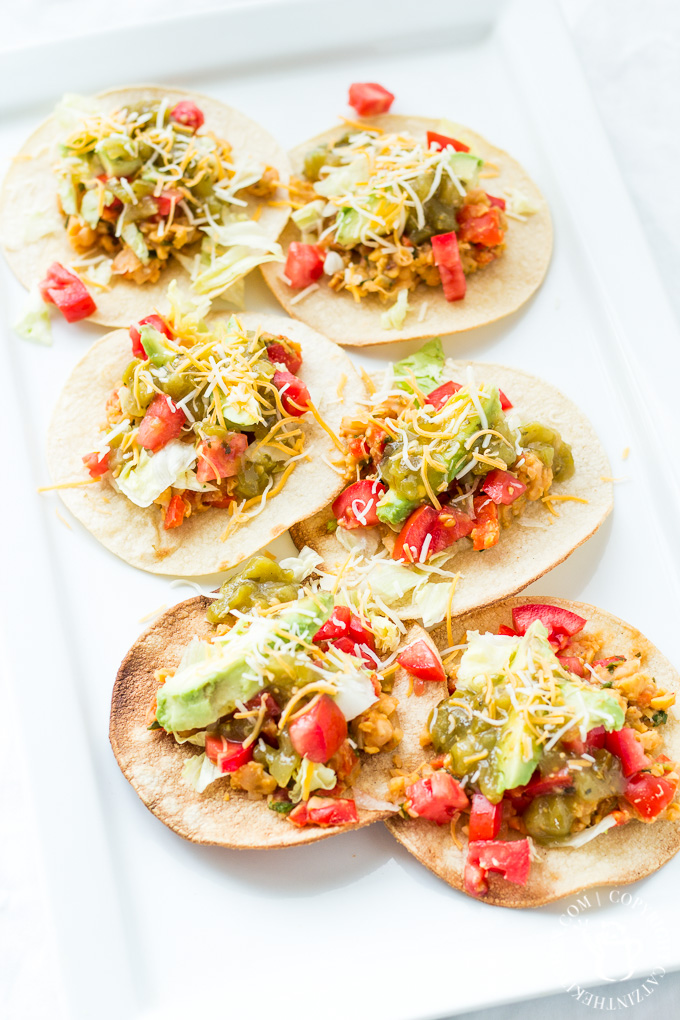 To make a long story short, if you're looking for a southwest style meal heavy on flavor but light on your diet, this is a great place to start. Every member of our family gobbled these things up, and as with so many Mexican food recipes, one of the big benefits for a family is customization. Each person can top their tostada according to their personal preference, which typically results in happy campers all around. Enjoy!
Chickpea Tostadas
These tasty chickpea tostadas aren't just easy to make and ready in 30 minutes, they're also vegetarian and pretty dang healthy!
Ingredients
about 12 six-inch corn tortillas
Chipotle Chickpea Filling
1 red bell pepper, chopped
1 onion, chopped
2 garlic cloves, minced
2 cans (15 oz) chickpeas (garbanzo beans), drained and rinsed
2 chipotle peppers in adobo, minced
1 cup vegetable broth
1/2 cup cilantro, finely chopped
2 tbsp lime juice
1/2 tsp salt
1 tsp cumin
Salsa Sauce
1/2 cup salsa verde
3/4 cup sour cream
Toppings (suggested)
lettuce, chopped or shredded
avocado, sliced or cubed
tomato, diced
cheese, shredded
Instructions
Coat a large skillet with cooking spray, heat to medium, and add bell pepper and onion.
When tender (about 6 min), add garlic and cook for another minute, then add broth, cumin, salt, chipotle, and chickpeas.
Bring to a boil, then reduce heat, cover, and let simmer for 5 min.
Mash mixture coarsely with a potato masher (depending on your pan, you may wish to remove to a bowl for this step), then mix in cilantro and lime juice.
Mix together sour cream and salsa in a small bowl.
To prepare corn tortillas, either lightly grill tortillas over open flame on gas stovetop, or spray with cooking spray and broil in the oven until lightly browned on each side (about 1 min).
Spread chickpea mixture on tortillas, spoon on salsa mixture, and top as desired.
Nutrition Information:
Yield:

12
Serving Size:

1
Amount Per Serving:
Calories:

135
Total Fat:

7g
Saturated Fat:

2g
Trans Fat:

0g
Unsaturated Fat:

4g
Cholesterol:

11mg
Sodium:

251mg
Carbohydrates:

16g
Fiber:

3g
Sugar:

3g
Protein:

3g
Nutrition information isn't always accurate.