Got that craving for a burger, but the weather outside is not conducive to grilling? Make this indoor classic cheeseburger and free yourself from the climate's control of your burger fix!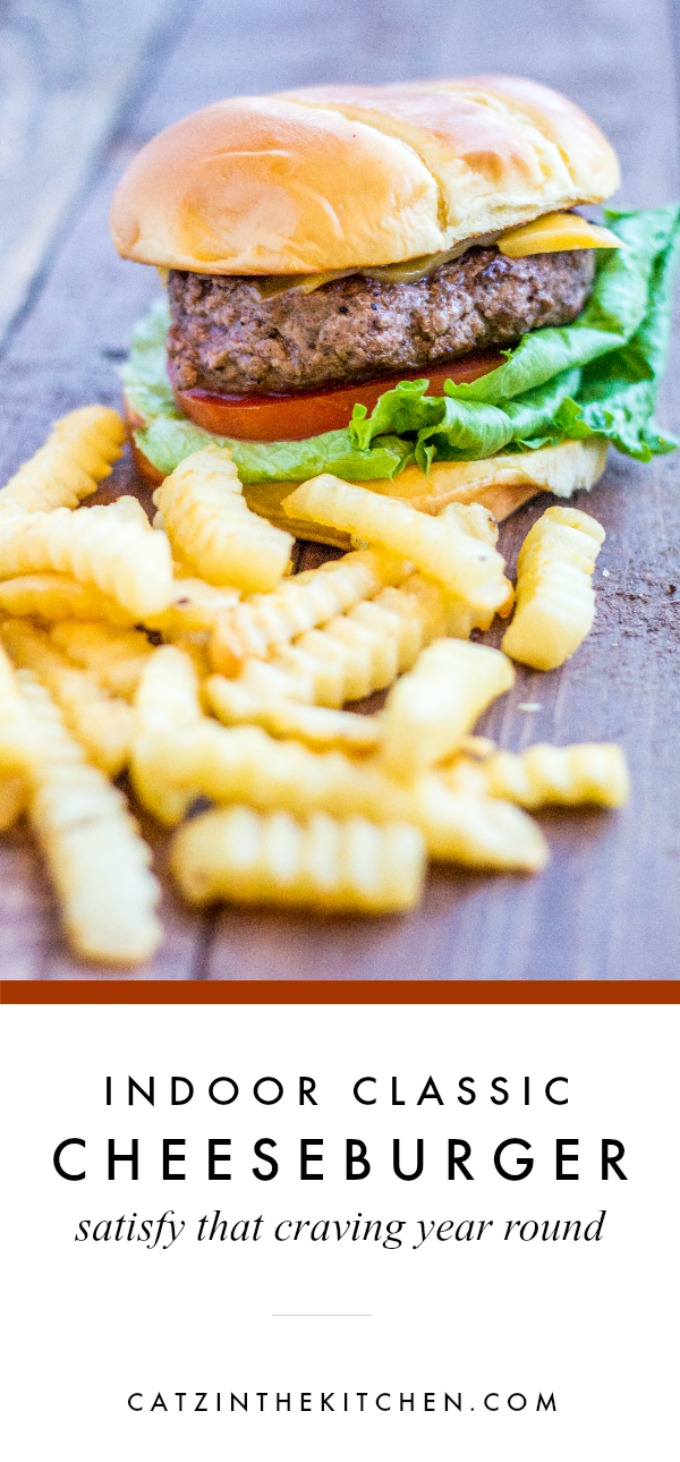 We really do love our burgers around here. Truthfully, I'm always surprised we don't have more of them on the blog, but I think a lot of that has to do with the craving factor. As in, one Friday evening, you just crave a burger. If it's nice out, that usually means me picking up some beef and some brioche buns when I leave work and firing up the grill when I get home! If it's not so nice out (and this is the Pacific Northwest, so…more often than not), it usually means hitting up McMenamins or the little drive in down the street.
At some point this past year, though, the obvious occurred to me. Those restaurants we were going to when it was raining for our burger fix…they weren't grilling outdoors. They were grilling their burgers indoors. And they tasted amazing. And slowly it dawned on me that almost any time I'd seen a professional chef grilling a burger…he or she was doing it indoors!
Yes, I realize this will be old news to many. But I'm also willing to bet that there are a whole bunch of people like me who only grilled burgers when they could make it outside to the barbecue! For us, the idea of a classic cheeseburger made entirely indoors is a revelation!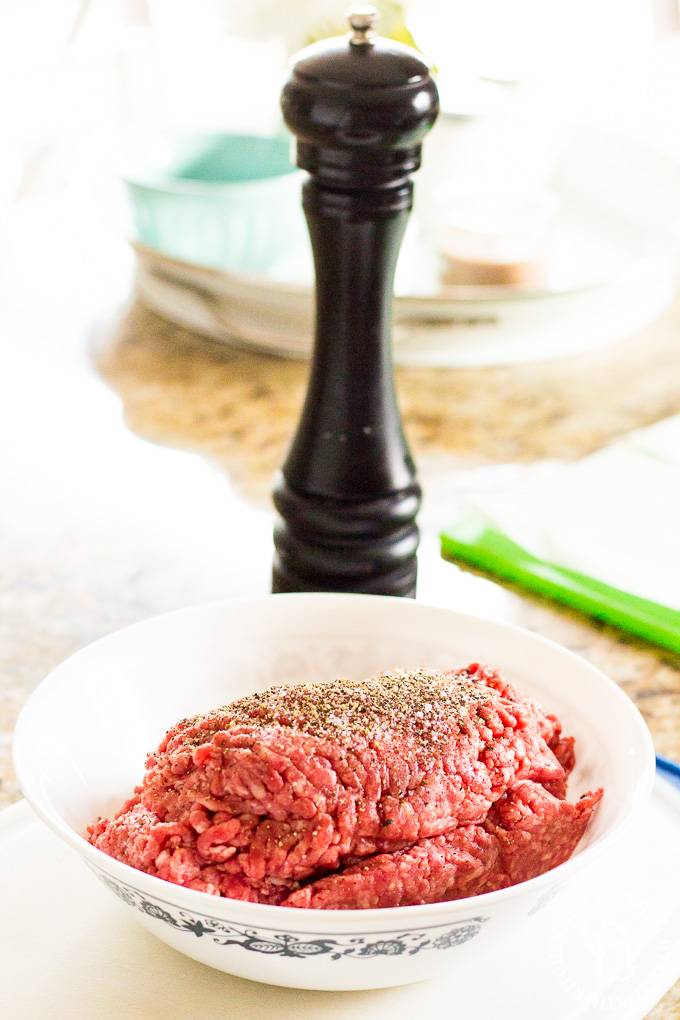 Truly, I'm keeping this recipe as simple as I can. One to two pounds of 80/20 ground beef, depending on the size of your buns and how many people you're feeding, salt, and pepper. That'll get you started.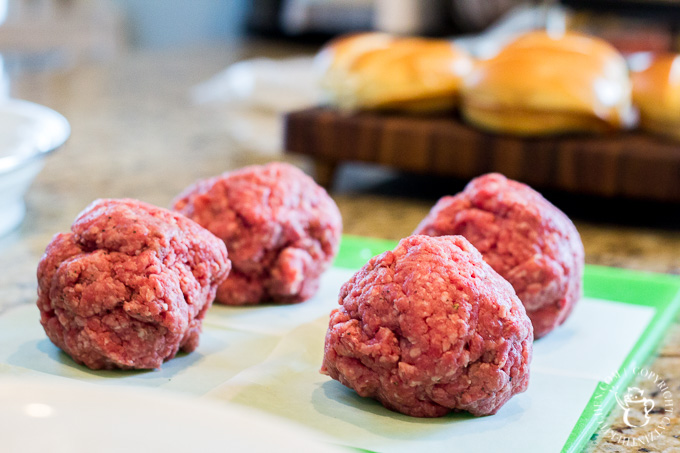 Divide that beef up into round balls, and array them across some burger paper. If you don't have burger paper…get some. Seriously, though, you can just do it on the cutting board, but burger paper makes moving the patties around SO much easier. And with something like 1000 sheets running you $10-15, well, let's just say this is an small investment that will last you a long time.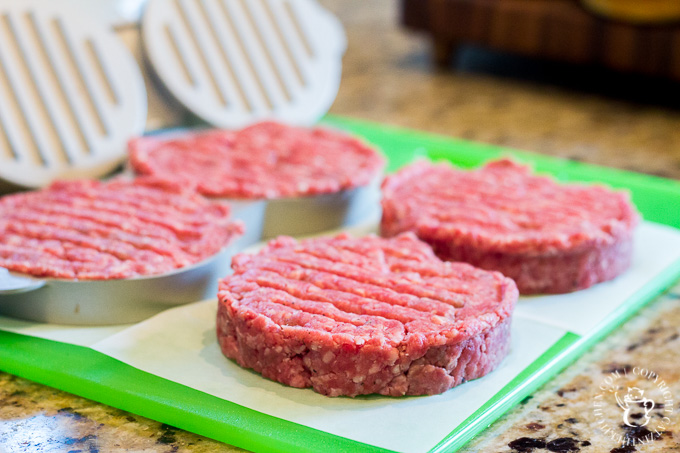 If you've read Catz for long, you know that I love my burger press. It's from Williams-Sonoma, it's heavy-duty and virtually indestructible…and I use it every chance I get. Weber makes an awesome one, too (we have their slider press), and while you don't have to have one, it's a fun, cheap kitchen tool that you'll use often.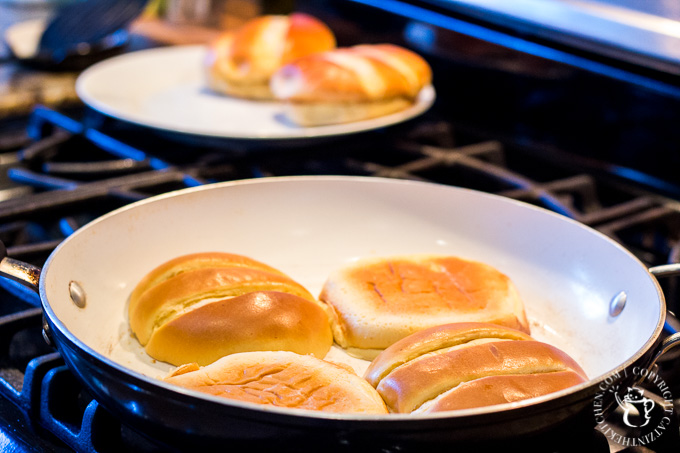 About the time my patties are getting punched out in the burger press, I've got my brioche buns buttered up and on the stove. Chels likes them just lightly browned, so that's what I go for. I will say, it is much easier to lightly brown a bun indoors than it is on the grill, where that 500 degree heat will instantly char your delicate brioche!
The secret that's not a secret about keeping your patties from shrinking too much? It's not use leaner beef! That just sucks the flavor out! It's that thumb imprint in the middle! Make yourself a nice little "depression" in the middle of your patties before they hit the heat, and you'll stand a much better chance of maintaining their size and shape.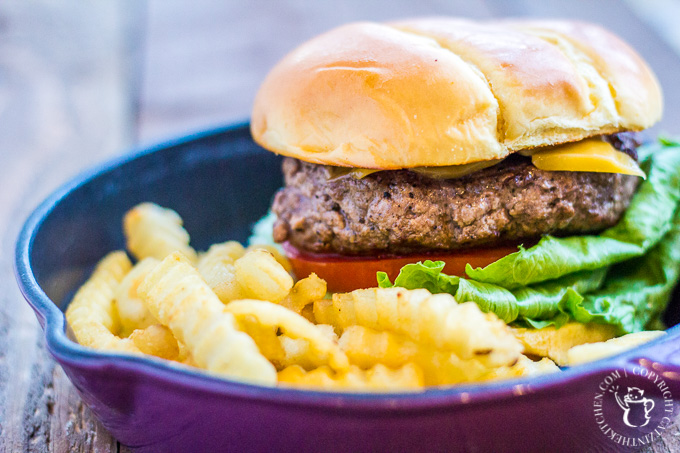 And that's about it! I throw about a tablespoon of butter in a pan over medium high heat, add my patties, and fry them for about three or four minutes on each side. Once they've hit about 145 degrees internally, I pull them off the heat (by the time I actually serve them up, they'll be closer to 160 degrees and medium well – with a houseful of kids, rare burgers don't go over well!). If the edges don't seem like they're getting a good char, I might push them up against the edge of the pan in an effort to nail that caramelization.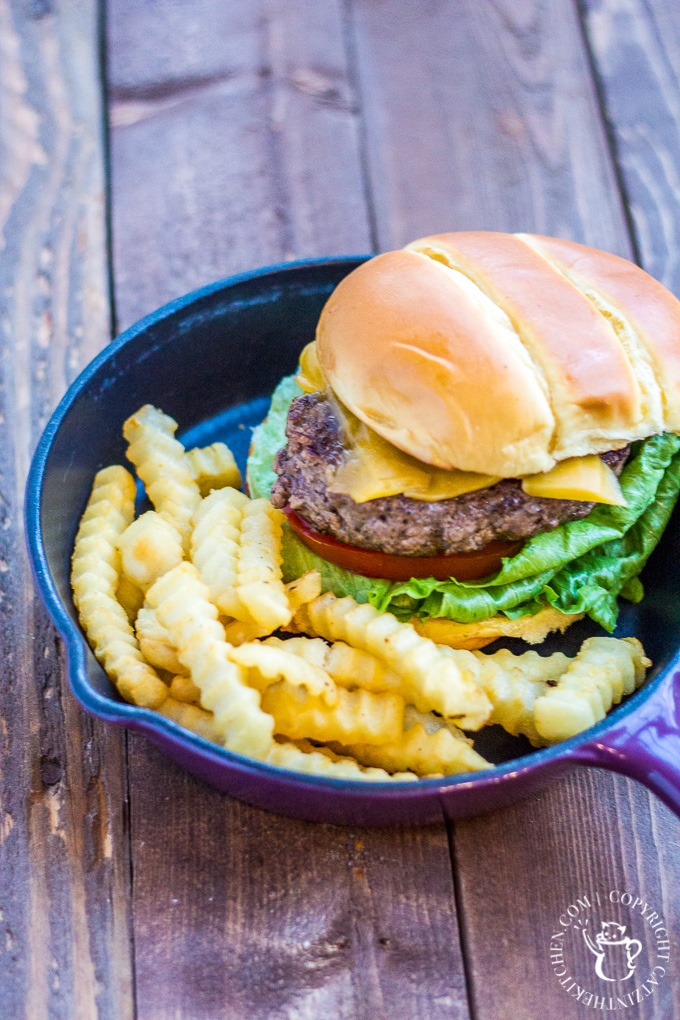 The cheese goes on at the very end, and you're home. In an effort to maintain the authentic simplicity of this burger, we typically serve it as God intended – with tomato, lettuce, and ketchup, and nothing else. Except fries. Because obviously, fries. So, there you have it – a simple, easy burger, prepared and grilled indoors, so you can enjoy it all year 'round!
Indoor Classic Cheeseburger
Got that craving for a burger, but the weather outside is not conducive to grilling? Make this indoor classic cheeseburger and free yourself from the climate's control of your burger fix!
Ingredients
1-2 pounds 80/20 ground beef
4-6 brioche burger buns
4-6 large slices cheddar cheese
1 large tomato
2-3 tbsp butter
lettuce
ketchup
salt
pepper
Instructions
Melt 1 tbsp butter over medium high heat in large non-stick pan.
Add buns to pan, inside down, and fry until lightly golden brown.
Meanwhile, season beef with salt and pepper, knead lightly by hand, and separate into 4-6 equal size pieces.
Roll pieces of beef into balls and place on individual pieces of burger paper.
Press balls into patties either by hand or with burger press, and then indent slightly with thumb in the center of each patty.
When buns are lightly browned, remove from pan and add 1 tbsp butter. When butter has melted, add patties to pan.
Cook patties for 4-6 minutes per side, or until an internal temperature of at least 145 degrees is reached and outside of patties are well browned and caramelized. Top each patty with cheese.
Spread ketchup on one side of each bun, and top with lettuce, tomato, and beef patty.
Serve immediately.
Nutrition Information:
Yield:

6
Serving Size:

1
Amount Per Serving:
Calories:

561
Total Fat:

37g
Saturated Fat:

21g
Trans Fat:

1g
Unsaturated Fat:

13g
Cholesterol:

179mg
Sodium:

743mg
Carbohydrates:

38g
Fiber:

2g
Sugar:

8g
Protein:

19g
Nutrition information isn't always accurate.