This recipe for a Simple & Healthy Chicken Fiesta Quinoa Bowl is quick, easy, and comes together in the slow cooker! You can't beat that. Add a little avocado and queso fresco and you've got a tasty dinner.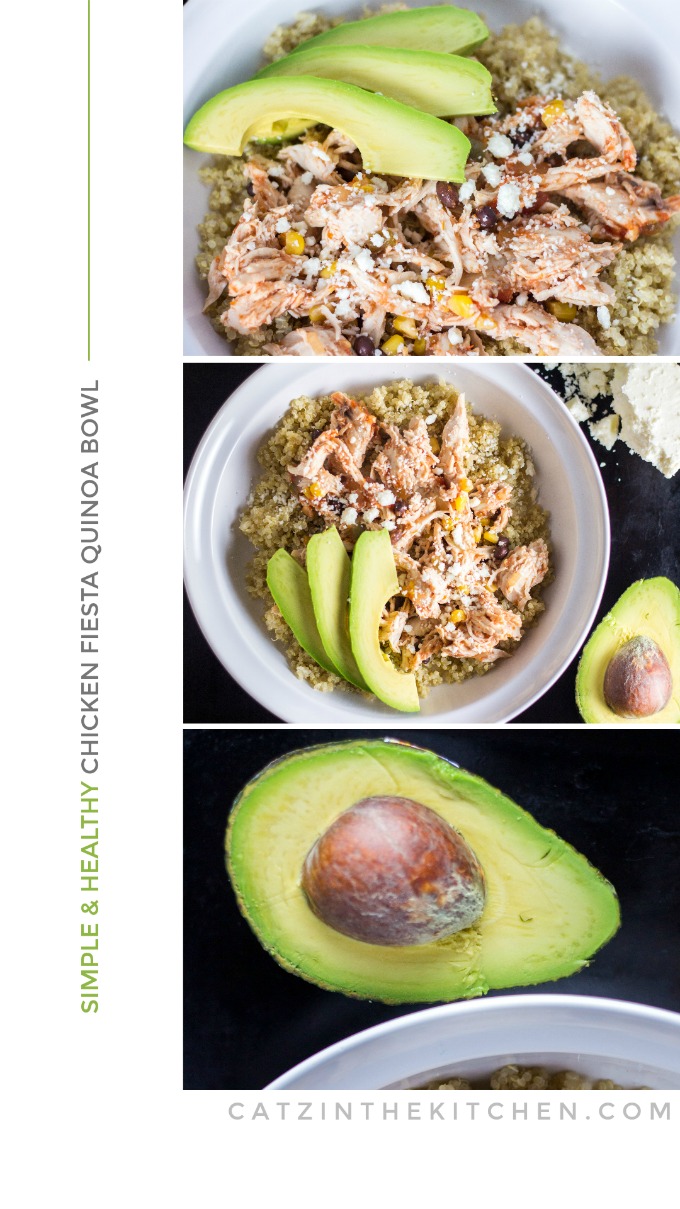 I tell you, babies are a game changer. Where do all of the hours in a day go? Sometimes, it seems it's as if I'm watching each hour slip by so slowly and then other days it's five o'clock and I don't know what I got done (it's usually several small things) but it's hangry hour in our home and I need to get dinner on the table, fast!
In the past, Josh would come home from work and I would hand the baby off to him so I could get dinner going, but over the past several years, I've really encouraged Josh to make time for himself and his health in the evenings and get his workouts in. If I don't give him this time, then he doesn't have the time, if that makes sense. He still likes to make dinner as often as he can, though!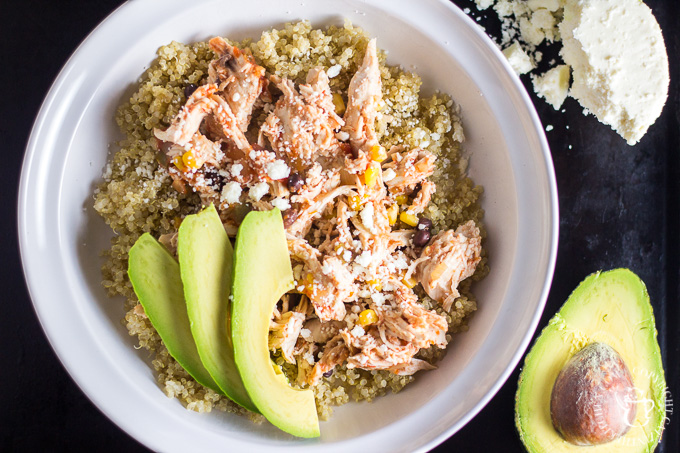 Our evenings basically consist of Josh coming home and getting going on his workout, while I get dinner going. I'll admit that a lot of the time, I do have help – Grace (my oldest) is a huge blessing. If she is not busy getting her chores or homework done, she is either helping me out with Ruby or trying to kick me out of the kitchen so she can make dinner.
But, let me tell you, on those nights when Josh is working out and Grace is busy finishing whatever it is she needs to finish, I feel that "witching hour" panic begin to arise in the house. Ruby has many hangouts in our downstairs living area – all within view of the kitchen, but they all only keep her happy for so long while I'm reminding the other two kids to clean up their toys and get the table set while I cook dinner.
If you've been there in years past, I know you remember this season of life, and if you're in the trenches currently, I salute you!
Mommas (and dads making it work with little ones, too!), we gotta stick together and I think we need recipes that we can throw together in a matter of minutes that are kid-friendly, healthy, simple, and affordable. Bonus points if the recipe contains ingredients that are usually already in your pantry and that can be made quickly and in advance.
Am I right?
If memory serves me correctly, this meal came together on pure poor planning on my part. Something got in the way of me being able to order and pick up my groceries on my usual day and since using Clicklist, I can't go back to shopping with my kids in the store. There are just too many of them and too many people!
I had chicken in the fridge already thawed, so I knew I needed to use it. I just decided to make a simpler version of the grilled chicken burrito bowl that I like to make in the summer, instead. I had everything else on hand.
I threw the chicken along with some canned black beans and corn into the crockpot and topped it with a jar of salsa and let it cook for about six hours. About 20-30 minutes before we needed to eat I had Grace put some quinoa in the rice cooker while I shredded the chicken.
The only thing left to do was get my avocado sliced and make sure my cheese was crumbled – then it was dinner time!
Quinoa goes on the bottom of a bowl, followed by the some of the chicken mixture. Top it with sliced avocado and cheese and you're in business!
Seriously, that's it.
Between the crockpot and rice cooker, I never had to do too much. My kind of dinner!
I think it should also be your kind of dinner because while I think most people own a slow-cooker, not everyone owns a rice cooker. I didn't even own one till about four years ago and I don't know how I survived without it!
I'm seriously not one of those people that wants every single small appliance – I have my faves and I stick with those – this is one of my favorites and I think you all should enter our giveaway to win one!
Aroma Housewares 20 Cup Cooked (10 cup uncooked) Digital Rice Cooker, Slow Cooker, Food Steamer

How about that?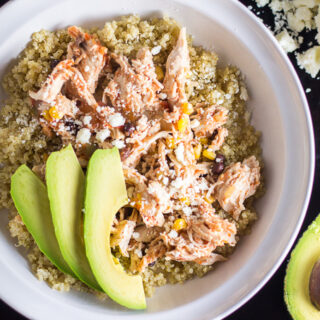 Simple & Healthy Chicken Fiesta Quinoa Bowl
Cook Time:
6 hours
30 minutes
Total Time:
6 hours
35 minutes
This recipe for a Simple & Healthy Chicken Fiesta Quinoa Bowl is quick, easy, and comes together in the slow cooker! You can't beat that. Add a little avocado and queso fresco and you've got a tasty dinner.
Ingredients
2-3 large boneless, skinless chicken breast
1 (15 oz) can black beans, drained and rinsed
1 (15 oz can) yellow corn, drained
1 (15.5 oz) jar of salsa - I used the Tostitos brand
3 cups rinsed & uncooked quinoa
Instructions
Place the chicken breast in the bottom of a crockpot. Pour the black beans and corn over the chicken. Every pour the salsa over the chicken, beans, and corn. Cook on low for 6-8 hours or high for 3-4 hours.
About 30 minutes before dinner, place the quinoa in the rice cooker and cook according to rice cooker's directions.
While the quinoa is cooking, remove the chicken breasts from the crockpot and place in a bowl and shred with two forks. Return to crockpot until quinoa is ready.
Place a few large scoops of quinoa in the bottom of a bowl followed by the shredded chicken, beans and corn. Lay some of the avocado slices on top and sprinkle the crumbled Cotija cheese over everything. Serve and enjoy!
Notes
Top with your preferred toppings. We suggest avocado, sliced or diced, Cotija cheese, crumbled, sour cream, hot/taco sauce.
Nutrition Information:
Yield:

6
Serving Size:

1
Amount Per Serving:
Calories:

471
Total Fat:

8g
Saturated Fat:

1g
Trans Fat:

0g
Unsaturated Fat:

6g
Cholesterol:

51mg
Sodium:

94mg
Carbohydrates:

66g
Fiber:

9g
Sugar:

1g
Protein:

34g
Nutrition information isn't always accurate.
Save
Save