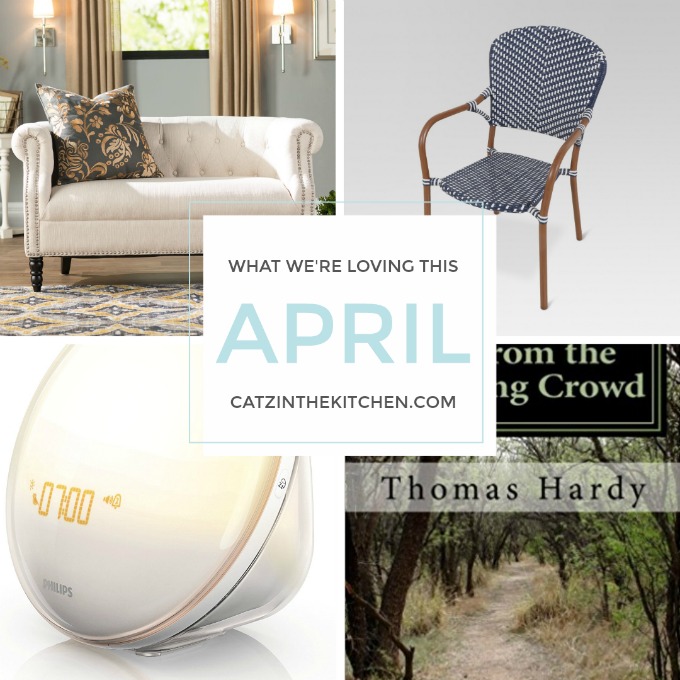 We (I, Chels) share a lot of different things on Instagram stories (Josh, on the other hand…pretty much never shares anything on Instagram stories…). Sometimes I share about movies, clothes, makeup, books, etc. And I get questions asking about some of those things. Josh is also into his own set of stuff, so I thought it would be fun to share at the end of every month some of the things we've been using (like that clock you've heard me talk about so much) with links to make it easier for you to find them/and or purchase them for yourself. Or for someone else. Some of these items would make great gift ideas.
Books we're currently reading & loving!
I'm a bit of a slower reader than Josh. He reads while he brushes his teeth and…stuff…and I read whenever I have a few moments. Usually in the morning after I've read the Bible or right before I go to bed.
Risky Faith by Susan Alexander Yates (Chels)
I first met Susan last summer at the Club 31 Women writer's retreat and I instantly fell in love with her. And you will too if you read any of her books. She writes honestly, simply, and in a way that makes everything easy to understand. I'm also reading her ONE Devotional in the mornings and I highly recommend it, especially if you're a busy mom!
Far from the Madding Crowd by Thomas Hardy (Chels)
I've seen the movie and while I think the female heroine is a bit spoiled, the story itself is interesting and moving. Plus its a classic. So far I'm enjoying the book more than the movie. *SHOCKER*
Navigator's Council by Jeremy & Audrey Roloff (Both)
I bought this as a Christmas gift for Josh as a way for us to keep in check with each other once he went back to work after his paternity leave. The book starts each week with a short devotional and the book asks you six questions each week. While it seems simple, we've found this to be a real conversation starter and allows us time to get into some things we may not otherwise have time for. We sit down every Sunday afternoon with a latte and go over it before we start dinner.
Einstein: His Life & Universe by Walter Isaacson (Josh)
Isaacson's thoughtful and relatively (haha) approachable tome on Einstein's life was a fascinating read to me, both as a unique perspective on the history of the first 50 years or so of this century and as an exploration of one of the most capable minds human history has produced. Suffice to say, there were concepts (quantum mechanics!) I struggled to understand, but the concepts I did get left me with some real "wow" moments I won't soon forget!
All the King's Men by Robert Penn Warren (Josh)
A friend sent me this famous novel about American politics in the pre-war era as a gift / recommendation, and it was really something else! Quite different than I expected – stunning prose, which, I suppose, wouldn't surprise someone familiar with Warren, but I wasn't. The twist at the end took me completely by surprise – not often a plot twist published 72 years ago can still get you!
Gadgets!
Guys, mornings are hard for me – I mean, are they really easy for anyone? But I was really struggling with feeling like I wasn't getting the most out of my days and that I was constantly falling behind and by the end of the night, I was tired, grumpy, and my list was still long. Like Josh says, "You can't add hours to a day…but you can get up earlier."
Well, enter our new alarm clock! We've been using this for about a month and I LOVE IT! I seriously cannot recommend this enough. It has two alarm clock settings. It also emulates the sun setting or rising, making it easier to wake and fall asleep more naturally. Plus (and this is my favorite part) it has sound features like ocean waves and birds chirping, or even rainfall.
Now, (almost) every morning I wake up around five with the morning "sun" and "birds chirping" with this alarm clock and I just feel more awake and ready to take on the day. I know, I'm ridiculously stoked about a device that wakes me up. Crazy.
Home Decor!
I wouldn't get too used to seeing this category on these future posts because we don't buy all that often. However, aside from the coffee table we recently acquired from Craigslist, we do have two new items that we have bought recently.
The first one are these cute patio chairs from Target. Josh is in the process of building us another table (you can read about our kitchen table here and dining room table here), but this one is for our back patio!
When we went to the Magnolia Silos last year for our baby moon, I fell in love with the simple style of the outdoor picnic tables and asked Josh if he could build me one of those. We'll have two benches on each side, but at the heads of the table, we'll have these adorable French bistro chairs. I love the pattern and feels a little "French Country Farmhouse" to me.
I have also been crushing on this little bistro table set, but at the moment, we don't have a need for it.
Josh and I are in the process of giving our bedroom a slight makeover. When we stayed at the Four Seasons in Dallas on our baby moon, we just loved the layout and feel of the room. While we can't recreate the actual room, we can make a few changes here and there. So one of the things we did was add a loveseat and a cute little vintage coffee table (also from Craigslist) to one corner of our room. It's here that we do our marriage journal, have chats, read, work a little, and relax.
As you recently saw, we also ripped out all of the flooring in our upstairs living areas. We still plan on getting an area rug for our room, but have yet to find one we're in love with.
That's it for this month of what we're loving. Let us know if you've recently bought anything this month that you're loving, too! And if I've mentioned something in my IG stories that I didn't mention here, just comment below and let me know and I'll get you the link. :)