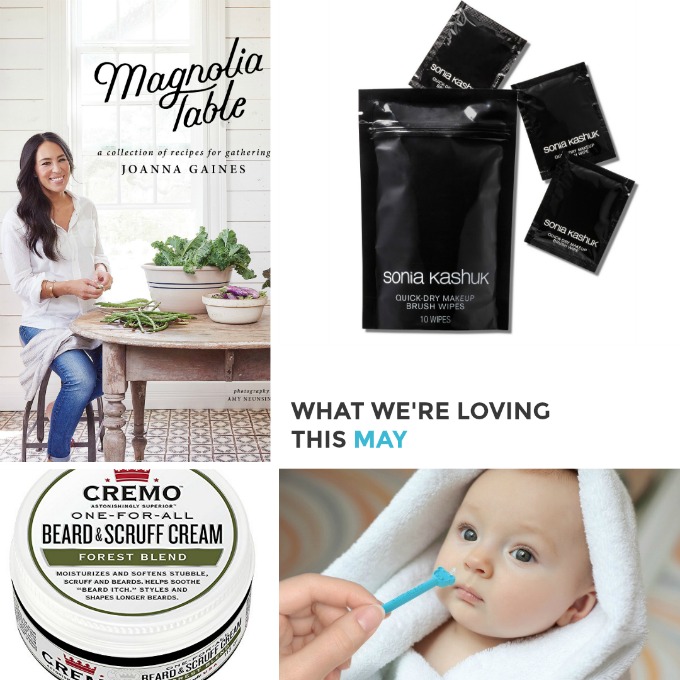 Hey everyone! It feels as if the month of May has literally passed us by (and…I guess…it just about has!). But, that doesn't mean that we haven't found a few things that we're loving, because we definitely have. If you missed last month's post, go ahead and check it out – there are some fun finds in that post as well.
This is the season for weddings, baby showers, bridal showers, graduations, and birthdays, of course, so maybe one or two of these finds will inspire a gift to someone you love.
Books we're currently reading & loving!
Baby Stuff!
Obviously, with a baby, we're constantly finding new things to try out with her – other than different flavors of baby food, that is. This isn't a big list, but we've been using these items for a few weeks and I really like them.
Oogiebear Ear & Nose Cleaner
It is so darn hard to get Ruby's ears clean of wax. Girl makes a lot of it and it's not so cute when admiring her sweet little profile. This little cleaner is so easy to use. It only takes a second to get her ears clean and it doesn't bother her one bit. It's incredibly safe too – the wand only can go so far in her ear so I don't worry at all!
Halo Muslin Sleepsack
Ruby outgrew her sleep suit about a month ago, combined with the fact that she was rolling over in it – it became a sleep distraction for her. We had her sleep without the sleep suit for a little over a week before I bought this sleep sack and I love it. It's soft, it's breathable, and she looks adorable in it. She still rolls over in it, but because of how light it is, I don't worry about her at all in it. Plus she really seems to like it. We bought a size medium for her in the elephant plaid print.
Fashion & Beauty!
When I find something I love, I can't wait to share about it. So here's a few from this month.
Button Up Maxi Dress (Chels…duh)
This dress is amazing, let me tell you! I wore this for Mother's Day and I felt so beautiful all day – which I firmly believe is due to the length of the dress. It buttons from top to bottom, but I like to leave the buttons unbuttoned from my knee down, to add movement. It's a very affordable dress, with prices (depending on pattern) from$22.99 – $35.99 with many different florals, prints, and colors. The quality is really good, and I loved it so much, I bought one for Grace, too, as a birthday gift! If you're worried about length, I'm 5'3″ and it doesn't touch the floor at all. Also, this dress is TTS. I ordered a small and it fit me perfectly. For nursing moms, this will work for you, too! I'm wearing it in this photo from Mother's Day:
Sleeveless Knit Wrap Dress (Chels…duh)
This cutie is from Target and it's CHEAP, as in $24.99 cheap! Here's why I personally love this dress. It's capsule wardrobe friendly. You could easily wear this dress from spring to fall without any trouble. Pair it with different shoes, cardigans, necklaces, hats. The dress comes in a few different colors, but I love the classic black. Also, nursing-friendly, ladies! The other thing I want to add about this dress is that I think it is universally flattering to most body shapes. It will accentuate your waist and will be forgiving in the areas that need a little extra love…which is one of the many reasons why I bought this dress!
Makeup Brush Wipes (Chels…duh)
This you guys is just AMAZING! If you use makeup brushes, you need this product in your life. I recently got a sample of this from one of Target's Beauty Boxes and tried it out last week and I was seriously blown away by how well it worked. All you do is lay the wipe down on a clean surface and swivel the dirt makeup brush into the wipe a few times and BOOM! Your makeup brush looks like you just bought it. 10 wipes come in this box, so if you used one a week, that would last you a hair over two months. I think that is a great value!
Cremo Beard & Scruff Cream (Josh…yes, I have an entry in the "Fashion & Beauty" section…what of it?!)
Now that I'm sporting a bit more facial hair, I dealing with how to keep it in place and well-groomed looking during the day, and also how to keep the itching away! One of the main reasons I'd never grown a beard before was due to the itchiness! Beard oil's kind of overkill with a length as short as mine (sort of a long scruff). Enter this amazing Cremo product. I love it. I love it so much, in fact, that I have two different kinds – there's the original version, which has a very clean, professional scent to it. I usually use that for the work week, but come the weekend…Chels isn't a fan. So, I switch to the Forest Blend on the weekends! It's about as manly as it gets – basically, you carry the subtle aroma of a pine forest around with you everywhere you go. Not like Pine-Sol – think pinecone. There's a mint one, too, I think, but I haven't tried it.
That's all I got for this month, guys! Let me know what you think. What have you bought this month that you're loving? Comment below and share a link if you've got one!