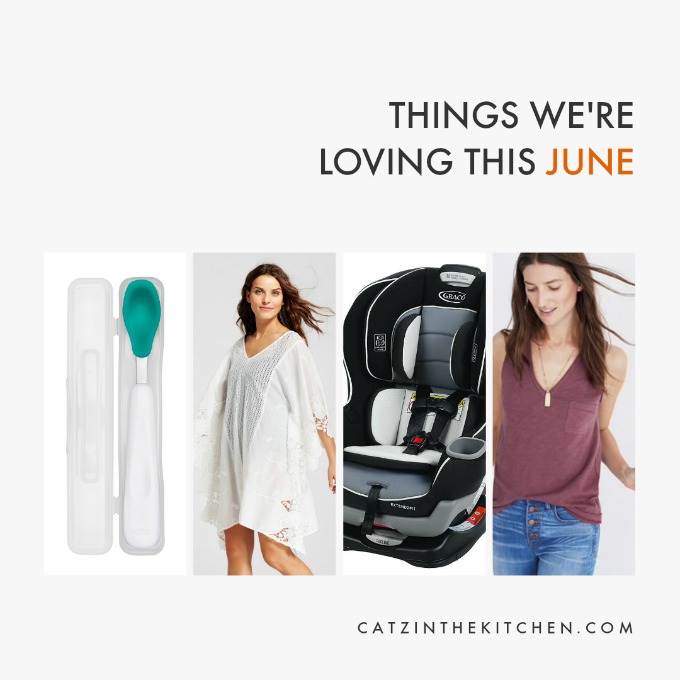 Hi, so…it's July! I feel like this month came out of nowhere?! Didn't I just say the same thing last month, too? Maybe it's just being a busy mom of four or maybe it's because summer never really slows down as much as I think it will. But regardless, June is gone and July is here. Which means it's time to share some of the items we found last month and love so much that we just want to share it with you! You can check out last month's post here.
Baby Stuff!
OXO Tot On-The-Go Feeding Spoon with Travel Case
Ruby is often on the go with us and maybe it's just me, but I have a really hard time remembering to always replace the feeding spoon in our diaper bag with a clean one or even finding the spoon in the first place. This spoon is awesome for where she's at right now with solids. It's got a great grip, comes in multiple colors, silicone coating for her to gum on or bite on – which she does both of – and I really like the depth of the actual spoonful itself. She really likes it, too – it's definitely a step up from what we've been using and I can always find her spoon in the diaper bag now. In fact, I liked this so much, I bought two more spoons just for the house.
Graco Extend2Fit Convertible Car Seat
As you all have pretty much seen, Ruby is growing a lot! Giant baby! And she needed a new car seat. In Oregon, babies have to be rear-facing for two years now! Josh did a ton of research before purchasing, but in the end, we chose the Graco brand. It's a brand we've used from the very beginning, a trusted brand, and one of Josh's coworkers has the same car seat and loves it. Good enough for us. So far, Ruby seems to really enjoy this and I know my wallet enjoys not paying a fortune…carseats get expensive so fast!
Gadgets!
Waterpik Water Flosser
Josh is very good at taking care of his teeth, so when his dentist told him at his last cleaning that he was getting some minor plaque build up in hard to reach places in the back of his mouth, he asked if a Waterpik would make a difference. The dentist said it very well might, so we were all over it. Plus, it comes with attachments for braces (which Grace has) and hardware in your teeth (like my permanent retainer) that usually make flossing really tough and time-consuming. This took a little getting used to. I've only consistently used it for maybe two weeks, but each time I use it, it does get easier and I'm beginning to see the difference. We also add these whitening water flosser tablets that whiten your teeth as you floss.
KitchenAid Glass Bowl
This is something I've been wanting for YEARS!!! I've only ever had the one bowl for my KitchenAid and I knew I could really benefit from a second bowl…plus I thought the glass one would be nicer looking on the counter. We've given the bowl a test run a few times and I just love it. Unfortunately, these babies never go on sale so it's basically the same price all the time. But for what it is, it's not too expensive.
Fashion!

That's a wrap, guys! I hope some of these items are helpful and if you get any, let me know what you think!