This easy recipe for BLT sliders with arugula and camp sauce is quick, flexible, and works as a main course, or a party or game day appetizer!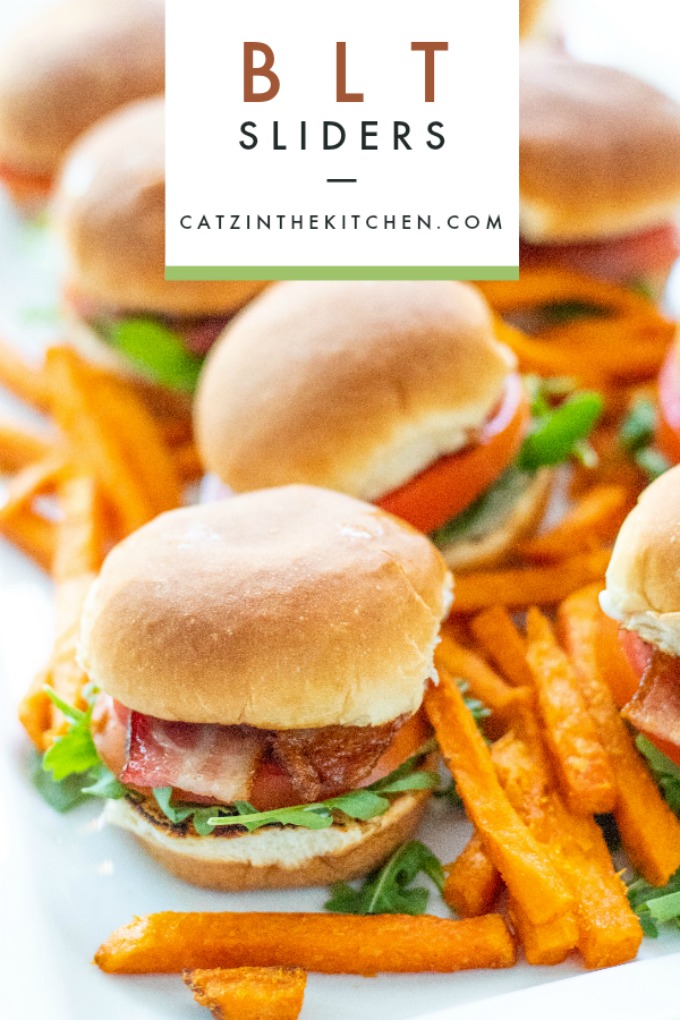 While the photos and the recipe have been updated, this post originally appeared on Catz in July of 2012. In the six years since, we've made these BLT sliders more times than we can count – they make a cheap, easy, fast go-to meal that tastes good when it's hot out, when it's cold out, when we're too tired to cook, or when we're whipping up some fun party (or game day?) food! They can be a meal or an appetizer, so that this easy template and do something fun with it!
I can remember my very first BLT. I was staying with my grandma in California and she made me a sandwich I'd never had before. t was a BLT, minus the T because I didn't like tomatoes at the time. She put ketchup in it instead (BLK? BLC?). It was so, so good – I was hooked!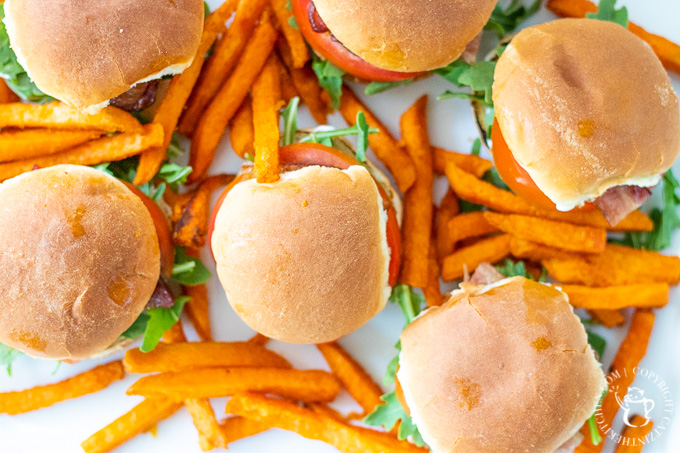 Today, I can't believe that I ever disliked tomatoes. They add so much moisture and flavor to a meal, especially to a burger or sandwich. I got the idea to make these into BLT sliders a few weeks ago when I was watching Giada on Food Network. She was making "camp food" for her family and one of the meals she was preparing was lamb sliders. As I was watching her prepare these, the wheels in my head started turning – why not make cute BLT sliders instead? I realize I'm probably not the first person to think of or do this, but it was a new idea to me!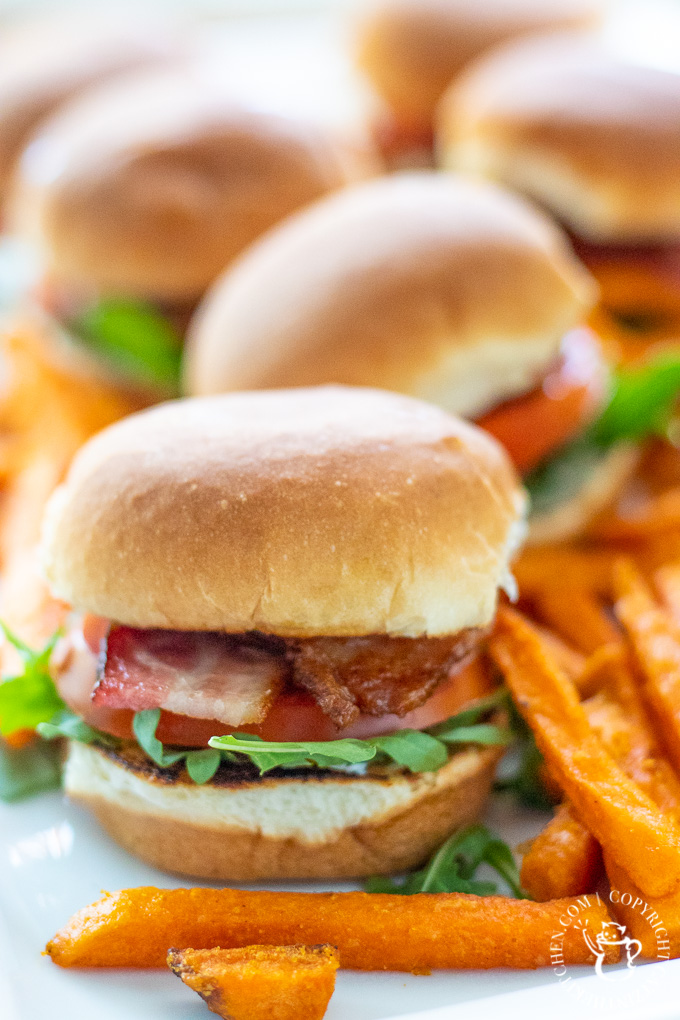 I presented the idea to Josh because he is the "official BLT maker" in our family (he grew up with his mom making them, so he's always loved them, though he used to order his minus the T as well!) and he loved the idea. While we were making these, my wheels started turning again. Should we stick with regular old mayo or should we take it to another level in flavor and add our delicious camp sauce, normally used for a dip?
Editor's Note: We stumbled upon this "recipe" for "Camp Sauce" back when we lived next to a Red Robin. We were hooked on the addicting "campfire sauce" they served with fries, onion rings, etc. Lots of bloggers online were trying to figure it out, and some of the recipes were pretty complicated! We happened upon a thread where an unnamed commenter claiming to be a Red Robin employee chimed in. He/she basically said, guys, you're overthinking this. I've seen it made. It's barbecue sauce and mayonnaise. Turned out, the only trick was finding the right barbecue sauce! We also use this sauce "recipe" in our Copycat McMenamins Cajun Tots post – another great game day snack!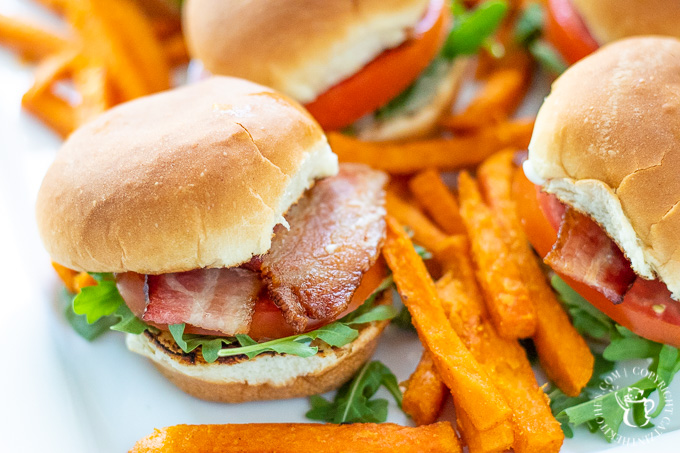 We were pretty undecided about what to do, so we did half of the sliders with mayo and the other half with the camp sauce. The camp sauce sliders won out big time! The extra zing of flavor was exactly what these adorable sliders needed. Pro tip: use these deliciously sweet and fluffy King's Hawaiian dinner rolls to keep this meal light and flavorful!
2018 Update: We still make these with King's Hawaiian dinner rolls or slider often – they are so good! – but we'll switch it up with regular slider buns sometimes as well. We also switch out the green leaf or iceberg for arugula, which adds some additional depth of flavor. Point being – these are simple, simple sliders! Make changes until they're exactly what YOUR family likes!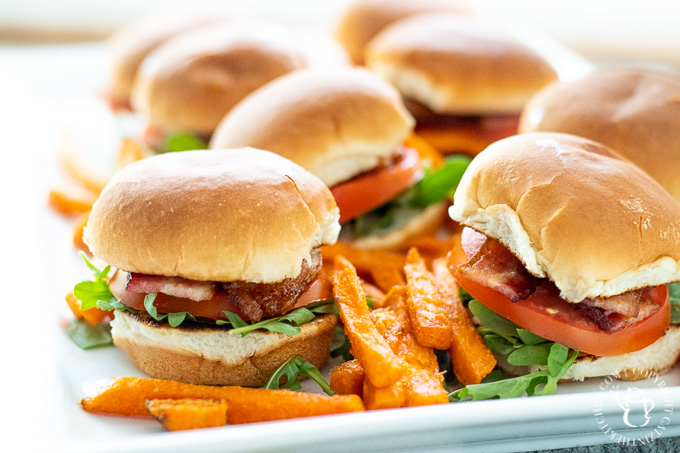 Note: King's Hawaiian and Sweet Baby Ray's have no affiliation or sponsorship of this post – we're just fans!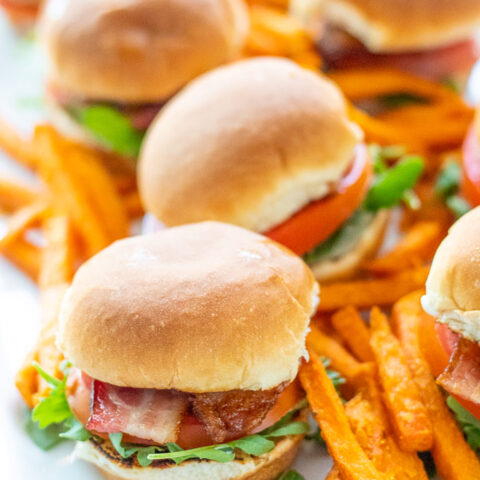 BLT Sliders
This easy recipe for BLT sliders with arugula and camp sauce is quick, flexible, and works as a main course, or a party or game day appetizer!
Ingredients
Sliders
package of 12 slider buns (King's Hawaiian or any brioche bun is recommended)
2 cups arugula (or green leaf lettuce or chopped iceberg)
two medium tomatoes
1 lb bacon
Camp Sauce
approx 3 tablespoons mayonnaise
approx 2 tablespoons Honey Chipotle Barbecue Sauce (we used Sweet Baby Ray's)
Instructions
Cook bacon via conventional method, in skillet or on griddle, or bake in the oven, until just done.
Slice each tomato into six thin slices.
Prepare camp sauce by mixing mayonnaise and barbecue sauce in a small bowl until completely combined (i.e., entire mixture is one consistent color, without streaks of white or brown). Adjust as needed to suit your taste preference (add more barbecue sauce to raise the level of tang; add more mayonnaise to calm it down).
Cut rolls in two (warm in oven first, if desired), and spread camp sauce on both halves. Layer arugula, tomato, and then bacon on bottom half of each roll, and then place top half back on. Serve immediately!
Nutrition Information:
Yield:

12
Serving Size:

1
Amount Per Serving:
Calories:

302
Total Fat:

17g
Saturated Fat:

5g
Trans Fat:

0g
Unsaturated Fat:

11g
Cholesterol:

39mg
Sodium:

829mg
Carbohydrates:

20g
Fiber:

2g
Sugar:

7g
Protein:

17g
Nutrition information isn't always accurate.