Let your pantry come to your rescue with this easy minestrone chicken noodle soup – this "hybrid" recipe is warm, hearty, and on the table in 30 minutes!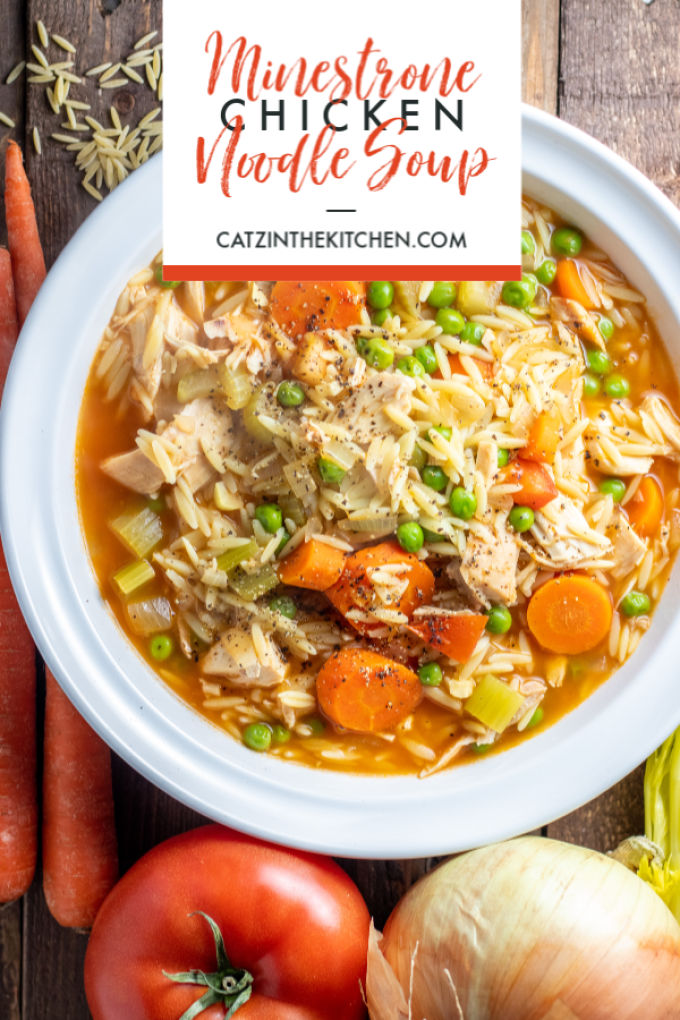 I love soup! I don't particularly want to eat it in the summer, but the rest of the year, especially in rainy, cold Oregon – I'm all about it! Josh, on the other hand, is not the biggest fan of soups. I have brought him a long ways from where he was – he whole-heartedly approves of every single soup recipe on this blog. Since we work on this together, I wouldn't push publish on these posts if he didn't, but I've really had to figure out what kind of soups he likes over the years. For the record my butternut & sweet potato soup is his favorite. In short, he's not into brothy soups. A thicker soup is his jam!
I was nervous to work on a "chicken noodle soup." It's not my favorite either, actually, but it does have its place in the world, especially during cold and flu season!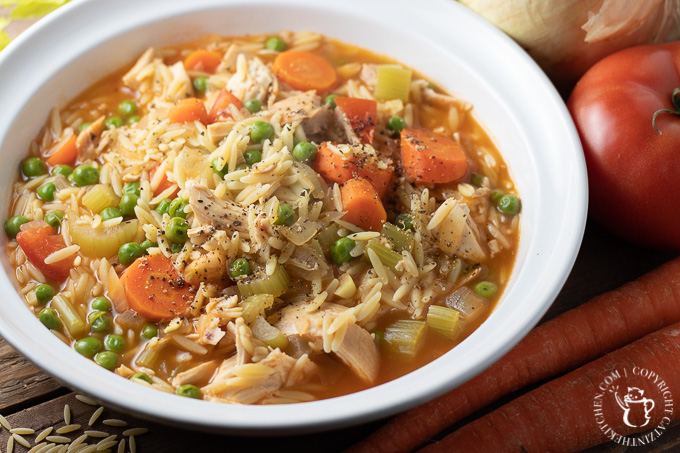 I do love minestrone soup with a passion, though. When I was younger, my mom would let me skip school for a day every couple of months so we could get our hair done, and it was our tradition that we would have soup and salad at Olive Garden for lunch. As I contemplated my lifelong love of minestrone, I was thinking how fun it would be to combine the two soups into one! This is my attempt at making chicken noodle soup a little more interesting for Josh (and me!) while still getting some of my favorite ingredients from a minestrone soup into it.
This Minestrone Chicken Noodle Soup is a riff between the two. It doesn't have all of the basic ingredients of minestrone and it's got a few components of a chicken noodle. So maybe, more like a hybrid of the two??
One of the reasons I really like this soup is because it is awesome if you need to use up any leftover ingredients from your vegetable drawer, like carrots, celery, and onion. I used rotisserie chicken, which I always keep on hand in my freezer. (I always buy one or two of the whole rotisserie chickens from Costco, take the meat off it, and freeze it in 2-cup measurements in freezer friendly bags.) The rest of the stuff is what I have on hand in my pantry!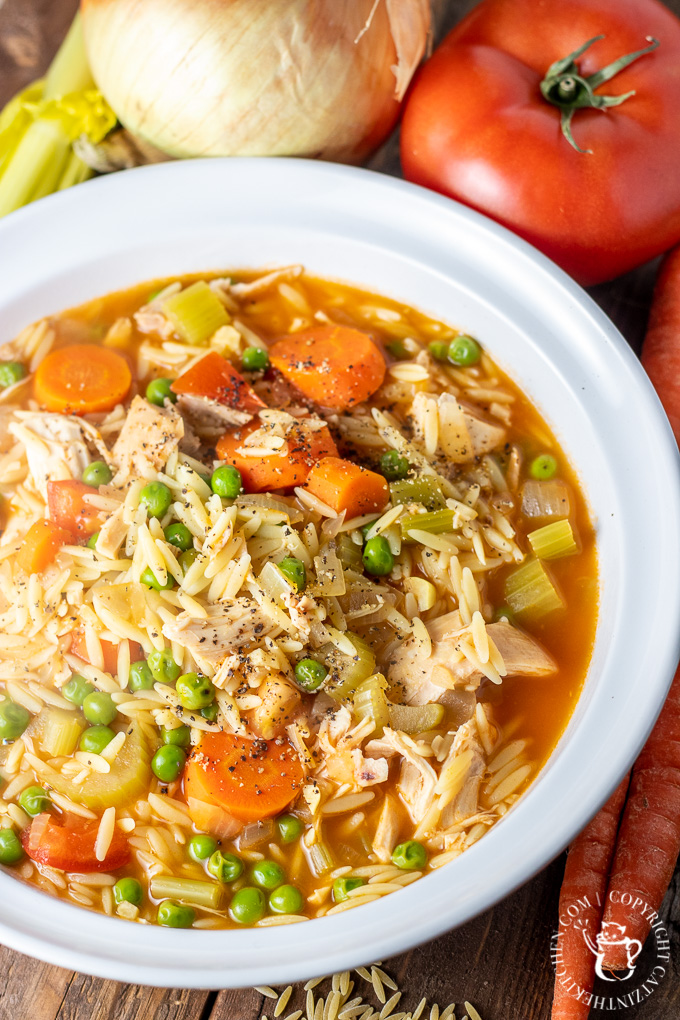 Pantry tip
I recommend having a few boxes of pasta in your pantry at all times. I like to keep some spaghetti, elbow or penne, and something smaller like orzo – just as a rule of thumb, because you can use all of those types in so many different ways.
I always like to go one of two routes when serving soup for dinner. One is serving some bread on the side, whether it's rolls or sliced crusty bread, it just always goes well with soup. It's also the more kid-friendly option of the two. Option two is serving a salad. My kids generally actually enjoy salad, and I don't like missing an opportunity for them to get a few more veggies into their diets. But I only make a salad if I have all the ingredients on hand – either a prepared salad from the store, or enough of other loose ingredients that I can cobble together to make a salad. For example, if I've played with the idea of serving a salad to go with a meal, I'll usually have a cucumber, carrots, lettuce (of some kind), radishes, or celery on hand. None of those ingredients are expensive, and I'll dress the salad up with dried fruit, nuts, and croutons. Leftover tomatoes and black olives are great on a salad, too.
This soup combined with either a salad or some crusty bread will have dinner on the table in 30 minutes or less. There isn't a ton of chopping in this recipe and there aren't a ton of ingredients you have to buy to specifically make this soup either. If you've put it together through items found in your freezer, fridge, and pantry then this should a pretty inexpensive meal to make and a heart-healthy one, too! Perfect for this time of year!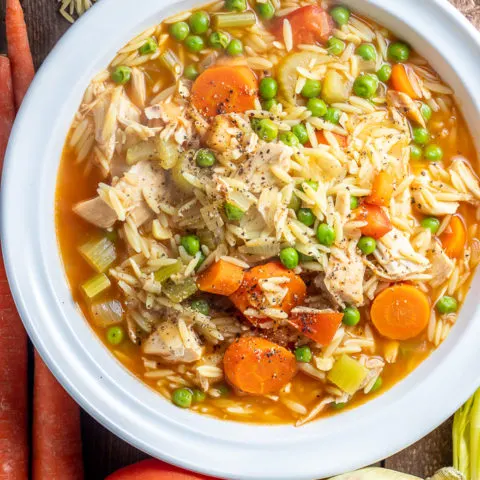 Minestrone Chicken Noodle Soup
Let your pantry come to your rescue with this easy minestrone chicken noodle soup - this "hybrid" recipe is warm, hearty, and on the table in 30 minutes!
Ingredients
1 tbsp extra-virgin olive oil
1 yellow onion, diced
3 stalks celery, chopped
3 cups carrots, sliced into 1/2 inch pieces
4 cloves garlic, minced
4 tbsp tomato paste
8 cups chicken broth
1 1/2 tsp kosher salt
Pepper to taste
8 oz of a 16 oz box of orzo pasta
2 cups frozen green peas
1 fresh tomato, chopped
2 cups boneless, skinless rotisserie chicken, shredded or chopped
Instructions
Heat a large pot or dutch oven over medium-high heat. Add oil to pan. Add onion, celery, and carrot to the pot and saute for 4-8 minutes. Add garlic, tomato paste and cook for an additional 2 minutes, stirring occasionally.
Add chicken broth, salt, and pepper. Bring to a boil. Add pasta, turn the heat down to a simmer, medium-low heat and cook for 5 minutes. Add frozen peas, tomato, and chicken and cook for 2-3 minutes or until pasta is done.
Nutrition Information:
Yield:

8
Serving Size:

1 bowl
Amount Per Serving:
Calories:

248
Total Fat:

7g
Saturated Fat:

2g
Trans Fat:

0g
Unsaturated Fat:

4g
Cholesterol:

59mg
Sodium:

1612mg
Carbohydrates:

25g
Fiber:

5g
Sugar:

8g
Protein:

22g