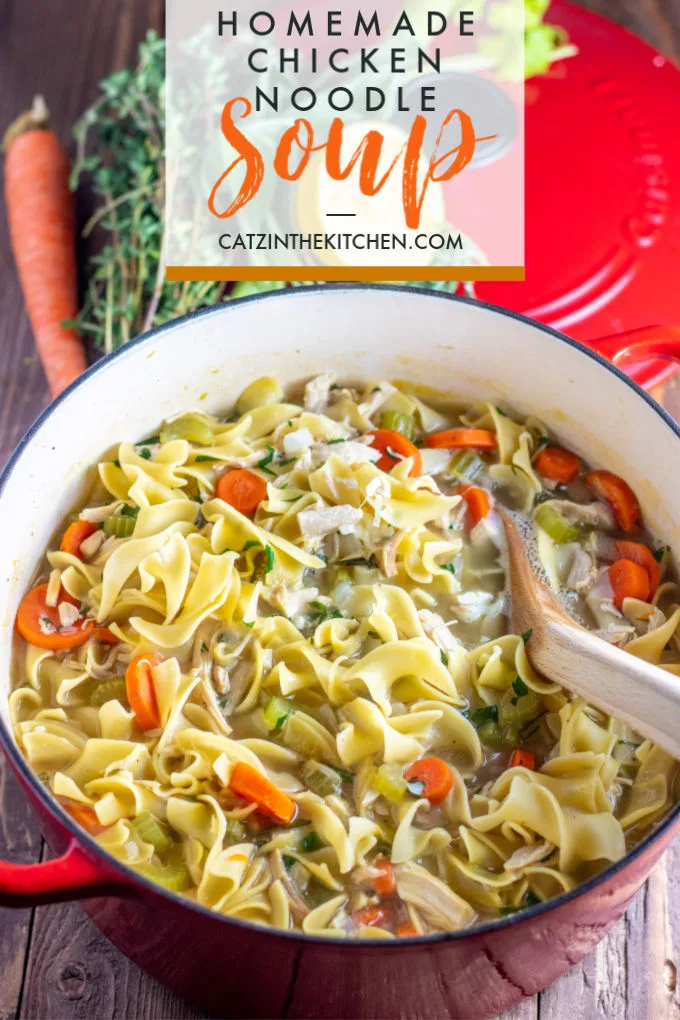 I grew up with my mom making the best soups ever! My mom has many talents in the kitchen and creating soups with delicious flavors and broths is certainly one of them. I mean, I am not a fan of French Onion Soup AT ALL! But hers, I'll actually eat and kind of sort of enjoy…!
I might need to have her make it again so I can see if I like it any better.
One of the things my mom always did was make a really good chicken noodle soup. I remember a few years ago when I was living closer to her I was sick with a cold and my mom had made a chicken noodle soup for her and my dad – she offered to bring me down a bowl and it was so good. It had fresh rosemary in it…so flavorful!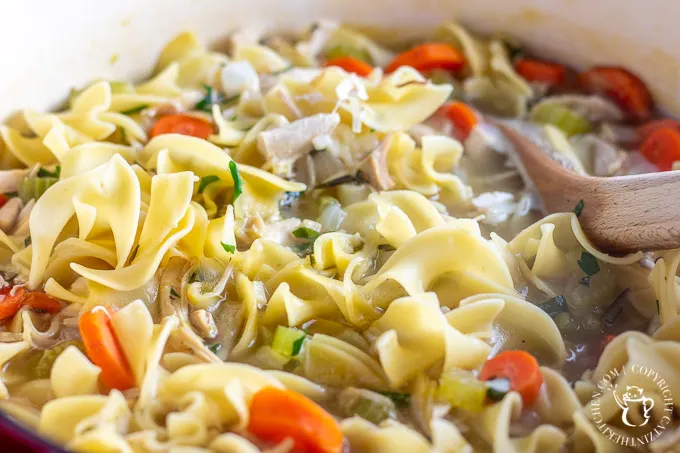 One of the things I really wanted to create was my own version of chicken noodle soup. You may have heard that it's cold and flu season, and while our family has already had the flu once, we haven't had many colds yet (knock on wood), so it's handy to have a recipe you can whip up – and this one comes together in about 35 minutes.
Can't beat that!
I polled Instagram a few months ago, asking what kind of chicken noodle soup everyone was interested in, whether they wanted something with rotisserie chicken or using a whole chicken as a base or using boiled chicken breasts and going from there. It was close, but in the end, a soup using the rotisserie chicken shortcut was the winner, which was what I expected, because it does make the process a lot simpler and shorter when you just want homemade chicken noodle soup!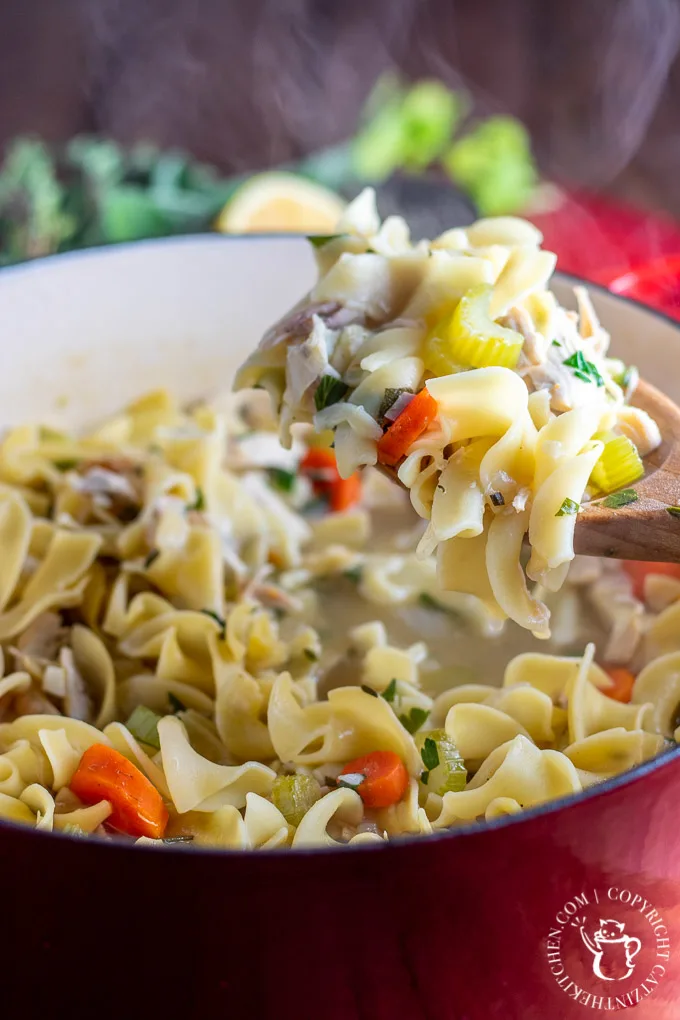 I've tested this recipe multiple times and each time it's been a hit. Even Josh, who isn't much of a brothy soup guy really enjoyed it. And, I do want to mention that this soup reheats perfectly. I ate leftovers of this soup for two days!
I'm not a fan of canned soups. I find them really salty and they just don't taste fresh at all…and I'm always disappointed in the lack of carrots and the chicken-to-noodle-ratio. There always seems to be more noodles than you need, so getting that right was important to me. I also wanted this soup to taste bright and flavorful!
In this soup's case, fresh herbs and fresh lemon juice are your friends. I do also use a dried bay leaf for more depth of flavor. You could leave it out if you don't have it on hand, but I highly recommend it.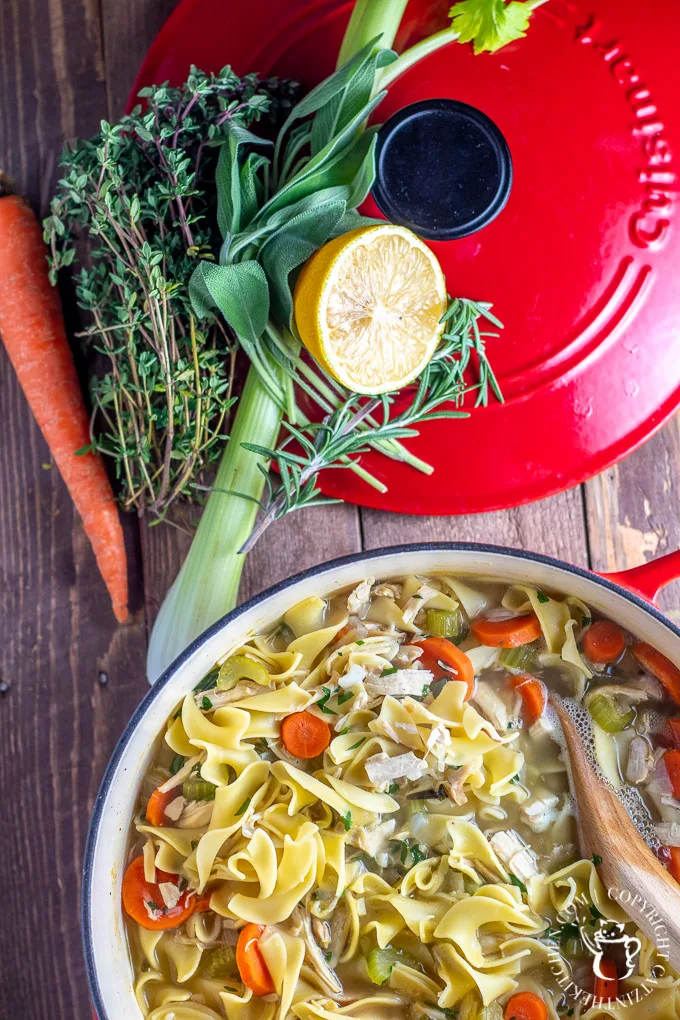 This is also a great meal to bring to someone if you know they are under the weather, like maybe a mom, friend, or neighbor. You could easily double this meal and make enough to serve your family and someone else's too. If you're looking for some great containers to take soup in, give these a try! They have great reviews on Amazon!
The next time you or someone in your family, or someone you know, is sick, whip out this soup easy homemade chicken noodle soup recipe – it won't take long. It's satisfying, bright and fresh, delicious, and comforting. Not to mention it will help you or someone you know get back on their feet and feeling great!
Easy & Homemade Chicken Noodle Soup
A flavorful, quick, easy, recipe for homemade chicken noodle soup - make this when your family is under the weather - or when you just want some comfort!
Ingredients
2 tbsp extra-virgin olive oil
1 1/4 cups sliced carrots (about 2)
1 cup diced celery (2 ribs)
1 cup onion, diced
3 cloves garlic, minced
2 (32 oz.) low-sodium chicken broth
1 1/2 tsp fresh rosemary, finely chopped
1 1/2 fresh thyme, finely chopped
1 tsp fresh sage, finely chopped
1 dried bay leaf
1 1/2 tsp salt
1 tsp black pepper
2 cups shredded cooked chicken - I used rotisserie chicken
1 (12 oz. bag) wide egg noodles
1 tbsp fresh lemon juice
3 tbsp flat leaf parsley, finely chopped
Instructions
In a large pot or dutch oven, add the oil and heat over medium-high heat to warm.
Add the carrots, celery, and onion and saute for 3-4 minutes. Add in garlic and cook for 1-2 minutes longer.
Add chicken broth, rosemary, sage, thyne, salt and pepper, and bay leaf. Stir.
Bring a to boil, reduce heat to medium-low, cover and simmer for 10-15 minutes. Stir in noodles and cover and cook according to package directions, stirring occasionally.
Stir in chicken, parsley, and lemon juice. Cook for 1-2 minutes. Serve with a green salad and crusty bread.
Nutrition Information:
Yield:

6
Serving Size:

1
Amount Per Serving:
Calories:

307
Total Fat:

15g
Saturated Fat:

3g
Trans Fat:

0g
Unsaturated Fat:

10g
Cholesterol:

99mg
Sodium:

986mg
Carbohydrates:

16g
Fiber:

3g
Sugar:

4g
Protein:

27g