This comforting, brothy take on tex mex chicken tortilla soup is easy to make in a hurry, and features simple, staple ingredients and easy directions!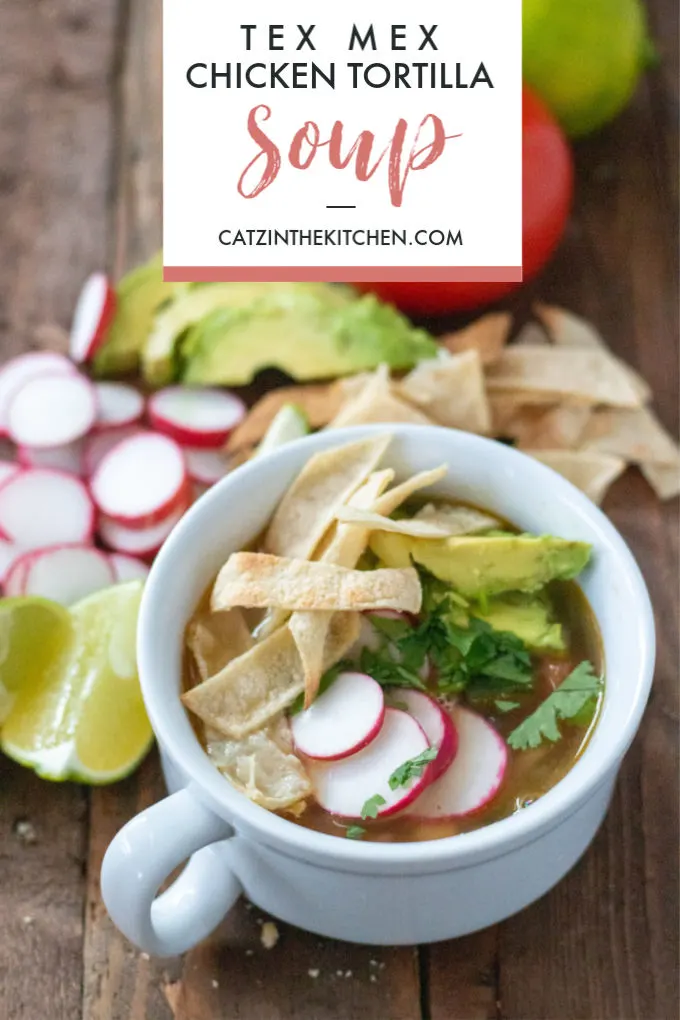 Oh, how I love a good soup, especially this time of year…ya know the cold and flu season time of year? We don't often catch the flu (we do typically get flu shots), but we get colds like crazy.
Correction, I get colds like crazy. (In fact, I'm fighting one off right now – lucky me!)
Basically, any soup with chicken and a broth becomes a miracle cold soup for me. I don't make a lot of chicken noodle soup, but I do enjoy a good brothy, flavorful soup and this one is so perfect because the ingredients are simple and easy to find. You don't need a ton of spices to create a big bowl full of flavor here. All you need is cumin, salt, and pepper. The rest of the flavor comes from the onion, tomato, and actual peppers. And it is good! This is a "brothier" take on chicken tortilla soup – not the thick, often delicious but much less healthy version you find in many restaurants.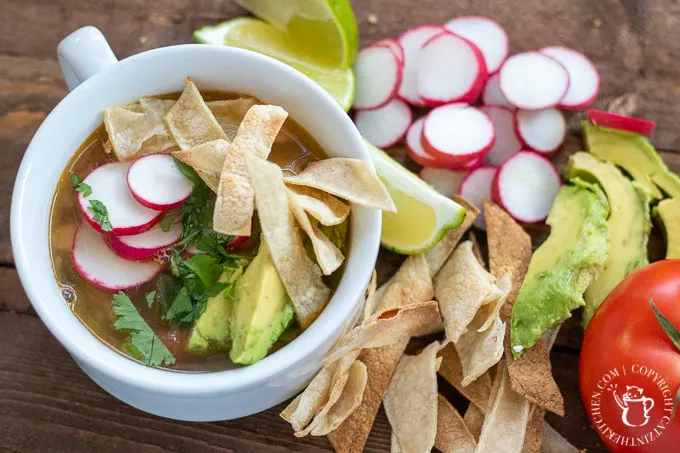 I've made this soup so many times over the past few months and serve the same thing with it every time. Salad and Southwest style scones and each time I make this I am left without leftovers. Which is sad, but also a good thing. It means everyone liked it!
I love that this soup is so simple – I use rotisserie chicken, but feel free to use whatever boneless chicken you have lying around (Editor's note: I couldn't help myself), and cook at your convenience for this recipe.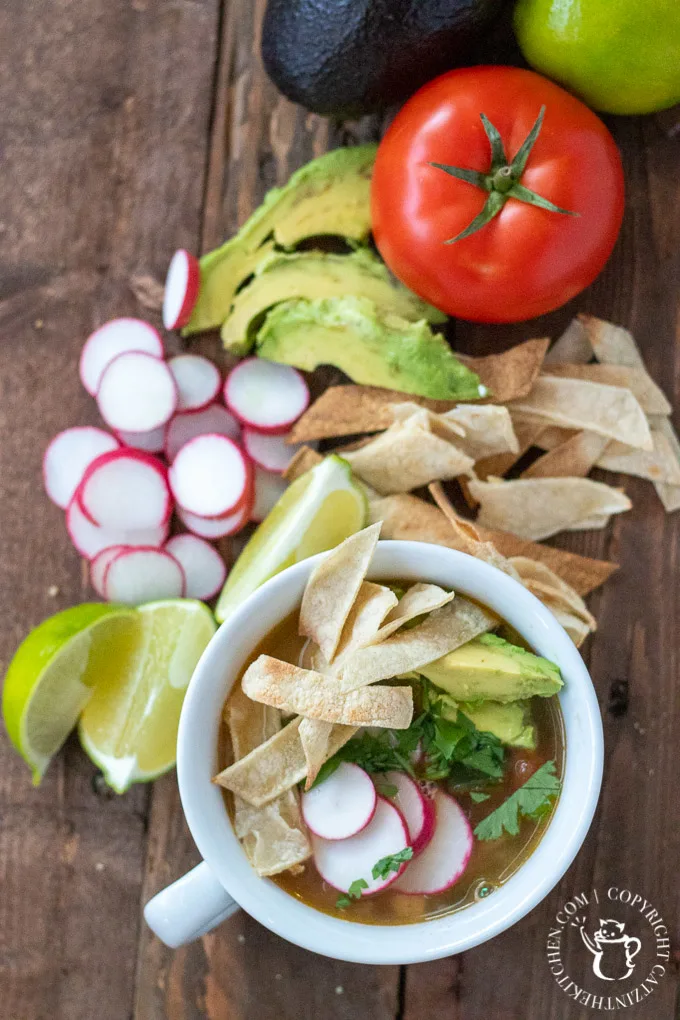 This soup is also healthy! I don't know how many calories are in a serving (Editor's note: 369, if our calculations are correct!), but I can tell you that it's loaded with great ingredients and most of them are part of my weekly grocery haul at this point, making it also inexpensive to throw together (and double if you were to invite friends over – just use a big pot if that's the case!). Speaking of throwing this together – I know soups sometimes carry misconceptions of them taking a long time to develop flavors and such. This soup comes together in about 30 minutes. It requires minimal chopping (I mean. you could do it ahead of time if you liked) which leaves you time to toss a salad together or make scones.
I hope that you will be making this soup a lot this fall and winter season. Enjoy friends!
Tex Mex Chicken Tortilla Soup
This comforting, brothy take on tex mex chicken tortilla soup is easy to make in a hurry, and features simple, staple ingredients and easy directions!
Ingredients
2 cups shredded rotisserie chicken
1 tbsp extra-virgin olive oil
1/2 onion, diced
1 poblano chili pepper, stemmed, seeded, and chopped
6 cups chicken broth
1 1/2 cup chopped (fresh) tomato
1 tsp ground cumin
1/2 tsp salt
1/4 ground pepper
4 corn tortillas, cut into 1/2 inch strips
1 1/2 cup frozen corn kernels
2 avocados, halved, seeded, peeled and sliced
1 lime cut into wedges
Optional Toppings
Sliced Radish
Chopped Cilantro
Sour Cream for topping
Instructions
Preheat oven to 350 degrees. Place tortilla strips in a single layer on a baking sheet. Bake for 10 minutes, or until crisp. Set aside.
In a large pot or dutch oven, cook onion and poblano in hot oil over medium to high heat until tender, 4-5 minutes and stirring occasionally.
Stir in broth, tomato, cumin, salt and pepper. Bring to a boil and reduce heat. Simmer uncovered for 15 minutes, stirring occasionally. Stir in chicken and corn; heat through.
Serve soup in bowls and top with tortilla strips, sliced radish, cilantro, avocado, a squeeze of lime wedge, and top with sour cream if desired.
Nutrition Information:
Yield:

6
Serving Size:

1
Amount Per Serving:
Calories:

369
Total Fat:

20g
Saturated Fat:

4g
Trans Fat:

0g
Unsaturated Fat:

14g
Cholesterol:

79mg
Sodium:

1396mg
Carbohydrates:

25g
Fiber:

7g
Sugar:

5g
Protein:

26g