Your pantry can come to your rescue again with this easy, hearty, super tasty, and crazy healthy one pot country lentil soup!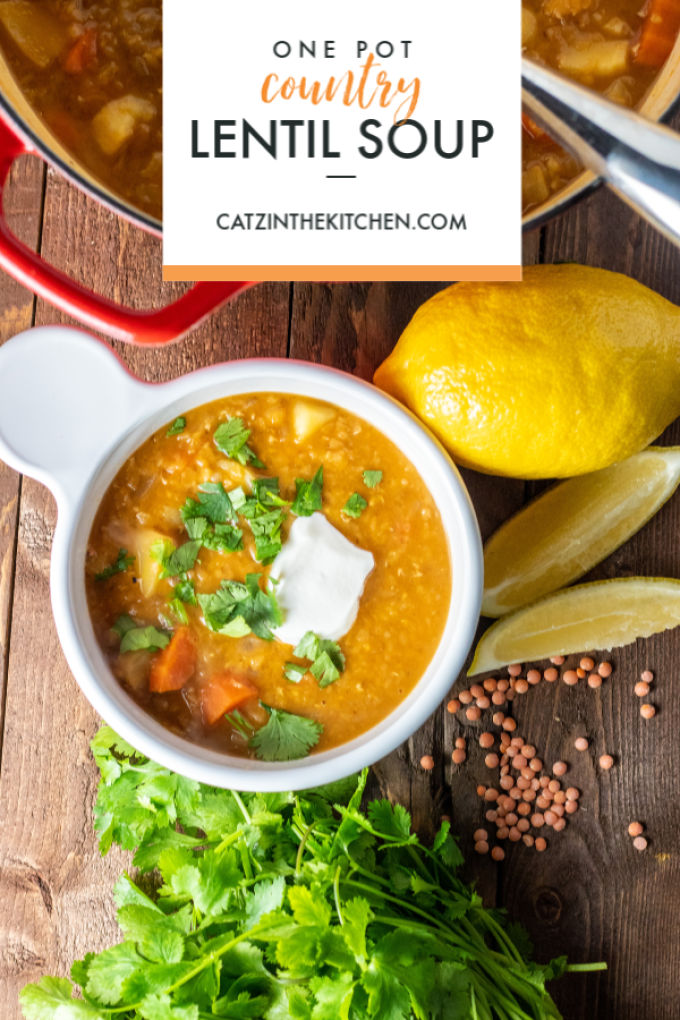 I've made this soup several times now, and each time, it's been a really big hit. Even Ruby likes it and eats it for leftovers – WIN! I was a bit skeptical at first because I know that Josh isn't the biggest lentil fan, but really, when has that ever stopped me from trying out new things?
Let's take a walk down memory lane, shall we? He didn't love Brussels sprouts until I made these. He was not a fan of meatloaf until I made this. I'm on a roll and I'm not stopping until he likes all the foods! Just kidding. Kind of. Not really.
I grew up eating lentils, so I don't really have a problem with them. I think they can be a lot like tofu or even mushrooms. Tofu alone is kind of, well, gross. But, combined with the right flavors and ingredients, you don't even realize you're eating…tofu. Mushrooms offer a meatiness that you can usually only get from meat. Lentils are like tofu and mushrooms. You can get a lot of flavor and a lot of meatiness out of this little legume.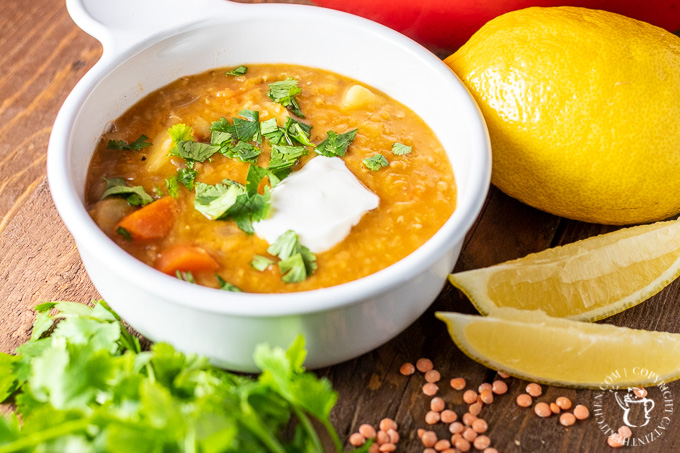 Basically, what I'm trying to convince you of is that they're a great meatless alternative for a meal.
If you're planning on trying to eat healthier this new year, swapping one or two meals a week for a meatless option is a great idea. How about one packed with fiber (8 grams per half cup), but that's also a healthy carb? Yes, you heard me. Lentils are a complex carbohydrate giving you 9 grams of starch, which gives your body quick energy verses slowing you down. Consider it a starchy perk that's actually good for you!
Want to hear a bit more? Well, if you're trying to lose weight, you're going to want to eat these. Since they're so high in fiber, apparently that means there is hardly in fat in this magical ingredient.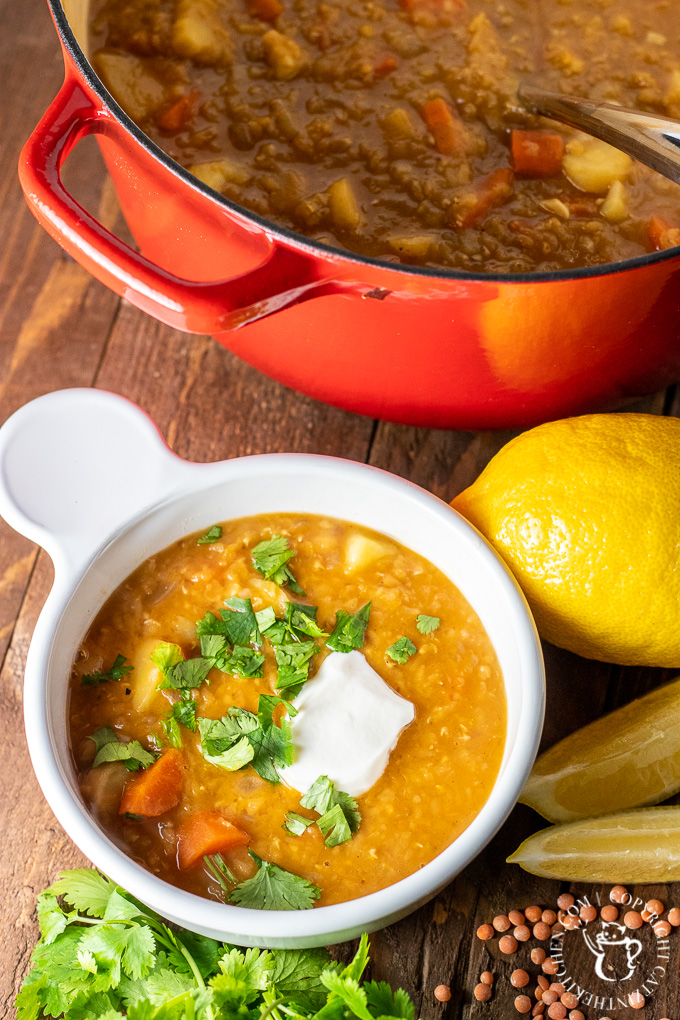 Okay, I think that's enough education for one blog post. Let's talk about the actual soup. It's packed with veggies. Carrots, onions, and I even added parsnips because I love them and I just don't think they are appreciated enough. Plus, I had these on hand when I made the soup the first time and now I'm convinced they just need to be a part of it.
You don't need any fancy tools to make this one pot country lentil soup. I use a dutch oven just because I love to use it, but any good sized soup pot will work. Another thing I want to quickly mention is that this recipe doubles really easily. I actually double it when I make it for our family because there are six of us around the table these days! But if you're a family of four, the ingredients as listed should work just fine.
Here's one last thing I love about this soup – basically, you can throw this soup together easily and quickly at the end of the week with a lot of the leftover veggies in your fridge. Got celery? Throw that in here. Don't have parsnips? No big deal, just keep it simple with garlic, onions, and carrots. I bet even a diced zucchini would work with this!
The point is, you get to make the rules and get a pretty and healthy soup out of it.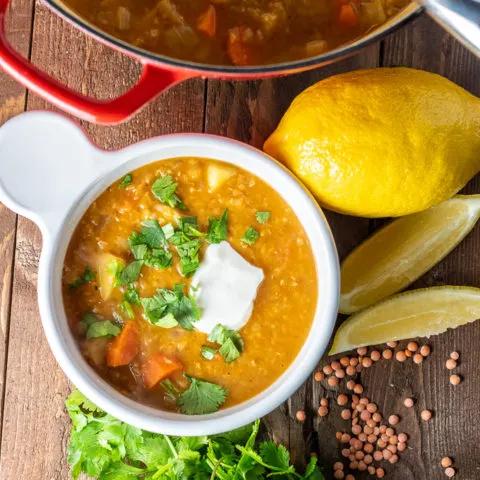 One Pot Country Lentil Soup
Your pantry can come to your rescue again with this easy, hearty, super tasty, and crazy healthy one pot country lentil soup!
Ingredients
3 tbsp olive oil
2 cups chopped onion
3 cloves, minced garlic
1 tbsp tomato paste
1 tsp cumin
1/2 tsp kosher salt
1/4 tsp black pepper
1/8 tsp chili powder
4 cups chicken broth
1 cup dried red lentils
1 cup peeled and diced carrots
1 cup peeled and diced parsnip
2 tbsp lemon juice + lemon wedges for serving
1/4 cup sour cream
3 tbsp chopped fresh cilantro
Instructions
Heat oil in a large pot or dutch oven over medium-high heat. Stir in onion and garlic; cook for 5 minutes, stirring often to prevent burning. Stir in tomato paste, cumin, salt, pepper, and chili powder. Cooking stirring for 2 minutes.
Stir in broth, lentils, carrots, and parsnips. Bring to a boil over high heat. Reduce heat to medium-low and simmer, covered for about 15 minutes, or until lentils are soft.
Stir in lemon juice. Top with sour cream (if desired) and cilantro. Serve with Lemon wedges and crusty bread.
Nutrition Information:
Yield:

8
Serving Size:

1
Amount Per Serving:
Calories:

151
Total Fat:

7g
Saturated Fat:

2g
Trans Fat:

0g
Unsaturated Fat:

5g
Cholesterol:

7mg
Sodium:

688mg
Carbohydrates:

19g
Fiber:

5g
Sugar:

6g
Protein:

5g