Carrot cake is pretty amazing, but I've got a couple of ideas about how to improve it – one, lose the raisins. Two, add browned butter. Yep. Done.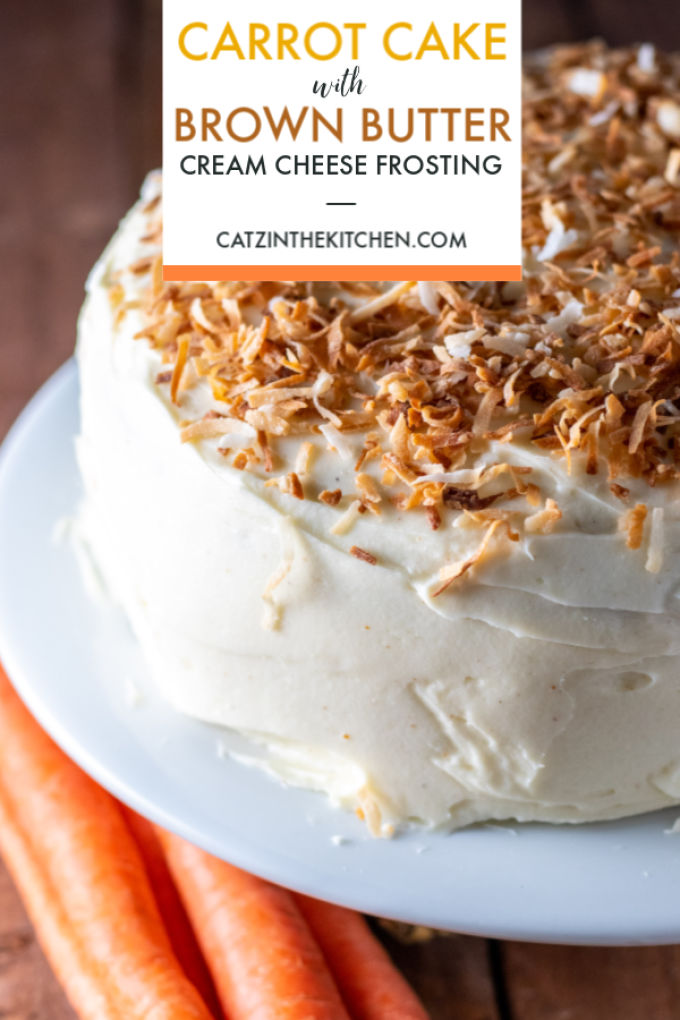 This post originally appeared on Catz in March of 2013. Since then, it's been re-made, re-photographed, and the recipe has been updated. It remains a wildly delicious cake, a nice elevation of a traditional carrot cake, and a wonderful Easter dessert.
I have a problem with raisins. Like a BIG PROBLEM! I HATE raisins. I don't see what is so appetizing about dried up little grapes. My kids looove raisins. I think there must be something wrong with my kids. They certainly didn't inherit the raisin-despising gene from me, so they must have inherited the raisin-loving gene from my husband! Shame on him!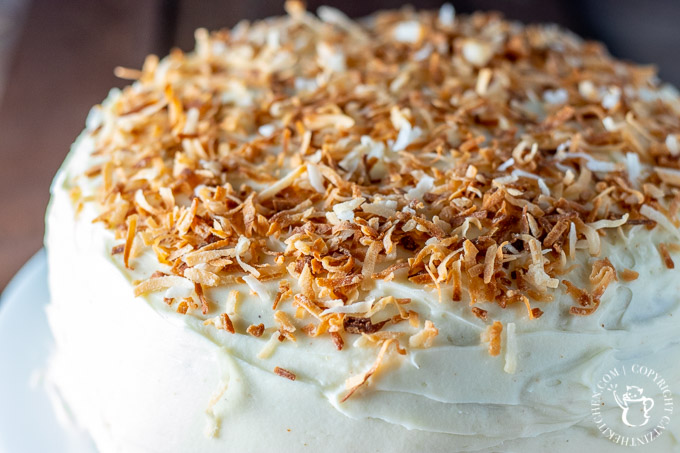 Which brings me to the point of this post (aside from the fact that it is an Easter post) – I've had really bad luck with carrot cakes. Every single one that's ever been placed in front of my face has been full of raisins. I just don't understand what is wrong with people that they would want to ruin a perfectly good cake. Those people must have also inherited raisin-loving genes! It's just so wrong. I feel sorry for those people. (Editor's Note: Wow, babe.)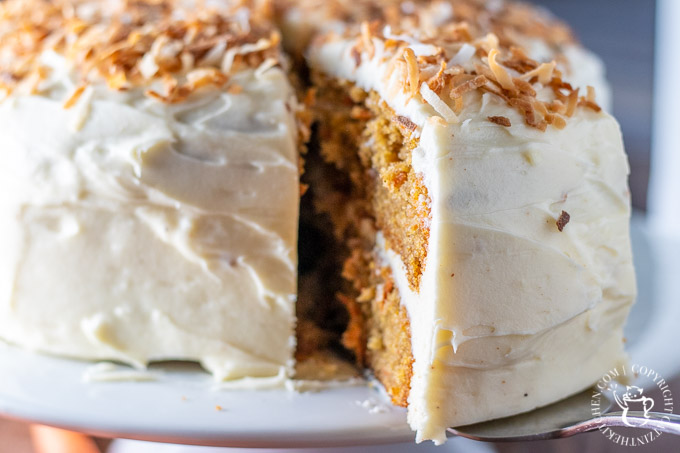 I, however, do not feel sorry about making this cake! It is incredible. Okay, incredible doesn't even seem to scratch the surface. Actually, the word that comes to mind is yummy! Okay, that seems lacking in comparison to incredible, but it is WOWALICIOUSLY YUMMY! It was, in fact, so yummy, that I had to send the cake to work with Josh because I was scared that I would keep eating it and gain back all of those baby pounds that I've lost.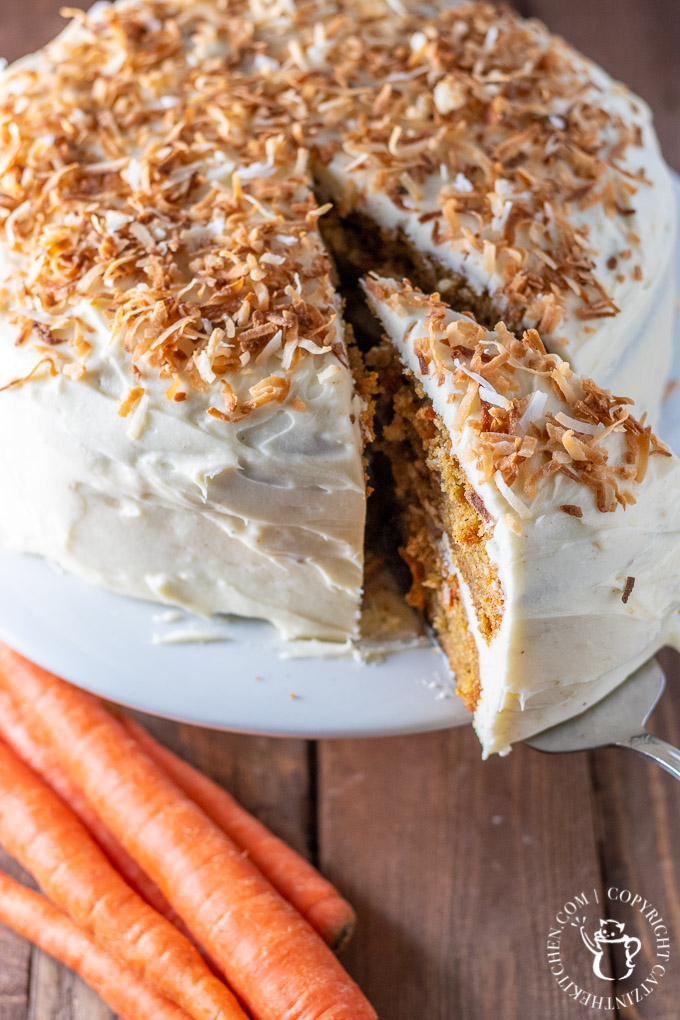 And the frosting, well, it's made with browned butter – need I say more? And since we're being honest and everything and we're all such good friends, I feel like I need to get something off my chest. I had leftover frosting from when I frosted the cake, and since I had to wait till morning to take these pictures because I ran out of light, I saved the frosting in case there were any blemishes from storing the cake in the fridge. I had forgotten about the leftover frosting in the fridge until the other day. It had been a long day. Christian had been teething and crying. I was exhausted from not getting enough sleep and I needed something. I started rummaging around our kitchen, expecting to find nothing because we don't keep snacky things in the house (unless you count fruit) – until I came to the fridge and I saw the container that held the leftover frosting. I just couldn't help myself! Luckily, I didn't eat all of it. But I was smart enough to tell Josh about my behavior when he got home from work, and he laughed at me because I had left finger marks in the frosting!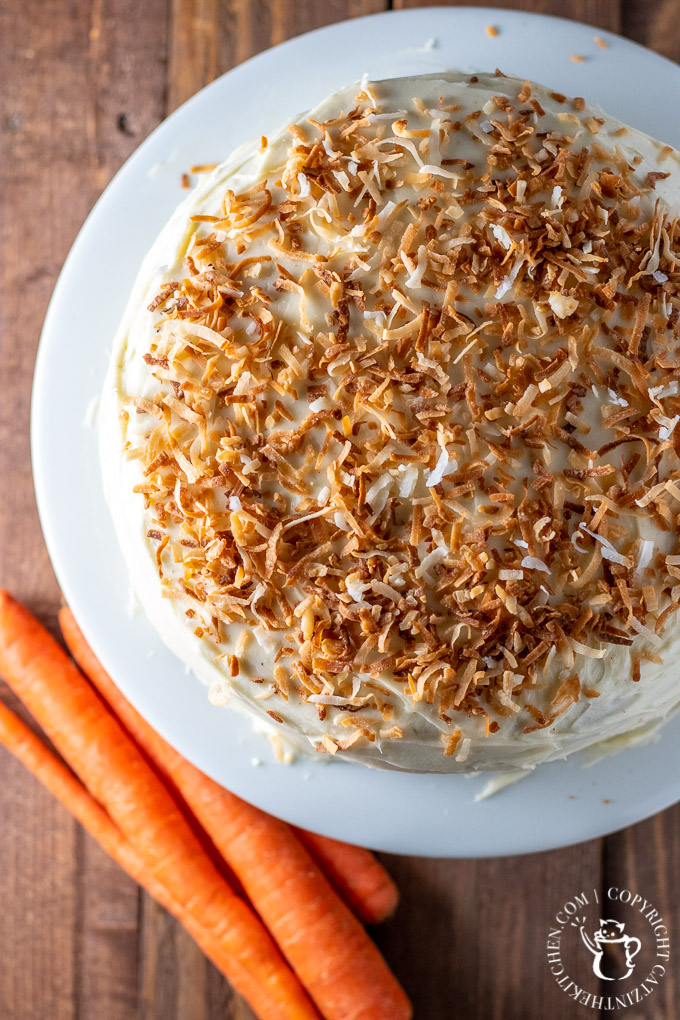 Long story short, I got rid of it. So, I no longer have anything to tempt me! That is until I make this cake again, which could be soon since Gracie is asking me to make this for her on her birthday.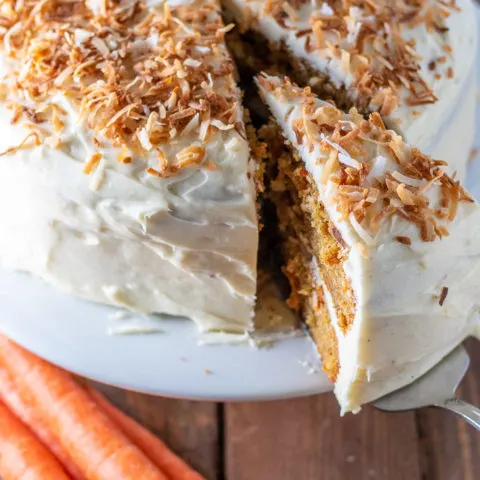 Carrot Cake with Browned Butter Cream Cheese Frosting
Additional Time:
15 minutes
Carrot cake is pretty amazing, but I've got a couple of ideas about how to improve it - one, lose the raisins. Two, add browned butter. Yep. Done.
Ingredients
Cake
2 cups (about 4-5 stalks) carrots, finely grated
3 eggs, room temp.
1 cup sugar
1 cup brown sugar
1 1/2 cups avocado oil (vegetable or canola oil will work too)
1/3 cup buttermilk
2 tsp vanilla extract
3 cups all purpose flour
1 tsp baking soda
2 tsp baking powder
1 tsp sea salt
1 tsp ground cinnamon
1/2 tsp ground nutmeg
1/2 tsp ground allspice
1/8 tsp ground cloves
Frosting
2 sticks (1 cup) unsalted butter, room temp
16 oz cream cheese, room temp.
Dash of sea salt
3 cups powdered sugar
1/3 cup shredded, sweetened coconut (for topping)
1 tsp vanilla extract
Instructions
Cake
Preheat oven to 350 degrees. Line and grease two 9' cake pans with parchment paper. In a large bowl, whisk together eggs, carrots, sugar, brown sugar, oil, buttermilk, and vanilla extract. To grate the carrots, I used this grater from Amazon - I love it.
In a medium sized bowl, whisk flour, baking soda, baking powder, sea salt, and spices. Pour dry mixture into the carrot mixed and stir until well-combined. I do all of this by hand with a wooden spoon or spatula to prevent it overtaxing the batter.
Evenly distribute the batter between the two cake pans and bake for 30-40 minutes or until a toothpick comes out clean when inserted into the middle of the cake. Place the cakes on a wire rack and allow to cool completely before removing them from the pans. Carefully loosen the edges of the cake from the side of the pan with a knife before inverting it on a wire rack.
Frosting
Place one stick of butter in a small pot on medium-high heat and melt down until the butter breaks down and gets nice and brown and nutty in aroma. Don't let it burn! Pour the browned butter into a small bowl and place in the fridge to cool for 15-20 minutes. When cooled, cream together the butter, browned butter, and cream cheese until smooth.Mix in the vanilla extract and salt.
Add powdered sugar one cup at a time, mixing well after each addition. Place one of the layers of cake on a cake stand and add a layer of frosting with an offset spatula and evenly spread it around. Place the top layer cake on top of the frosting and frost the rest of the cake with the offset spatula.
Preheat oven to 350 degrees. Spread sweetened shredded coconut on a baking sheet. Bake for 10-15 minutes - watch closely so it doesn't burn. Allow to cool. Garnish the top of the cake with toasted coconut.
Refrigerate cake. Serve at room temperature.
Nutrition Information:
Yield:

10
Amount Per Serving:
Calories:

923
Total Fat:

53g
Saturated Fat:

16g
Trans Fat:

0g
Unsaturated Fat:

34g
Cholesterol:

108mg
Sodium:

684mg
Carbohydrates:

105g
Fiber:

1g
Sugar:

73g
Protein:

9g
Nutrition information isn't always accurate.