For us, these easy Chicken Enchiladas are classic, one of few recipes we still make from our first year of marriage…you'll be hooked, too!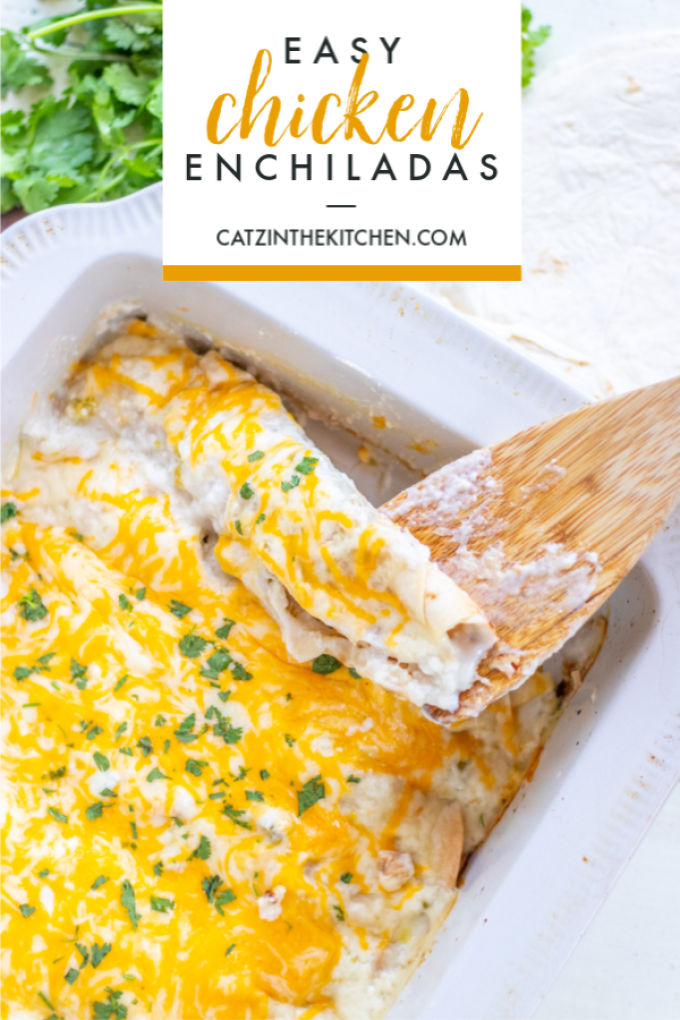 These delish easy chicken enchiladas originally appeared on Catz in Feb 2014. Well, maybe even earlier than that, but we'll never know! At any rate, we've been making them, in various guises, since our first year of marriage…which was in 2003! They've been rephotographed and the recipe has been tweaked, but they remain easy, yummy, and they never go out of style. Try 'em!
Annnoother Mexican dish for Mardi Gras! Ha! #sorrynotsorry. Maybe next year when Mardi Gras rolls around I'll surprise you with some creole cuisine. Until then, this is what ya get baby, so enjoy!
Actually, I'm really glad I fixed these enchiladas this week because seriously, I've got some mouth issues going on right now. I think my TMJ and wisdom teeth are out to get me because every time I open my mouth, pain. Every yawn, pain. I'm having to cut up my food into itty bitty tiny bites so that they aren't too big for me to eat. Yes, I'm saying I take big bites. Don't judge – you know you take extra big bites too when food is really good.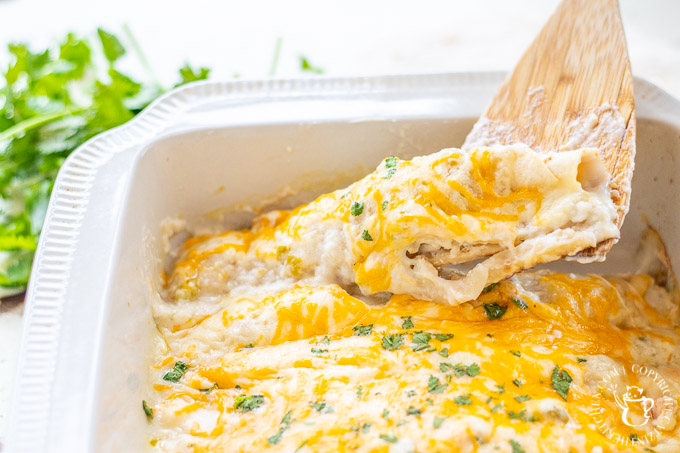 Yesterday, I tried eating a sandwich. Ouchie! Bad decision. So you know what I did, I coupled that bad decision with another one. I ransacked the kitchen until I found my daughter's package of Oreos and ate five…count em, FIVE Birthday Cake Oreos that had been dunked in milk. It was the only thing I could think of that was soft enough for me to chew. I'm sure I could have found a few other things. I mean, I've got kids in the house so there are many boxes of (ahem) off-brand macaroni and cheese and even a package or two of Top Ramen (what's that doing in my pantry?) that I could have whipped up. But ya know…Oreos (excuse me) Birthday Cake Oreos or off-brand macaroni and cheese? You would have chosen the Oreos, too. Don't even lie! The good news is, I went to grab a sixth (hangs head in shame) Oreo and put it back. I actually thought about it, before I ate it. Stupid, stupid. That's the problem with thinking. It makes you put that sixth Oreo back.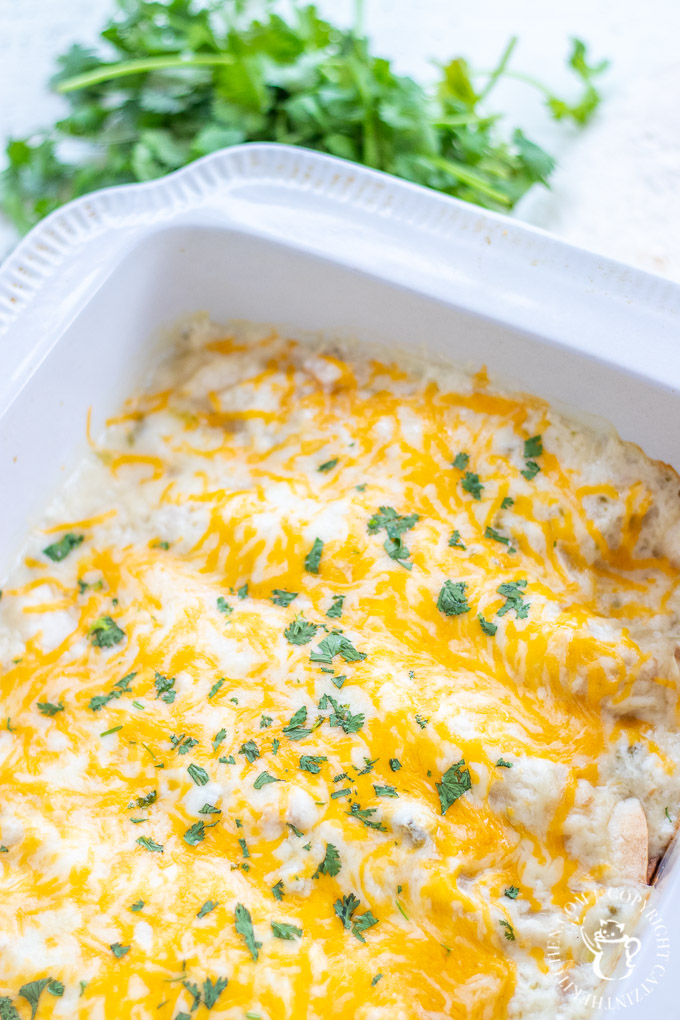 Haha, but, it's all good. You know why? Not only did my darling husband pick up more Excedrine so I could live a halfway normal life until my dentist appointment, but he also picked up ice cream. (Off-brand. Betta be good is all I'm saying!) So, for lunch today, I'll have the pleasure of scarfing chocolate chip mint ice cream (not my favorite flavor, but it was better than all those other off-brand ones that were available to me). Oh, woe is me. Ice cream for lunch. Whatever will I do?
I suppose I could have leftover chicken enchiladas?? They are that good. They are soft. So what if I have to cut them down into itty bitty tiny pieces. More filling than ice cream, I do know that!
So, these enchiladas – Josh has been making them for us ever since our first year of marriage. Back when I only had two cookbooks, this was one of the dinners he scrounged up for us in-between working and going to school full-time because I was also working two jobs and pregnant and lived with morning sickness all the nine months of that pregnancy. Oh, the joys. But this was one of the only dinners that would not make me sick. (That and the chicken parmesan he made me for our first married Valentine's Day together…he hasn't made it for me sense! Editor's note: not until a couple of nights ago! So good!) Anyways, but back when we didn't like onions and diced chilies (yeah, we didn't like a lot of things) we made this with only chicken and cheese. And it was great! But now that we like onions and green chilies, these enchiladas went from great to fantastic! Isn't that funny how things work out sometimes.
So…make these next Tuesday for Mardi Gras or just because it's taco Tuesday. Nobody said it had to be a taco just because it landed on a Tuesday. Enchiladas work great here, too.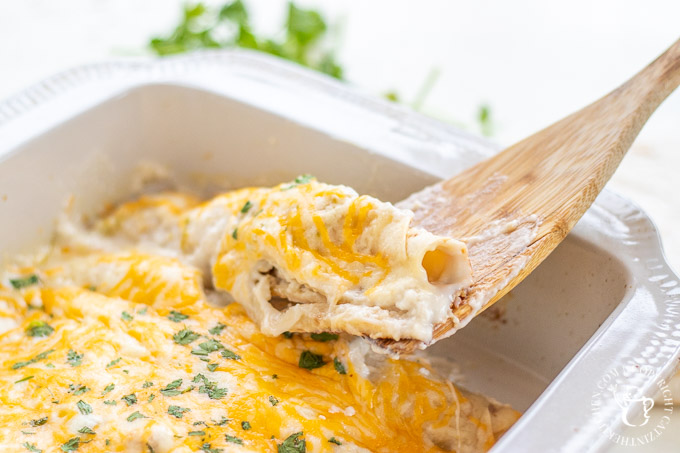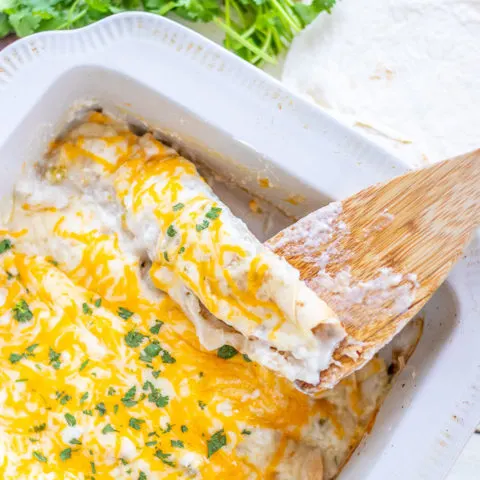 Easy Chicken Enchiladas
Total Time:
1 hour
10 minutes
For us, these easy Chicken Enchiladas are classic, one of few recipes we still make from our first year of marriage...you'll be hooked, too!
Ingredients
1/4 cup chopped onion
2 tbsp butter
1 4-ounce can diced green chili peppers, drained
1 3-ounce package cream cheese, softened
1 tbsp milk
1/4 tsp ground cumin
2 cups chopped cooked chicken (I used rotisserie)
12 7-inch flour tortillas
1 10 3/4 can condensed cream of chicken
1 8-ounce dairy sour cream (I really like the Daisy brand)
1 cup milk
3/4 cup shredded Mexican cheese
2-3 tbsp freshly chopped cilantro
Instructions
Preheat oven to 350 degrees and grease a 9x13 baking dish, set aside.In a medium skillet sauté the onions in melted butter over medium-low heat until onion is tender. Stir in one tablespoon of the green chilis peppers, reserve the rest for the sauce.
In a medium bowl, combine the cream cheese, 1 tbsp milk, and cumin and stir until combined. Add onion and peppers mixture along with the chopped chicken. Spoon about 3 tablespoons of the chicken mixture onto each tortilla near one edge; roll the tortilla and place seam side down on the greased baking dish. Set aside
For sauce, in a medium bowl combine the reserved chili peppers, soup, sour cream, and 1 cup milk. Pour evenly over the tortillas in the baking dish. Cover with foil and bake for 35 minutes or until heated through. Remove foil and sprinkle with cheese. Return to oven; bake about 5 minutes or until cheese melts. Remove from oven and sprinkle with chopped cilantro.
Notes
Recipe from: The Better Homes and Garden Cookbook
Nutrition Information:
Yield:

6
Serving Size:

2
Amount Per Serving:
Calories:

1152
Total Fat:

65g
Saturated Fat:

25g
Trans Fat:

0g
Unsaturated Fat:

32g
Cholesterol:

150mg
Sodium:

4495mg
Carbohydrates:

101g
Fiber:

4g
Sugar:

6g
Protein:

40g