Busy family? This One Pan Spanish Rice Bake is for you. Other than the produce, it's a pantry meal, and it also comes together in a single pot!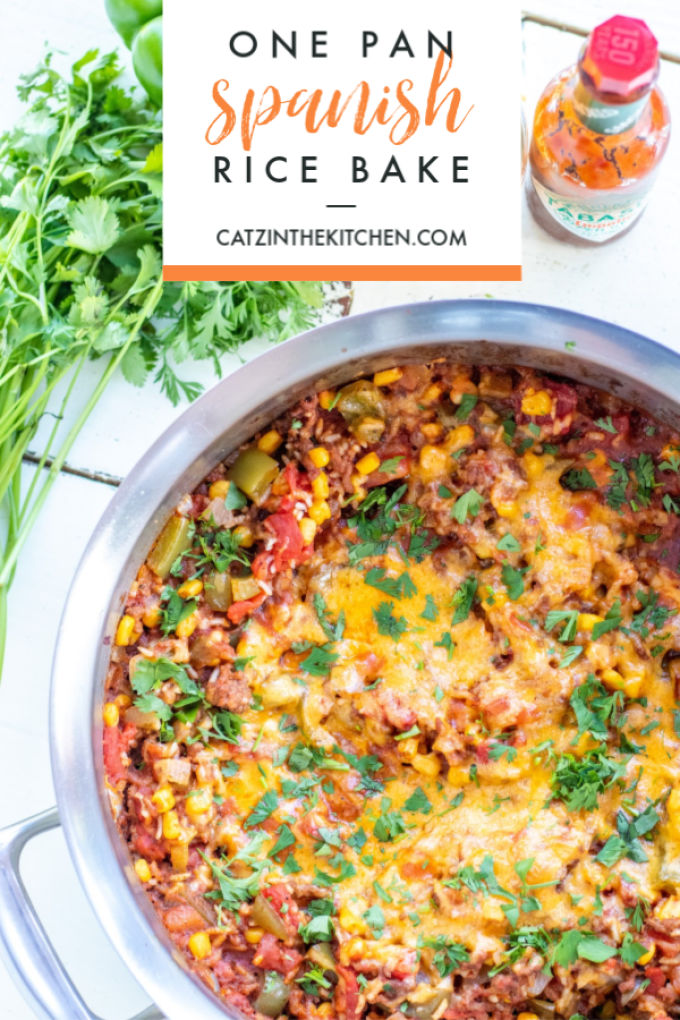 Isn't it funny how you think when school is finally over for the year, you're going to have so much more time on your hands? Not true. I'm still trying to figure out how to stretch the day out so I can get as much done as possible. Which is ironic because I am actually very organized! I swear! I've got a plan for each day and a list that I cross off as I accomplish things, but this week, I'm running behind and I don't even know how it happened.
Maybe you're in the same boat as I am. I wake up at 5:30 every morning Monday – Friday so I have time to read and study the Bible and pray before I begin my "work day" (if you will). I always aim to get as much "blog related" stuff done as I can before the kids wake up so that I can spend the rest of the day with them and getting chores done and still have time to workout, make dinner, and if I'm lucky, read. I'll be honest, the reading is usually the last thing I'm able to fit into my day before I turn my light out…and it's not even every night.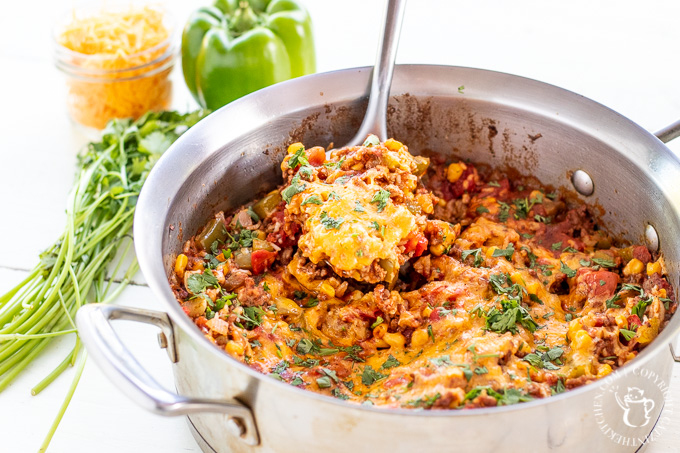 Speaking of which, I just finished reading Washington: A Life (affiliate) and you guessed it, it's a massive (to me!) 800+ page biography on George Washington (aka my historical crush). It is a worthy read to make time for. I started the book in October and just finished it…so that means it only took me eight months to read the book! Also, for some ambitiously unknown reason I decided to read 35 books this year according to my Goodreads account…apparently I still have 31 books to read which makes me 12 books behind schedule.
#winningbutnotreally
This meal is perfect for us busy individuals (that's pretty much everyone) who are also trying to squeeze every last second out of the day. It is another pantry meal (yay) and it's also a one pot meal!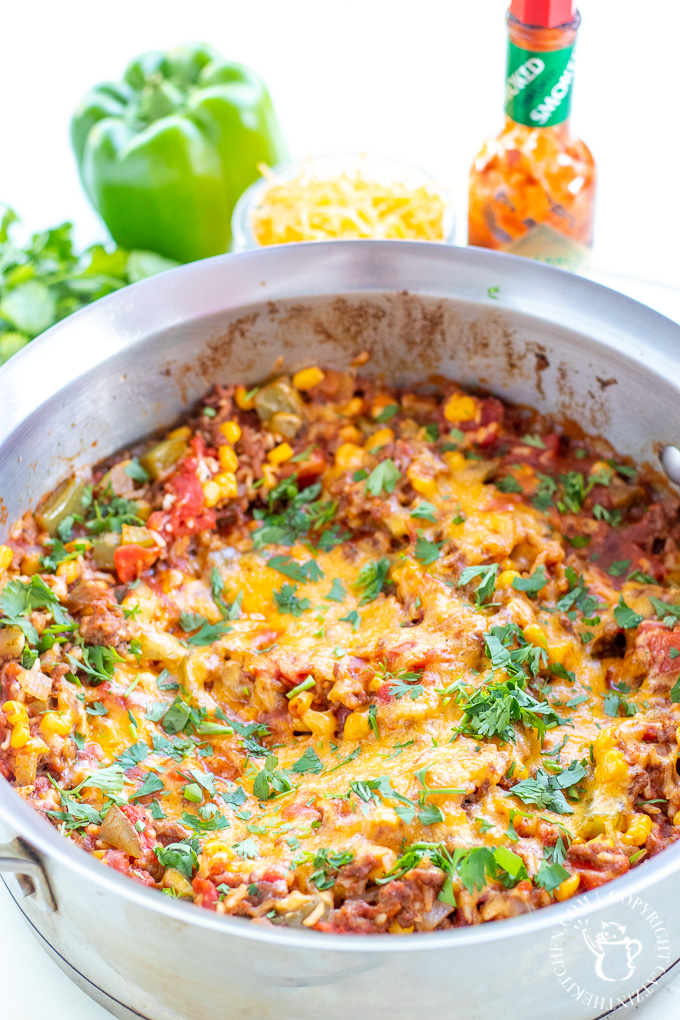 I originally made this dish when Josh was out of town, testing to see how well it all came together (you never know when you incorporate rice into one of these dishes – sometimes they just don't seem to get cooked) and it was awesome. I made tweaks to the recipe before finally making it for Josh and the rest of the family one evening and it was a hit!
I'm not even lying! When the whole family eats the food I put on their plate and there are no leftovers…I think that is a pretty good testament of how good this was and it was easy and so, so cheap!
Other than the produce – onion, bell pepper, and cilantro – I keep every other ingredient for this dinner on hand in my pantry at all times, including the ground beef, which I like to buy from Costco.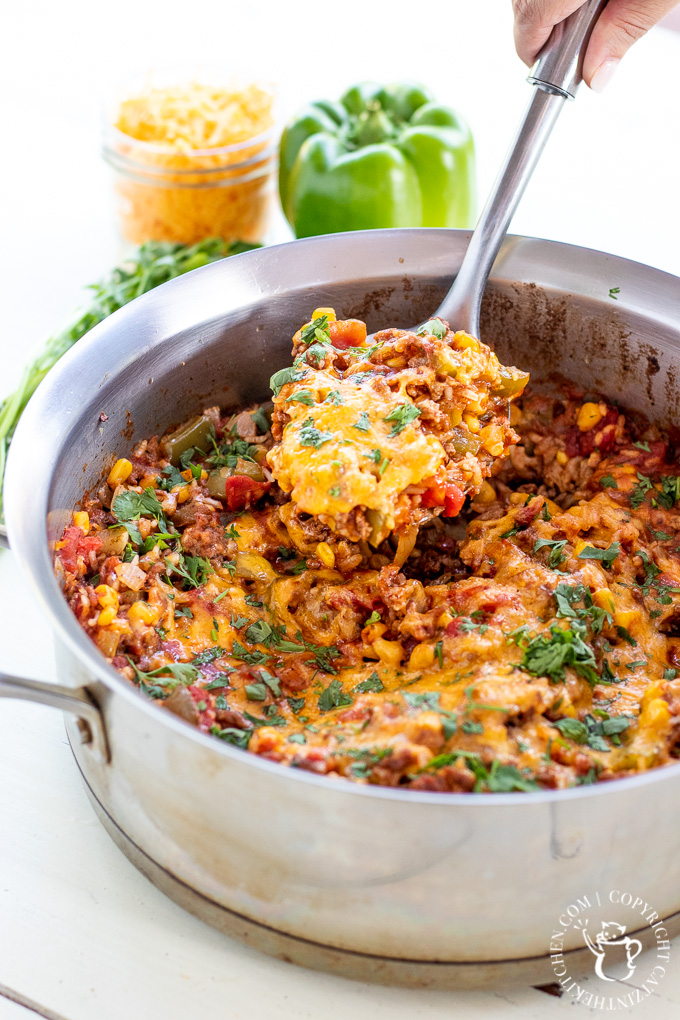 My only caution for this recipe is that you want to make sure that the pot/skillet you're using is either large or high-sided, oven safe, and has a lid. Those are the only requirements of this recipe. Other than that, it's a piece of cake.
#winning
One Pan Spanish Rice Bake
Total Time:
1 hour
10 minutes
Busy family? This One Pan Spanish Rice Bake is for you. Other than the produce, it's a pantry meal, and it also comes together in a single pot!
Ingredients
1 lb. lean ground beef
1/2 onion, finely chopped (about 1 cup)
1 green bell pepper, chopped
1 (14.5 oz) can diced tomatoes
1 (15.2 oz) can golden corn, drained
1 (16 oz) jar mild salsa (about 1 1/2 cups)
3/4 cup white, long grained rice
1/4 cup water
1 tsp smoked paprika
1/2 tsp ground cumin
1 tsp salt
1 tsp brown sugar
1/2 tsp ground black pepper
1/2 tsp Worcestershire sauce
1 cup shredded cheddar cheese ( I used a Mexican blend)
Instructions
Brown beef in a large, ovenproof skillet or high-sided pan (with lid) over medium-high heat. Stir in onion and allow to cook for a few minutes to soften, about 2-3 minutes. Stir in remaining ingredients, except the cheese and cilantro. Brig mixture to a boil. Stir only once, then cover tightly and cook, covered on low heat for 30 minutes.
While rice mixture is cooking on low, preheat oven to 375 degrees. Uncover rice mixture after 30 minutes, stir and sprinkle with 1/2 cup cheese and place the skillet or high-sided pan in oven and bake just until the cheese is melted and bubbly, 10-15 minutes. Sprinkle with cilantro and serve.