These tangy, tasty buffalo chicken burgers are a serious taste explosion – just make sure you've got enough mayo to go around!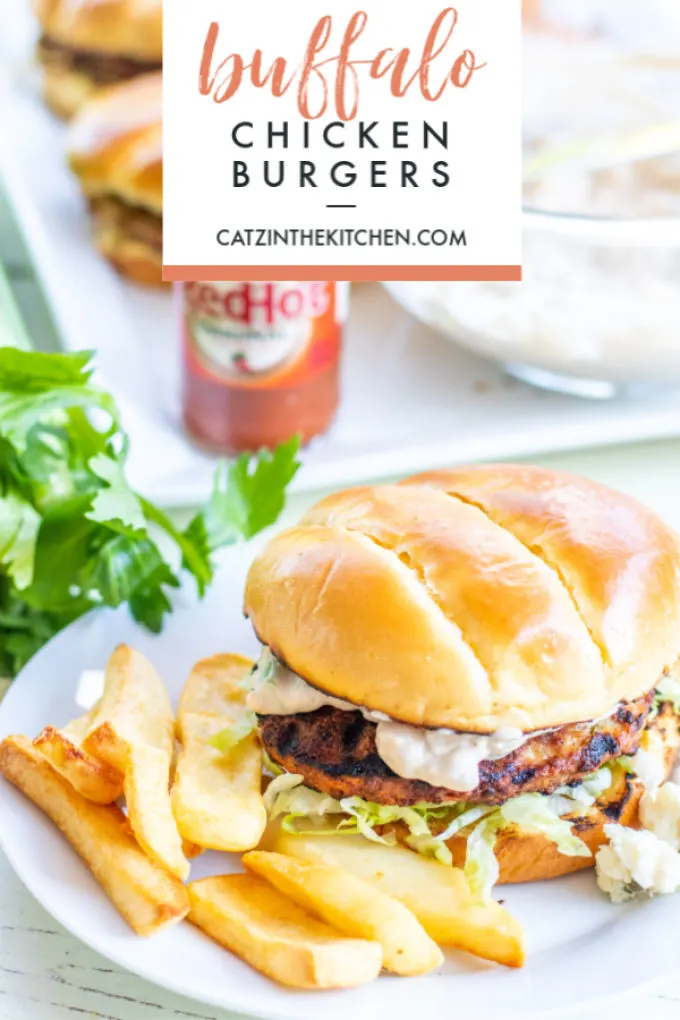 This post originally appeared on Catz in October of 2014. To be honest, we made it in the fall, which meant that by the time the spring came around, we'd kind of forgotten about it! Chels remembered it a couple of weeks ago, and put it on the Weekly Menu. These buffalo chicken burgers are so good! I grilled the burgers and she made the blue cheese mayo (and, of course, we reshot the pictures). So, so good! Make them…and then put them into permanent rotation on your own summer menu! Also, a side note from the last paragraph of this post – being a bit more judicious about how long the patties were on the grill and especially where they were on the grill allowed me not to dry them out as much – and they got a nice glazed crust on them as well!
I have referred in the past to my obsession with all things Weber. It's a relatively recent one, born of my decision to return my recently purchased gas grill in favor of a traditional Weber kettle and the accompanying accessories. At any rate, one of the things Weber does for their "members," is send out weekly recipes to try on the grill. Generally, they look absolutely fantastic, and I've stashed away about thirty of them that I want to try. Our grilling season is pretty short here in the Pacific Northwest, but I did manage to sneak this one in at the end of September when the weather still allowed for it!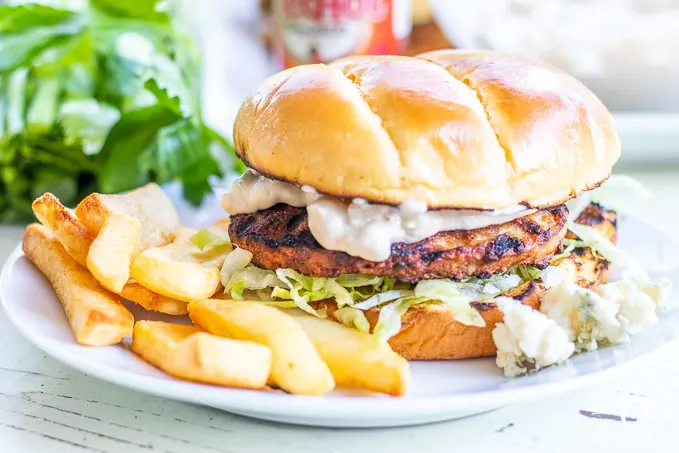 Truthfully, I don't know that we've ever prepared or tried a buffalo anything, though we do cook with blue cheese a lot, as our kids are crazy about it (especially Eden!). The recipe looked too good not to try. Typically, with buffalo-flavored or themed appetizers or entrees I've tried at restaurants and the like, the buffalo flavor is spicy and the blue cheese cools it down, which is a pleasing and interesting flavor "journey" as you eat. On top of that, I love making custom mayos, so this recipe seemed to have quite a bit to offer.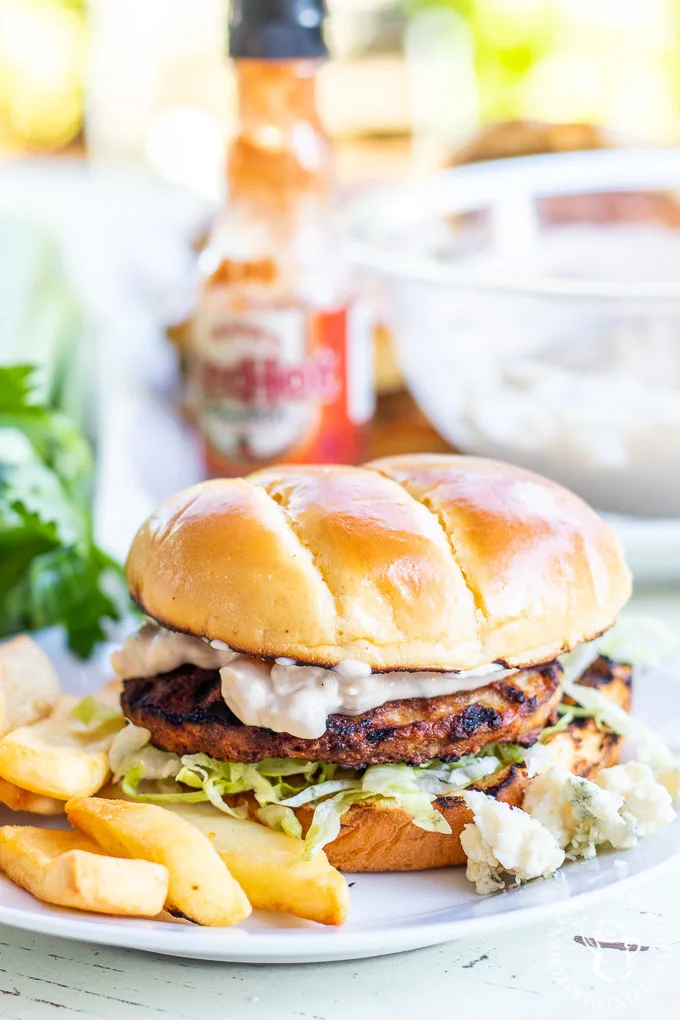 The burgers turned out fine, but, being chicken, a bit dry. Normally, I think a hefty topping of mayo would solve that problem. However, this mayo recipe, while very tasty, didn't make nearly enough. I would absolutely double it if you're thinking of trying this one. Each of us around the table was left wanting for more mayo to both offset the tanginess of the burger and add moisture to counter the dryness of the patty. That being said, though, I think the flavors were excellent, and it was a very easy recipe to make. Double the mayo, and you're good! In fact, I'll go ahead and double it in my recipe below…enjoy!
Buffalo Chicken Burgers with Blue Cheese Mayo
These tangy, tasty buffalo chicken burgers are a serious taste explosion – just make sure you've got enough blue cheese mayo to go around!
Ingredients
1 1/4 lbs ground chicken
1/2 cup panko bread crumbs
3 tbsp hot pepper sauce
2 tbsp chopped chives
1/2 tsp kosher salt
about 2 tbsp extra virgin olive oil
4 hamburger buns
4 leaves of iceberg lettuce, sliced
2/3 cup mayonnaise
2/3 cup crumbled blue cheese
4 tsp apple cider vinegar
2 tsp hot pepper sauce
1 rib celery, sliced crosswise
Instructions
Combine mayo, blue cheese, vinegar, and 2 tsp hot pepper sauce in a bowl and mash with a fork. Stir in celery and refrigerate until time to serve.

Preheat a grill to medium heat and setup for direct cooking.

Mix chicken, panko, 3 tbsp hot pepper sauce (adjust to taste), chives, and salt in a bowl, and then form into four equally sized balls. Preferably using a burger press, form the balls into patties. With a spoon, make a light indentation in the top of each patty.

Brush the patties with the olive oil, and then grill for about 4 to 5 minutes per side, or until cooked through (for chicken, about 165 degrees).

Lightly toast the buns, and then serve immediately topped with lettuce and mayo.

Nutrition Information:
Yield:

4
Serving Size:

1
Amount Per Serving:
Calories:

846
Total Fat:

59g
Saturated Fat:

14g
Trans Fat:

0g
Unsaturated Fat:

42g
Cholesterol:

184mg
Sodium:

1571mg
Carbohydrates:

35g
Fiber:

2g
Sugar:

5g
Protein:

45g