As back to school season sets in, baking up some of this oven barbecue chicken is a great, easy way to hang on to the flavors of summer!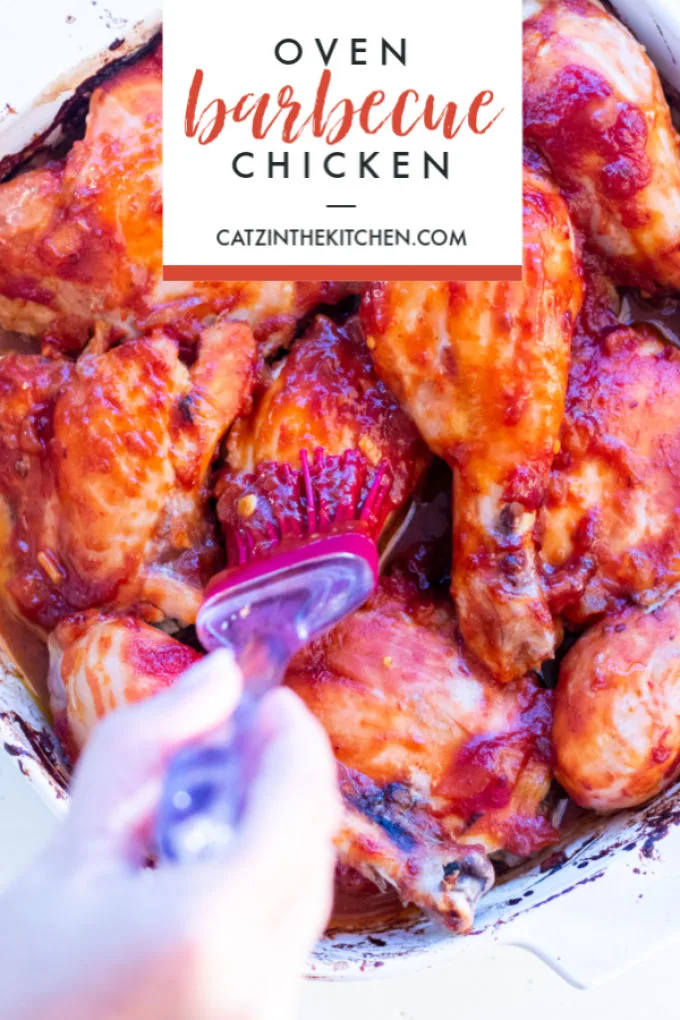 One of the things I always find myself missing after summer has departed and the cold weather sets in and it seems no longer feasible to grill outside…is barbecue chicken. There is just something about the way it tastes that makes me wish it was still summer. Especially this year because our summer seemed to skip by us. We got some weird combination of spring and summer…sprimmer, if you will. And I didn't like it one bit. I feel jipped and forgotten by summer (though, in all fairness…it's like 98 degrees outside today, so perhaps there is hope yet).
In fact, one of the nights I tested this recipe out on family back in June was on a stormy summer night. I'm not kidding – the rain poured so hard that I thought we were going to get swept away and the wind and lightning was so bad that it took out our stop lights and power lines in town. My brother-in-law's car was hit by a falling tree branch that caught on fire! Thankfully he was unhurt, but his truck was another story – thank goodness for insurance. Needless to say, my brother didn't make it over to our house for dinner. But I sent him home a lemon bar I tested earlier that week – no barbecue chicken for him, though, poor guy.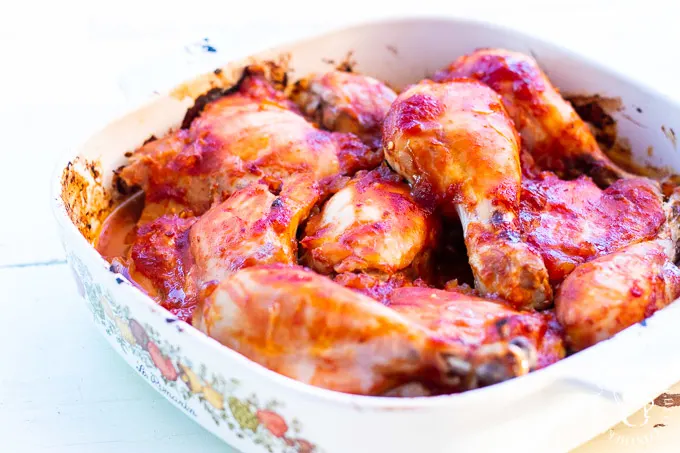 I should mention that both the chicken and the lemon bars were a hit, though it's the chicken we're talking about today and it is so good – everything I like about a nice piece of summer barbecue chicken, minus the grill marks. If you're really missing that charcoal flavor, you could always broil the chicken for a few minutes when it's done cooking, but I don't personally think it's necessary.
One of the reasons I find this recipe to be a winner, aside from the fact that I think it's pretty simple, is that it's a great way to mix up your chicken dinner nights now that school has started back up. Chicken dinner that tastes like summer is sure to excite those kiddos (or…at least…this parent). They'll love getting their fingers all saucy again, so yes, it is also kid-friendly! All four of my kids ate it and enjoyed it and asked why I hadn't made more!
Now I know for the future – I should probably double it for them because it is so popular! The recipe listed below is not doubled, however, I made it that way before and I must say that it baked up up perfectly.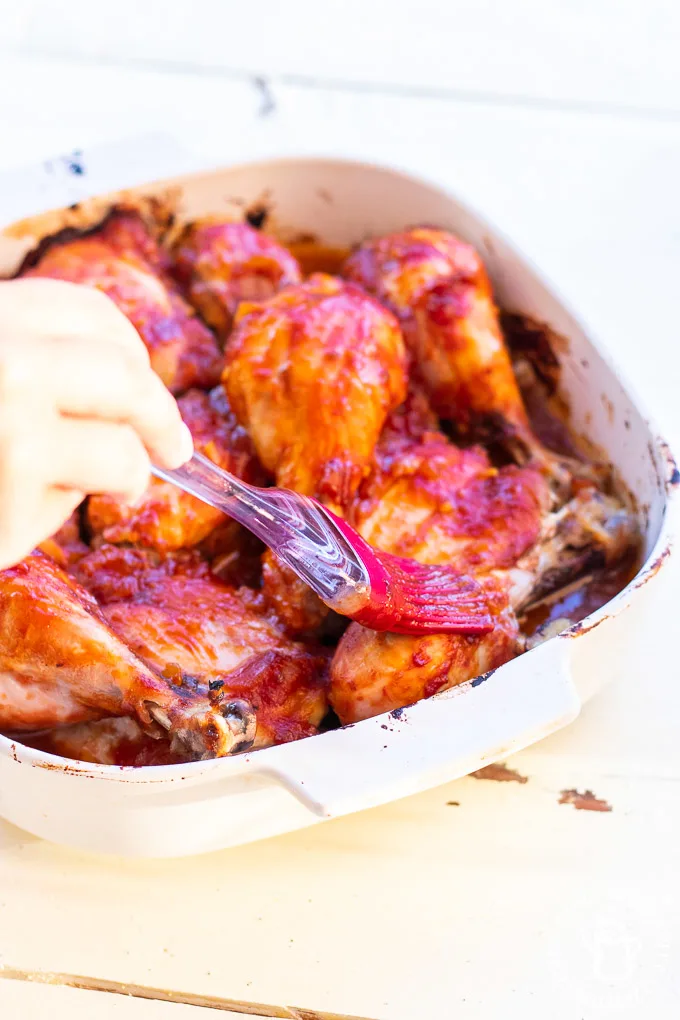 I would also like to point out that this is a great meal to bring to someone. Bake it in one of those foil disposable containers, sauce it up, reserve extra sauce for topping, and wrap it tightly in foil – it will keep perfectly! And if you're wondering what goes good on the side with this? Well…what doesn't? I've served my macaroni salad with it. Fries, tots, or potatoes of any kind would go great. I kept it simple the night we photographed this, though, and I made a really simple kale salad – that was surprisingly popular with the kiddos (thought I would have to do a bit more convincing to get the kids to eat that, lol) and warmed some olive bread that I had bought on sale and froze awhile back. It was a really simple dinner pairing, but I didn't have any leftovers.
I'm just telling you, friends, dinner does not have to be a huge show. Whether you're serving this oven barbecue chicken for just your family, having company over for dinner, or bringing a meal to someone, just serving others a nice meal is enough.
Let me know how you enjoyed this oven barbecue chicken! Take a picture and tag me on instagram @Chels_Catzinthekitchen or shoot me a picture on the Catz Fb page!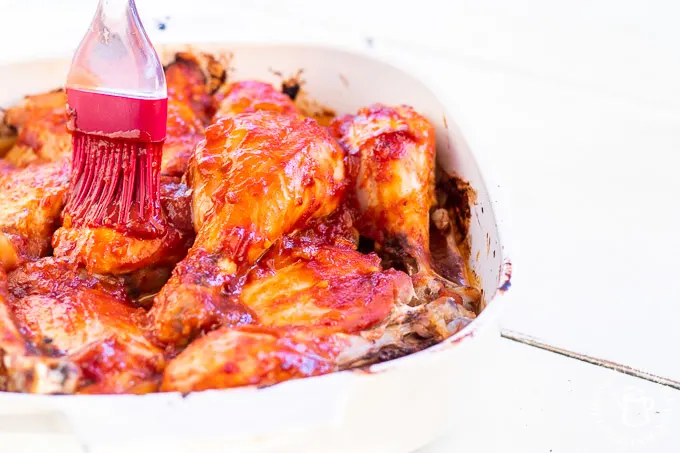 Oven Barbecue Chicken
As back to school season sets in, baking up some of this oven barbecue chicken is a great, easy way to hang on to the flavors of summer!
Ingredients
2 1/2 to 3 lbs bone-in chicken thighs and leggs
1/2 cup chopped onion
2 cloves garlic, minced
1 tbsp cooking oil (I used olive oil)
3/4 cup bottled chili sauce
2 tbsp honey (agave works too)
2 tbsp soy sauce (coconut amino acid works too)
1 tbsp yellow mustard
1/2 tsp horseradish
1/4 tsp crushed red pepper
Instructions
Preheat oven to 375 degrees. Remove skin from chicken, using the paper towel method I mention in the Oven Baked Fried Chicken post. (There is also a saved highlight under "Cooking Tips" on my IG page.) Arrange chicken pieces, bone side up in a baking dish. Bake in oven for 25 minutes.
While the chicken is baking, combine the onion and garlic in a saucepan and cook in oil on medium heat until soft and tender. Stir in chili sauce, honey, soy sauce, mustard, horseradish, and chili powder; heat through. Divide the sauce in half.
Using half of the sauce, gently baste the chicken that is skin side up with sauce. Turn chicken over and baste the rest of the chicken with sauce (reserving the other half of the mixture for when the chicken is fully cooked.) Bake for 20-30 minutes, or until chicken is no longer pink (180 degrees for thighs and drumsticks). Reheat remaining sauce and baste over cooked chicken just before serving.
Notes
Recipe from Better Homes and Garden Cookbook