This easy recipe for slow cooker veggie lasagna is one of those crazy-day busy-parent end-of-day lifesaver kind of meals! Plus…leftovers!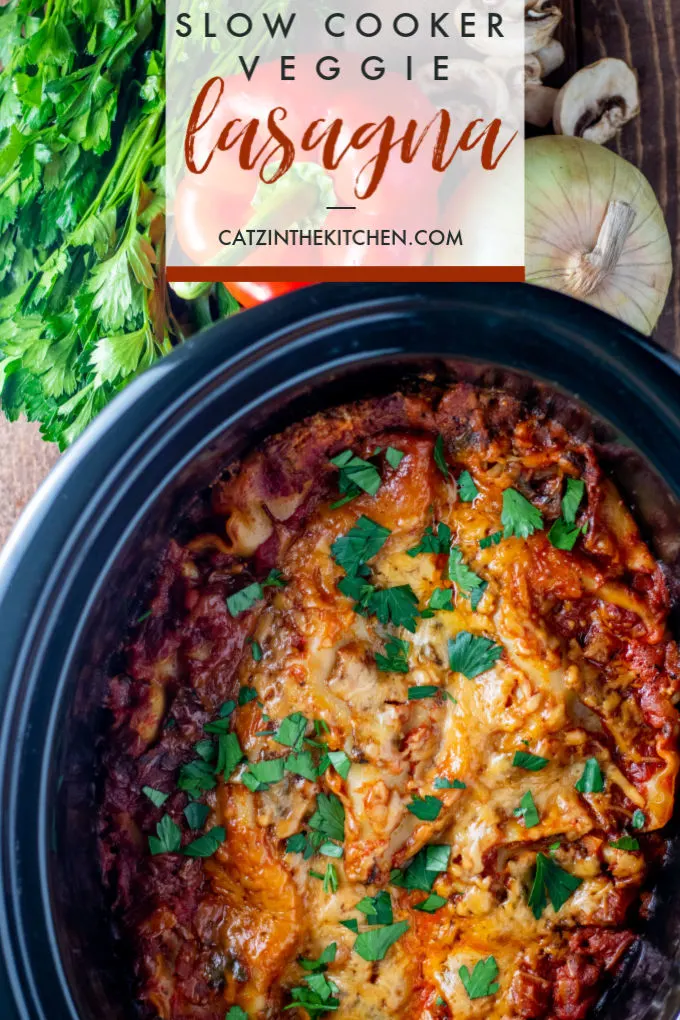 I'm going to tell you something, this recipe saved my life one evening. On a particular day back in October, Grace had a minor oral surgery to help bring a few teeth up with her braces, and nothing went as planned that day in regards to the surgery. It started later and was full of complications, leaving me and poor Grace not getting home from the appointment with the younger three kids until after 4 pm with nothing planned for dinner and needing something soft for Grace that evening.
Enter this slow cooker veggie lasagna. Miraculously, I had everything on hand to make this recipe (which was amazing, I mean, how often does that happen?) and get it in the crockpot and cook it on high so that dinner was on time and delicious – just as if that had been my plan all along!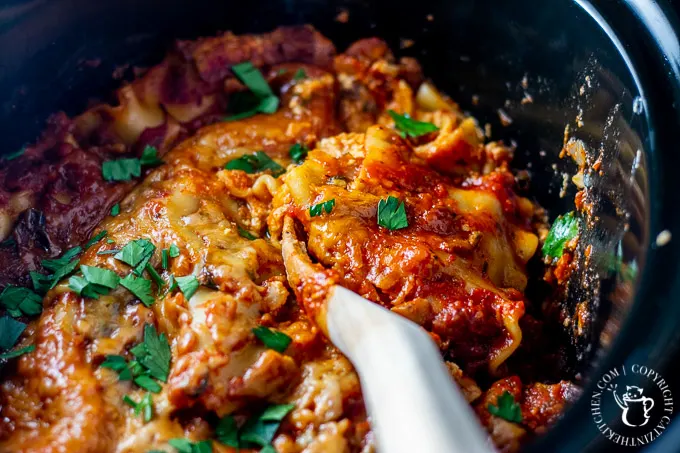 Which is why I'm sharing it with you today. If this recipe can save my life in an evening, making it so I don't have to buy dinner out, perhaps it can do the same thing for you!
I don't know if you've ever made lasagna in the slow cooker before. I was a little nervous just because I wasn't sure how quickly things would cook up or if it would end up like a…lasagna…if you know what I mean. But, one of my sisters makes a fantastic lasagna in her slow cooker (I believer her version has meat in it), and every time it is amazing. So on days when you want the flavor and comfort of lasagna, but are short on time and maybe even traditional ingredients, I cannot recommend this recipe enough.
Now, when I came across this recipe, I had exactly the same kinds of ingredients the blogger shares in her post: onion, spinach, peppers, and mushrooms – I also had the ricotta on hand for a recipe I was going to test (but never ended up making). Everything else was pantry ingredients, but I think you could use any produce you have on hand, like maybe zucchini, olives, or mini peppers. I would even suggest throwing some meat into it if you have it already prepared in the fridge, like beef, chicken or sausage. I would go as far as to say that even if you don't have ricotta on hand, cottage cheese works great in a pinch.
This is why I so often talk about the importance of having a well-stocked freezer, pantry, and fridge, so when you find yourself in those unexpected moments where your day goes off the rails, you have trusty back up meals that you can throw together in a pinch – and I think it's worth mentioning, that while I rarely use the "high" heat when cooking meals with my slow cooker, it worked out really well in this case. I would say that for me, two hours cooked on high was perfect.
I really don't think you'll miss the meat in this recipe, and while I am not the biggest fan of mushrooms – they are something I've been cooking with more often so I can get used to them – I did really enjoy them here. I recommend using fresh, not the canned stuff.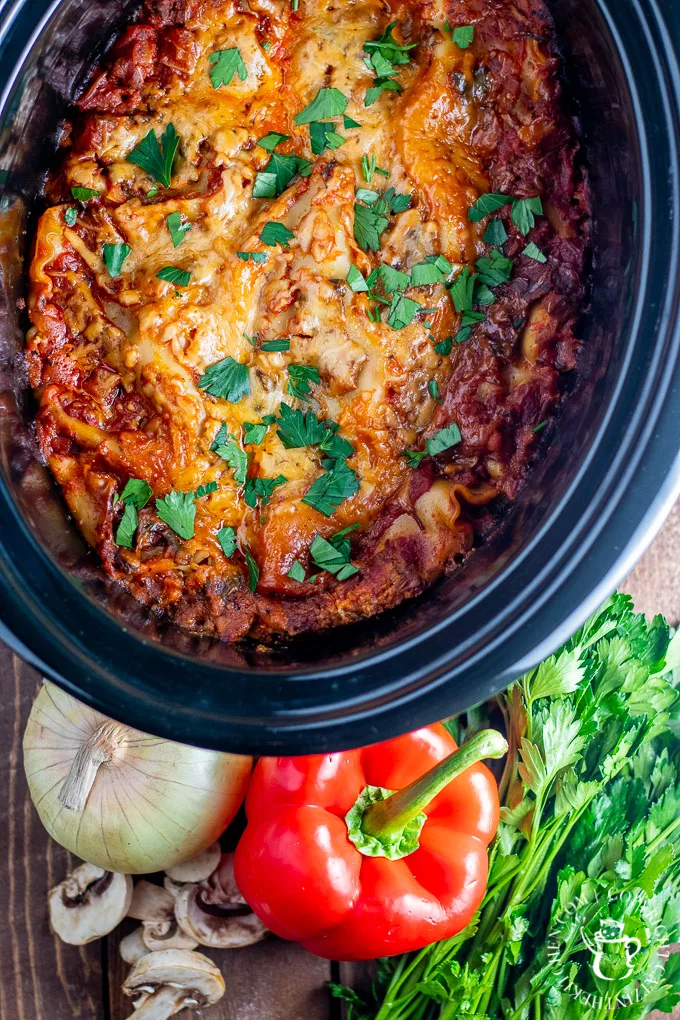 Just a personal preference. But, in this case, you do you!
One last final note, Grace ate the leftovers of this meal (because it was soft to eat) a day or two later and said it was excellent, reheated really well, and she enjoyed it. Something to look forward to if you've got leftovers, too!
Slow Cooker Veggie Lasagna
Total Time:
4 hours
15 minutes
This easy recipe for slow cooker veggie lasagna is one of those crazy-day busy-parent end-of-day lifesaver kind of meals! Plus...leftovers!
Ingredients
24 oz marinara sauce + 1 additional cup
9 long lasagna noodles, broken in half and uncooked. (Oven ready lasagna noodles work here too)
3 cups chopped veggies (I used two bell peppers, onion, spinach, and mushrooms)
2-3 cloves garlic, minced
1 1/2 TBSP olive oil
1 (15 oz) container, ricotta cheese
1 cup shredded Mozzarella cheese - reserve 1/4 cup
1 cup shredded Parmesan cheese - reserve 1/4 cup
1 egg
Optional: Fresh basil or parsley: chopped finely
Instructions
In a bowl, combine 3/4 cup of each cheese, egg, and ricotta and mix together until evenly combined. Set aside.
In a high-sided skillet, heat olive oil over medium heat, add minced garlic and saute chopped veggies (of your choosing) for 3-4 minutes. Add marinara sauce, mix together, and remove from heat.
In the bottom of a 6qt. or larger slow-cooker, spread 1/4 of the mixture. Add 3 off the uncooked lasagna noodles, breaking apart to fit. Spread half of the ricotta mixture over the noodles, add the marinara sauce on top (save enough sauce for two more layers), followed by three more lasagna noodles, broken in half to fit, the rest of the ricotta mixture, more sauce, three more noodles, and the remaining marinara sauce mixture. Sprinkle the half cup of remaining cheese mixture (1/4 cup of each: mozzarella & parmesan) over the sauce.
In the end, you will have four layers of noodles, three layers of marinara sauce, and two layers of ricotta. Cover and cook on low for 4-5 hours or 2-3 hours on high, or until liquid is absorbed. Be sure to not overcook and burn the bottom of the lasagna. Serve and top with fresh basil or parsley.
Nutrition Information:
Yield:

8
Serving Size:

1
Amount Per Serving:
Calories:

241
Total Fat:

8g
Saturated Fat:

2g
Trans Fat:

0g
Unsaturated Fat:

5g
Cholesterol:

34mg
Sodium:

535mg
Carbohydrates:

32g
Fiber:

5g
Sugar:

7g
Protein:

10g