Craving a fried egg sandwich with a bigger flavor profile? Let this bacon, balsamic, and argula fried egg sandwich come to your rescue!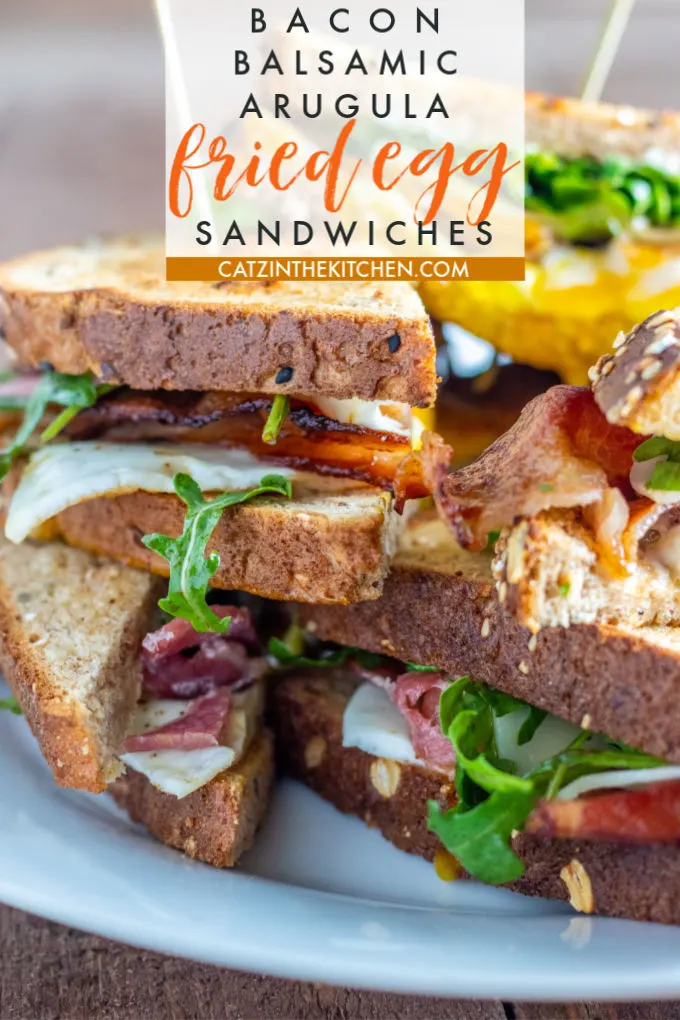 This post originally appeared on Catz in June of 2013! Apparently, it was our one and only go at "fried egg sandwich" week, which, I have to say, sounds like something we ought to do again…At any rate, seven years later, we made these sandwiches again for a get-together with a few of my siblings, and we decided to take some updated pictures and re-share the recipe. It is wonderfully tasty!
Welcome to fried egg sandwich week here at Catz! This first offering is probably the most traditional of the three we're blogging this week, though none of them are overly so. When we were up visiting my sister and brother-in-law a few weeks ago in northeastern Washington, they invited us to join in their Sunday night tradition of fried egg sandwiches and smoothies! It may sound like an odd combination, but it works, and we love both fried egg sandwiches and smoothies, so we were sold. We got home from that trip on a Thursday night, and the very next Sunday we decided to give it a go ourselves.
I've been trying to do a better job of keeping arugula around the house lately (and now we have Aruguzilla growing in our garden…), and we always have balsamic vinegar, so I thought, why not get a bit creative with the concept of the fried egg sandwich and see where it goes? Arugula tossed in balsamic vinegar and olive oil with a bit of lemon juice and sea salt pairs nicely with many a savory entree…why not this? And so it began.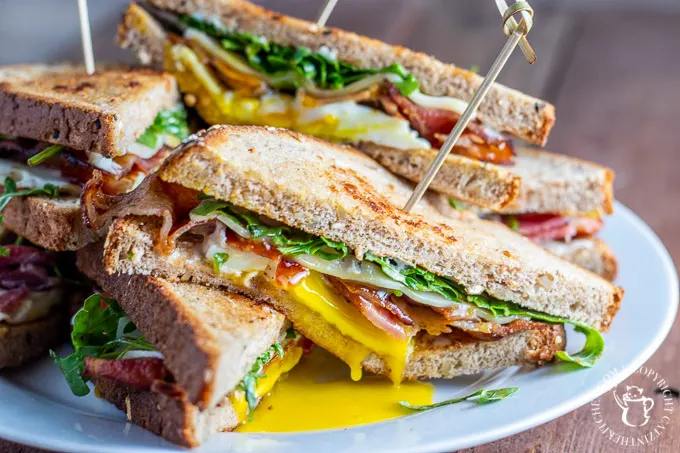 I grilled up some wheat bread in our grill pan, pan fried a little bacon, tossed my arugula, and broke out the provolone. Now, we tried these sandwiches with both parmesan and provolone (separately), as I wasn't sure which would be the better fit. Surprisingly, at least to me, provolone was the clear winner according to each and every palate at the table that night. I had to go back and remind myself that provolone is an Italian cheese as well, even though we are used to seeing it primarily in subs and Philly cheesesteaks! At any rate, add a few over easy farm fresh eggs to the mix, and we found ourselves in business. These are some majorly tasty little sandwiches. Don't believe me? Try them and see.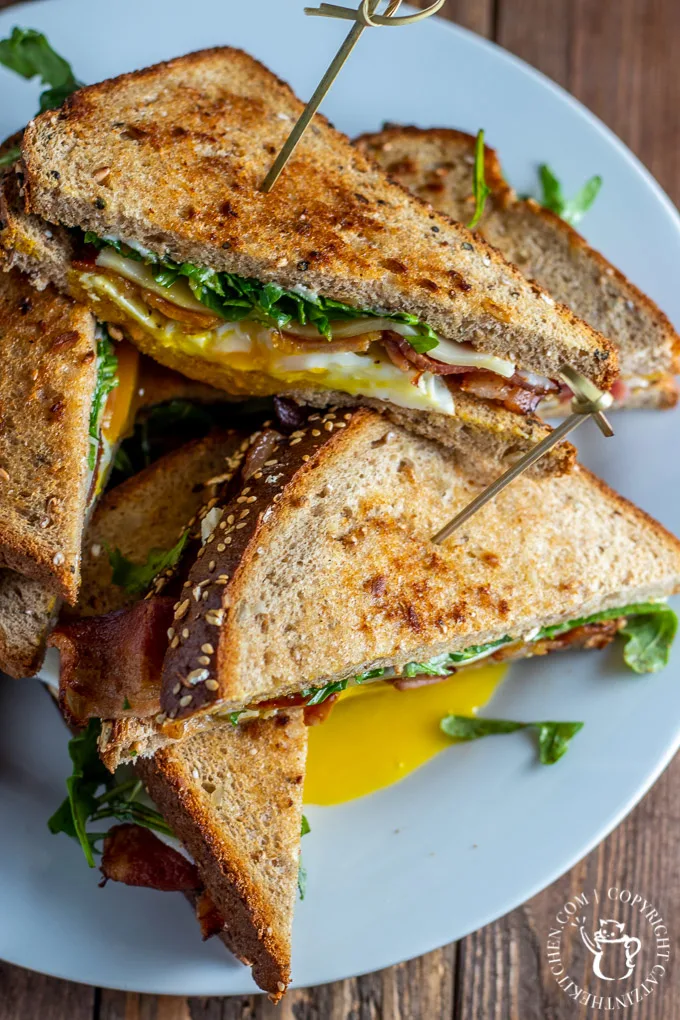 Bacon Balsamic and Arugula Fried Egg Sandwich
Craving a fried egg sandwich with a bigger flavor profile? Let this bacon, balsamic, and arugula fried egg sandwich come to your rescue!
Ingredients
8 slices bread (almost any variety will work)
4 slices provolone cheese
4 large eggs
8 slices bacon
2 cups arugula
sea salt
1 tbsp olive oil
1 tbsp balsamic vinegar
lemon juice
butter
black pepper
mayonnaise
horseradish
Instructions
Add arugula to a medium bowl. Add olive oil, balsamic vinegar, a splash of lemon juice, and a sprinkling of sea salt. Toss by hand.
Pan fry bacon to desired doneness.
Spread butter lightly on one side of each piece of bread (skip this step if using toaster oven).
Heat grill pan to medium heat and lightly grill bread on buttered side. Keep warm in 200 degree oven (if using toaster oven, toast bread while preparing eggs in step 5 below).
Melt a small amount of butter in a large frying pan. When heated to medium heat, crack eggs into pan carefully, avoiding disturbing the yolk. Grind black pepper lightly over eggs while frying.

When eggs are well set, and underside is lightly browned, flip eggs gently. Fry for an additional ten seconds on the yolk side, and then remove from heat.
Lay one piece of bread grilled side down. Spread a small amount of horseradish on the top of the slice. Add egg, and top with bacon, provolone, and arugula. Top with another piece of bread, grilled side up, with a small amount of mayonnaise on the ungrilled side. Repeat for remaining sandwiches.
Nutrition Information:
Yield:

4
Serving Size:

1
Amount Per Serving:
Calories:

530
Total Fat:

31g
Saturated Fat:

12g
Trans Fat:

0g
Unsaturated Fat:

17g
Cholesterol:

237mg
Sodium:

1207mg
Carbohydrates:

34g
Fiber:

2g
Sugar:

5g
Protein:

27g