Whether you call this recipe cookie butter chocolate chip blondies or just "cookie casserole," it's just plain addictive! Bake them up with the kiddos!
This recipe was originally published in April of 2013. It's been remade, rephotographed, and rewritten – we hope you enjoy it as much as our family does!
My kids have gotten into the habit of calling this recipe "Cookie Casserole," which, honestly, I kind of like. I picture my kids years down the road with their own families, in the kitchen about to bake up something sweet, and when their kids ask what are you baking, the reply is, "Cookie Casserole!" and all the kids yell, "YAY!" I feel like this is just going to be one of those recipes that gets handed down in our family…and that makes me so happy.
I was introduced to the Trader Joe's Speculoos Cookie Butter years ago by my mom, and I'm so glad she did because I seriously cannot get enough of it! It is super yummy on toast, bagels, ice cream, or straight out of the jar. If you've never tried it or heard of cookie butter before, run over to Trader Joe's and pick up a jar of it. I promise, you won't be sorry! But if you haven't heard of it or aren't near a Trader Joe's, Biscoff cookie butter works great, too, and Safeway even has their own version, I've discovered. You should be able to find what you need in most stores. (Disclosure: Not Sponsored!)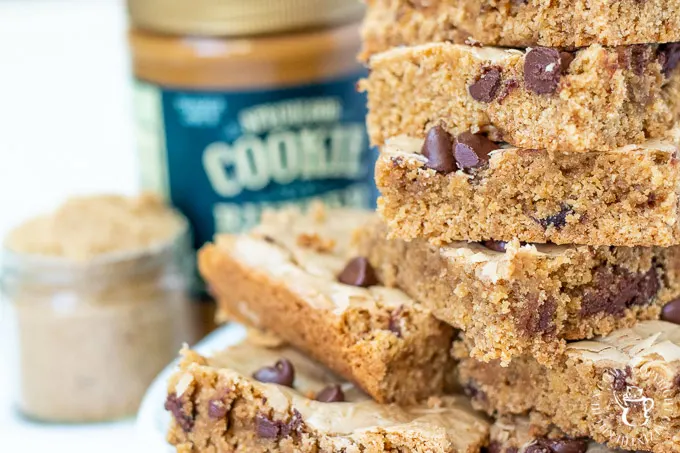 Cookie butter is similar to peanut butter in consistency, but tastes like, well, a cookie! When I started playing with different flavor ideas in my head, I thought it would be fun to make cookie butter blondies, and since we're talking about cookies here, why not make it a chocolate chip bar…but with the flavor of the cookie butter! Perfect! That is, if you have chocolate chips. I always keep a pretty little stash lying around in my cupboards, and have resorted to buying the big bags from Costco because Josh's favorite snack happens to be toast smeared with peanut butter and layered chocolate chips (Editor's Note: I'd totally forgotten about when I used to eat this! Now I need some!). Thankfully, I had just enough chocolate chips for this recipe.
I want to add though that any flavor of chocolate chip would work here…except those unicorn chocolate chips. I don't actually think that would be very good. But as an alternative to chocolate chips, throw in candy! M&M's would be a yummy addition. You could even add both chocolate chips and M&M's if you wanted to get crazy.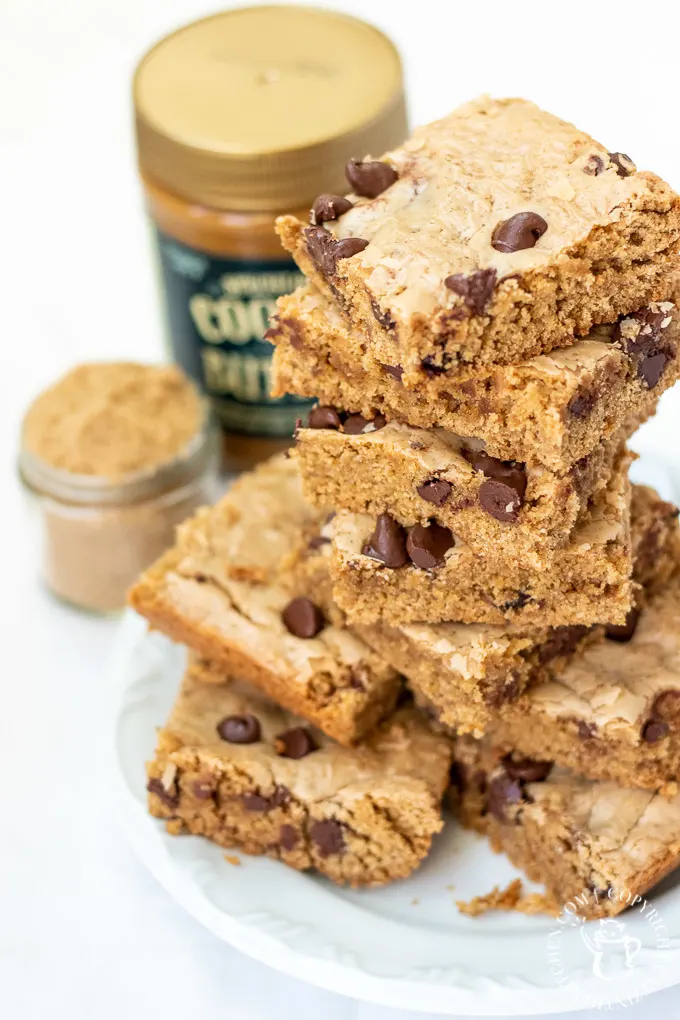 I want to warn you that these blondies make a very thick batter. It will look "too thick" when you actually go to pour it into the pan, and I say don't pour it, but scoop big amounts out and scatter it over the 9×13 baking dish and then press the batter down evenly over the pan with the palm of your hand or a spatula. It will be just enough batter to cover the whole dish, even though you might be questioning whether this recipe works or not.
Trust me it does and it tastes amazing!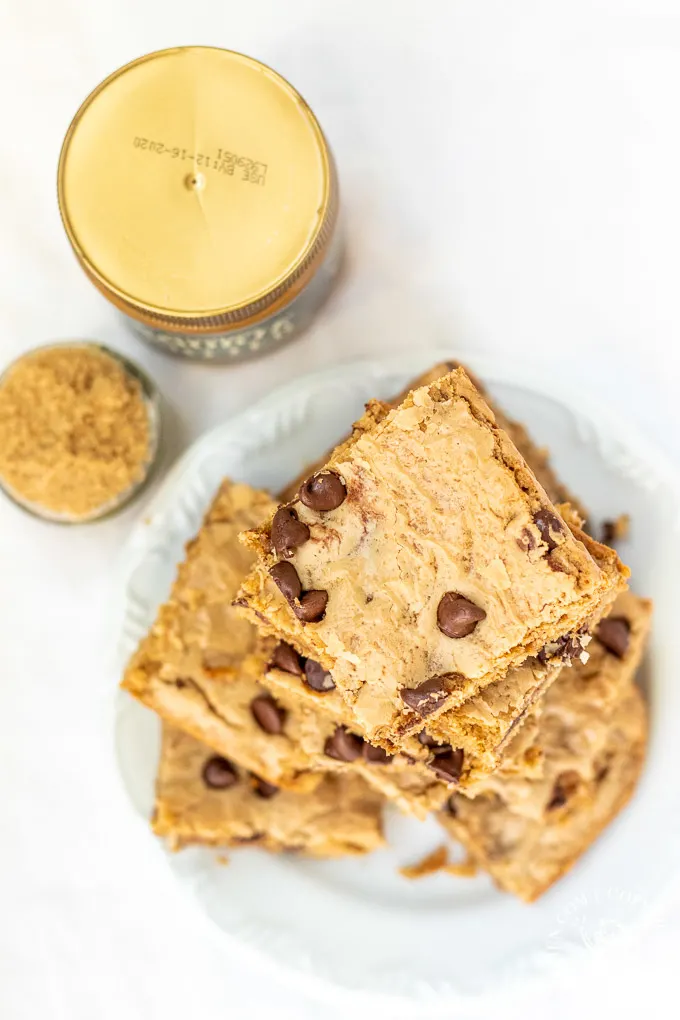 One more thing before I leave you. Aside from the cookie butter, this recipe is very simple and straightforward. No out of the ordinary ingredients and it doesn't take a lot of time to prepare or bake. These bars bake up in about 20 minutes, but I understand every oven is different and so it may take a few minutes longer – if they're not done in 20 minutes, give it another 1-2 minutes in the oven and check them again.
I hope you enjoy these chocolate chip cookie butter bars and bake them up with your kiddos!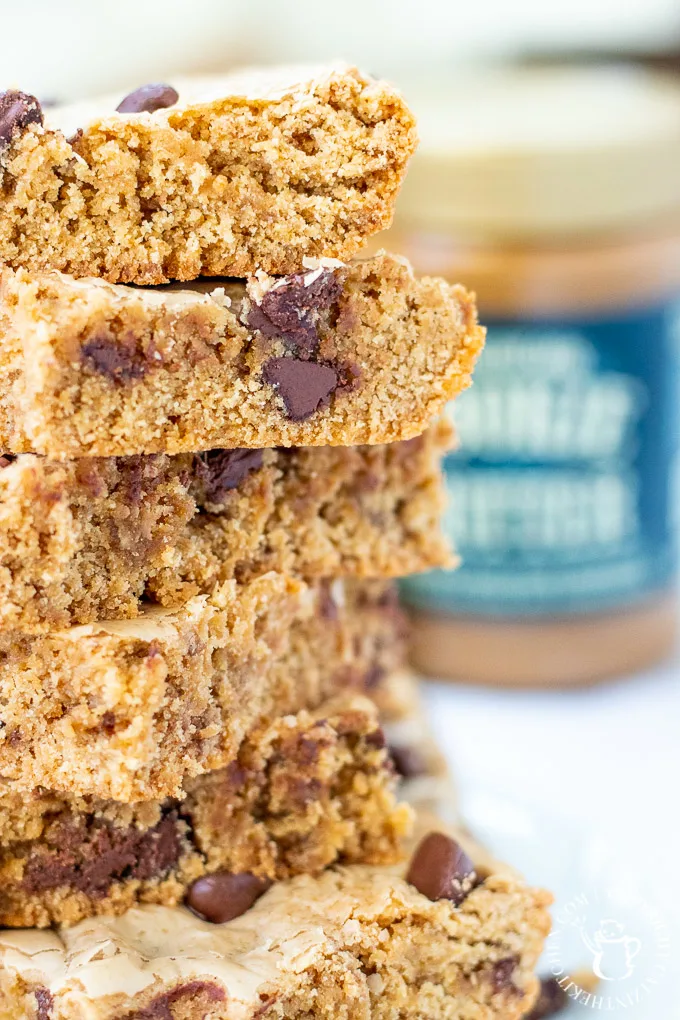 Cookie Butter Chocolate Chip Blondies
Whether you call this recipe cookie butter chocolate chip blondies or just "cookie casserole," it's just plain addictive! Bake them up with the kiddos!
Ingredients
1 stick (1/2 cup) unsalted butter, room temperature
2 cups (packed) brown sugar
1/2 cup cookie butter
2 eggs
1 tsp vanilla extract
2 1/2 cups all purpose flour
1 tsp baking powder
1/4 tsp baking soda
1/2 tsp salt
1/2 cup semi-sweet chocolate chips, divided
Instructions
Preheat oven to 350 degrees. Grease a 9×13 baking dish with non-stick cooking spray. Set aside.
In a medium saucepan over medium heat, melt butter and brown sugar together until combined, stirring constantly. Remove from heat. Stir in cookie butter. Allow to cool. It will look slightly grainy and clumpy.
Add eggs, one at a time to the cookie butter mixture, stirring after each addition. Stir in vanilla.
In a large mixing bowl, whisk together flour, baking powder, baking soda, and salt. Pour cookie butter mixture into the dry ingredients, and using a stand mixer or electric mixer, beat together to create a thick, smooth batter. Mix in 1/4 cup of the chocolate chips.
Pour batter into greased baking dish. Top with reserved chocolate chips, pressing gently into the batter. Bake for 25 minutes or until the edges are golden brown and a toothpick inserted into the middle comes out clean.
Allow to cool slightly before cutting into squares. Keep leftover bars covered so they don't dry out.
Nutrition Information:
Yield:

20
Serving Size:

1
Amount Per Serving:
Calories:

129
Total Fat:

5g
Saturated Fat:

2g
Trans Fat:

0g
Unsaturated Fat:

3g
Cholesterol:

20mg
Sodium:

126mg
Carbohydrates:

18g
Fiber:

1g
Sugar:

4g
Protein:

3g
Nutrition information isn't always accurate.