These chicken caesar burgers combine summer grilling with the delightful flavors of this familiar salad in one easy recipe!
It's a terrible, tragic thing to admit, but grilling season is winding down to a close. Yesterday was the first day of September, and while it's going to be in the 90's this weekend, there are likely just a handful of really warm summer days remaining – the leaves are already beginning to change on the "early warning" trees!
Okay, in reality, grilling season never ends for me, it just becomes less frequent. We live in the Pacific Northwest, so the rainy season runs from late September or early October all the way through to June or July, but I've been known to fire up the grill on a dry-ish day in January with temperatures hovering around freezing – you've got to do what you've got to do!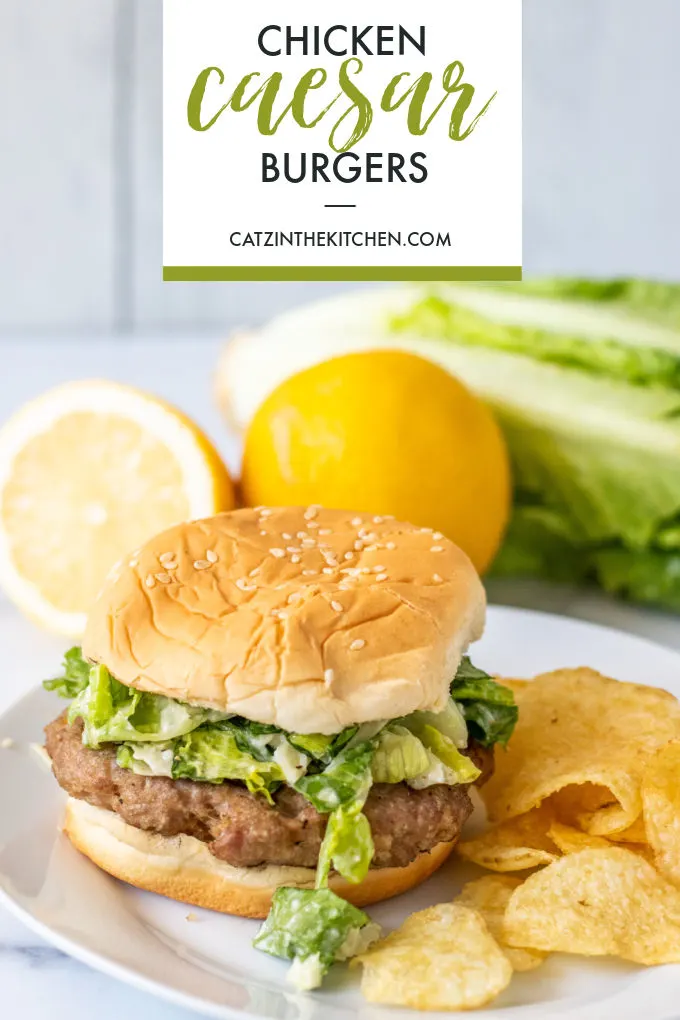 But y'all aren't here to listen to me gripe about the short optimum grilling season here in the PNW. You're here for these chicken caesar burgers. Well, these tasty sandwiches came to be thanks to a fairly mild tweak on a recipe Chels found for caesar salad burgers. We tried out that recipe, and liked it, but felt like a couple of adjustments to the patty would make it even more delightful.
The biggest adjustment was switching the protein from ground turkey to ground chicken (which also allowed us the privilege of renaming them in this vein…). Turkey seemed like a slightly odd fit for the caesar salad flavors in play here, whereas chicken is a tried and true pairing few would question.
I do have to say a few words in my own defense about the buns in these pictures…this is real life, guys. You buy hamburger buns. You have to get them home from the store. You probably have to store them in your cupboard. They might inadvertently get placed beneath something else along the way…and they might get a little squished.
So, I resuscitated these buns as best I could. They sort of look like I pumped them up with a bicycle pump, but they still have a slow leak…but we'd already tested the recipe twice and it was time for pictures, dang it!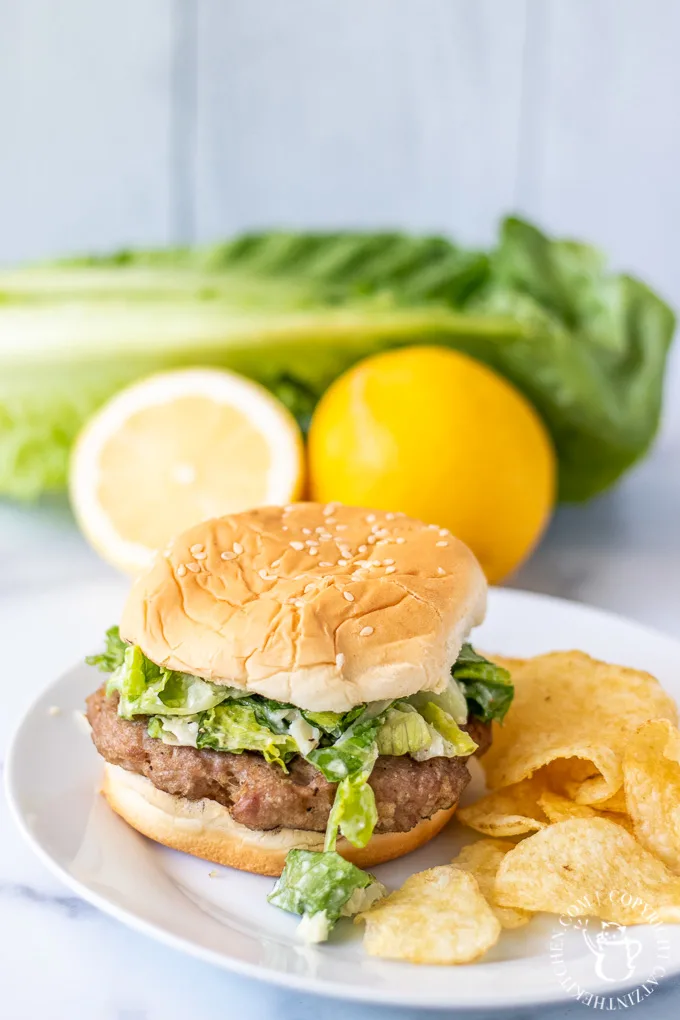 Anyway, here's the deal. If you like caesar salad, and especially if you like chicken caesar salad, I strongly suspect you will love this burger. It's got that caesar dressing flavor (which you'll whip up from scratch, by the way, so bonus points to you), and really quite a bright citrus note from the lemon zest, which we've punched up just a tad from the original recipe. Enjoy!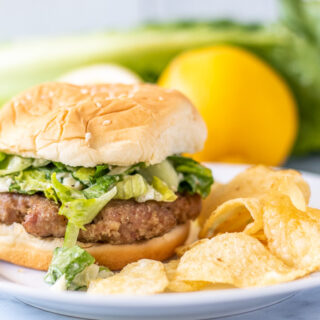 Chicken Caesar Burgers
These chicken caesar burgers combine summer grilling with the delightful flavors of this familiar salad in one easy recipe!
Ingredients
Burgers
1 lb ground chicken
1 tbsp low fat mayonnaise
1 cup panko bread crumbs
2 tsp Worcestershire sauce
2 tsp dijon mustard
2 tsp finely grated lemon zest
3/4 tsp kosher salt
freshly ground black pepper
Dressing
2 tsp fresh lemon juice
1 clove finely grated garlic
1/3 cup low fat mayonnaise
1 tsp Worcestershire sauce
1 tsp dijon mustard
1/4 cup grated parmesan
pinch of kosher salt
freshly ground black pepper
Toppings
6 sesame hamburger buns
1 heart of romaine lettuce
1/4 cup shaved parmesan
Instructions
Gently mix all burger ingredients by hand in a large bowl
Form burger mixture into patties, either by hand or using burger press
Place patties on a plate or pan and freeze for about 10 minutes, or until somewhat firmer
While the patties are firming up in the freezer, preheat grill to medium high heat, and prepare dressing
To prepare dressing, combine lemon juice and garlic in a small bowl. Let sit for 5 minutes, and then whisk in remaining dressing ingreidents
If needed, oil grill grate, then grill patties 4-5 minutes per side, or until chicken has reached a safe internal temperature
Split the buns and toast them on the grill for about a minute
Slice the romaine and toss with 3 tbsp of the prepared dressing and the shaved parmesan, then season to taste with salt and pepper
Spread additional dressing on the buns, add burger patties, and top with romaine mixture
Nutrition Information:
Yield:

6
Serving Size:

1
Amount Per Serving:
Calories:

424
Total Fat:

17g
Saturated Fat:

5g
Trans Fat:

0g
Unsaturated Fat:

11g
Cholesterol:

91mg
Sodium:

1106mg
Carbohydrates:

41g
Fiber:

2g
Sugar:

6g
Protein:

27g
Nutrition information isn't always accurate.