Warm up your autumn weekends with spiced apple cider pancakes, and to really take them over the top, whip up a little maple bourbon syrup!
This recipe for spiced apple cider pancakes is one of the older posts on our blog – originally published in November of 2012! Hilariously, for a reason I simply can't recall, we photographed them alongside starfruit. STARFRUIT. While starfruit is wonderful, is there anything less akin to fall, spices, and apple cider? Must have just been one of those many situations when I temporarily lost my mind. At any rate, we've made some adjustments to the recipe since then. Inspired by Trader Joe's, we added a little pumpkin pie spice (that's cinnamon, nutmeg, ginger, cloves, and allspice, if you were wondering), which brings a bit of fall spice to the palate – so good. And, while we think the original cinnamon syrup recipe is quite yummy, we're crazy about this maple bourbon syrup we found to pair with these outrageously tasty pancakes. Try it. You'll want to keep some in the fridge all the time.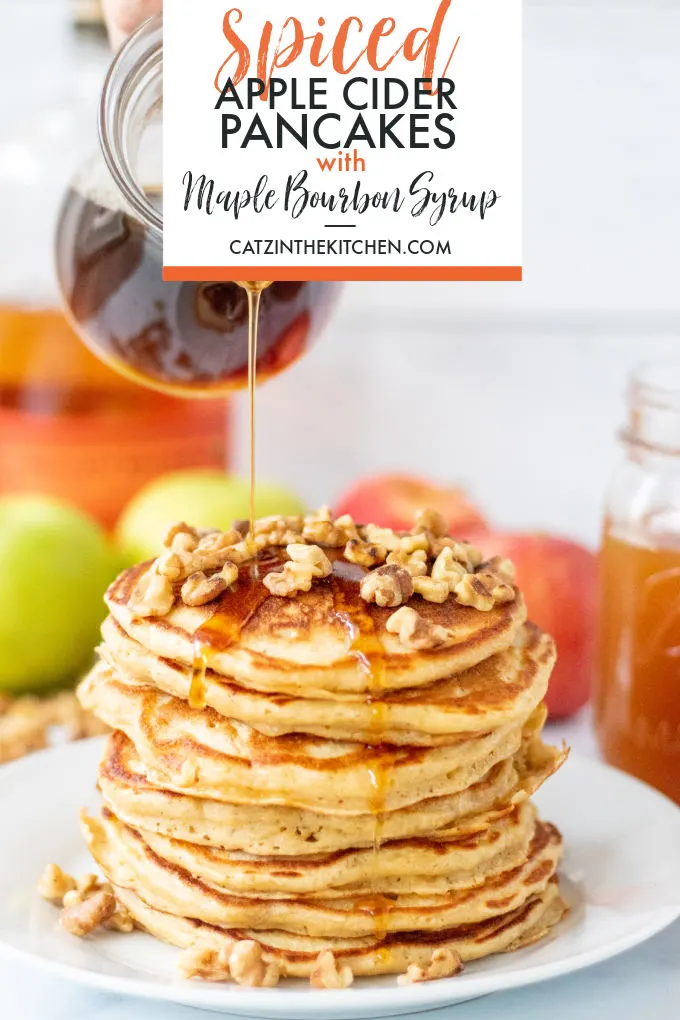 Soooo, let's talk about my crazy neighbors down the street. I think I mentioned them in Tuesday's Tidings? These neighbors are always the first ones to decorate for Halloween, and now they are the very first ones in our entire neighborhood development that have decorated for Christmas. I'm not sure if there is some sort of top secret neighborhood competition going on that I haven't been made aware of, or if they are just really, really excited for Christmas. But seriously, it's only been six days since Halloween. SIX DAYS!!!!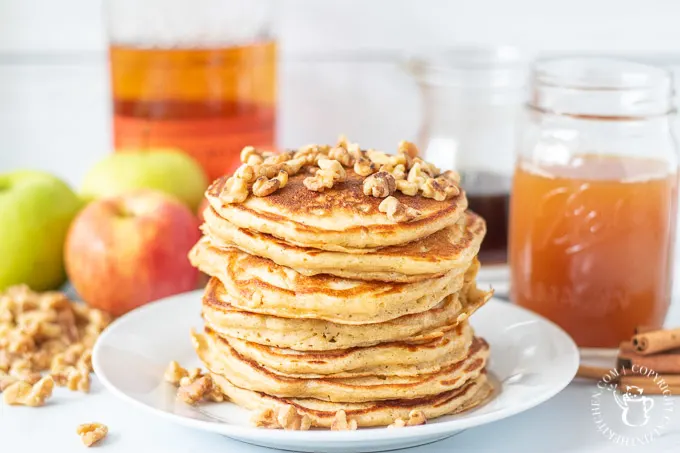 Now, don't get me wrong. I absolutely love celebrating Christmas, and I think I, more than a lot of other people, are super excited about Christmas because HELLO, I'M HAVING A BABY!!! But even I know that it's important to not rush such important things. I mean, we still have to get to Thanksgiving and think about all the things that we are thankful for. But these people are just completely rushing past the thankfulness and diving head first into the Christmas lights and presents.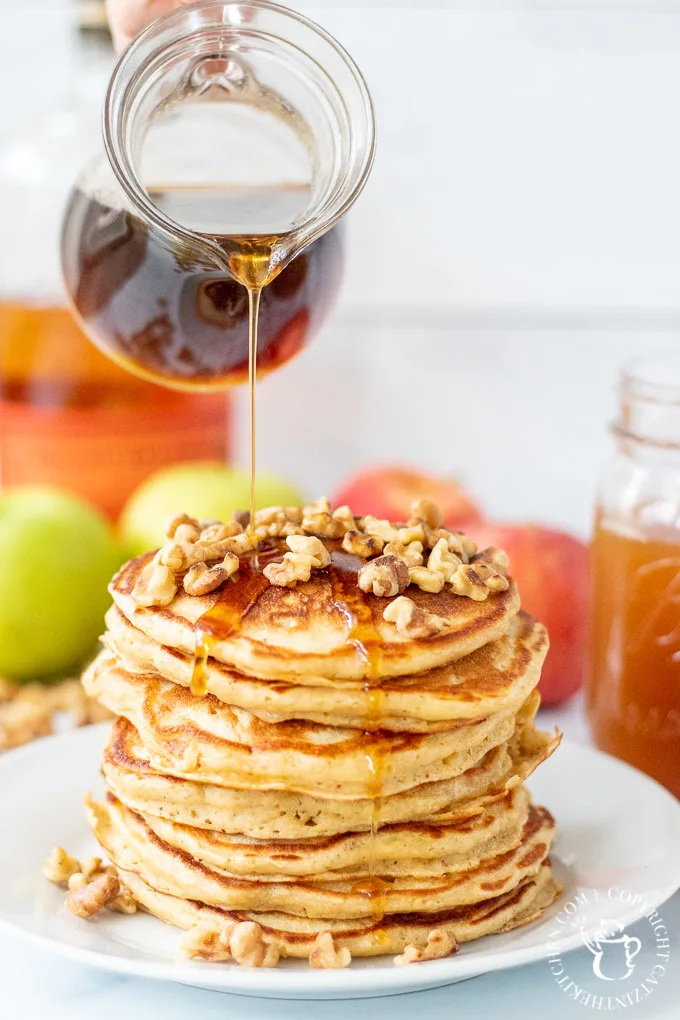 So here's what I suggest, in an attempt to possibly slow time down a bit, ya know, stop and smell the roses…let's take a moment and be thankful for these incredible awesome Apple Cider Pancakes with a sweet Cinnamoney Syrup that will have you counting your blessings all night long! At the end of the day, when the world is trying to rush the holidays by you so fast you may not even see it, at least, you can sit down with your family and give thanks and enjoy these succulent pancakes for breakfast or dinner!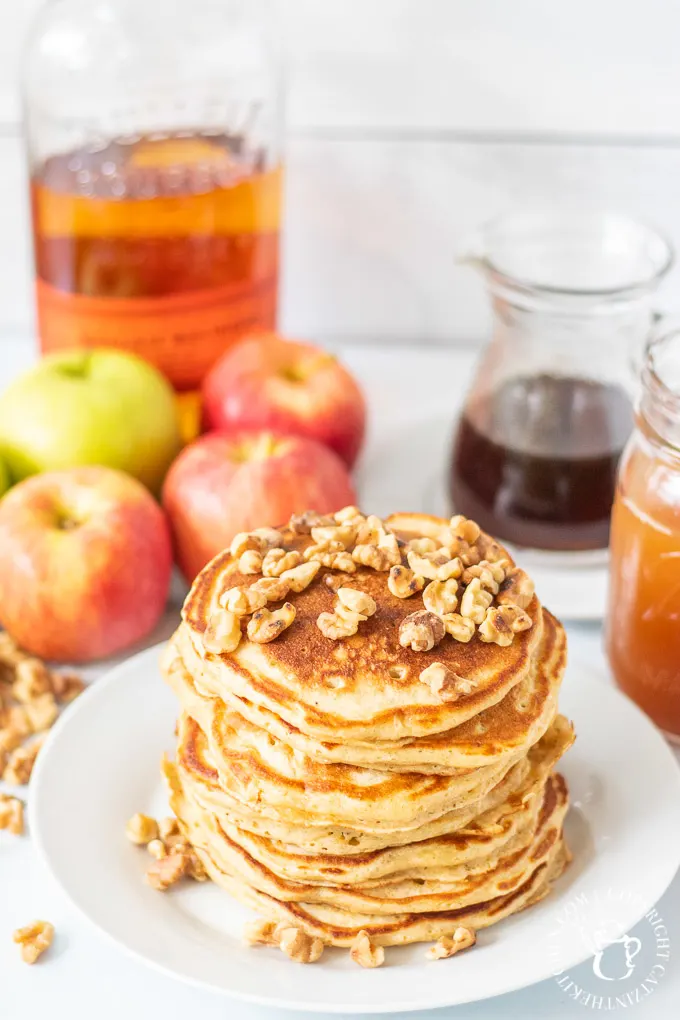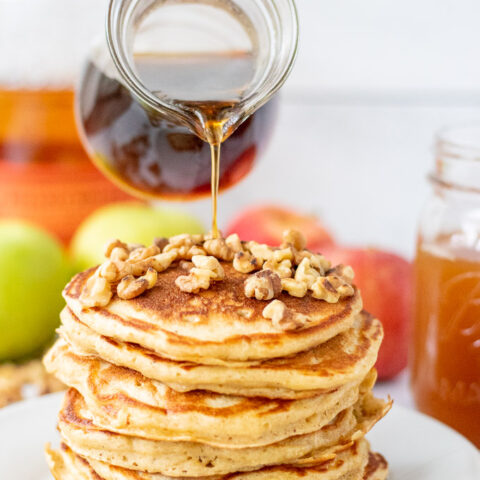 Spiced Apple Cider Pancakes with Maple Bourbon Syrup
Warm up your autumn weekends with spiced apple cider pancakes, and to really take them over the top, whip up a little maple bourbon syrup!
Ingredients
Spiced Apple Cider Pancakes
2 cups flour
2 tsp sugar
1 tsp baking powder
1/2 tsp baking soda
1/2 tsp salt
2 eggs
1/4 cup butter, melted
1/2 cup buttermilk
1/2 cup greek yogurt
1 cup apple cider
1 tsp pumpkin pie spice
Maple Bourbon Syrup
1 cup of pure maple syrup (recommend grade A, dark / robust)
1 tbsp of butter
2 tbsp of bourbon whiskey
pinch of salt
Instructions
Pancakes

Preheat oven to 200 degrees (or warm setting)
Whisk together the dry ingredients in a medium bowl.
In a small bowl, combine all the wet ingredients and whisk until well combined.
Add the wet ingredients to the dry ingredients and stir until just combined. The batter will be kind of lumpy.
(Optional) Toast up about a cup of chopped walnuts in a dry skillet over medium heat, and provide as an optional topping to add texture and flavor to your stack of hotcakes!
Grease a skillet over medium heat and add small batches of batter to the skillet. Cook over medium heat until bubbles form and pop, then flip the pancakes over and continue cooking until the bottom is browned and the center is cooked through.
If not serving pancakes directly off of skillet or griddle, place on wire rack in oven to keep warm

Syrup

Heat syrup over low to medium heat, add butter, and stir until melted
Add bourbon and stir
Increase heat to bring to boil, add salt, and then boil for one minute
Notes
While we recommend using the Grade A (formerly Grade B) dark/robust maple syrup, this is a personal preference - use whatever you like, as long as it's real maple syrup (no sugar water!). Feel free to adjust the amount of bourbon in the syrup mixture up or down for more or less "bourbony" flavor. Just be careful tasting, as it is hot.
Pancake recipe very slightly modified from original recipe by Buns in My Oven
Syrup recipe found over at the ABV Network's whiskey corner
Nutrition Information:
Yield:

10
Serving Size:

1
Amount Per Serving:
Calories:

272
Total Fat:

7g
Saturated Fat:

4g
Trans Fat:

0g
Unsaturated Fat:

2g
Cholesterol:

54mg
Sodium:

334mg
Carbohydrates:

46g
Fiber:

1g
Sugar:

24g
Protein:

6g
Nutrition information is not always accurate. In this case, it is assuming you will use all of the syrup on your 8-10 pancakes, which you definitely will not.