These orange cranberry ricotta pancakes with salted maple butter are absolute holiday brunch magic. They are decadent but light and cheery!
I don't know any better word to describe these orange cranberry ricotta pancakes than decadent. They are somehow fluffy and creamy and light and rich and airy all at the same time. It's actually kind of hilarious – we try not to photograph and blog recipes until we've tried them a couple of times. We like to make sure they are repeatable, foolproof, like to work out the kinks, make tweaks, etc. With these…we took one bite and said, "We've got to get these on the blog now." They are just that good.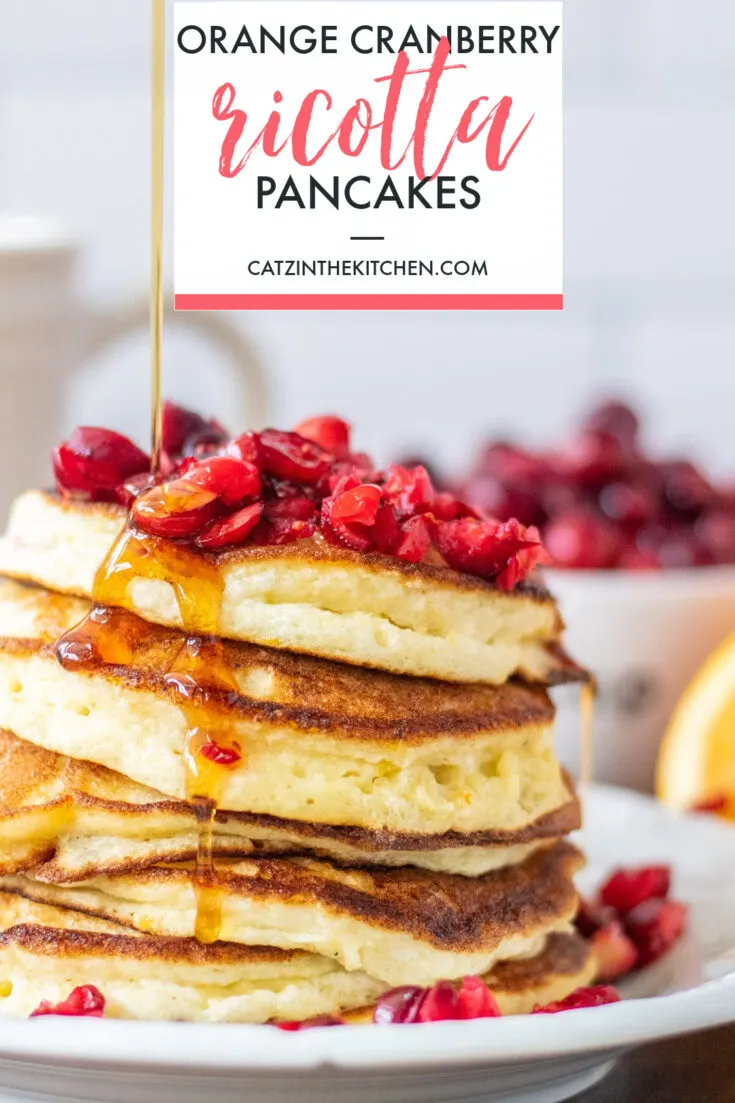 While these pancakes are spectacular, the secret to their greatness really isn't that much of a secret. We've made ricotta pancakes before (so creamy…) and we've made pancakes with whipped egg whites before (so fluffy…), but I don't think we've ever combined those two methods, which is what happens here. That's the magic, I'm telling you.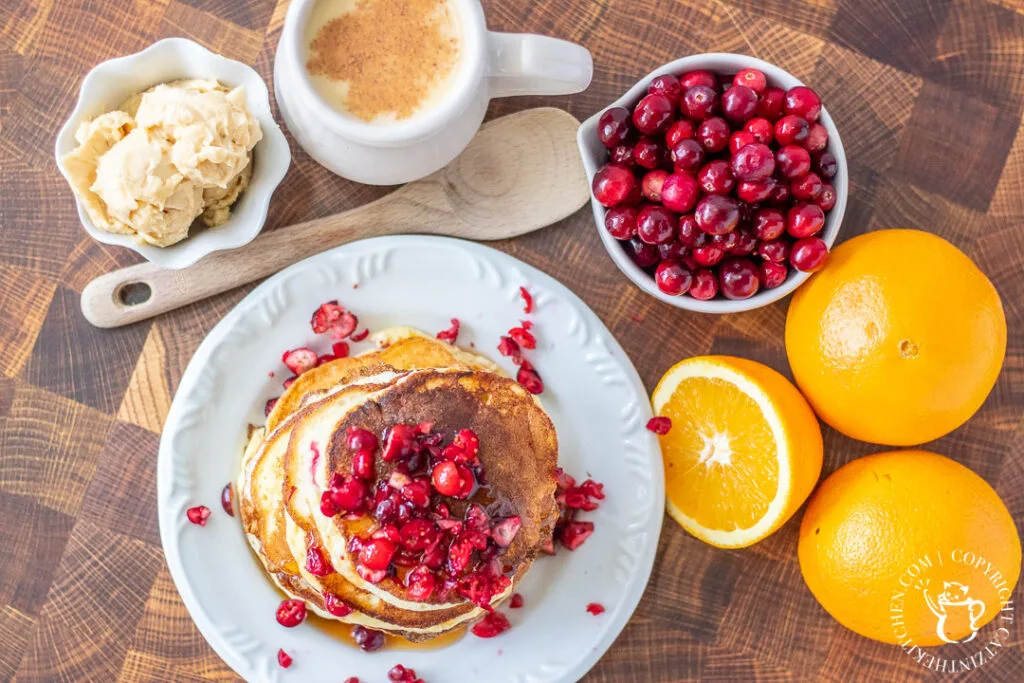 Okay, well, it's that and the combination of the salted maple butter and the oranges and cranberries. So it's everything. But these last few ingredients are the flavor elevators (is that a thing?). The ricotta and the egg whites provide the texture, and when it comes to pancakes, texture is almost everything.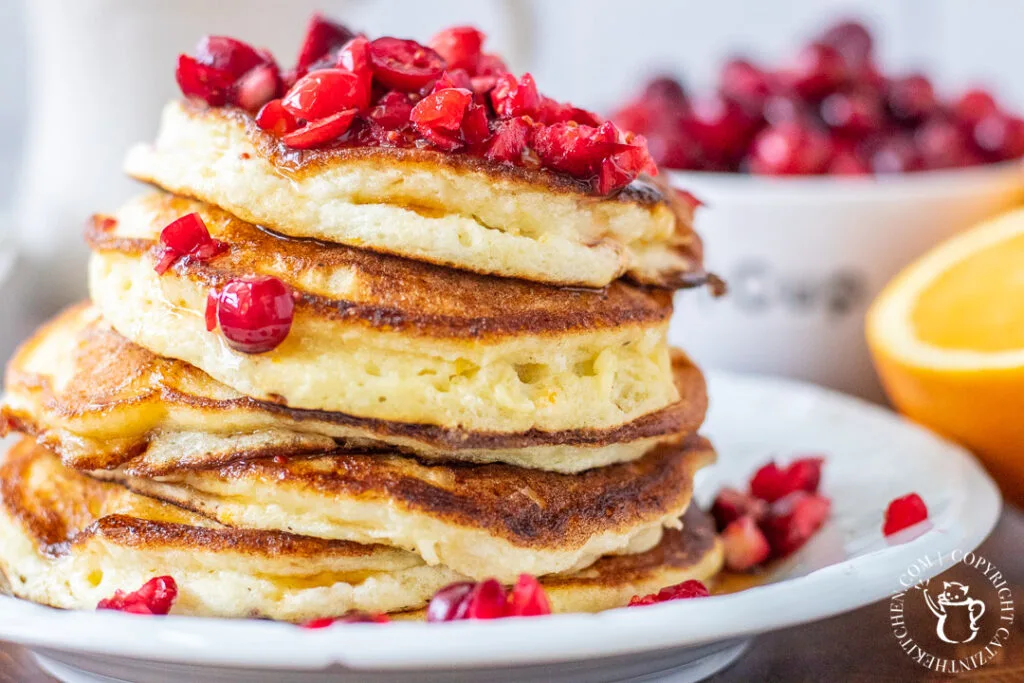 Another thing that is special about these pancakes, though, is their ability to be holiday festive without being exclusive to the holidays. You could really make these anytime of year. There's nothing that makes them exclusive to winter and Christmastime. At the same time, they feel so festive and right for this time of year! If you want a holiday breakfast or brunch, this is a fabulous dish to make. The flavors say celebrate, and it's so colorful. Cranberries say winter to me for some reason.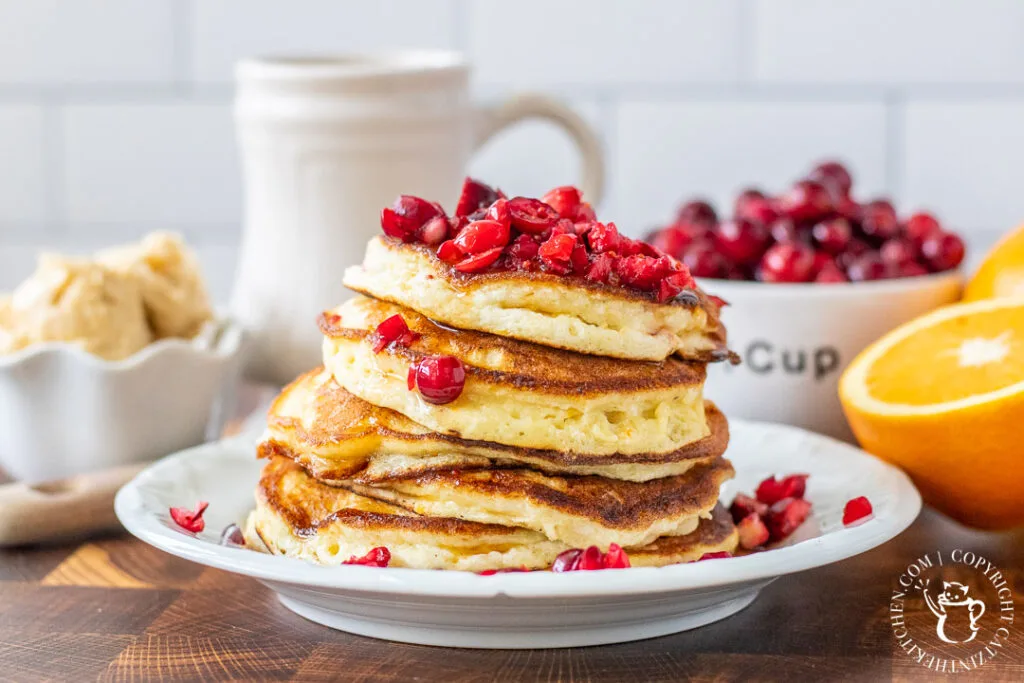 Also, the cranberry orange combination is just MONEY (we still say that, right?). We've been drawn to it for a long time – check out these copycat cranberry bliss bars or this cranberry orange croissant French toast if you don't believe me…the flavors meld beautiful and are just bright and happy on your plate and in your mouth. Can't go wrong.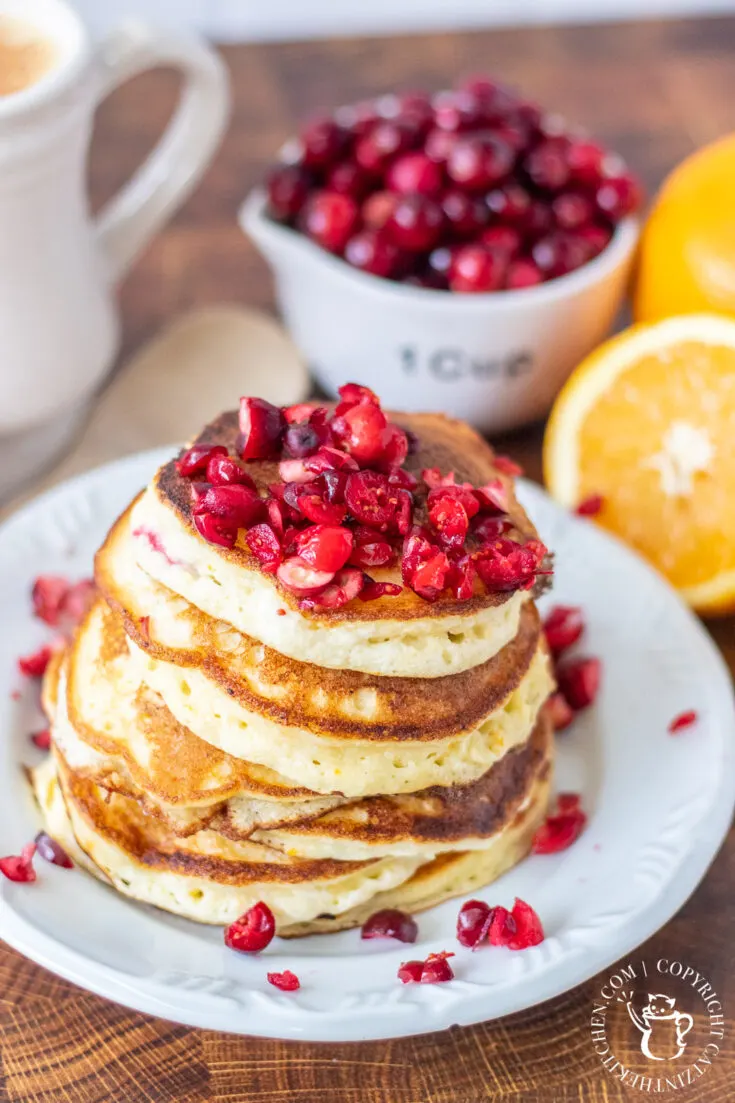 If you'll permit me, I have to take a second to reflect on the absurdity of pancake food photography. It always makes me laugh. If you try to photograph a reasonable stack of pancakes you might actually serve someone (say, two or three flapjacks), your photographs will look flat and unappetizing (generally speaking). But a nice big stack of six or seven or eight or ten, and suddenly it looks lovely and reasonable. What. Anyway. If you really eat your pancakes in a stack like this, send us a picture. Seriously.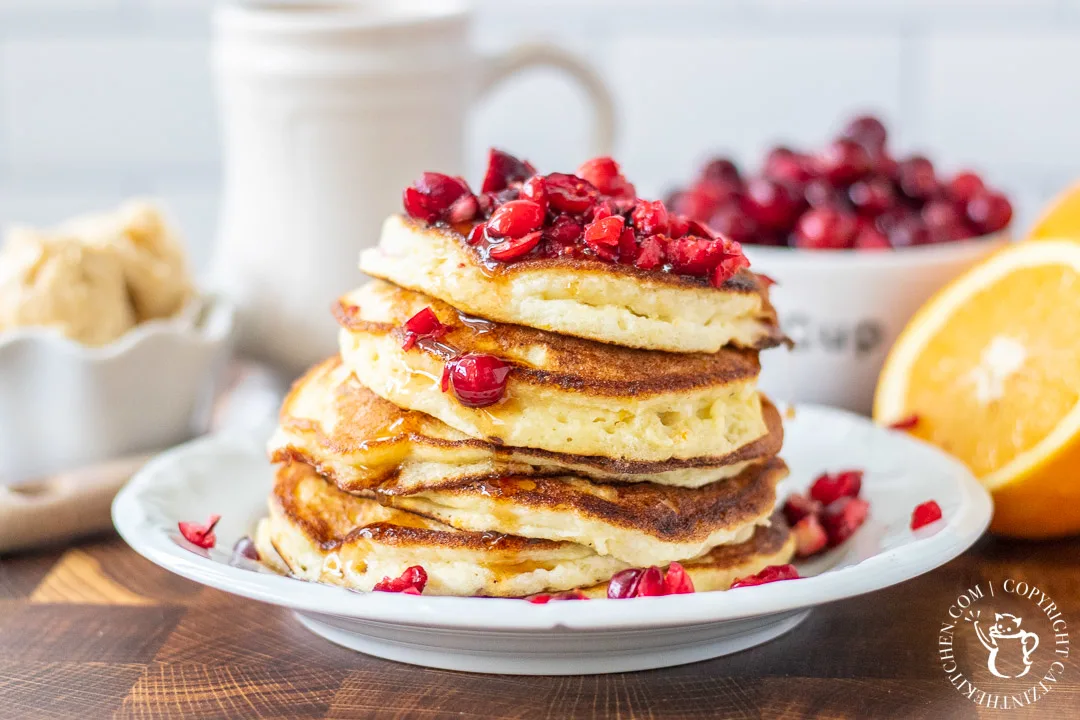 Orange Cranberry Ricotta Pancakes
These orange cranberry ricotta pancakes with salted maple butter are absolute holiday brunch magic. They are decadent but light and cheery!
Ingredients
Pancakes
approx two oranges (enough for the juice and zest below)
4 eggs
1 1/2 cups ricotta cheese
2/3 cup milk
1 1/3 cups flour
1/2 cup sugar
2 tsp baking powder
1 cup chopped fresh or frozen (thawed) cranberries
1 tsp kosher salt
Salted Maple Butter
1/2 cup softened unsalted butter
3 tbsp real maple syrup
3/4 tsp kosher salt
Instructions
Combine butter, 3/4 tsp kosher salt, and maple sryup in a small bowl and stir or whisk until smooth. Refridgerate until ready to use.
From the oranges, add 2 tbsp of zest and 1/4 cup of fresh juice in a large bowl. Separate eggs, and add eggs yolks, ricotta, and milk to bowl. Whisk until smooth. Set aside egg whites.
Add flour, sugar, baking powder, and 1 tsp kosher salt to medium bowl and stir to combine.
Add flour mixture to ricotta mixture and stir until just barely combined.
Add egg whites to bowl of stand mixer. Using whisk attachment, whisk on high until stiff peaks form, then fold in half of egg whites to batter mixture. Add the remaining half, gently folding until mostly blended (some streaks of egg white should still be visible).
Heat a griddle to medium to high heat, grease lightly with vegetable oil, and then add batter to griddle in 1/4 cup scoops. Top each pancake with about a tablespoon of the chopped cranberries. Cook approx three minutes per side, or until golden brown. Serve immedately, topped with salted maple butter and additonal maple syrup, if desired.
Nutrition Information:
Yield:

6
Serving Size:

1
Amount Per Serving:
Calories:

497
Total Fat:

24g
Saturated Fat:

14g
Trans Fat:

0g
Unsaturated Fat:

9g
Cholesterol:

186mg
Sodium:

655mg
Carbohydrates:

56g
Fiber:

2g
Sugar:

28g
Protein:

16g
Nutrition information isn't always accurate.