This easy recipe for dark chocolate almond peppermint bark will be a hit with the family, adults and kids alike!
It's funny, we're all so stuffed after Thanksgiving, but come December, bring on the cookies, eggnog, and other festive treats. Almost like we can't get enough…until December 26, and then we cannot imagine eating one more cookie, drinking one more glass of eggnog, or grabbing one more treat.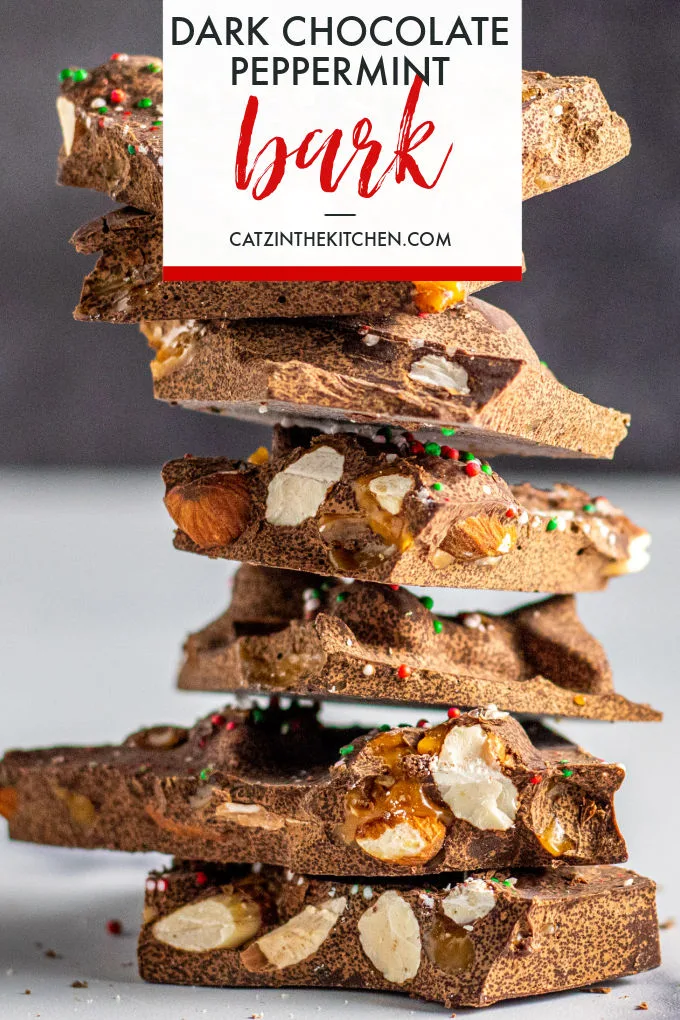 Which is why I plan on sharing with you as many goodies as I possibly can in the next two weeks. I don't want to bombard you with recipes, so we will keep the same schedule. I hope the recipes we put out are ones you will enjoy with family and friends!
Which brings me to this Dark Chocolate Almond Peppermint Bark. I do already have one Peppermint Bark recipe on the blog. It's made with white chocolate, semi-sweet chocolate, and candy canes, so it does have fewer ingredients than this recipe, but they are both so different – I love this one because it has dark chocolate and candied almonds. Yum!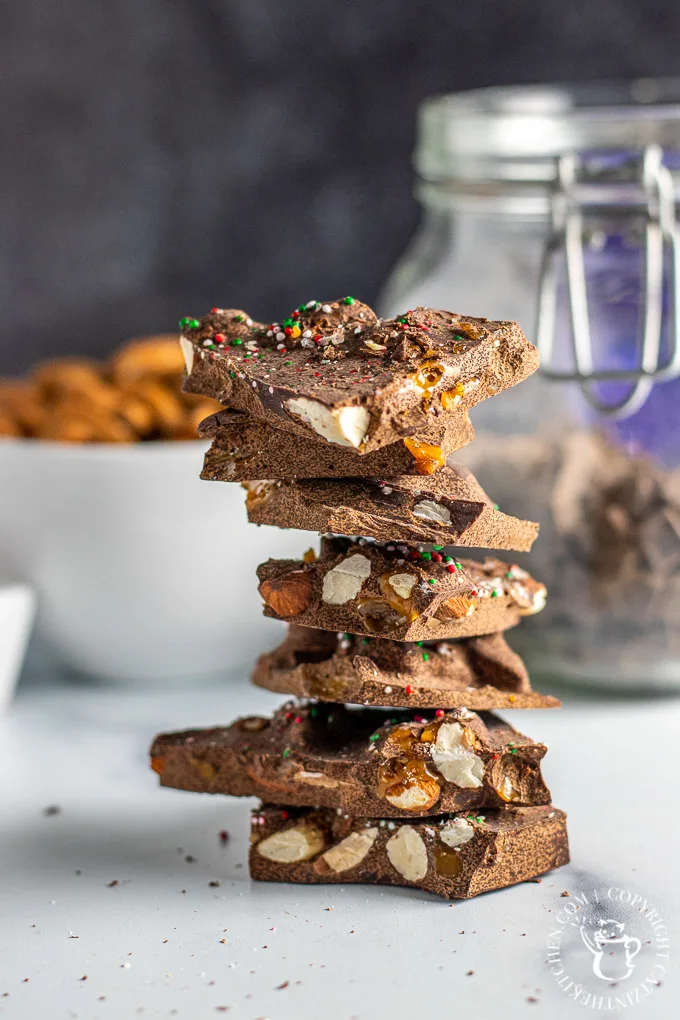 This recipe is easy to make, tastes divine, and is so perfect for dropping tins of cookies and snacks off to friends and family.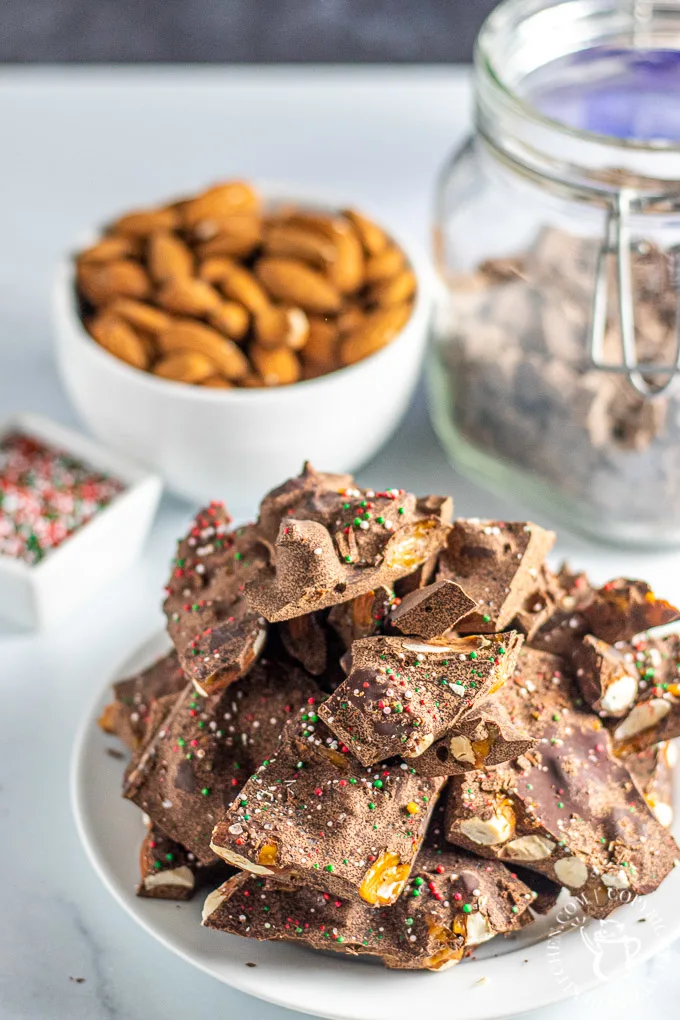 This recipes makes around 20 good-sized pieces, depending on how big or small you make them. You might have a hard time keeping your kids and spouse out of them. I stored them in an air-tight container and everyone was sneaking this bark and shoving it into their mouths when I wasn't looking.
Sneaks!
This is a recipe the kids can be involved with and they will have so much fun watching the process. It doesn't take long, but it is fun!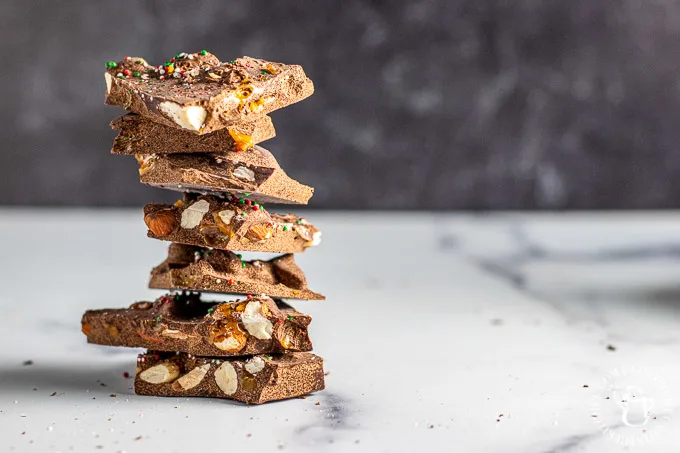 I hope you guys have fun making this with your family and sharing with everyone you love!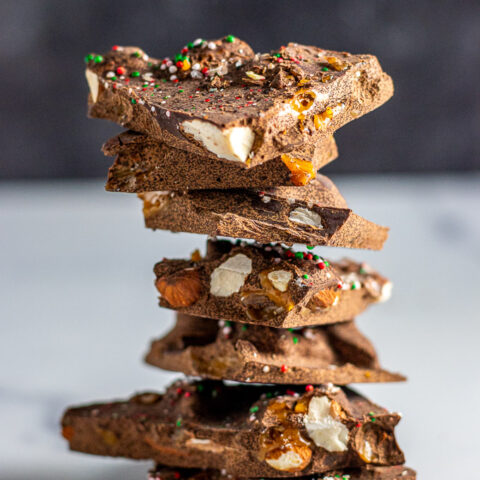 Dark Chocolate Almond Peppermint Bark
Total Time:
2 hours
30 minutes
This easy recipe for dark chocolate almond peppermint bark will be a hit with the family, adults and kids alike!
Ingredients
1 tbsp unsalted butter, plus more for the baking sheet.
1/2 cup sugar
1 1/2 cups whole almonds, toasted
3 cups dark chocolate morsels/ chunks
1 tsp peppermint extract
Sea salt, for sprinkling
Holiday sprinkles
Instructions
Butter a baking sheetor use a silpat - I used a silpat and it is what I reccomend. In a medium saucepan, add the sugar and cook, without stirring but swirling the pan occasionally over medium heat to make a caramel. You're looking for the color of an old copper penny - this takes around 4 minutes. Remove from heat and whisk in the butter. Quickly stir in the almonds to coat them with the caramel. Pour the nuts onto the silpat, spreading to distribute without clumps. Let cool and then break to separate.
Bring about 1 -inch of water to a simmer in a medium saucepan with a bowl fitted to sit just above the simmering water. We're making a double boiler here. Add the chocolate, stirring occasionaly so that the chocolate melts evenly. When the chocolate is melted, remove the bowl from the saucepan and add the peppermint extract, stirring to combine. Stir in the cooled almonds. Spread the chocolate - nut mixture onto the same baking sheet with silpat into a thin uniformed layer. Let sit for 5 minutes and then sprinkle with sea salt and holiday sprinkles.
Chill the baking sheet in the refrigerator until firm, about 2 hours and then break apart into 1 -2 inch pieces. Store in a cool, dry place and stacked between a layer of foil or parchment in an airtight container. The bark will keep for up to one week, but the chocolate will change slightly in appearance since it is homemade.
Nutrition Information:
Yield:

20
Serving Size:

1
Amount Per Serving:
Calories:

274
Total Fat:

17g
Saturated Fat:

7g
Trans Fat:

0g
Unsaturated Fat:

9g
Cholesterol:

4mg
Sodium:

89mg
Carbohydrates:

28g
Fiber:

4g
Sugar:

22g
Protein:

4g
Nutrition information isn't always accurate.