This simple recipe for Toffee Chocolate Chip Banana Bread adds a little something extra to the expected ingredient list!
Did you know that for most of my entire life I've hated (yes, I said, "hated") bananas?! The only exception was banana bread, but I also recognized that bananas are actually pretty good for you and they have their uses – like in smoothies, for example. If made correctly, you shouldn't really taste the banana at all, in my opinion.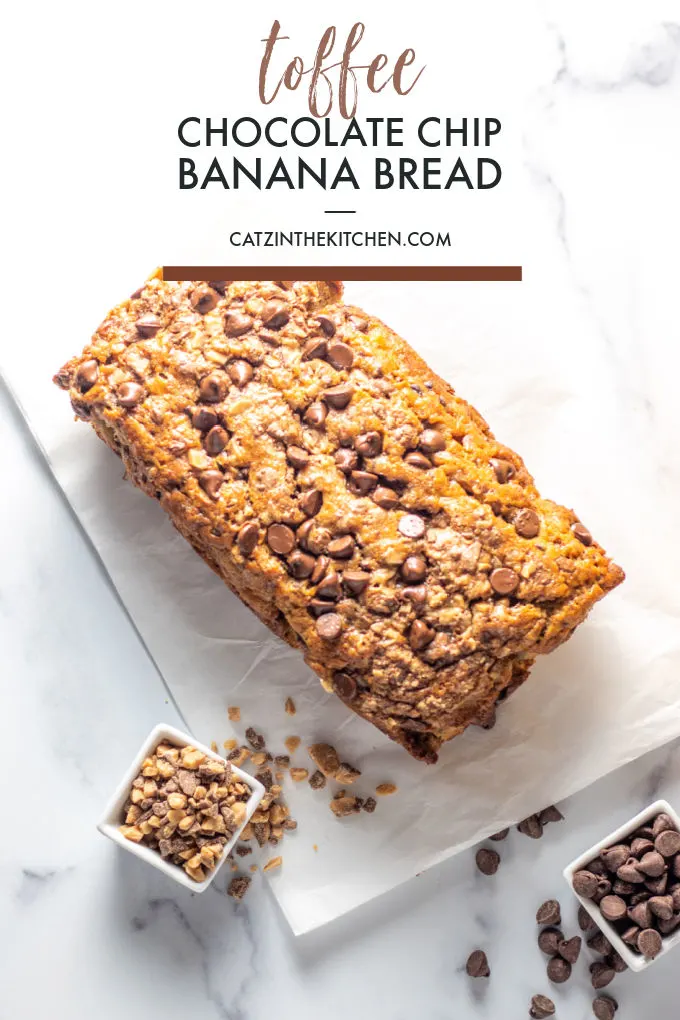 However…I've become more banana-tolerant of late. A few years ago, I challenged myself to eat a banana almost every day for a year. I know that seems rather drastic, but, what can I say – I really wanted to like them! Now at least I can eat bananas and get my potassium without too much of a shudder or gag reflex!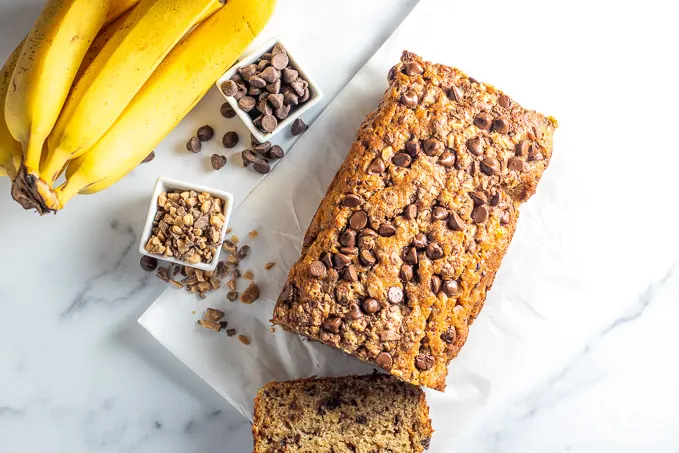 Like I mentioned at the beginning of this post, banana bread, however, was always the exception to the rule. I loved banana bread as a kid – in fact, my step-mom used to make the best! I will concede, though, that Joanna Gaines' After School Banana Bread is truly a work of art…but it leans more towards a snack cake for me, simply because of the vessel we bake it in, which is an 8×8 baking dish instead of a loaf pan.
Cake vs. Loaf. Two completely different things in my eyes. The only common denominator between them is the bananas.
Back in 2012, I wrote down one of my first recipes ever – quite a feat at the time, especially considering it involved baking. One day, I wanted to bake, and in my kitchen I had chocolate chips, toffee bits, and bananas. Obviously the makings of either a really amazing banana bread…or a really terrible one.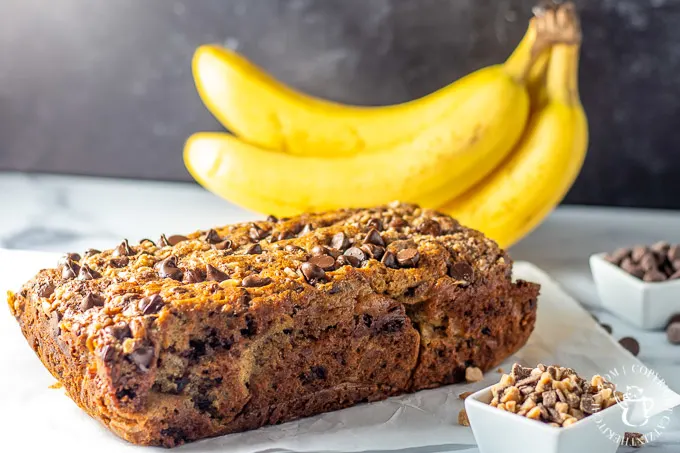 I tell ya, thank goodness it turned out tasty and the recipe was a success! Fast forward nine years and the pictures and instructions need to be updated a bit! I remade this old favorite recently and I'm kicking myself that I waited so long because it is just as amazing as I remembered.
The chocolate in the banana bread is a natural pairing, but the toffee (which is something I'm rather obsessed with) adds a bit of magical crunch and flavor to the already yummy duo, making for one dynamic bite.
This banana bread isn't something I'd serve my kids for breakfast, but you bet I would for a snack, after school treat, or after dinner dessert. It's soft, textured, beautiful, and delicious.
It's one of those things that just make you say, "Mmm."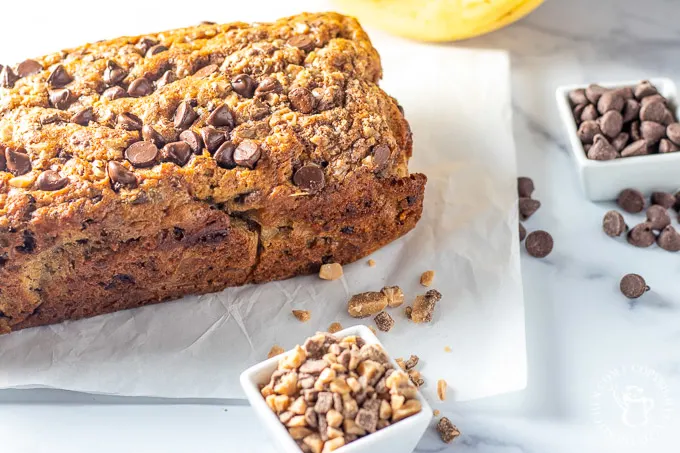 One of the many things I like about this recipe is that it only calls for two ripe bananas – as it happens so often in real life, you either have an abundance of ripe bananas – in which case I say freeze and use for smoothies – or just a few, and if it's a few, then use them to bake up this sweet treat for the kiddos or significant other…Josh has been into the loaf every time he walks into the kitchen from the office looking for a snack!
Next time you have a few ripe bananas lying around, bake up this Toffee Chocolate Chip Banana Bread!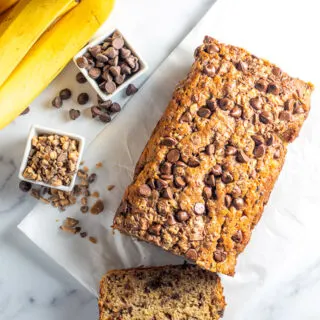 Toffee Chocolate Chip Banana Bread
Total Time:
1 hour
15 minutes
This simple recipe for Toffee Chocolate Chip Banana Bread adds a little something extra to the expected ingredient list!
Ingredients
2 cups all-purpose flour
1 1/2 tsp baking powder
1/2 tsp baking soda
1/4 tsp salt
1 cup brown sugar
1/2 cup unsalted butter, softened
2 eggs
1 cup (about 2 ripe) bananas, mashed
1/4 cup milk
1 tsp vanilla extract
1/2 cup mini chocolate chips
2/3 cup toffee chips + 2-3 tbsp for topping
1/3 cup semisweet chocolate chips
Instructions
Preheat oven to 350 degrees F. Grease a loaf pan or press parchment paper into it so the bread won't stick if you want to take it out of the pan. Set aside.
In a medium bowl, mix together flour, baking powder, baking soda, and salt. In a large bowl fitted with the paddle attachment, cream together brown sugar and softened butter. Add eggs one at a time, mixing well after each addition. Add bananas, milk, and vanilla extract, mix well.
Add dry ingredients into the wet and mix until combined. Pour in the mini chocolate chips and 2/3 cup of toffee chips. Pour batter into the prepared pan. Sprinkle the remaining chocolate chips and toffee chips over the top of the batter evenly.
Bake for 50-60 minutes or until a toothpick comes out clean when inserted in the middle. Cool in pan for 10-15 minutes before slicing into or removing parchment paper from the loaf pan. Wrap leftover bread in plastic wrap. Bread will keep for 4 days.
Nutrition Information:
Yield:

12
Serving Size:

1
Amount Per Serving:
Calories:

358
Total Fat:

17g
Saturated Fat:

10g
Trans Fat:

0g
Unsaturated Fat:

6g
Cholesterol:

65mg
Sodium:

213mg
Carbohydrates:

49g
Fiber:

1g
Sugar:

30g
Protein:

4g
Nutrition information isn't always accurate.